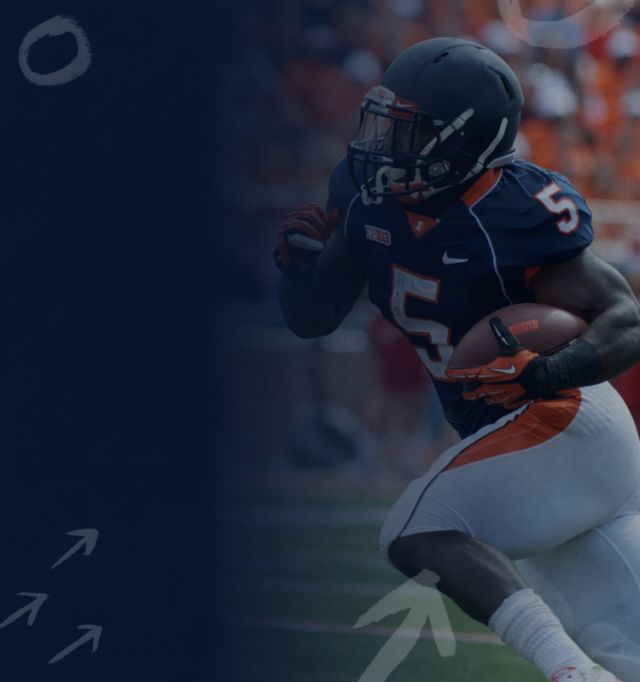 Your guide to football betting online
As the biggest sports betting market in North America, with nearly $100 billion bet on the game globally every year, football betting online is available at nearly every sportsbook. Given its enormous popularity, football is one of the biggest sports in the betting industry and it's easy to see why.
Miami
@
Cincinnati
Minnesota
@
New Orleans
Tennessee
@
Indianapolis
Washington
@
Dallas
N.Y. Jets
@
Pittsburgh
Jacksonville
@
Philadelphia
Buffalo
@
Baltimore
Chicago
@
N.Y. Giants
L.A. Chargers
@
Houston
Seattle
@
Detroit
Cleveland
@
Atlanta
Arizona
@
Carolina
Denver
@
Las Vegas
New England
@
Green Bay
Kansas City
@
Tampa Bay
L.A. Rams
@
San Francisco
Last updated: Sep 28, 10:33 PM UTC
We love football as much as you do. Across our football section you'll find tons of content including gameday previews, matchup analysis and picks from expert handicappers to help improve your betting experience.
As well as picks for upcoming games across the NFL and college football, we've got bet guides, odds convertors and bet calculators, all helping demystify some of the complexities of placing wagers, so can you make smarter decisions when making football bets.
NFL
The NFL (National Football League) is the most watched football league in the world. With 32 teams playing out a gruelling 17 game regular-season schedule, with a post-season if you're good enough. The Super Bowl – its championship game – is the most bet-on annual sporting event in the world.
The NFL and sports betting have a very close relationship. NFL betting is a multi-billion dollar industry, with the Super Bowl alone seeing nearly $10 billion in bets last year in America, making it the most profitable league in the world for sportsbooks.
NFL bets explained
NFL moneyline
Betting the  moneyline  is the simplest of all football betting picks – just pick the winning team. Sometimes referred to as ML, the moneyline will have two sets of odds – one for each team. With ties being very rare in American football, the moneyline is a two-way market which means you only have two choices, a winning outcome and a losing outcome.
NFL spread betting
Football  betting spreads  are the most common and popular way to bet on football. Unlike the moneyline, where one team is usually favored, a spread (or handicap) is created to make a more even bet. The favored team will have to win by a certain number of points while the underdog will have to not lose by the spread amount. A team with a spread of -3.5 would need to win by four points or more to "cover" the spread while the underdog (+3.5) would not have to lose by four points or more to cover. It means you can win your bet, even if the team you backed doesn't actually win the game.
NFL over/under bets
Often referred to as totals, football  over/under bets  are wagers placed on the combined total score of the game. Sportsbooks will set a total number (46.5 for example) and bettors will choose if the total combined score of both teams is below (under) or above (over) that set number.
NFL parlays
Looking for bigger football betting odds? Then you're probably interested in  parlays  . A parlay is when you bet on multiple games/outcomes and the odds of each of those are multiplied together to create a much bigger payout than a single-game wager. Bettors can use a combination of moneylines, spreads, and/or totals to create a parlay bet. Each selection needs to win for the parlay bet to be a winner.
NFL prop bets
NFL prop bets have become one of the most popular ways to bet on football. A prop – short for "proposition" – is a bet on a single player or event in the game. We can bet on how many yards a quarterback will throw for, how long the longest field goal scored will be, or how many touchdowns a certain team will score. NFL prop markets can be extensive and are a fun way to bet on football.
NFL teasers and pleasers
A popular form of wager from seasoned gamblers is the teaser. An NFL teaser bet is a form of parlay (usually two or three games) and is a combination of alternative football betting lines. In an NFL teaser bet, we are "teasing" or adjusting a spread or total to a different number than the original one, but taking longer odds in the process. The most common teaser number is six. If a team is +4.5, we can tease them to +10.5 (six-point teaser). A two-team six-point teaser usually pays -110, while a three-team six-point teaser pays +180. NFL pleaser bets, do the opposite, reducing the number of points and bringing the odds in.
NFL futures bets
The aptly named NFL future bet is any wager on any event that will take place in the future. Future bets are very popular heading into a football season as bettors can make big money predicting anything from division and conference winners, to the league's MVP, or offensive rookie of the year. NFL team win totals are also an increasingly popular future market.
What are the best American football betting sites?
Is American football betting online legal?
Can I bet on my mobile device?
Can I get a welcome bonus?
Can I get a free bet offer?