FanDuel sportsbook review
Chris is a sports betting expert who has spent years learning how sportsbooks work and how to beat the markets. In addition to his own personal success with betting, Chris now also spends his time producing educational content for his followers across YouTube and Twitter. As a huge NBA, NFL and MLB fan, Chris enjoys the entertainment sports betting can bring, but also understands the hard work required to develop his knowledge and keep up with the markets in order to turn a consistent profit.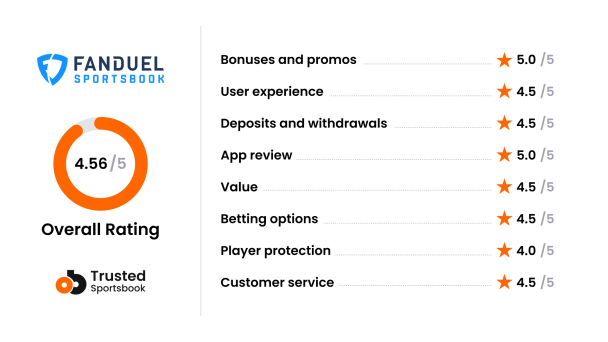 FanDuel: Our verdict
Overall rating: 4.56
If you've never used FanDuel Sportsbook you're missing out. A trusted brand, with official partnerships with the NFL, NBA, MLB and NHL, FanDuel is known for its easy-to-use, sleek interface, but it has a lot more to offer than just its user-friendly app and website. The self-proclaimed "#1 Sportsbook in the United States" is safe and regulated – as we'd expect – and offers specific features that a lot of its competitors don't, separating itself from the pack.
FanDuel offers multiple betting options, a wealth of competitive odds, enticing daily promotions, great cash out options and some of the quickest payouts of any sportsbook within the market. If you're new to sports betting, whether you're using the sportsbooks website or the app, you'll find one of the most competitive sign-up bonuses available. And then there's my favorite part – the live betting that's tracked through the app with real time updates provided so that I'm able to see how the team/player I've backed is performing instantly.
FanDuel pros and cons
| Pros | Cons |
| --- | --- |
| The simplest sportsbook to use, with the best user experience - uncluttered and very easy to find whatever you're looking for. | Geolocation issues for website use - you'll find it more difficult at times to verify your account on the website than when using the app. |
| FanDuel offers more markets and secondary markets than any other sportsbook. | Lack of a loyalty rewards program for regular users. |
| Ability to be able to create custom parlays with alternate lines for player props and totals. | Lack of option to cancel your bet before event starts in certain markets. |
| Live player prop stats with real-time results. | |
On this page:
Click the links to jump to each section.
How to sign up to FanDuel
Signing up to FanDuel is a pretty easy process in comparison to other sportsbooks. You can sign up using FanDuel.com from your desktop or laptop, or you can download the FanDuel Sportsbook app on your mobile.
Choose your state, enter your email, then choose a username and password. Lastly, enter some personal information and you're all set. FanDuel also gives new customers the option of signing up through their Facebook account.
The signup process is probably the easiest sign-up process of any sportsbook and can be done in just a few minutes if you have all your information handy.
FanDuel has a pretty generous sign-up offer for users to get started. The 'No Sweat First Bet' promo gives new customers up to $1,000 in free bets just for creating an account, depositing and placing a wager of any kind on a sporting event without a promo code needed.
If your bet loses, FanDuel will return the wagered amount up to $1,000 in bet credits. If your bet loses, the free bet tokens should arrive in your account within 72 hours to be used at your discretion. The only thing to be aware of here is the 1x rollover requirement means that you have to play the bonus funds once before they can be withdrawn for profit. This welcome offer compares well against other competitive sportsbooks and makes FanDuel Sportsbook an enticing place to start your sports betting.
FanDuel, like other sportsbooks, have been known to have state-specific promotional periods that last between one and two months. One promo frequently used by multiple states is the 100% bet match on the stake of your first cash wager (up to $250). Check out your state-specific promo to make sure you get one that's applicable.
FanDuel bonuses and promos
Overall rating: 5.0
FanDuel is been known for its promotions and bonuses. During different league's seasons, you'll constantly see great bonuses and promos that should absolutely be taken advantage of. For instance, on Thursdays during baseball season, I love taking advantage of the 'Celebrate ThursKs' Same Game Parlay feature. This is an offer where if you place at least a three-leg same game parlay of $25 or more, you receive a $1 bonus in free bet tokens for each strikeout in that game.
FanDuel also offers a $50 Refer a Friend bonus where both you and the person you invite get $50 deposited to your account when certain depositing conditions are met. This can be used to place free bets when they sign up using your referral link.
Throughout the various sports seasons, FanDuel also offers a ton of insurance promotions. Whether it's NBA, NFL or NHL you'll likely find something worth taking advantage of. All promotions can be found by checking the FanDuel promotions page on the website or on the homepage of the app.
Free bets
FanDuel is also known for its generous offer of free bets to its users. Sometimes free bets can be received as part of a specific promotion and these bets typically expire within seven days unless otherwise stated so be sure to use these offers once granted. Free bets can be used in every market except Round Robin wagers. And don't worry, you're typically notified via the app or email if you've received a free bet.
Deposit bonuses
FanDuel sometimes has deposit bonuses available for its active users. If bonuses are currently available, I've always been able to easily find them on the website and in the promotion section of the app's homepage. You'll find that FanDuel offers more deposit bonuses at the beginning of sports seasons, such as NBA and NFL, to give users more bang for their buck when uploading funds.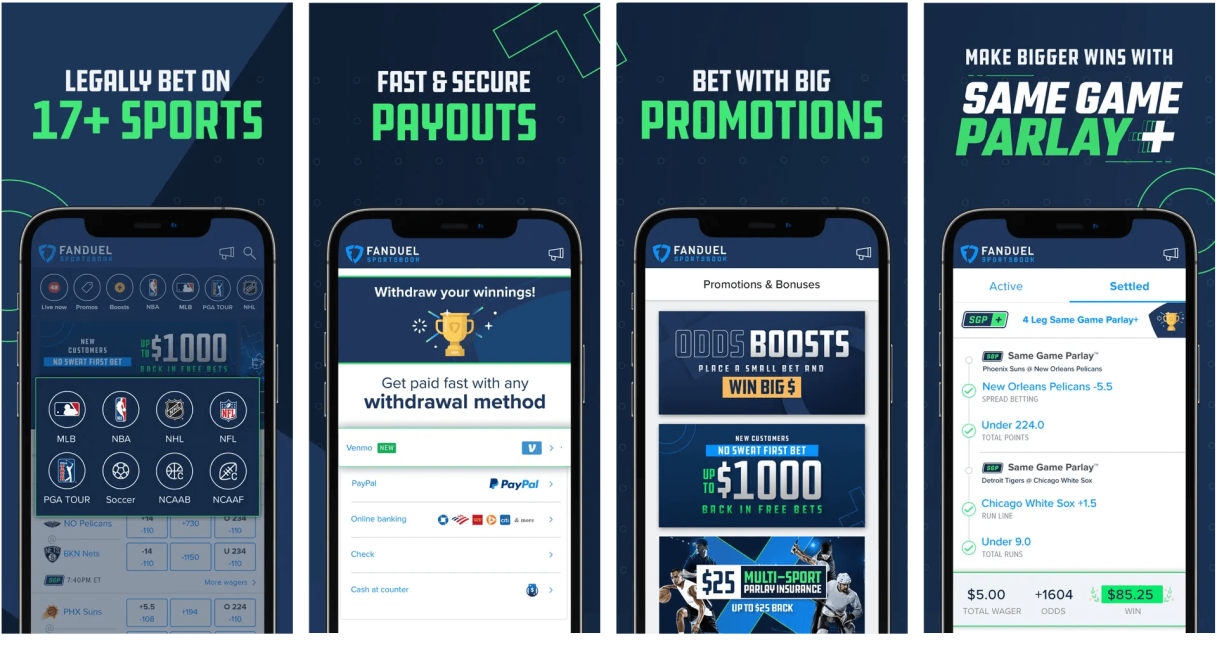 FanDuel key features
One of the reasons FanDuel Sportsbook is so highly favored by its customers is because it provides so much more than just placing bets on moneylines and spreads. The sportsbook offers a variety of different key features which separates it from its competitors.
First up, there's the live betting option. This feature not only gives users the opportunity to place wagers on live sporting events, but FanDuel has the absolute best real-time stats provided on both their website and app. This means you're not toggling back and forth to check the score or to see how many points a player needs to cash your bet. It's all provided in one convenient location.
FanDuel also offers live streaming of sporting events. Simply click the Live Now feature in the top left corner of the home page and then the Watch Live tab which will provide a full list of all matches currently available to watch. The only catch is that users must have funds in their account in order to watch.
Additionally, FanDuel offers the popular Cash Out option, allowing bettors to get a percentage of their bet before the sporting event ends. The amount won is dictated by how well the team/player is performing at that moment, using real-time odds.
FanDuel user experience
Overall rating: 4.5
FanDuel offers a flawless experience with its user-friendliness. FanDuel has a lot of information readily available upon opening the app or visiting the website, making it easy to find the exact sport and market that you're looking for, without it feeling like there's too much clutter on any given page.
After logging in from the app, you'll notice the Search icon in the top-right corner to quickly find specific teams or games you're looking to wager. Below the search feature you'll see a very helpful list of horizontal icons, including active live markets, promos, active boost, your referral link for others to sign-up and different markets to bet – trust me, there's a ton. This list is laid out similarly on the website version but runs vertically down the left-hand side of the page.
Also noteworthy is the row of icons at the bottom of the page. Here you'll find an All Sports icon that'll also give you access to every sporting market available to place a wager, but also the Responsible Gaming, Support, Betting Guide and other helpful resources along the way. Your active and settled bets can also be found on this same bottom row as well as your account balance in the bottom-right corner.
FanDuel deposits and withdrawals
Overall rating: 4.5
If you've never placed a bet on FanDuel Sportsbook, you'll find it to be one of the easiest sportsbooks to wager with. It's as simple as logging in to your account, selecting the market you want to bet and clicking on the odds you want to wager. This will add the bet to your bet slip where you can then enter your wager amount and place your bet. If you're looking to parlay multiple bets, you can add another leg to the first bet, then enter your wager amount. From there, it's as easy as clicking the Place Bet button and your first bet is placed. Bets on FanDuel can be as little as nine cents and as big as $12,500.
FanDuel payout speed
FanDuel's payout speed is highly competitive compared to other sportsbooks. I've been using the sportsbook for what seems like forever, and in that time I've had hundreds of payouts within minutes of the bet winning. This is especially satisfying and convenient when placing a bet during the NBA season, for example, on a team's first quarter total points, or in the NFL when betting on the first half spread of a game. Having your winnings credited to your account before the event ends shows FanDuel understands its users.
FanDuel deposit methods
FanDuel offers a large variety of ways to make deposits. Using a debit/credit card, online banking by Trustify, Venmo, Paypal, wire transfer, and PayNearMe are just a few of the ways funds can be uploaded.
| Option | Minimum deposit | Maximum deposit | Process time |
| --- | --- | --- | --- |
| Credit card | $5.00 | $25,000 | As little as two hours. |
| PayPal | $5.00 | $25,000 | As little as two hours. |
| Bank transfer | $5.00 | $25,000 | As little as two hours. |
| eCheck | $5.00 | $25,000 | Typically within 14 business days. |
FanDuel withdrawal methods
Although there are plenty of options when it comes to depositing money, FanDuel does slightly limit users with its withdrawal methods. FanDuel withdrawal fees are free, and withdrawing money is fairly simple, and can be done via PayPal, Play+, via check by mail and online banking. Processing times vary depending on which method users select but from my personal experience I'd recommend selecting the same option you used to deposit to also withdraw for a smoother transaction. FanDuel does offer both free withdrawal and deposit options.
| Option | Minimum withdrawal | Maximum withdrawal | Process time |
| --- | --- | --- | --- |
| Credit card | $25.00 | $10,000 | Up to 48 hours. |
| Bank transfer | $25.00 | $100,000 | Three to five business days. |
| PayPal | $25.00 | $60,000 | Typically within 48 hours |
| eCheck | $25.00 | $10,000 | Typically within seven to 10 business days. |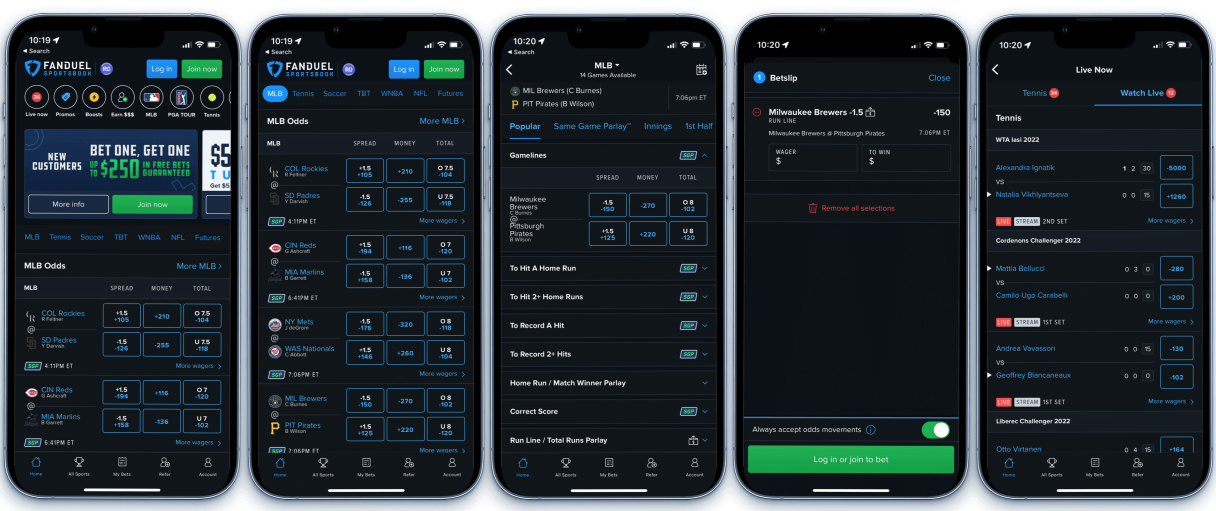 FanDuel app review
Overall rating: 5.0
New users will find the FanDuel app to be one of the best apps available for sports betting within the US. The app is flawlessly designed for its customers and is an experience like no other. You'll find the platform to be extremely user-friendly, without any glitching/crashing and the same functionality as the web version. The app is also available on both Android and iOS devices. No matter if you're uploading funds for the first time or crafting same-game parlays, you'll find the FanDuel app to be at the top of the food chain in comparison to other apps on the market.
My only gripe about using the FanDuel Sportsbook app is that it's so easy to place bets and it happens so quickly that sometimes your fingers can slip and press the Place Bet button. Before you know it, you've locked in a bet that you didn't mean to and don't always have the option to cancel the bet. If FanDuel was to modify anything, I think adding a Confirm Bet option for users would be a helpful two-step addition to the already stellar app.
FanDuel odds comparison
Overall rating: 4.5
Another key reason FanDuel continues to keep up its success is the sportsbook's competitive odds. FanDuel has been known to have average or above average odds in major NFL, NBA and NHL betting markets. It is worth noting that FanDuel does have significantly juiced lines at times where other sportsbooks may have better numbers, but collectively I've found FanDuel to have pretty competitive odds across the industry.
I've often found spreads and moneylines across major sports to not be too juiced (-118 to -105). My favorite sport to bet on with FanDuel, by far, is the NBA, where I've found above average pricing for point spreads and totals specifically. If you're line-shopping and trying to get the best odds available, I'd recommend checking out FanDuel odds as one of your first options.
FanDuel betting options
Overall rating: 4.5
Does FanDuel have good odds?
FanDuel is not only a top-tier sportsbook but it also has extremely competitive odds within a wide selection of sports markets. For such a long time I would check FanDuel's odds on moneylines and point spreads first before checking competitors, for two reasons. The first is because the lines are typically in the -115 to -110 range, but also because FanDuel almost always has odds available before its competitors. This gives users even more time to decide whether they think odds are enticing or not. That said, you'll find a ton of value across all top sports markets.
FanDuel doesn't impose a maximum bet limit, but winnings are capped for payout in a single day at $1,000,000. Please remember, your winnings will be taxed.
What markets does FanDuel offer?
In addition to the sportsbook, FanDuel offers Fantasy, horse racing and Casino. Within the sportsbook, FanDuel has pretty much every market that you could think of. You'll find everything from futures, spreads, totals, team props, player props and round robins. Not to mention moneylines, parlays and one of my personal favorites – live bets. Each market has various secondary markets listed as well. For instance, during the NFL season, if you're looking to bet on a player instead of a team, you can find your favorite running back's rushing and receiving yards under his player props. Within the NBA season, you'll be able to do the same with your favorite point guard's points, rebounds, assists and more.
FanDuel is highly recognized for its same game parlay feature that allows users to add plays to be wagered together. FanDuel makes this easy and is the only active book where multiple same game parlays can be built across the same sport but with different games. As with all odds, you'll find future bets listed on FanDuel earlier than most competitors.
Does FanDuel offer live betting?
When it comes to live betting, you'll find it hard to top what FanDuel brings to the table. The sportsbook brings us live streaming action so that we can follow what's unfolding while in the app. The live betting section on both the app and the website are put together nicely in a very neat layout, providing a user-friendly experience. Plus, FanDuel has a wealth of different live betting options. There are spreads, totals, moneylines, team props and player props that can all be wagered on.
One thing that makes FanDuel's live in-play betting elite are its up-to-date stats provided for you through the app or website. For instance, during the last NBA season I had a lot of success live betting Steph Curry three pointers made. If he got hot during the first quarter, I'd be able to see how many threes he'd already made and what his current live line was priced at, all with the odds on the same page.
FanDuel player protection
Overall rating: 4.0
FanDuel commits to protecting their users by ensuring betting is done responsibly and in a healthy manner. In doing so, the sportsbook has Responsible Gaming resources and proactive tools that can be easily accessed at the bottom of the website and under the Account tab on the app.
First up, deposit limits. This tool allows users to set limits with how much can be deposited into the sportsbook within a given time frame. Additionally, there's contest entry alerts that will notify users when they've entered too many contests in a given time frame, based on the preset limit.
Lastly, FanDuel offers max entry fee limit and has third party resources listed on their page for additional help if gambling does become problematic for its users. FanDuel also utilize various security technologies and procedures to ensure that personal information is not accessed or disclosed without authorization.
FanDuel customer service
Overall rating: 4.5
During a recent test interaction with the customer support team at FanDuel, I found them to be quickly responsive. In fact, the representative that I spoke with via the live chat option at support.FanDuel.com/s/ was able to help me resolve my issue within five minutes of me reaching out. In my previous interactions, I've found the FanDuel support team to be both knowledgeable and polite.
How to contact FanDuel in the US
| | |
| --- | --- |
| Live chat 24/7 | Yes, via support.FanDuel.com/s/ – This is quickest and easiest way to access a representative around the clock 24 hours a day. |
| Email | Yes, you can email FanDuel and they'll respond as quickly as possible with an approximate wait time given at the time of your email being sent. |
| Phone | 609-224-1019 – not recommended for the fastest response time but an option listed for users to leave a voicemail. |
| Twitter | Yes, @FanDuel_Support |
Where is FanDuel legal?
The following states currently have access to FanDuel Sportsbook.
California , Maryland and Ohio are slated to be the next two states up for FanDuel Sportsbook access if the two states do pass legislation to have online sports betting legalized.
FanDuel Casino is currently legalized in Michigan, New Jersey, Pennsylvania and West Virginia.
Sports betting in the United States
Is FanDuel regulated in the US?
Not only is FanDuel regulated within the US, but the sportsbook is also the self-proclaimed '#1 regulated online sports betting platform within the United States'. If you're new to sports betting this is just what you'd like to hear because not all sportsbooks are regulated. Registering with a regulated sportsbook increases your likelihood of being paid out winnings and guarantees that your personal information stays safe.
FanDuel reputation
FanDuel has really expanded and has done so quickly. The sportsbook has partnerships with some of the biggest sporting organizations in the world, showing the level of trust and respect associated with the brand. FanDuel has partnerships with NFL, NBA, WNGA, WTA, NHL, MLB, PGA Tour and a plethora of team specific partners across the NBA, NHL, NFL and more.
While mentioning the partnerships above, it's obvious to say that they've established themselves well in the sports betting market. But with many more states looking to legalize sports betting in the near future it still feels like FanDuel is only getting started and will be looking to grow its brand and partnerships throughout the country as new legislation is passed.
Known for having the best same-game parlay feature, rapid payouts, competitive odds, and tons of markets, it's safe to say the sportsbook is here to stay and will only continue to expand in the near future.
FanDuel review conclusion
For those who are new to sports betting, FanDuel can be viewed as one of the perfect places to get started. The user-friendly and super clean interface makes the sportsbook a very attractive starting point for new bettors looking to place online bets via the FanDuel website or the app.
Signing up is easy and convenient. Once signed up, you'll also find a convincing bonus, some of the most competitive odds for your favorite sports and a wealth of different markets to wager on. More importantly, you'll find the live betting and early cash out options to be fun and exciting in comparison to any other sportsbook out there.
FanDuel key information
| | |
| --- | --- |
| Year founded: | 2018 |
| Licensed in Canada: | Yes, as of April 4, 2022 |
| Licenses: | New Jersey, Pennsylvania, Michigan, West Virginia, Colorado, Connecticut, New York, Virginia, Louisiana, Indiana, Tennessee, Illinois, Arizona, New Hampshire, Wyoming |
| Operating regions: | FanDuel is operated through land-based gambling locations in sports betting legalized states. This includes NJ, PA, WV, IN, CO, IL, IA, MI, AZ, CT, NY and LA. FanDuel also holds mobile betting licenses in VA and TN, the only two states without brick-and-mortar casino access. FanDuel is also now available in Canada where single-game sports betting now legal and can be regulated on a province-by-province basis. |
| Average payout speed: | Payout can take anywhere from a few minutes on the fast side of things to a few days on the slower side. I've always received my winnings within three days. |
| 24/7 support: | Yes, via support.FanDuel.com/s/ |
| Languages: | English |
| Number of sports offered: | 16 |
| Markets offered: | Events, Futures, Specials, Casino, Daily Fantasy, Horse Racing |
| Live betting: | Yes |
| Cash out offered: | Yes |
| App: | Yes, available for both Android and iOS users |
| Additional products: | Daily Fantasy Sports, Horse Racing, Casino |
Can you win money at FanDuel?
How fast does FanDuel pay out?
Do you have to pay taxes when you win at FanDuel?
Read our expert sportsbook reviews
Brand disclaimer
The brands featured in this article are for illustrative and commentary purposes only. There are no commercial associations between the website and any brand featured in this article. Trademark rights and copyrights relating to the teams featured on this page belong to their respective owner(s), which are not associated or affiliated with OnlineBetting.com in any way and did not license rights or authorise or sponsor this article.