MLB Picks and best odds: Baltimore ( ) vs Toronto ( ) - Orioles can overcome jaded Blue Jays on Friday
Our expert MLB handicapper John Lepore looks ahead to Friday night's clash between the Orioles and the Blue Jays live on Apple TV and believes Baltimore will have too much for a tired Toronto pitching unit...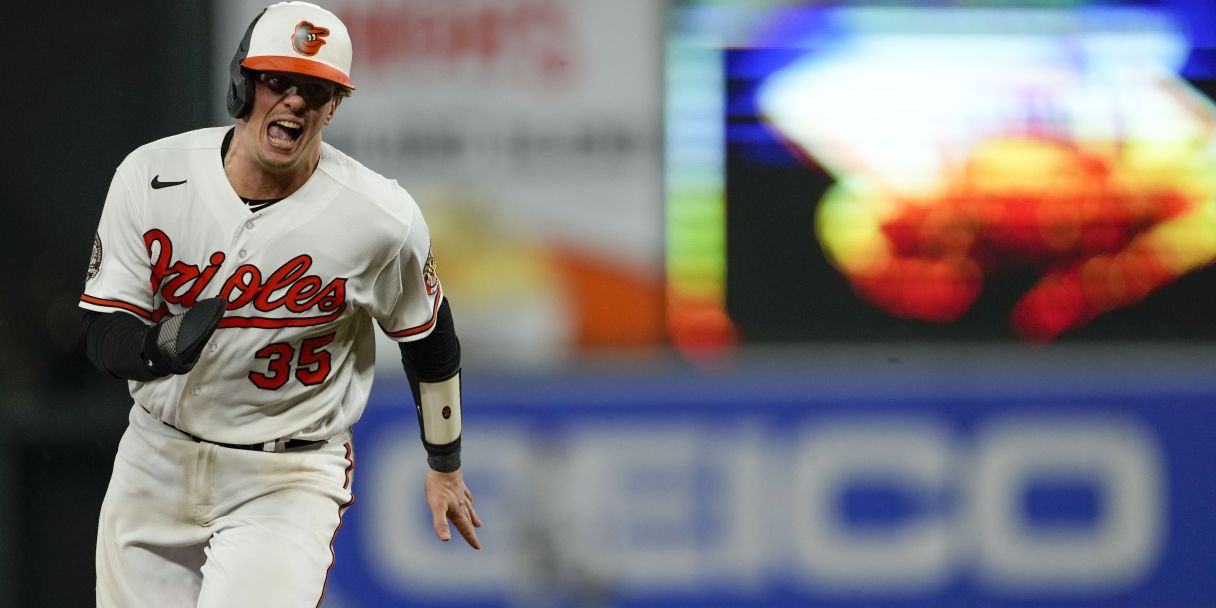 Adley Rutschman sports a 4.5 WAR and has slashed .254/.361/.446 with 10 home runs and 30 doubles in just 93 games © Brent Skeen-USA TODAY Sports
Best baseball offers 2022
MLB expert picks: Baltimore Orioles @ Toronto Blue Jays (Friday, September 16: 7.00 EDT)
| Fixture | Baltimore Orioles @ Toronto Blue Jays |
| --- | --- |
| When | Friday, September 16, 7:00 EDT |
| Likely Starters | Austin Voth vs. Trevor Richards |
| Where to watch | Apple TV |
Orioles at Blue Jays - a battle for AL Wild Card spot?
As we head into the final 20 games of the season, the Baltimore Orioles are surprisingly still in playoff contention. When June ended the O's were 35-42 and looked to be a year or two away from contending in the American League race. However, they have gone 39-25 since then and sit just five games out of a Wild Card spot and can be backed at to make the postseason. The Toronto Blue Jays currently hold a playoff spot and are currently to win the AL East, but Baltimore is the closest threat to that position. This series is a big one in the AL.
The Orioles will send Austin Voth to the mound Friday night. He was put on waivers by the Washington Nationals after a dismal 10.13 ERA in 19 appearances for them to begin the season. Baltimore picked him up and he has been solid with a 4-2 record and a 2.82 ERA. The right-hander doesn't light up the radar gun, but he has added a cutter to his repertoire which has done wonders for him.
The Blue Jays will open with Trevor Richards and likely employ bullpen arms the rest of the way. The Orioles employed this tactic on Sunday against the Texas Rangers. Richards didn't make it out of the first inning and former starter Yusei Kikuchi gave up a couple of runs. Friday will mark Toronto's 16th game in 15 days. Their bullpen may be getting a bit tired.
Orioles player to watch: Adley Rutschman
Rutschman is a frontrunner to win the AL Rookie of the Year award ( ). He sports a 4.5 WAR and has slashed .254/.361/.446 with 10 home runs and 30 doubles in just 93 games. He hit a bit of a slump recently, but he didn't start on Sunday and was off on Monday. He returned on Tuesday well-rested and went 2-for-4 with a walk and a double. This kid is the future of the Orioles and has started his career off looking like a veteran.
https://twitter.com/AdleyWRLd/status/1567309991035510784?s=20&t=wjWgcrVLDxGdoLxTB5jhKA
Blue Jays player to watch: Alejandro Kirk
After part-time work the past two seasons, Kirk got the starting spot this year and has been an integral part of Toronto's lineup. The young catcher is slashing .295/.379/.432 with 13 home runs. Kirk is one of only six players in the majors with more walks than strikeouts (56-52). While his better-known teammates get most of the attention, the 23-year-old just keeps on raking.
Baltimore Orioles @ Toronto Blue Jays conclusion and prediction
Baltimore is the upstart team this year, but they may run out of time to make a serious push for the playoffs. They have some very good young stars and are certainly building something for the future. The Blue Jays are built to win now. However, going with an opener and a bunch of bullpen guys may not work out. They have played a ton of games recently, and the Orioles should take advantage of a weary pen.
MLB Picks:
- Orioles @ - Over 8.5 runs @
MLB quick picks for Friday, September 16:
- Rockies on the moneyline vs the Cubs @
- Marlins @ Nationals over 7.5 runs @
- Rangers on the moneyline vs the Rays @
Milwaukee
@
Philadelphia
LA Dodgers
@
Baltimore
Cleveland
@
Pittsburgh
San Diego
@
Toronto
San Francisco
@
Cincinnati
Chi. White Sox
@
NY Mets
Arizona
@
Atlanta
Miami
@
St. Louis
Washington
@
Chi. Cubs
Tampa Bay
@
Texas
Detroit
@
Kansas City
Houston
@
Colorado
NY Yankees
@
LA Angels
Boston
@
Oakland
Minnesota
@
Seattle
Cleveland
@
Pittsburgh
LA Dodgers
@
Baltimore
Tampa Bay
@
Texas
Miami
@
St. Louis
Houston
@
Colorado
Boston
@
Oakland
Milwaukee
@
Philadelphia
San Diego
@
Toronto
NY Yankees
@
LA Angels
Chi. White Sox
@
NY Mets
San Francisco
@
Cincinnati
Arizona
@
Atlanta
Washington
@
Chi. Cubs
Detroit
@
Kansas City
Minnesota
@
Seattle
Arizona
@
Atlanta
San Francisco
@
Cincinnati
Milwaukee
@
Philadelphia
San Diego
@
Toronto
Chi. White Sox
@
NY Mets
Detroit
@
Kansas City
Minnesota
@
Seattle
Baltimore
@
Tampa Bay
St. Louis
@
Chi. Cubs
Houston
@
Oakland
St. Louis
@
Chi. Cubs
Colorado
@
Miami
San Diego
@
Detroit
Baltimore
@
Tampa Bay
San Francisco
@
Washington
Kansas City
@
NY Yankees
Philadelphia
@
Cleveland
NY Mets
@
Boston
Arizona
@
Cincinnati
LA Dodgers
@
Texas
Chi. White Sox
@
Minnesota
Atlanta
@
Milwaukee
Pittsburgh
@
LA Angels
Houston
@
Oakland
Toronto
@
Seattle
Kansas City
@
NY Yankees
Colorado
@
Miami
St. Louis
@
Chi. Cubs
LA Dodgers
@
Texas
NY Mets
@
Boston
Toronto
@
Seattle
Baltimore
@
Tampa Bay
Arizona
@
Cincinnati
San Diego
@
Detroit
San Francisco
@
Washington
Philadelphia
@
Cleveland
Atlanta
@
Milwaukee
Chi. White Sox
@
Minnesota
Houston
@
Oakland
Pittsburgh
@
LA Angels
San Diego
@
Detroit
Kansas City
@
NY Yankees
San Francisco
@
Washington
Philadelphia
@
Cleveland
Baltimore
@
Tampa Bay
Arizona
@
Cincinnati
Colorado
@
Miami
Atlanta
@
Milwaukee
Chi. White Sox
@
Minnesota
St. Louis
@
Chi. Cubs
LA Dodgers
@
Texas
Houston
@
Oakland
Pittsburgh
@
LA Angels
Toronto
@
Seattle
NY Mets
@
Boston
San Francisco
@
Detroit
Kansas City
@
Cleveland
Texas
@
Houston
Pittsburgh
@
San Diego
St. Louis
@
Arizona
Toronto
@
LA Dodgers
Last updated: Jul 18, 2:05 PM UTC