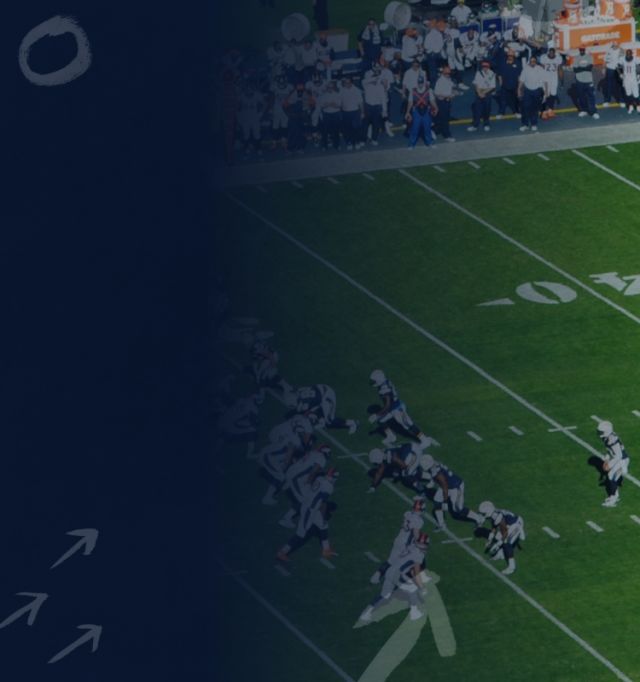 NFL betting odds, picks, & expert analysis
Spreads, totals, props, NFL betting is big business across the globe and is one of the world's most bet-on competitions. Betting on the National Football League is available to anyone with access to the many NFL online sportsbooks. It's easy, exciting, and you might be able to make a profit along the way.
Minnesota
@
New Orleans
Tennessee
@
Indianapolis
Washington
@
Dallas
N.Y. Jets
@
Pittsburgh
Jacksonville
@
Philadelphia
Buffalo
@
Baltimore
Chicago
@
N.Y. Giants
L.A. Chargers
@
Houston
Seattle
@
Detroit
Cleveland
@
Atlanta
Arizona
@
Carolina
Denver
@
Las Vegas
New England
@
Green Bay
Kansas City
@
Tampa Bay
L.A. Rams
@
San Francisco
Last updated: Sep 30, 3:30 AM UTC
NFL: Most popular markets
Picking the Super Bowl champion is one of the most popular future bets available. Nearly all NFL betting sites offer this market before and throughout the season, and even before future NFL schedules are announced with odds constantly shifting as games are played.
Betting early gives the best odds and with each team starting with the same record at the beginning of the year, taking non-favorites can be appetizing. The Cincinnati Bengals went into the 2021 season at +6600, while that number jumped to +18000 at one point in the regular season. The eventual champions, the LA Rams started the preseason at +1200 and drifted up to +1500 in the regular season.
Despite the confetti just having dropped at the end of Superbowl LVI: the odds are already available on who will the Superbowl next season, with the Kansas City Chiefs (+650) and Buffalo Bills (+700) the two highest odds available.
While only one team can win the Super Bowl, the NFL has two conference winners with each of those earning a trip to the season's final game. Choosing the winner of a conference final is therefore statistically easier than picking the Super Bowl winner, but the NFL odds will reflect that. Each conference has 16 teams with seven making the playoffs in 2021-22.
Not many predicted Cincinnati would make the AFC Championship game preseason, but even if we didn't choose a conference winner at the beginning of the year, there's no need to fret as some huge odds can still be found even after the regular season has concluded. The Philadelphia Eagles may have had the second worst record out of any team in the playoffs, but at +2500 odds to win the NFC, it will have been a wager to tempt some.
Favorites have far smaller returns, as the Packers had odds of +380 to win the Superbowl at the start of the playoffs. A big reason for this is that the best team in each conference gets a bye into the second round of the playoffs and only needs two wins to capture the conference title.
Picking a divisional winner is a bet best made at the beginning of the season and is a great NFL betting pick for players who want their money to stretch for a possible 17 weeks. That said, in some divisions it remains a tricky prediction to make – the winner of the NFC East hasn't repeated since 2004.
Each NFL division has just four teams which give NFL bettors a 25% chance of nailing their pick. Teams play their divisional opponents twice a season, which leads to some important games down the stretch. In the 2020-21 season, only the Kansas City Chiefs had worse than +100 odds to win their division. In 2021-22, the Cincinnati Bengals were huge winners at +2500, the second longest odds of any team in the NFL.
One of the must-do bets every year is to parlay all eight divisional winners on a small wager. Turning $10 into $10,000 isn't likely, but it sure makes the NFL season more exciting. The NFC South should be a safe part of the parlay, but it gets a lot trickier trying to work out who wins the NFC West, with the division providing three playoff teams in 2021-22.
If betting NFL spreads and totals is getting stale: a look into divisional and conference winners is a great way to expand our wagering portfolio.
The NFL crowns a regular-season MVP each year and that player is announced at the NFL Honors ceremony in the days before the Super Bowl. Much like everything else in the NFL: betting on the regular season MVP is an easy thing to do with many online NFL sportsbooks offering the market throughout the entire season. Quarterbacks have dominated the award, having won 13 of the last 14 years.
If we had placed a $10 bet on Baltimore's Lamar Jackson in the 2019-20 season, we would be $8000 richer as 2019's MVP was +8000 to win the award before the season started. Aaron Rodgers' MVP win in 2021-22 was his second in two years and was more predictable but would have still yielded a good profit at +1000 before the season got underway. Who will the smart money be on for 2022-23? Is Kyler Murray comfortable in Arizona? Can the Chargers surround Justin Herbert with the talent to shine? Can Lamar Jackson return to full fitness?
The Super Bowl MVP can also be wagered on before the season starts but is more widely available once the Super Bowl matchup has been decided. Betting on the Super Bowl MVP is one of the most common NFL prop bets for the season's biggest game.
NFL bets explained
NFL moneyline
Betting the  moneyline  is the simplest of all football betting picks – just pick the winning team. Sometimes referred to as ML, the moneyline will have two sets of odds – one for each team. With ties being very rare in American football, the moneyline is a two-way market which means you only have two choices, a winning outcome and a losing outcome.
NFL spread betting
Football  betting spreads  are the most common and popular way to bet on football. Unlike the moneyline, where one team is usually favored, a spread (or handicap) is created to make a more even bet. The favored team will have to win by a certain number of points while the underdog will have to not lose by the spread amount. A team with a spread of -3.5 would need to win by four points or more to "cover" the spread while the underdog (+3.5) would not have to lose by four points or more to cover. It means you can win your bet, even if the team you backed doesn't actually win the game.
NFL over/under bets
Often referred to as totals, football  over/under bets  are wagers placed on the combined total score of the game. Sportsbooks will set a total number (46.5 for example) and bettors will choose if the total combined score of both teams is below (under) or above (over) that set number.
NFL parlays
Looking for bigger football betting odds? Then you're probably interested in  parlays  . A parlay is when you bet on multiple games/outcomes and the odds of each of those are multiplied together to create a much bigger payout than a single-game wager. Bettors can use a combination of moneylines, spreads, and/or totals to create a parlay bet. Each selection needs to win for the parlay bet to be a winner.
NFL prop bets
NFL prop bets have become one of the most popular ways to bet on football. A prop – short for "proposition" – is a bet on a single player or event in the game. We can bet on how many yards a quarterback will throw for, how long the longest field goal scored will be, or how many touchdowns a certain team will score. NFL prop markets can be extensive and are a fun way to bet on football.
NFL teasers and pleasers
A popular form of wager from seasoned gamblers is the teaser. An NFL teaser bet is a form of parlay (usually two or three games) and is a combination of alternative football betting lines. In an NFL teaser bet, we are "teasing" or adjusting a spread or total to a different number than the original one, but taking longer odds in the process. The most common teaser number is six. If a team is +4.5, we can tease them to +10.5 (six-point teaser). A two-team six-point teaser usually pays -110, while a three-team six-point teaser pays +180. NFL pleaser bets, do the opposite, reducing the number of points and bringing the odds in.
NFL futures bets
The aptly named NFL future bet is any wager on any event that will take place in the future. Future bets are very popular heading into a football season as bettors can make big money predicting anything from division and conference winners, to the league's MVP, or offensive rookie of the year. NFL team win totals are also an increasingly popular future market.
The Super Bowl is the NFL's championship game and one of the biggest events in sport – a single game that crowns the best football team in the world. Over $10 billion is wagered on the event annually – according to the American Gaming Association, over $6.8 billion of that is bet by Americans alone – with NFL betting sites offering the usual NFL spreads and totals , but also some of the most diverse NFL prop bets imaginable.
The Super Bowl brings out the bettor in everyone. We can wager on the length of the national anthem, the color of the Gatorade dumped on the winning coach, and, of course, the game itself, which features the top team from each NFL division.
NFL standings
Division
AFC East
AFC North
AFC South
AFC West
All Divisions
AFC East
W
L
T
PF
PA
Home
Away
Conf
Non-Conf
Div
Ats
OU

1

Miami

3
0
0
83
64
2-0-0
1-0-0
3-0-0
0-0-0
2-0-0
3-0-0
1-2-0

2

Buffalo

2
1
0
91
38
1-0-0
1-1-0
1-1-0
1-0-0
0-1-0
2-1-0
1-2-0

3

N.Y. Jets

1
2
0
52
81
0-2-0
1-0-0
1-2-0
0-0-0
0-0-0
1-2-0
1-2-0

4

New England

1
2
0
50
71
0-1-0
1-1-0
1-2-0
0-0-0
0-1-0
0-2-1
1-2-0
Last updated: Sep 30, 3:00 AM UTC
If we missed the start of a game and didn't get a chance to get our bets in, there's no need to worry. NFL in-game betting can be found on a majority of online NFL sportsbooks and lets us place wagers after the game has already begun.
Outside of spreads and totals, many derivative and prop markets are usually available to customers with the NFL lines and odds changing as the game goes on.
For example, if the Pittsburgh Steelers were -10.5 favorites before the game and were losing 14-3 after the first quarter, we might think of placing an in-game bet on the Steelers with the new live line of -3.5.
Parlay insurance
Some NFL books offer bettors protection with multiple-leg parlays called parlay insurance. Let's say we make a five-game parlay and four of the five win, parlay insurance will pay us our original wager back when most books would deem that bet a loser.
Odds boosts
Newer sportsbooks often offer a promotion called odds boosts. The book will offer better (boosted) odds on certain wagers that move the odds into the favor of the customer. These could include spreads, totals, moneylines, and prop markets. Some books allow customers to use the boost for bets of their choice while others offer only specific plays for the boost.
Sign-up bonuses
When signing up for a new NFL online sportsbook, it's important to shop around for sign-up bonuses. Some books will match customers' first-time deposits up to a certain amount. Players will sometimes have to bet that bonus a certain number of times (called a rollover) before the money can be withdrawn.
Early payouts
Sometimes we bettors don't have to sweat through an entire game before winning our bets. Early payouts are a great promotion that turns our bet into a winner if our team is winning by a certain margin, before a game is even over. If we bet on the Dallas Cowboys to win the game (moneyline) and they jump out to a 17-point lead (or whatever the book's set number for this promotion is) we will be paid for that bet regardless of the final outcome.
What are the best NFL betting sites?
How much money is bet on the NFL each year?
Where can I bet on the NFL?
Images courtesy of: © Stephen R. Sylvanie-USA TODAY Sports, © Albert Cesare/The Enquirer / USA TODAY NETWORK, © Samantha Madar/USA TODAY NETWORK-Wisconsin / USA TODAY NETWORK, © Kareem Elgazzar/The Enquirer / USA TODAY NETWORK, © Orlando Ramirez-USA TODAY Sports, © Jasen Vinlove-USA TODAY Sports, © Mark J. Rebilas-USA TODAY Sports, © Mark J. Rebilas-USA TODAY Sports, © Christopher Hanewinckel-USA TODAY Sports, © Gary A. Vasquez-USA TODAY Sports