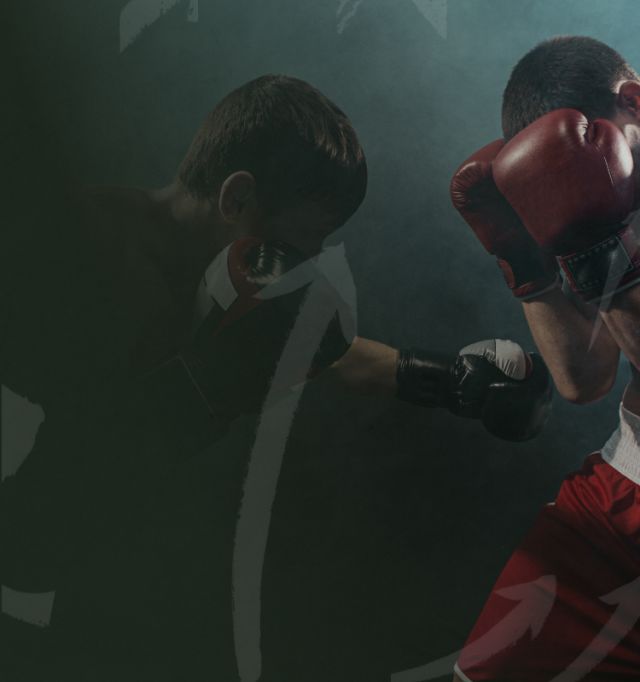 Boxing Betting Odds, Picks & Expert Analysis
"The sweet science", boxing is a sport of pure courage mixed with skill under pressure. It's also the sport for pay-per-view spectacles; Floyd Mayweather Jr. vs Manny Pacquiao's 2015 "Fight of the Century" generated a record 4.6 million PPV buys worth over $400 million. Fans will always pay to watch the best go toe-to-toe, and they'll savor the chance to bet on the biggest fights too.
Boxing expert and handicapper. Host of The Boxing Betting Show and contributor to the Transnational Boxing Rankings Board. Full bio here.
Boxing schedule
| Date | Event | Location |
| --- | --- | --- |
| Sep 10 | Claressa Shields vs Savannah Marshall | O2, London |
| Sep 17 | Canelo Alvarez vs Gennadiy Golovkin | T-Mobile Arena, Las Vegas |
| Sep 23 | Shakur Stevenson vs Robson Conceicao | Prudential Center, Newark, New Jersey |
| Sep 24 | Leigh Wood vs Mauricio Lara | Nottingham Arena, United Kingdom |
| Sep 24 | Joe Parker vs Joe Joyce | AO Arena, United Kingdom |
| Oct 8 | Chris Eubank Jr vs Connor Benn | The o2, London, United Kingdom |
| Oct 8 | Fundora vs Ocampo | Home Depot Center, United States |
| Oct 15 | Devin Haney vs George Kambosos Jr | Rod Laver Arena, Melbourne, Australia |
| Oct 15 | Deontay Wilder vs Robert Helenius | Barclays Center, New York, United States |
| Oct 29 | Jake Paul vs Anderson Silva | Gila River Arena, Phoenix, United States |
| Nov 5 | Dmitry Bivol vs Zurdo Ramirez | Etihad Arena, Abu Dhabi, United Arab Emirates |
Boxing bets explained
To win fight
The simplest bet on boxing that we can make. All we need to do is predict which of the two fighters will be victorious. It doesn't matter how or when they win, all that counts is that the referee holds aloft our selection's hand at the end of the fight.
Method of victory
There are several ways in which a bout can be concluded, including knockout, technical knockout and various degrees of points victory. If we think you know how the fight will be decided, we will be able to find boxing betting odds that enable us to back our judgment.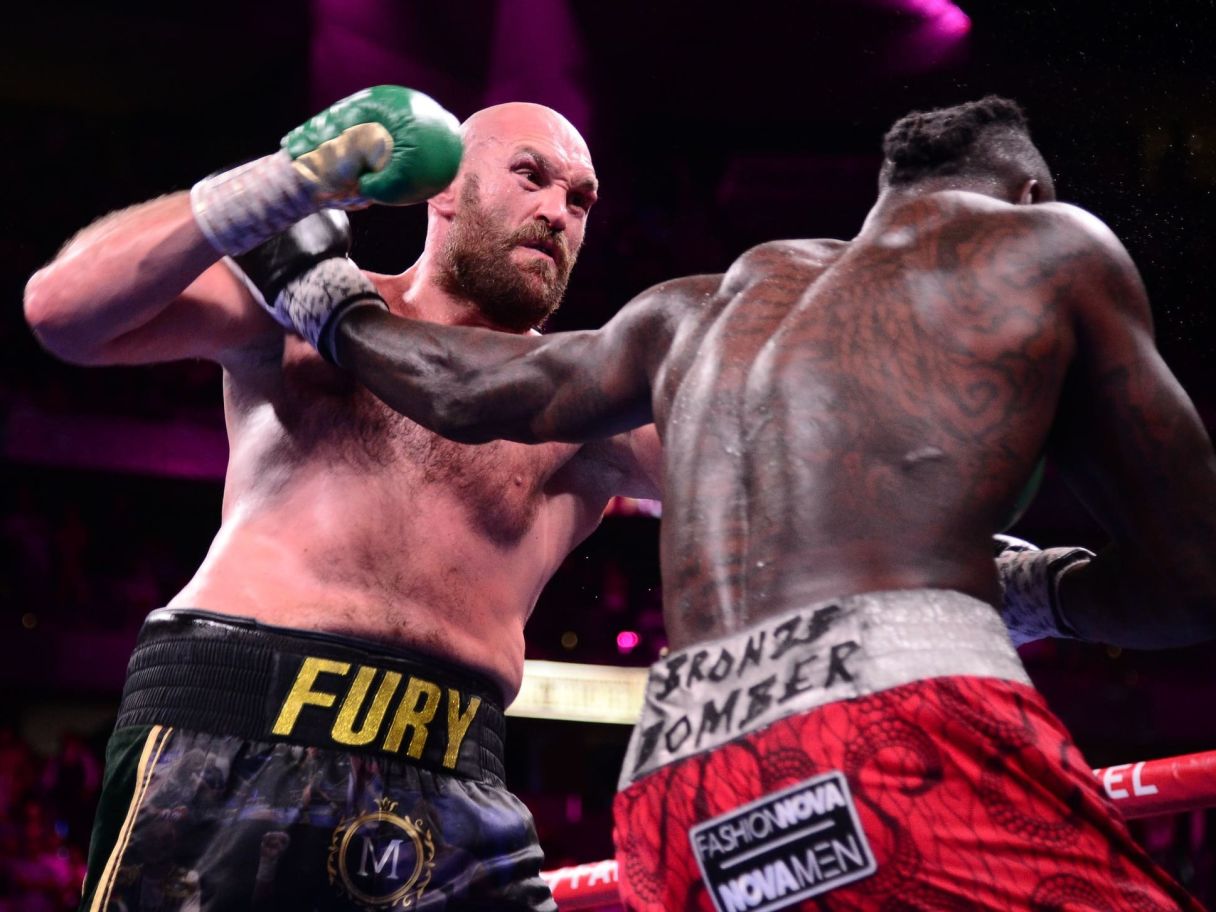 Tyson Fury takes on Deontay Wilder. © Joe Camporeale-USA TODAY Sports
Round betting
When we want to take part in online boxing betting, this is one of the most intriguing markets. Can we name the round in which the fight will be over? If we have worked out, based on the form and styles of the fighters, in which round it will end, here's where to bet.
Round group betting
Maybe we think that we have an idea of roughly how long the bout will last, but can't decide exactly in which round it will finish. We will be able to find boxing odds covering groups of rounds, usually three in each, which cover that portion of the fight.
When will fight end
This market is closely related to round betting, but also includes the option for the fight to be decided on points. We don't have to nominate a winner but we will have to decide whether we think the fight will be won in a particular round or go to the judges decision.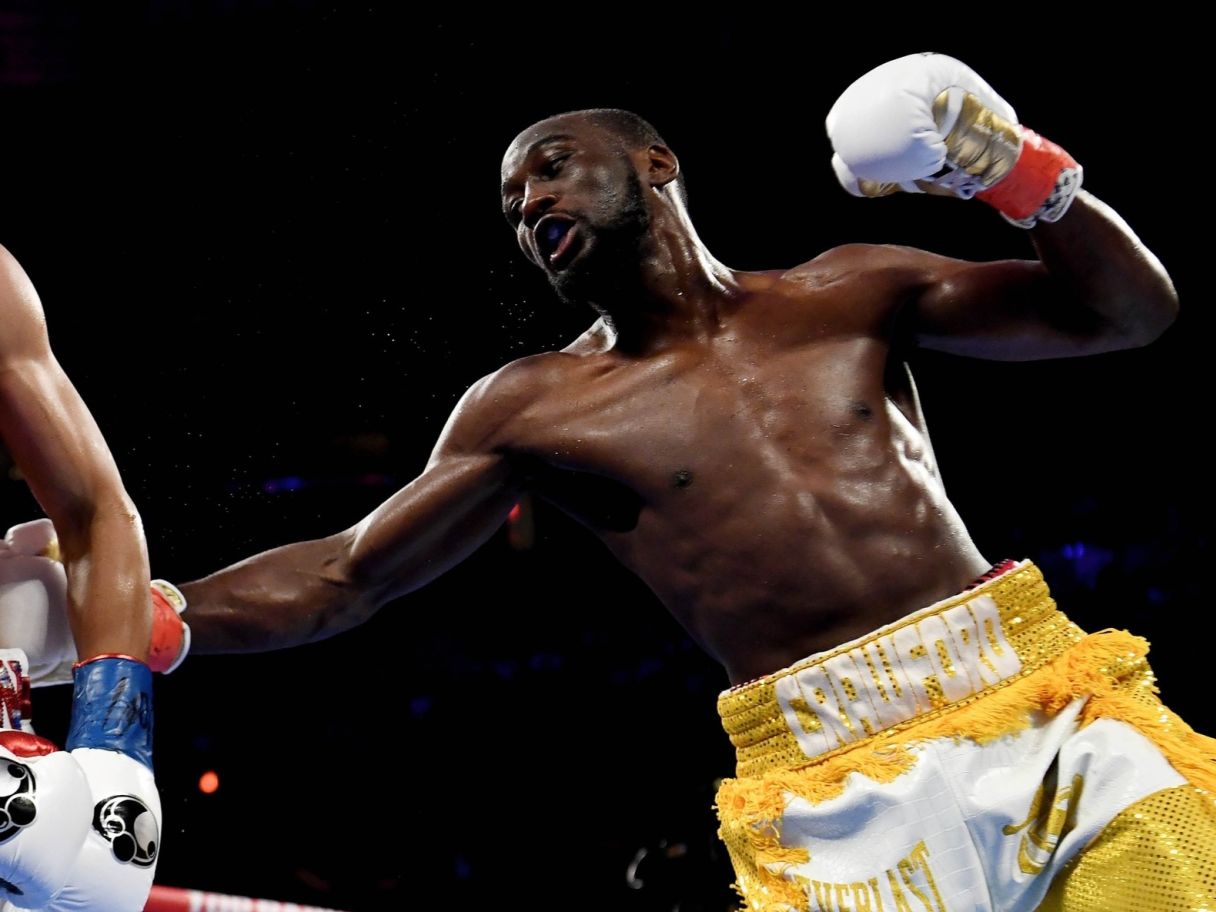 Terence Crawford vs Amir Khan action shot. Sarah Stier-USA TODAY Sports
When will fight end group betting
This is another variation on the opportunity for round betting. This set of boxing odds invites us to decide when the fight will end – but it includes the option of the decision going to points and also includes groups of rounds instead of a specific round.
Total rounds
When we have a strong feeling about how long a fight will last, this could be one of our best boxing bets. It's an over/under market; the sportsbook sets a number of rounds. If we think the fight will be over sooner, we go "under", if we think it will last longer we go "over".
Fight to go the distance
This is one of the simpler ways to bet on boxing. Do we think the fight will last the full number of scheduled rounds, or not? The sportsbook will offer a set of odds for each option and we can then place our wager according to our judgment.
Boxing odds explained
Boxing sportsbooks will always present their odds in the same format. When it comes to boxing betting odds, the favorite in the fight is represented by the minus sign (-), while the less favored fighter, or underdog, is represented by the plus sign (+). Similar to other sports, boxing odds are normally formed around bettors wagering $100.
After studying boxing odds, bettors can chose fighter A, or fighter B to win the bout. This is known as moneyline betting. For example, if you backed Anthony Joshua to win a fight against Tyson Fury at odds of +110, a $100 bet on that selection would return $110 on top of your stake.
Most popular weight divisions
Heavyweight
A fight for the heavyweight championship of the world is the most enthralling occasion in the whole of boxing. Some of the greatest sportsmen of all time, such as Muhammad Ali, Joe Louis and Jack Dempsey, are immortal legends who were proud wearers of the heavyweight crown. In the current era, fighters such as Anthony Joshua and Tyson Fury are household names with huge followings. This division will always have a special allure among seasoned bettors and casual fans alike, who love the challenge of picking a winner when the biggest fighters get ready to rumble.
Cruiserweight
Cruiserweight is the division just below heavyweight. Some fighters, such as Evander Holyfield, who were on their way to building up to that division, were supreme at cruiserweight. Heavyweight fighters of a former age, such as Rocky Marciano and Joe Louis, fought at weights that would now see them defined as cruiserweights. However, cruiserweight is a premier division in its own right. Mairis Briedis of Latvia is currently the top-ranked boxer at this weight, having held three versions of the world championship. Ilunga Makabu of Congo and France's Arsen Goulamirian are also current world champions at cruiserweight who attract serious betting action when they step into the ring.
Middleweight
This is the division for men who are lighter than light-heavyweights. Current champions such as Canelo Álvarez of Mexico, Kazakhstan's Gennady Golovkin and Demetrius Andrade of the US make this an enduringly compelling division. There is a glamor about the middleweight and super-middleweight divisions that make them extremely popular among fight fans and those who love to bet on boxing. It comes from some of the greatest names in the history of the sport fighting at this weight and packing a serious punch. Men like Sugar Ray Leonard, Thomas Hearns, Roberto Durán and Marvelous Marvin Hagler fought in a golden age of middleweights – and some stepped up to the super-middleweight division too.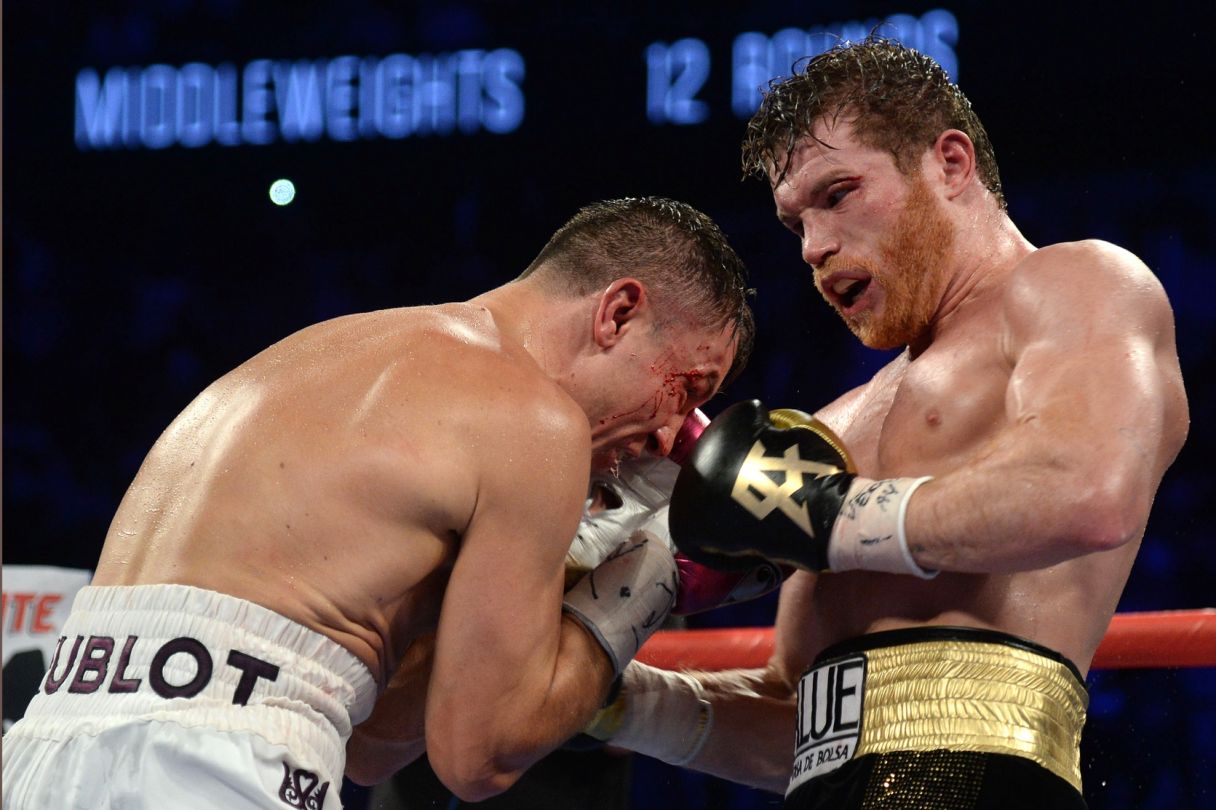 Saul Canelo Alvarez and Gennadiy Golovkin in action. © Joe Camporeale-USA TODAY Sports
Welterweight
Between lightweight and middleweight is where you'll find welterweight – and a division that boasts some of the most iconic names in boxing. The legendary Sugar Ray Robinson adorns its roll of honor, as does the undefeated (50-0) Floyd Mayweather. Manny Pacquiao, winner of 12 world titles at various weights for different bodies, is a legend the world over. The 2015 "Fight of the Century" between Mayweather Jr. and Pacquiao set a pay-per-view record with 4.6 million PPV buys worth over $400 million. Errol Spence Jr. of the US is currently unified holder of the WBC and IBF titles, while his compatriot Terence Crawford is also highly regarded. Welterweight championship bouts capture the imagination and generate impressive numbers of boxing bets.
Lightweight
Some of the finest boxers of all time plied their trade at lightweight. They include Benny Leonard, the pre-war US fighter hailed by some experts as the best boxer of all time. Roberto Duran began his domination of four different weight divisions with a power-packed reign as lightweight world champion. Lightweight fights still command huge attention and large amounts of boxing betting interest. Teófimo López of the US tops the current rankings and holds three of the four world titles. His compatriot Devin Haney and the Ukrainian Vasyl Lomachenko also command huge respect in this division.
Ukrainian lightweight Vasyl Lomachenko in action. © Mark J. Rebilas-USA TODAY Sports
Featherweight
The word "feather" in the name of this division implies something light and insubstantial. Yet featherweights have been among the most fearsome punchers in boxing. Men like Naseem Hamed, Eusebio Pedroza and Barry McGuigan were ferocious opponents in the ring and their exploits are still celebrated today. At the top of the current featherweight tree is Gary Russell Jr., the American who has held the WBC world title since 2015. Josh Warrington of the UK holds the IBF crown and is very highly regarded, as is Xu Can, the Chinese fighter. When these men fight, the world watches – and it enjoys visiting boxing betting sites to add to the excitement.
Bantamweight
This is the class for some of the smallest boxers in the sport – but the best bantamweights have a power that belies their physique. Naoya Inoue, the Japanese fighter who is currently the world's top ranked bantamweight, is known for the ferocity of his punching. It has brought him world titles at three weights, and he is presently the IBF champ and the WBA super-bantamweight holder. Nordine Oubaali of France and the Filipino Johnriel Casimero are right behind him at the top of the rankings. Many fans of the sport at all levels enjoy seeking out boxing odds for the major bantamweight showdowns.
In-play betting on boxing
Just because the first bell has rung and the fighters have come out swinging, that doesn't mean the betting has to stop.
Modern sportsbooks can update their boxing betting instantly and allow bettors to keep wagering as the action unfolds.
This means that, even if we think that Anthony Joshua has lost the first round in a fight against Tyson Fury, we can still bet on him to win the bout.
Most boxing betting sites also offer in-play wagering on other markets such as the length of the fight and the way in which it will end.
Boxing pound for pound rankings list
| Ranking | Name | Nationality | Record | Weight |
| --- | --- | --- | --- | --- |
| 1 | Naoya Inoue | JPN | 23-0-0 (20) | Bantamweight |
| 2 | Oleksandr Usyk | UKR | 19-0-0 (13) | Heavyweight |
| 3 | Terence Crawford | USA | 37-0-0 (28) | Welterweight |
| 4 | Errol Spence Jr. | USA | 27-0-0 (21) | Welterweight |
| 5 | Saul Alvarez * | MEX | 57-2-2 (39) | Super Middleweight |
| 6 | Tyson Fury * | ENG | 32-0-1 (23) | Heavyweight |
| 7 | Roman Gonzalez | NIC | 51-3-0 (41) | Jr. Bantamweight |
| 8 | Dmitry Bivol | RUS | 20-0-0 (11) | Light Heavyweight |
| 9 | Jermell Charlo | USA | 35-1-1 (19) | Jr. Middleweight |
| 10 | Artur Beterbiev | CAN | 18-0-0 (18) | Light Heavyweight |
How do you bet on boxing?
Where can I bet on the fight tonight?
Is boxing betting profitable?
What are the best boxing betting sites?
Images courtesy of: © Joe Camporeale-USA TODAY Sports, © Jon Durr-USA TODAY Sports, © Sarah Stier-USA TODAY Sports, © Joe Camporeale-USA TODAY Sports, © Jayne Kamin-Oncea-USA TODAY Sports, © Joe Camporeale-USA TODAY Sports, © Henrietta Wildsmith/The Times, © Jon Durr-USA TODAY Sports, © Jerome Miron-USA TODAY Sports, © Sarah Stier-USA TODAY Sports