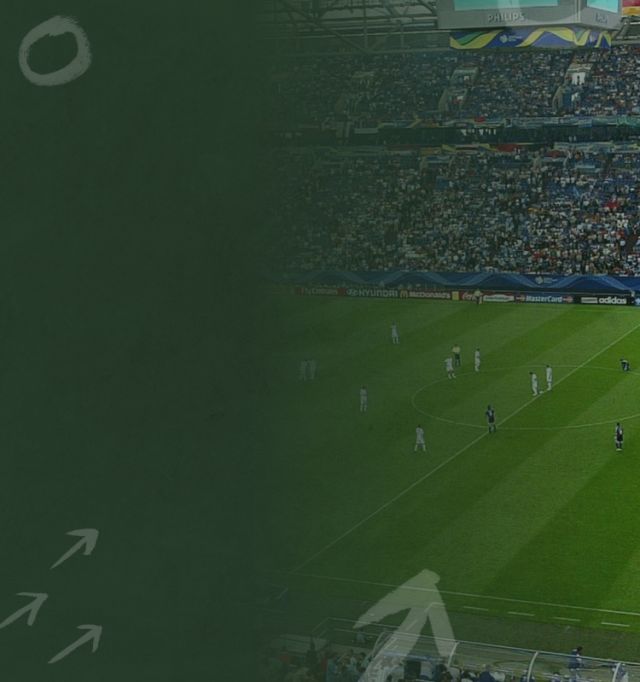 Soccer Betting Odds, Picks & Expert Analysis
Soccer is the world's game. From the English Premier League to the UEFA Champions League to the FIFA World Cup. Nothing else comes close. Over 3.5 billion fans around the world adore it. Therefore, it's no surprise that soccer betting is also enormously popular across the globe.
Top competitions
EPL
The English Premier League , also known as the EPL, is the most exciting and entertaining league in the world. As a result, it is also the biggest in terms of online soccer betting turnover.
An estimated $1.37 billion dollars is wagered each season on matches in England's top division. Some of the most famous clubs in soccer – including Manchester United, Manchester City, Liverpool, Chelsea, and Arsenal – play in the Premier League and they attract many of the world's greatest players.
Since its creation in 1992, the Premier League has grown rapidly in popularity and now commands the devotion of fans across the world, who love its fast-paced, all-action brand of soccer.
LaLiga
Spain is one of the great European hotbeds of soccer. The passion for the sport, both within Spain and well beyond its borders, is driven by the exploits of two of the world's biggest clubs. Real Madrid, a record 13 times champions of Europe, and Barcelona, five times champions in their own right, have dominated soccer domestically and across the continent in recent years.
Great players from every country aspire to play for either of these clubs, whose clashes in El Clasico are watched in every corner of the globe.
As a result, soccer betting sites offer a huge variety of ways to bet on LaLiga matches.
Serie A
Italian soccer fans are incredibly passionate about the sport, and Serie A includes some of the best supported and most famous clubs in the game.
AC Milan, Internazionale and Juventus (with 12 European titles between them) are household names for lovers of soccer across the globe, as are many of the Italian and international stars who play for them.
As a result, interest in Serie A matches is intense in both Italy and further afield. Soccer betting sites around the world offer a huge variety of soccer odds on games between Italian clubs and fans in many countries love betting on them.
Bundesliga
Germany's premier soccer competition, the Bundesliga, is widely regarded as one of the finest leagues in the world.
Its clubs are hugely respected and teams like Bayern Munich and Borussia Dortmund are among the most famous on the continent.
Soccer lovers across the world relish the opportunity to bet on matches between Germany's elite clubs, and soccer betting websites offer extensive markets on the games to encourage wagering.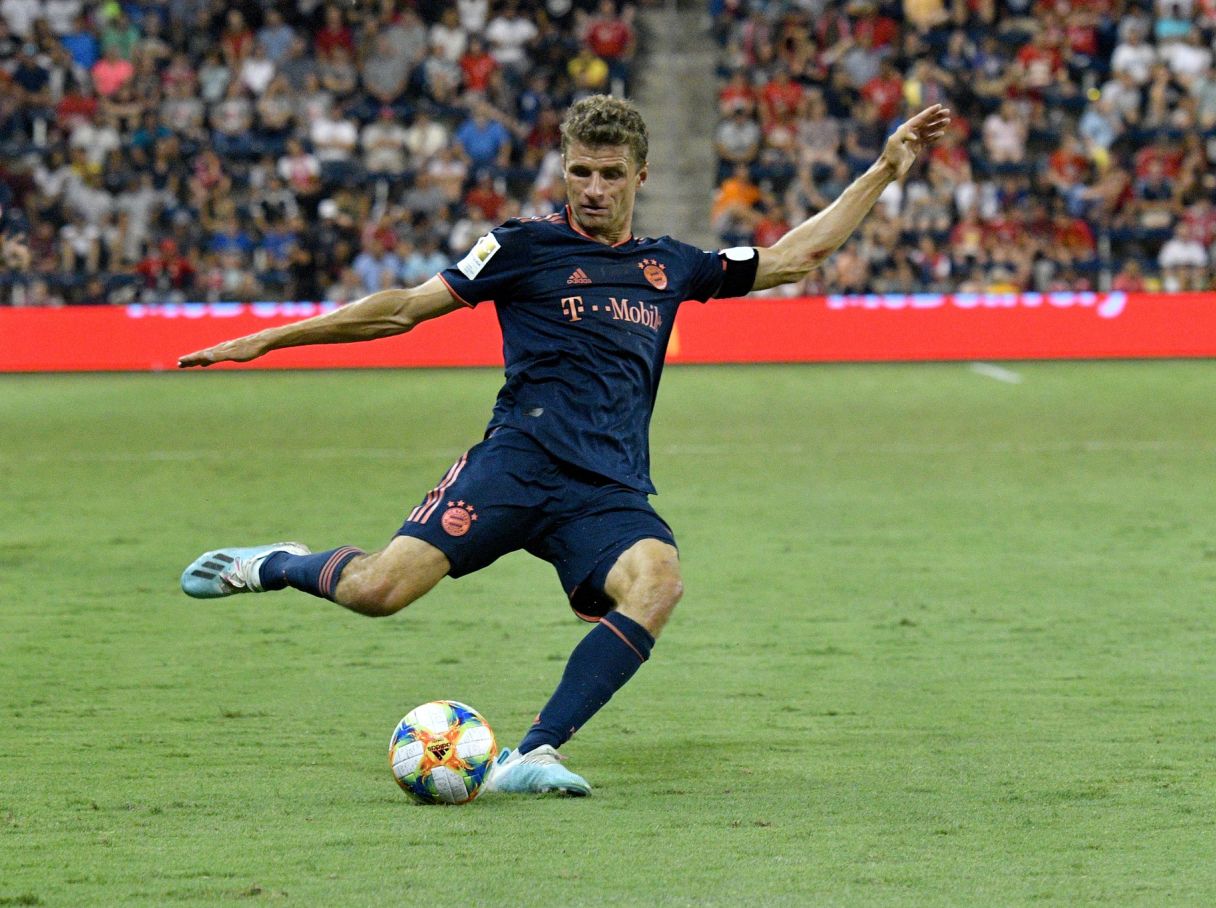 Bayern Munich forward Thomas Muller in action for the Bundesliga champions. Pic: Denny Medley-USA TODAY Sports
Ligue 1
Ligue 1 has gained in prestige in recent years thanks to the growing power of Paris Saint-Germain.
The club from the French capital, with nine titles to their name, has dominated its domestic league to an extraordinary extent for several seasons.
It has also attracted some of the great names of the world game, including Lionel Messi, Neymar and Kylian Mbappe, and has become a regular in the latter stages of the Champions League, finishing as runners-up in 2020.
Ligue 1 matches are growing in global popularity, and soccer betting apps allow fans across the world to bet on the action in France.
MLS
Major League Soccer is North America's premier soccer league. Despite being relatively young compared to the established leagues in Europe and South America, it's growing in size and popularity year-on-year, and fast becoming a breeding ground for new talent.
Global superstars including Wayne Rooney, Thierry Henry, Zlatan Ibrahimovic, Kaka and, of course, David Beckham, have helped raise the reputation of the league, not forgetting the regular addition of new franchises such as Inter Miami CF and New York City FC further increasing its profile.
The MLS has become a firm fan-favorite, and betting enthusiasts enjoy the chance to check out MLS odds and get closer to the action.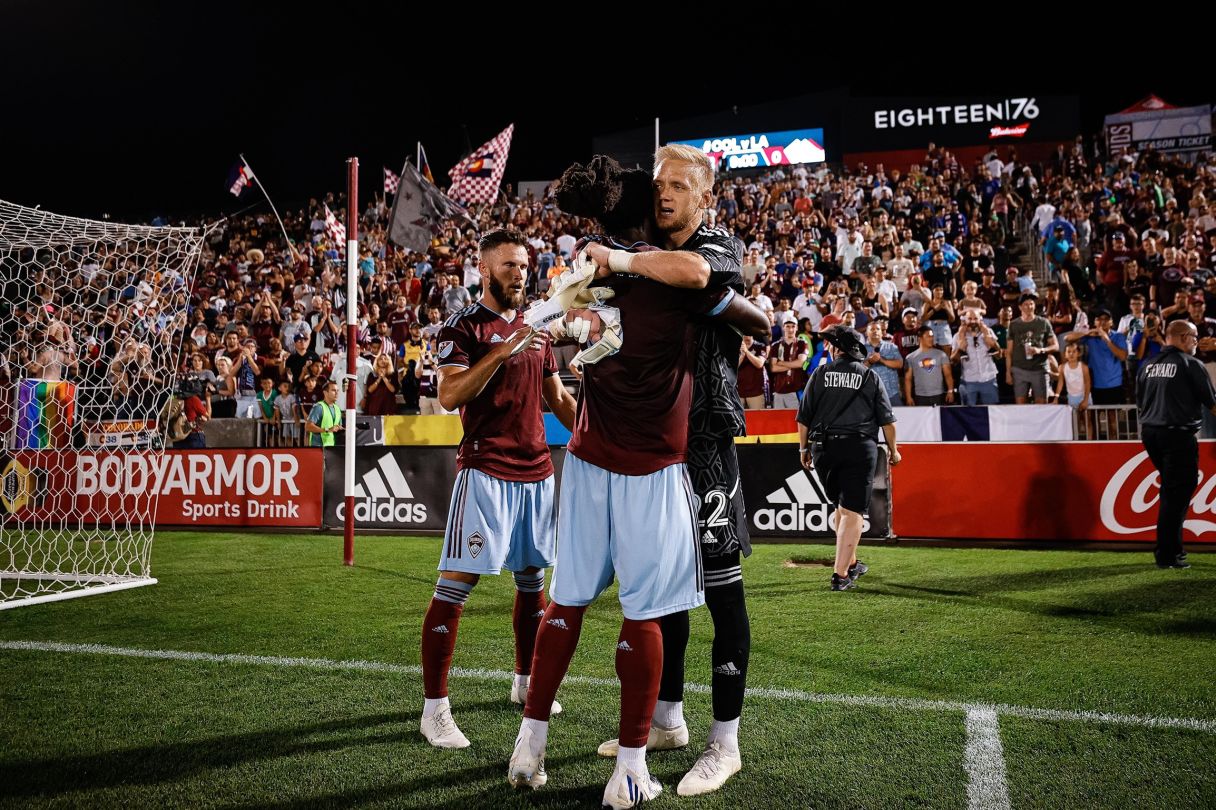 Colorado Rapids goalkeeper William Yarbrough (22) celebrates with defender Lalas Abubakar (6) and defender Keegan Rosenberry (2) after the match against the LA Galaxy. Pic: Isaiah J. Downing-USA TODAY Sports
UEFA Champions League
The UEFA Champions League is unquestionably the biggest annual club competition in the world. The most illustrious teams from across Europe battle it out to be crowned kings of the continent – and the betting action across the globe is substantial.
Fans are fascinated to see the best clubs in each country in clashes of cultures and styles, and equally intrigued by the challenge of predicting the outcomes on soccer betting websites.
With a massive global audience and profile, the Champions League is the ultimate competition for soccer players – and for online soccer betting fans.
Wales forward Gareth Bale in action for Real Madrid. © Brad Penner-USA TODAY Sports
UEFA Europa League
The UEFA Europa League is a significant prize, the second biggest in European club soccer, and winning it awards tremendous prestige to the successful team.
Some of the most famous clubs in Europe can be found in the Europa League, and, as a result, soccer betting websites offer a variety of attractive markets on the action.
The latter stages of the tournament are always particularly exciting to watch – and extremely popular to bet on.
UEFA Euro 2020
The European Championship is usually held every four years, although the 2020 edition was postponed to 2021 due to the COVID-19 pandemic.
In a unique tournament staged across Europe in 11 different venues, Italy came out on top, beating England on penalties in the final at London's Wembley Stadium.
The tournament was a classic, with plenty of high-scoring matches and entertaining football on show. The legendary Cristiano Ronaldo finished as joint top-scorer with surprise package Patrik Schick, while Italy goalkeeper Gianluigi Donnarumma was named player of the tournament.
Betting interest was sky high for Euro 2020, as it is sure to be again by the time the next edition, which will be hosted in Germany, rolls around in 2024.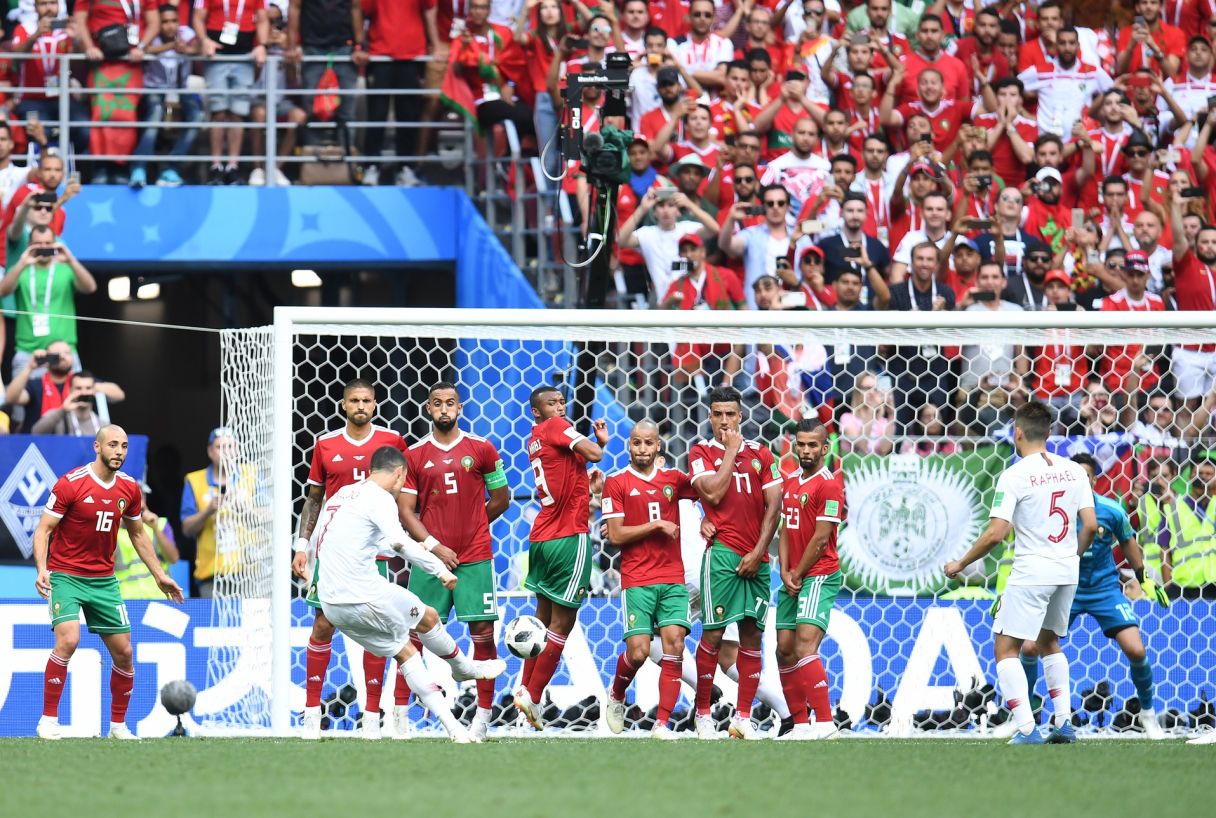 Cristiano Ronaldo strikes a free kick against Morocco during the FIFA World Cup 2018 at Spartak Stadium. Pic: Tim Groothuis/Witters Sport via USA TODAY Sports
FIFA World Cup 2022
All eyes will be on Qatar when the FIFA World Cup kicks off in November 2022. That should come as no surprise with soccer's biggest prize on the line.
Fans in every corner of the globe will follow the action as the finest players in the sport seek the ultimate glory of becoming world champions.
Analysis by FIFA showed an estimated US$155billion was staked worldwide on the 2018 tournament and that figure will surely be surpassed in 2022.
Brazil, France, England, Spain, Germany and Italy are the leading contenders at this stage but the fact the event is being staged in such a hot climate suggests there might be a surprise winner this time.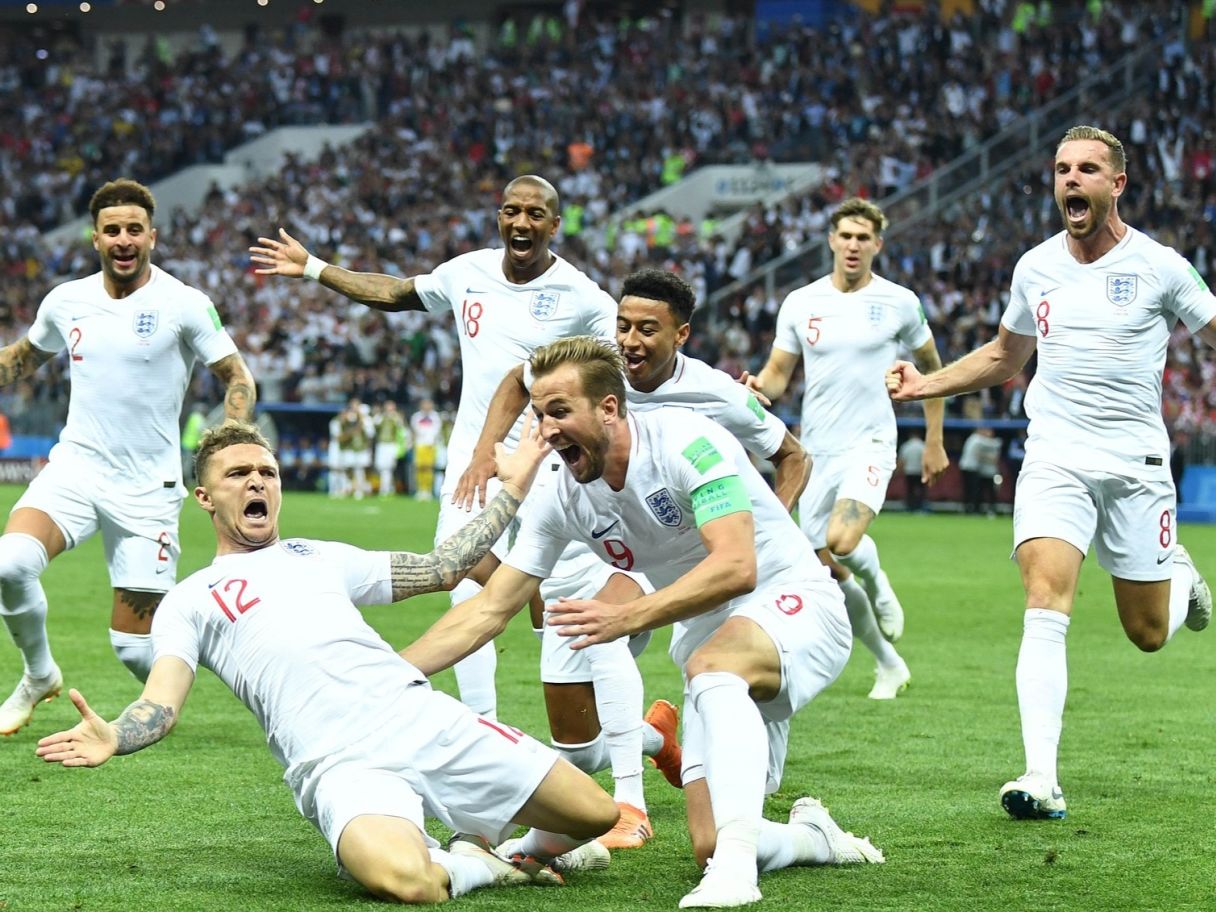 England defender Kieran Trippier (12) celebrates with forward Harry Kane (9) during the 2018 World Cup semifinal. Pic: Tim Groothuis/Witters Sport via USA TODAY Sports
Copa America 2021
The Copa America brings together the best soccer-playing nations of South America and the 2021 edition was held in Brazil after original host nations Colombia and Argentina were unable to stage the tournament due to COVID-19 pandemic-related reasons.
However, the Brazilians lost to Argentina in the final - a monumental occasion for legendary forward Lionel Messi who finally lifted a trophy with his nation after losing four previous major finals.
Leading players from the competing nations are household names so a global audience always follows the action and there is plenty of interest among bettors as the continent's finest go head-to-head.
The next edition of the Copa America is due to take place in summer 2024, and will be staged in Ecuador.
Soccer Odds Explained
Soccer is one of the most exciting sports to bet on. Thankfully, soccer odds are very easy to explain. When looking to make a bet on soccer odds, there are three main markets bettors can put money on.
Bettors can chose Team A or Team B to win the game, or back the matchup to finish a draw. This is known as moneyline betting. For example, if you bet $100 on La Galaxy to beat Chicago Fire at odds of +310, a $100 bet on that selection would return $310 on top of your returned stake.
One way to get much better soccer betting odds is to add multiple teams into the same bet selection. This is known as a parlay and will return much higher winnings if all your picks are correct.
Soccer bets explained
Moneyline
Aka match result odds, the moneyline is the most straightforward bet available if we are looking to wager on a soccer match – which team do we think is going to win? We decide and place our bet accordingly. Important to note in soccer, unlike many other sports, the moneyline can also include the third option of betting on the tie (draw).
Handicap Betting
In a handicap bet, the sportsbook gives one side a notional head start. If one team starts 1.5 goals ahead, that means the other has to win by two or more for a bet on them to pay out. Handicaps are usually expressed to half a goal to remove the possibility of a tie/draw.
Over/Under
In an over/under bet, the sportsbook predicts a total for a particular statistic in a match. It is most often total number of goals scored in a game, but it could be total number of corners, yellow cards, tackles, or assists. We decide whether we think the total will be more (over) or less (under) than the given number and bet accordingly.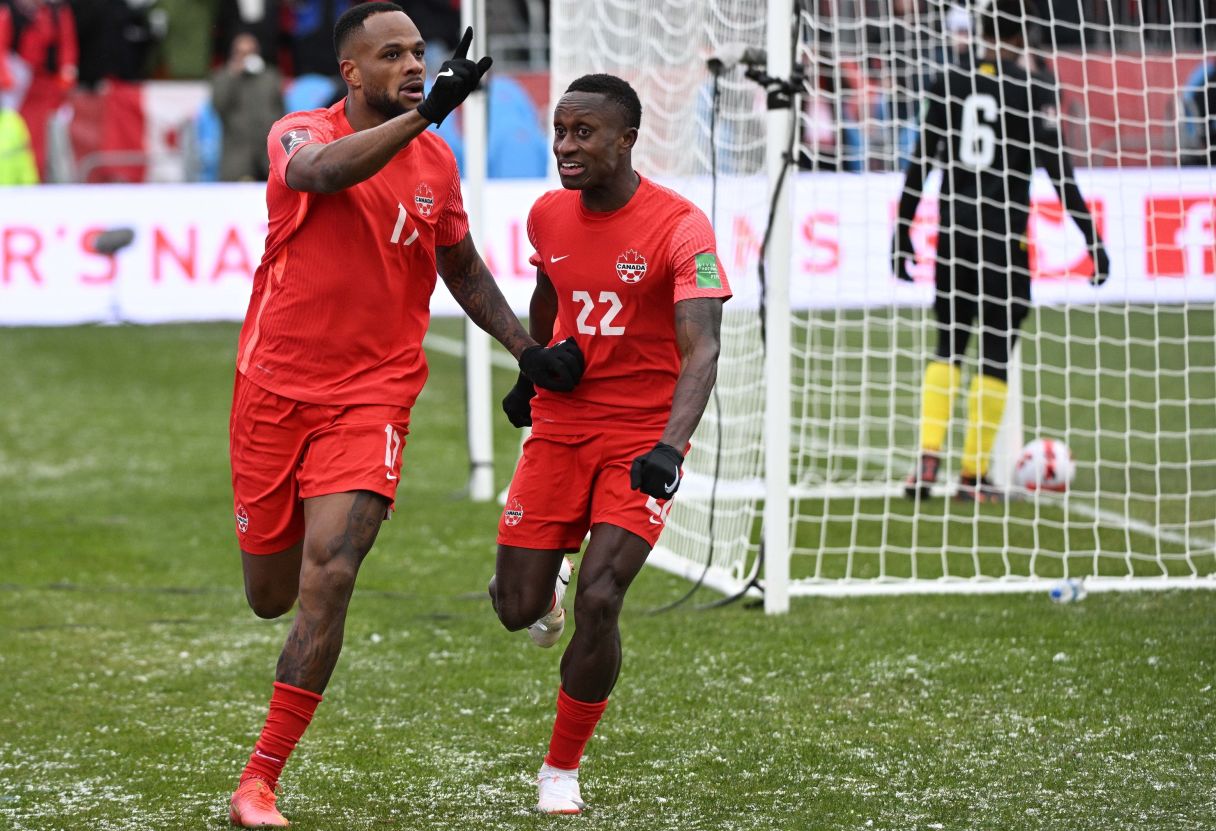 Canada forward Cyle Larin (17) celebrates scoring a goal against Jamaica. © Dan Hamilton-USA TODAY Sports
Parlay
If you have an opinion on the results of several matches rather than just one, you can combine those predicted outcomes in a parlay . If all the results go your way, the odds are multiplied and you could be looking at a significant payout. You can use our bet calculator to work out your potential parlay returns.
Correct Score
No hidden meaning, this bet is exactly as it sounds. If we want to predict the exact scoreline of a match, we are able to wager on that outcome on soccer betting websites. This is not an easy bet to get right, but that means if we do, our return should be substantial.
First/anytime Goalscorer
When we believe a player will score during a match, we can bet on that outcome. The betting odds for them being the scorer of the first goal of the game will be longer. If we think they will score at any time, our chances increase but the odds shorten.
Draw No Bet
This bet removes the option of the tie (draw). We bet on one side to win and if they duly triumph, we will pick up a payout. If they lose, we lose, too. But if the result of the match is a draw we will get our stake back.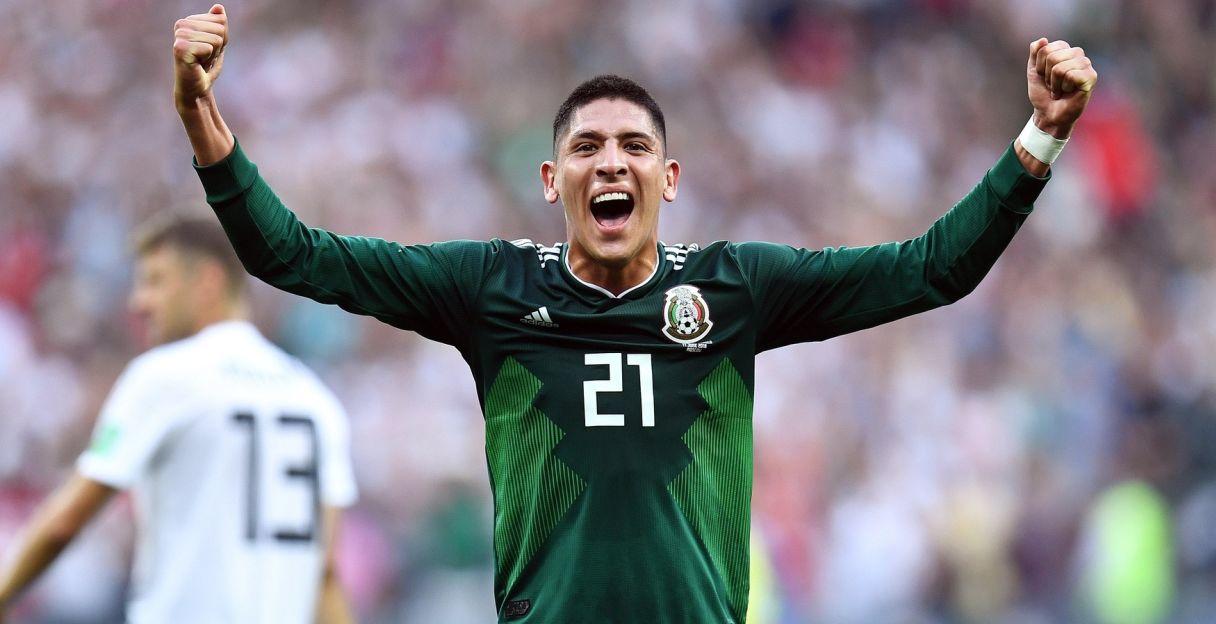 Mexico defender Edson Alvarez (21) celebrates. Pic: Tim Groothuis/Witters Sport via USA TODAY Sports
Both Teams to Score
Both Teams to Score, also known as BTTS, is an extremely popular bet among fans of soccer betting. This is a simple yes or no wager – do we think both sides in a particular match will score a goal or not? It is a particular favorite of bettors who like to combine several games in a BTTS parlay.
Double Chance
A Double Chance bet enables you to cover two out of the three outcomes of a soccer match. For instance, if we stake our money on "Home team and draw", we will win the bet unless the away team wins the game.
Scorecast
To win with a Scorecast bet, we need to correctly predict both the first goalscorer and the final score of a match. The soccer odds for scorecasts will always look very attractive – but that's because there are two outcomes, which makes this a difficult bet to win.
Shots on Target
We can bet on one player having more or fewer shots on target in a match than a number set by the sportsbook. Alternatively, we can bet on the total shots on target of one or both teams. Take care to check out the definition of a shot on target on the soccer betting sites you use – this can sometimes get complicated.
Shots
This bet allows us to wager on one player, one team or both teams having more or fewer shots at goal (whether the shot is on target or not) than a number set by the sportsbook.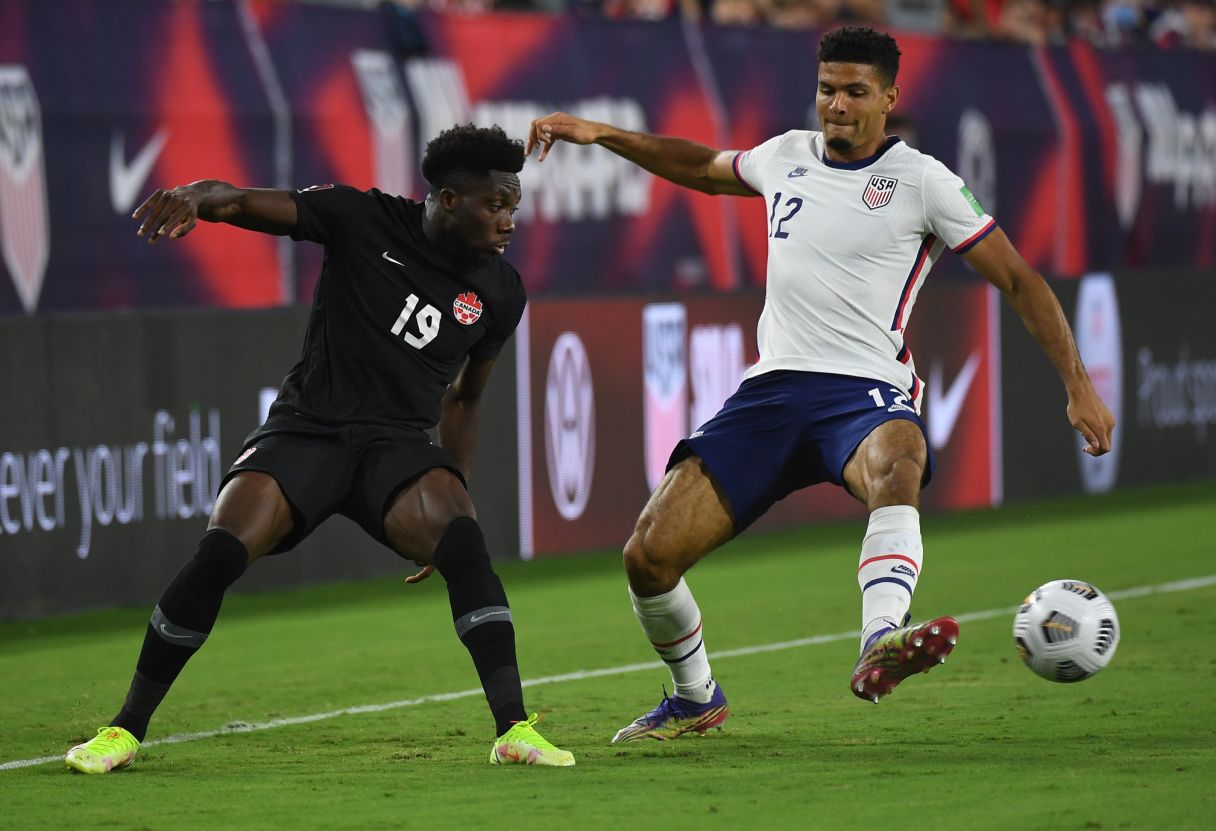 Alphonso Davies (L) in action against the USA. Pic : Christopher Hanewinckel-USA TODAY Sports
Multi-Scorer
If we believe a particular player is going to score more than one goal in a match, this is the market we want. We will be able to find soccer odds about that player scoring two, three or even more goals during the game.
Assists
This is similar to a goalscorer bet, in that we wager on a player to assist – i.e. directly set up – a goal any time in the match. Many soccer betting websites also allow us to bet on a player to assist more or fewer than a certain number of goals over a season.
Transfer Specials
Soccer fans love the buzz generated by rumors of possible player transfers between clubs. Many soccer betting apps now offer the chance to put money on the likelihood of Player X joining Club Y before the end of a particular date, usually the closure of a transfer window.
Yellow/Red Cards
This is an over/under bet with a certain number of points awarded for each booking and sending-off. The sportsbook then sets the total it thinks will be racked up in a particular game. If we think plenty of yellow/red cards will be awarded, we would bet on the over, and vice versa if we think the game will have a lower number than the given total. Booking points for a yellow or red can differ between sportsbooks, so it's always smart to check before betting.
Tackles
Tackling is a particular skill in football. Some players are very good at dispossessing the opposition and we can bet on them carrying out more or fewer tackles in a match than a total set by the sportsbook. We can also bet on a team's total tackles. It's always best to check the definition of a tackle on the soccer betting websites you use – this can differ between sportsbooks and stat sites.
Corners
There is a wide variety of bets that can be placed relating to corner kicks. These include betting over or under on the total number of corners in a match, or on one team being awarded more than their opponents, or there being more in the first half than the second.
What does 1.5 mean in soccer betting?
What is the best soccer betting site?
Is soccer betting online legal?
How does handicap betting work on soccer?
How much money is bet on soccer each year?