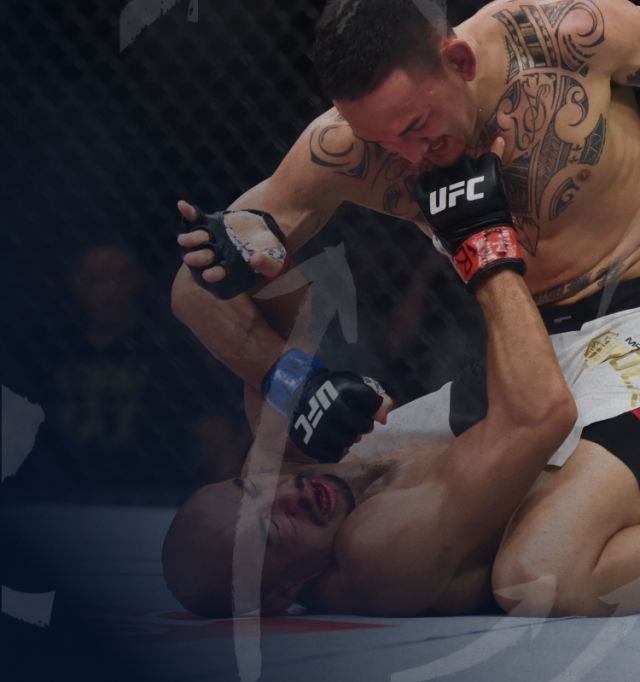 Free Expert UFC Picks
The power. The unpredictability. The trash talk. The Ultimate Fighting Championship (UFC) has erupted on the world's sporting stage with incredible speed, firmly establishing itself as a hugely popular spectacle. Millions across the globe are gripped by contests between the best mixed martial arts fighters – and millions more love betting on them.
UFC schedule
| Sep 11 | UFC 279: Chimaev vs. Diaz | T Mobile Arena, Las Vegas |
| --- | --- | --- |
| Sep 17 | UFC Fight Night: Sandhagen vs. Song | UFC APEX, Las Vegas, NV |
| Sep 21 | Dana White's Contender Series: Season 6, Week 9 | UFC APEX, Las Vegas, NV |
| Sep 28 | Dana White's Contender Series: Season 6, Week 10 | UFC APEX, Las Vegas, NV |
| Oct 1 | UFC Fight Night: Dern vs. Yan | UFC APEX, Las Vegas, NV |
| Oct 15 | UFC Fight Night: Grasso vs. Araujo | UFC APEX, Las Vegas, NV |
| Oct 22 | UFC 280: Oliveira vs. Makhachev | Etihad Arena, Abu Dhabi, United Arab Emirates |
| Oct 29 | UFC Fight Night: 10/29 | UFC APEX, Las Vegas, NV |
| Nov 5 | UFC Fight Night: 11/5 | |
| Nov 13 | UFC 281: Adesanya vs. Pereira | Madison Square Garden, New York, NY |
UFC bets explained
To win fight
This is the most straightforward bet you will find at UFC betting sites. Which of the fighters do you think will emerge victorious from the Octagon? Simply make your choice after studying the form and the odds available and place a wager in line with your judgment.
Method of victory
There are several ways in which a UFC bout can end, including knockout, technical knockout, submission or a points verdict. You will find UFC betting odds on each of those outcomes – select the method in which you think the fight will end and place your stake accordingly.
Round betting
Standard UFC fights consist of three five-minute rounds. In championship bouts, there are five. If you choose to predict in which round the fight will finish – regardless of who you think the winner will be – you will be able to find UFC odds for that result.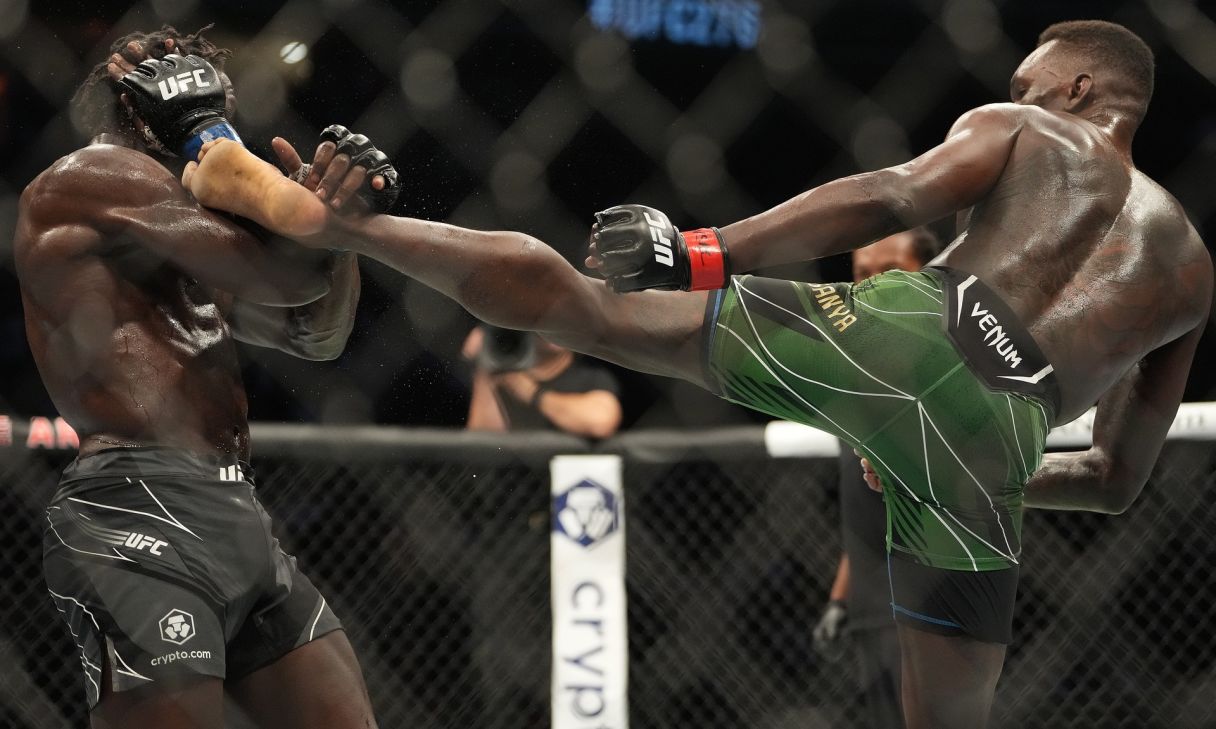 Israel Adesanya attempts a kick on Jared Cannonier (blue gloves) in a bout during UFC 276 at T-Mobile Arena. Mandatory Credit: Stephen R. Sylvanie-USA TODAY Sports
When will fight end
This is similar to round betting, except that this market includes the option for the fight to go the full distance and be decided on points. When you have assessed the UFC betting odds on the various outcomes and made your selection, you will be able to back your choice.
Method and round combination
A slightly more complicated wager, in that you have to predict two things. How will the fight end, and at what stage? You will find UFC betting lines that include all the various combinations and it will provide an extra interest as the action unfolds.
Total rounds
If you think you know how long a bout will last, this offers you an over/under option. The sportsbook will set a number of rounds; if you believe the fight will last more than that, you go "over" and if you think it will be over more quickly, the "under" is for you.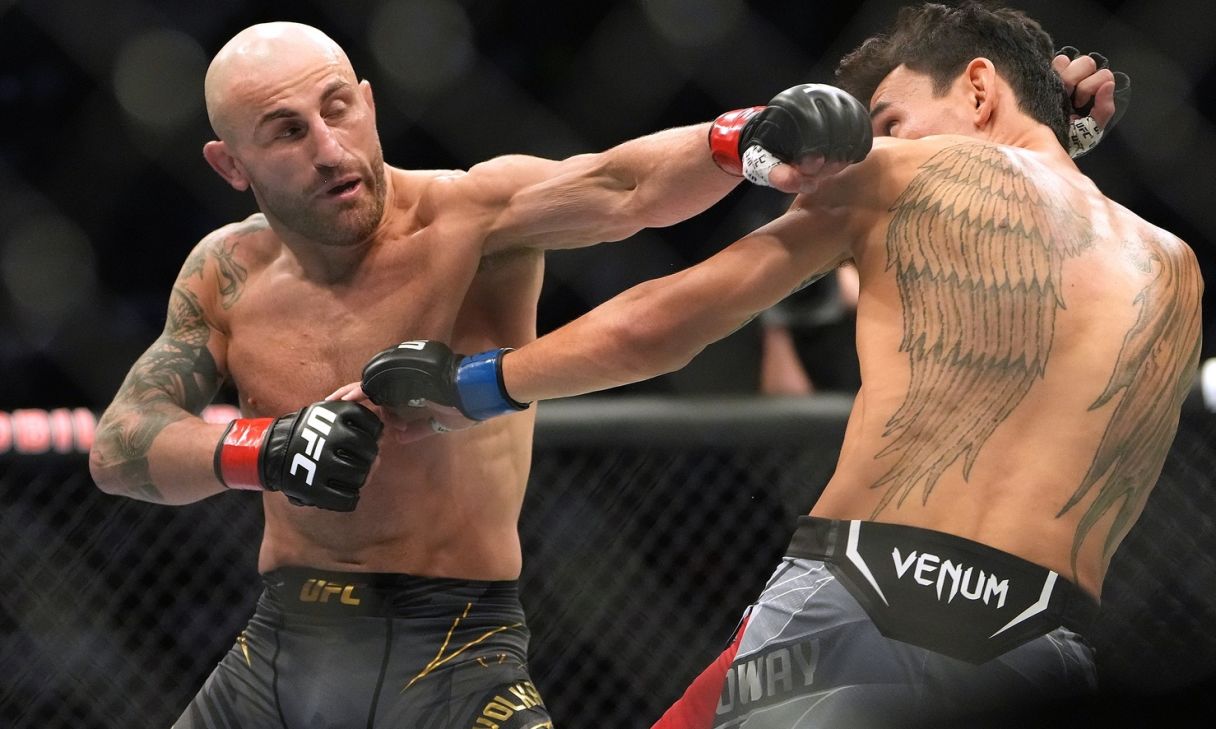 Alexander Volkanovski (red gloves) and Max Holloway (blue gloves) fight in a bout during UFC 276 at T-Mobile Arena. Pic: Stephen R. Sylvanie-USA TODAY Sports
Fight to go the distance
UFC betting sites will offer you a simple yes/no option. Will the fight last the full number of rounds? The sportsbook will present odds on each of the two outcomes and you decide – using your knowledge of the fighters involved – which to wager on.
Method of victory double chance
When you believe a fighter will prevail, but really can't decide how they will do so, this is for you. Instead of having to back a single method of victory, you will be able to choose UFC odds covering two ways in which your pick will win, doubling your chance of a return.
UFC odds explained
Nearly every UFC sportsbook will present odds the same way. When it comes to UFC betting odds, the favorite in the fight is represented by the minus sign (-), while the less favored fight, or underdog, is represented by the plus sign (+). UFC odds are normally formed around bettors wagering $100.
After reading UFC odds, bettors can chose fighter A, or fighter B to win the bout. This is known as moneyline betting. For example, if you backed Conor McGregor to win a fight at odds of +110, a $100 bet on that selection would return $110 on top of your stake.
In-play betting on the UFC
The fighters have entered the Octagon, they have started exchanging blows – that doesn't mean you can't still place a bet.
Huge advances in digital technology, plus the development of fast algorithms, mean UFC betting sites can now update their odds instantly. That means betting can continue as the action unfolds.
For instance, if Justin Gaethie lands a shuddering blow on Khabib Nurmagomedov in the opening minute of their main event, you can still back the Russian to win.
In-play betting is an increasingly popular way for fans to wager on their favorite UFC fighter even when the bout is underway .
Enhanced odds
Keep a sharp eye on UFC online betting sites in the countdown to a fight. Sportsbooks may enhance their odds on a particular market – and an outcome you were thinking of backing anyway suddenly becomes even more lucrative. These offers are sometimes short-lived, in which case, just like Demetrious Johnson in his prime, you must move fast.
Money back if the fight goes the distance
It's disappointing when you have wagered on a bout to finish in a particular round or method and both fighters are still on their feet when the fight finishes. However, this promotion offers you some insurance; if the fight goes to a verdict you'll get your stake back, either in cash or as a free bet.
Money back if the fight finishes in a tie
Ties are not commonplace in UFC but they do happen. If this offer applies and you back a fighter to win, you'll get your stake back either as cash or in the form of a free bet, if the fight ends in a stalemate.
How do betting odds in UFC work?
Can I place a UFC bet on my mobile?
Which is the best UFC betting site?