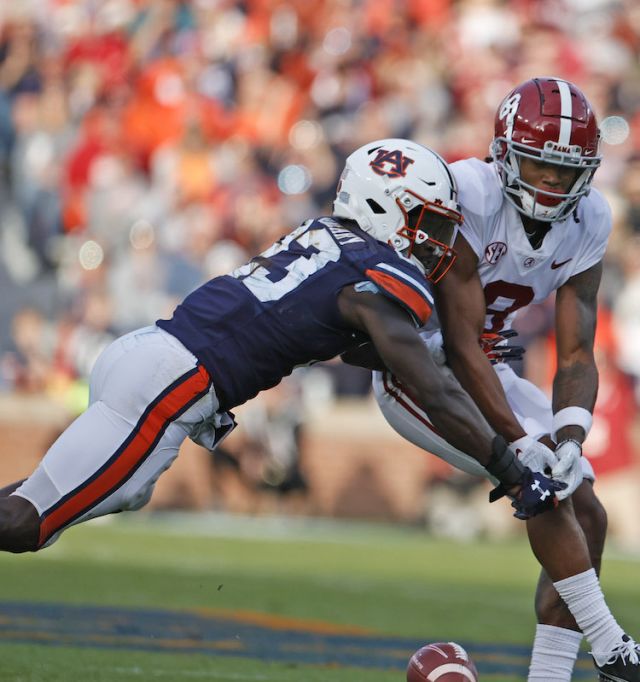 NCAAF Betting Odds, Picks, & Expert Analysis
In college towns, NCAA football is the single biggest thing going. During the season, stadiums fill with 100,000s of raucous fans. What makes this traditional Saturday ritual even more entertaining is the availability of online college football betting. NCAAF betting is for people that want action – it's not uncommon to see 35 games being played on a single Saturday during the season.
College football: Most popular markets
The 2021 future markets on most college football betting sites show a very familiar group of schools. It's no surprise last year's finalists, Alabama and Georgia have the lowest odds to win the 2022 BCS Championship. They're followed by Ohio State, Clemson, and Oklahoma who round out the top five.
A bet on any of these schools is a wager on which one is going to win the College Football Playoff National Championship game this season. Each of these teams would likely have to win 12 or 13 games of their 13-game schedule to earn a top-four seed and a chance to play in the College Football Playoffs, where they would need to win another two games for any future bets to pay out.
Of the top-five schools, Alabama has the favorite to win the 2022 Heisman Trophy in QB Bryce Young.
There are a total of 10 NCAAF conferences. These ten conferences can be split up into two sections: the Power Five conferences (ACC, Big 12, Big Ten, Pac-12, and SEC) and the Group of Five conferences (AAC, C-USA, MAC, Mountain West, and Sun Belt). The Power Five conference is the more prominent of the two and contains all the big-name schools.
Like other NCAAF future bets: we can bet on which team will win their respective conferences. Last year's Power Five conference winners included Utah (PAC-12), Michigan (Big Ten), Baylor (Big 12), Pittsburgh (ACC), and Alabama (SEC).
Heading into the 2022 NCAAF season, some familiar faces are the NCAAF odds-on favorites to win their conferences. USC are favorites to win the PAC-12 in the upcoming season, despite failing to qualify for the College Football Playoffs in 2021. Eventual 2021 PAC-12 winners, Utah are only third favorite to win the conference this year.
Betting on college football's most outstanding player, who will be awarded the Heisman Trophy, is one of the more popular NCAAF future bets and college football picks. Last year's winner, Alabama QB Bryce Young was third favorite to win the award preseason but slid in to the favorite's spot by mid-October. If we're looking to cash in on a Heisman winner, picking a quarterback is usually a good starting point as one has won the award 16 times in the last 20 years.
Based on the preseason Heisman winner odds, quarterbacks dominate the top five. This list includes last year's winner Alabama QB Bryce Young, Ohio State's CJ Stroud, USC's Caleb Williams, and Quinn Ewers of Texas. The only non-QB in the top five Heisman candidates is Texas running back Bijan Robinson.
What is the College Football Playoff?
The College Football Playoff is a four-team, single-loss knockout tournament that pits the nation's best quartet of football programs against each other and crowns a national champion.
With the national rankings decided at the end of the regular season, the No.1 ranked team plays No.4, and the No.2 plays No.3 in each semifinal, with the winners meeting in the College Football Playoff National Championship game. This format was only introduced in 2014, with Alabama making it to the playoffs six of a possible seven times and winning the national title three times.

2021
NCAAF champion
Georgia Bulldogs
The Georgia Bulldogs won their third National title, and their first since 1980, defeating Alabama 33-18 as -3 favorites. Georgia's offense played a balanced game with success both on the ground and in the air: QB Stetson Bennett threw for 224 yards and two TDs while Zamir White and James Cook combined on the ground for 161 yards and a touchdown. It was Georgia's defense that won the game for the Bulldogs, intercepting Alambama QB Bryce Young twice, the last one to ice the game when Bulldogs Cornerback Kelee Ringo going to the house for a pick-six with less than a minute to play in the game.

2021
Heisman Trophy winner
Bryce Young
Alabama quarterback Bryce Young capped an impressive sophomore year by winning the most coveted prize in college football, the Heisman Trophy. Young threw for a remarkable 47 touchdowns on 4,872 yards passing, adding a further three touchdowns on the ground; in the process becoming the first quarterback in Alabama's history to win the award. Returning for his third year, Young is a frontrunner with sportsbooks to win the trophy a second time before he commits to a professional career in the NFL.
2021
Big Ten champion
Michigan Wolverines
Jim Harbaugh's Wolverines won the school's first Big Ten championship since 2004, beating the Iowa Buckeyes, 42-3. Heavily fancied as -12.5 favorites, Michigan put on a show, routing the Buckeyes with a balanced offensive attack, putting up over 200 yards both thru the air and on the ground.

2021
Big 12 champion
Baylor Bears
Plus-seven underdogs, Baylor shocked Oklahoma State to with their first ever Big 12 championship. Baylor played a controlled game, jumping out to a 21-point lead in the first half before stifling the Cowboys, holding them to 10 points in the second half for a 21-16 win. Baylor quarterback, Blake Shapen caught the headlines with an efficient 180 yards passing, three touchdown performance, netting the game MVP award in the process. The Baylor defense was the truly the hero of the day, holding the Oklahoma State offense to 1.8 yards per attempt rushing and intercepting Cowboys QB Spencer Sanders four times.
2021
ACC champion
Pittsburgh Panthers
In a surprise to many football insiders: Clemson couldn't make it seven consecutive ACC titles with a very poor season by their usual high standards. In their absence: two teams who faced very long odds to win the championship at start the season, Pittsburgh (+6000) and Wake Forest (+7500) would face one another at Bank of America Stadium in Charlotte for the ACC Championship.
Pittsburgh dominated the game after Wake Forest leapt out to an early 21-14 lead in the first half. The game would end 45-21 to the Panthers to give Pittsburgh their first conference title since 2010.

2021
Pac-12 champion
Utah Utes
The Utah Utes defeated the reigning champions and favorites, the Oregon Ducks (-125), 38-10. The Utes jumped out to an early lead and never looked back as Oregon chased the game without success. Utah's offense was carried by a strong rushing performance with Tavion Thomas, Micah Bernard and QB Cameron Rising all gaining meaningful yards on the ground. The Utes defense was a difference maker for the new PAC-12 champions, led by game MVP and potential first rounder in this year's NFL Draft, Devin Lloyd.

2021
SEC champion
Alabama Crimson Tide
For the second year in a row the Crimson Tide scored over 40 points in the SEC Championship game, this time beating eventual national champions, the Georgia Bulldogs. In a game of dueling quarterbacks, the run game was largely forgotten as Georgia's Stetson Bennett and game MVP, Bryce Young combined for over 750 yards passing and six touchdowns. The passing game would ultimately prove the difference between the two teams as Bennett threw two interceptions including a pick-six early in the 3rd quarter that put the game beyond doubt.
Live betting on college football
The world of rushing to get our bets in before kickoff is over. Many sportsbooks that offer college football bets also offer in-play or in-game betting — sometimes referred to as live bets. The margins are usually a little higher and some promotions don't include in-play bets, but live betting gives us the chance to get a feel on a NCAAF game before throwing down some hard-earned dollars.
If Alabama is a 22-point favorite versus Tennessee and we would like to see how the game starts and possibly get the favorite on the spread at a lower number, in-game betting allows us to wager on a constantly moving line that will differ from the pre-game line and odds.
Some NCAAF betting sites offer more markets for in-game wagers than others. These could include in-game team, game, and player props.
College football betting promotions
Parlay insurance
Some NFL books offer bettors protection with multiple-leg parlays called parlay insurance. Let's say we make a five-game parlay and four of the five win, parlay insurance will pay us our original wager back when most books would deem that bet a loser.
Odds boosts
Newer sportsbooks often offer a promotion called odds boosts. The book will offer better (boosted) odds on certain wagers that move the odds into the favor of the customer. These could include spreads, totals, moneylines, and prop markets. Some books allow customers to use the boost for bets of their choice while others offer only specific plays for the boost.
Sign-up bonuses
When signing up for a new NFL online sportsbook, it's important to shop around for sign-up bonuses. Some books will match customers' first-time deposits up to a certain amount. Players will sometimes have to bet that bonus a certain number of times (called a rollover) before the money can be withdrawn.
Early payouts
Sometimes we bettors don't have to sweat through an entire game before winning our bets. Early payouts are a great promotion that turns our bet into a winner if our team is winning by a certain margin, before a game is even over. If we bet on the Dallas Cowboys to win the game (moneyline) and they jump out to a 17-point lead (or whatever the book's set number for this promotion is) we will be paid for that bet regardless of the final outcome.
College football betting FAQs
Where can I bet on college football?
Is college football betting legal?
What is the spread on the college football championship?
What are the best college football betting sites?
How much money is bet on college football each year?
Best sportsbook offers 2022