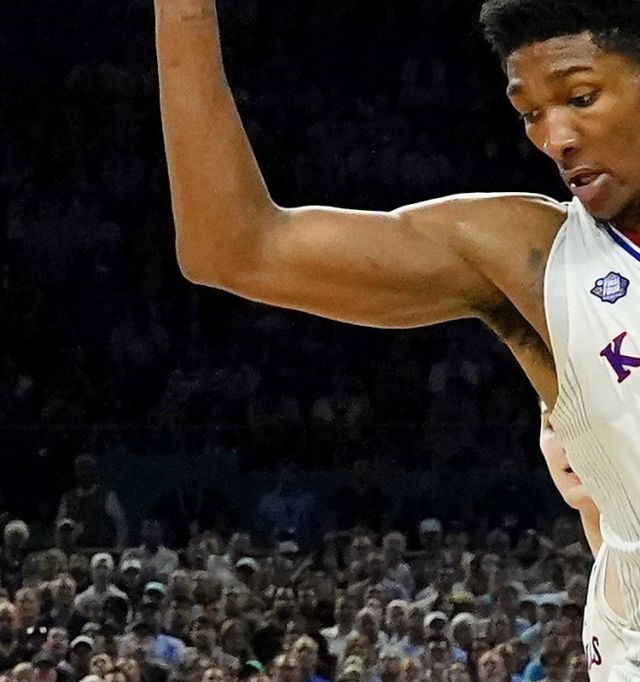 How to bet on college basketball online
NCAA (National Collegiate Athletic Association) Basketball is the US sport with the most teams, which also means there are many betting opportunities. From betting on the blue bloods, to finding some mid-major darlings, the long season provides plenty of opportunities to build your bankroll. The sport then caps off with March Madness, which is a 68-team single-elimination tournament known for its buzzer-beaters and upsets, all to determine a national champion. With plenty of college basketball betting opportunities, we'll be here to coach you on what you need to know. If you need college basketball betting explained to you, then this is the place to be.
NCAAB Odds
Odds updated: Jul 18, 2:10 PM UTC
The NCAA Division I Men's Basketball Tournament gets its nickname for good reason. It is a single-elimination tournament featuring 68 college basketball teams, with sportsbooks taking between $120-$458 million in wagers every year, not including money coming in on offshore college basketball betting sites, or bracket pools. There are games going on all the time, with plenty of opportunities to bet.
Looking for college basketball picks and predictions today? Then onlinebetting.com is the place for you. Check out our free NCAAB expert picks and best bets from one of the finest college basketball betting experts around.

2021 NCAAB
National Champions
Kansas Jayhawks
College basketball betting can be very fun and provide some great storylines that bettors get to watch play out in real time. The Kansas Jayhawks were fifth favorite at the start of March Madness (+1100) and powered through the tournament to win their fourth NCAA title behind hot hands Christian Braun and Ochai Agbaji, who would go on to win the NCAA Basketball Tournament Most Outstanding Player Award. Kansas City native, Agbaji led the Jayhawks in scoring throughout the regular season and was the sportsbooks' favorite to win the tournament MVP award (+120).

2022
Player of the Year
Oscar Tshiebwe
Heavily favorited Oscar Tshiebwe joined NBA All-Star Anthony Davis as the only two Kentucky Wildcats to win the Naismith Men's College Player of the Year. In doing so he capped off an incredible 2021-22 campaign where he scored an average 17.4ppg, grabbed 15.1 rebounds and shot an incredible 60.6% on field goals. Of all his contributions, Oscar Tshiebwe's rebounds are his greatest and most noteworthy: he is pulling down boards at a faster rate than any NCAA player in the last 30 years, including one game in December 2021 with Western Kentucky where he grabbed 28 in a single outing.
College basketball: Most popular markets
Each season there are plenty of opportunities to place a wager on which team will win the National Championship, as college basketball betting sites offer futures for who will hoist the National Championship trophy. Bettors can bet on their favorite team, the favorites, or find a sleeper team that they think could come out of nowhere and win it all.
As the season winds down, sportsbooks will adjust their college basketball odds based on which teams have played well, so it is always good to find your odds earlier in the season. In 2021, Gonzaga was the heavy favorite to win the National Championship all season long, but it was Baylor who lifted the National Championship trophy.
Heading into the 2022 season, Gonzaga once again was the preseason favorite to win it all, starting at +600 but college basketball betting lines are ever-changing. While finding good value and even shopping around to find the futures gives you the best chance to get a good return on your futures investment. The most important thing to remember is that you only win if that team wins it all, so make sure to find a team that you believe can actually win the title.
In terms of sporting events worldwide, there is nothing quite like March Madness . The 68-team, 67-game event provides the most entertaining postseason event any sport has to offer. March Madness provides so many NCAA basketball betting opportunities, whether it is trying to win a bracket pool, picking every single winner for each game and competing against others, or placing wagers on every game, there are so many ways to get in on the action.
The first and second-round games will provide the most opportunity for betting action, as there are 48 games within a 72-hour span in which bettors can place wagers on all the games. Bettors can place a wager on their favorite to cover the spread, or pick the Cinderella team to put on the glass slipper and pull off the major moneyline upset and cash in.
Games start early and go on all day long in the first two rounds. So even if you miss a game or don't have a confident lean one way or another, there are always plenty of other games where bettors will have plenty opportunities to win some money. While the first two rounds will provide the most action, stay tuned from the Sweet 16 all the way to the National Championship as there are plenty of other ways to keep betting on March Madness.
While most will bet on which team they believe will win the National Championship, betting on which team they think will win the conference title can be a much more profitable outcome. With fewer teams, comes less parity and usually, the best team ends up winning the league title. Bettors can bet on both regular-season and tournament title winners, with the odds shifting heavily throughout the season.
Bettors can bet on perennial favorites like Kansas, Gonzaga, or Villanova, who have traditionally found a way to finish the season on top of the regular-season standings for their league. There are also opportunities to find value, early last season Alabama opened up at +1600 to win the SEC title but cashed in that ticket by winning the SEC in dominant fashion.
Tournament championship bets provide an opportunity for higher volatility because of the fact it is a one-game sample size, and oftentimes the best team does not win their tournament title. Since 2014, only one team that ended up winning the National Championship won their league tournament title. In fact, sometimes it's better to go with a longshot like Georgia Tech, who was +3200 preseason to win the ACC title but cashed in that ticket by knocking off Florida State in the Championship game.
The National Player of the Year award is given out to the player that is voted on as being the best player in college basketball each season. The important part to remember is that the award isn't necessarily given to the most talented player or the player that will go #1 in the NBA Draft, in fact Zion Williamson in 2019 is the only player since 2013 who managed to win the National Player of the Year award and be the first player selected in the NBA Draft.
The Player of the Year award traditionally goes to the player that produces high-level stats on a really good team, which was the case last year when Luka Garza averaged 24.1 points and 8.7 rebounds per game while helping Iowa get a two-seed in the NCAA Tournament.
For the 2022 season, it was Drew Timme who was preseason favorite to win the award at +500, his combination of statistical production, while playing on the preseason favorite was thought to give him a good shot at the award. Some years the preseason favorite does indeed walk away with the prize, but in other years, like in 2020 when Obi Toppin won the award, it is someone who comes completely out of the blue.
In-play betting on college basketball
Just like with many other sports, most online sportsbooks allow you the luxury of betting in-game. Just because the match has already started, it doesn't mean you still can't place a bet. This allows you to get updated in-game odds based on what has already happened in the game. Most college basketball betting sites will offer in-game totals on spreads, lines, and also team totals.
If you like a heavily favored team on the moneyline, pre-game they may be -250 to win. If they fall behind early, you might be able to get the moneyline at a number more favorable and closer to -120.
Do your homework
We expect college players to do their homework and remain eligible academically so they can play basketball. The same holds true for successful basketball gamblers. If you want to end up on the right side of a bet more often than not, then you have to study. College basketball betting lines can look too good to be true and when that is the case, they usually are.
The Iowa Hawkeyes finished 22-9 last year, which made them a very good team. However, they also had the best player in the country, Luka Garza, on their team. Imagine what the odds would look like if Garza wasn't playing in a game because of injury. You would have a very different looking Iowa team and the odds would definitely reflect that.
There are a lot of reasons why college basketball point spreads and betting lines can look a little off at first glance. Before you jump on a line you think is too good to be true, make sure you have done all your homework on that game.
Become a specialist
NCAA basketball betting can be difficult because there are 350 teams and being an expert on all 350 teams is more work than a full-time job. College basketball betting means sportsbooks will offer you lines and spreads from teams playing in over 30 different conferences. Instead of trying (and probably failing) to be an expert on all 350 teams, pick a conference or two you want to follow and only bet on those teams.
Are you a fan of Duke? Then become the most informed ACC basketball fan possible. Do you love to cheer for Gonzaga? Then sharpen up on your West Coast Conference teams. Becoming a niche expert on a few teams is a much better strategy than trying to bet every option available to you.
College basketball betting promotions
100% deposit match up to $500
A bonus in which 100% of your deposit will be matched up to $500. Make sure to check out the rollover requirements, which is the amount you need to wager before a bonus becomes eligible for cash-out. These rollouts can be as many as 10 times your deposit.
$20 risk free bet
Take advantage of a $20 risk-free sport bet. Open to customers making an initial deposit only, bettors that make their first real-time wager can be refunded up to the full $20 amount if their initial wager on the account isn't a winner.
Player prop builder
Browse through already suggested player proposition wagers sent out by the betting public, or request your own. This adds an extra way to bet on your favorite players' performances by adjusting the odds, building your own wagers and creating head-to-head matchups.
Best college basketball offers 2021
College basketball betting FAQs
Can you bet on college basketball?
What time do college basketball money lines come out?
How is college basketball divided?
What is the Vegas moneyline?
How do you read a point spread?