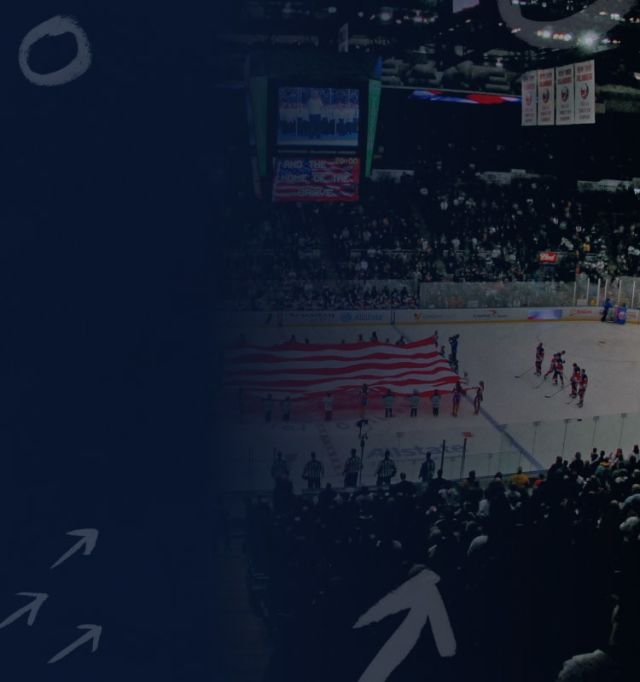 NHL Betting Odds, Picks & Expert Analysis
With 82 games per team, per season, totaling an impressive 1,271 matchups (not including postseason drama), the volume and thrills for NHL betting online are matched by few sports. Games can swing in either direction very quickly, and you can be a part of this excitement using the best NHL betting sites.
NHL: Most popular markets
Stanley Cup champion
In the NHL, 16 of the 32 teams will make the Stanley Cup playoffs each season. By the time April rolls around and the top teams have been identified through their regular season play, the NHL Vegas odds for teams to win the Cup have been sharpened and dropped significantly since the start of the year.
Many bettors like to make their Stanley Cup betting picks as the season is just beginning. Doing your homework in the pre-season allows a gambler to capitalize on odds that haven't been shortened by sportsbooks over the course of 82 regular season games.
We expect 2022 finalists Colorado (+400) and Tampa Bay (+900) to be right there again at the end of the playoffs.
Eastern conference winners
When it comes to identifying potential teams to emerge as Eastern Conference champions this year, you must start with former two-time defending Stanley Cup champions. The Tampa Bay Lightning (+450 to win East Conf) are obviously a great hockey team, their back-to-back championships prove that. However, the Lightning could struggle to recapture the form that saw them reach the heights their fans have grown accustomed to.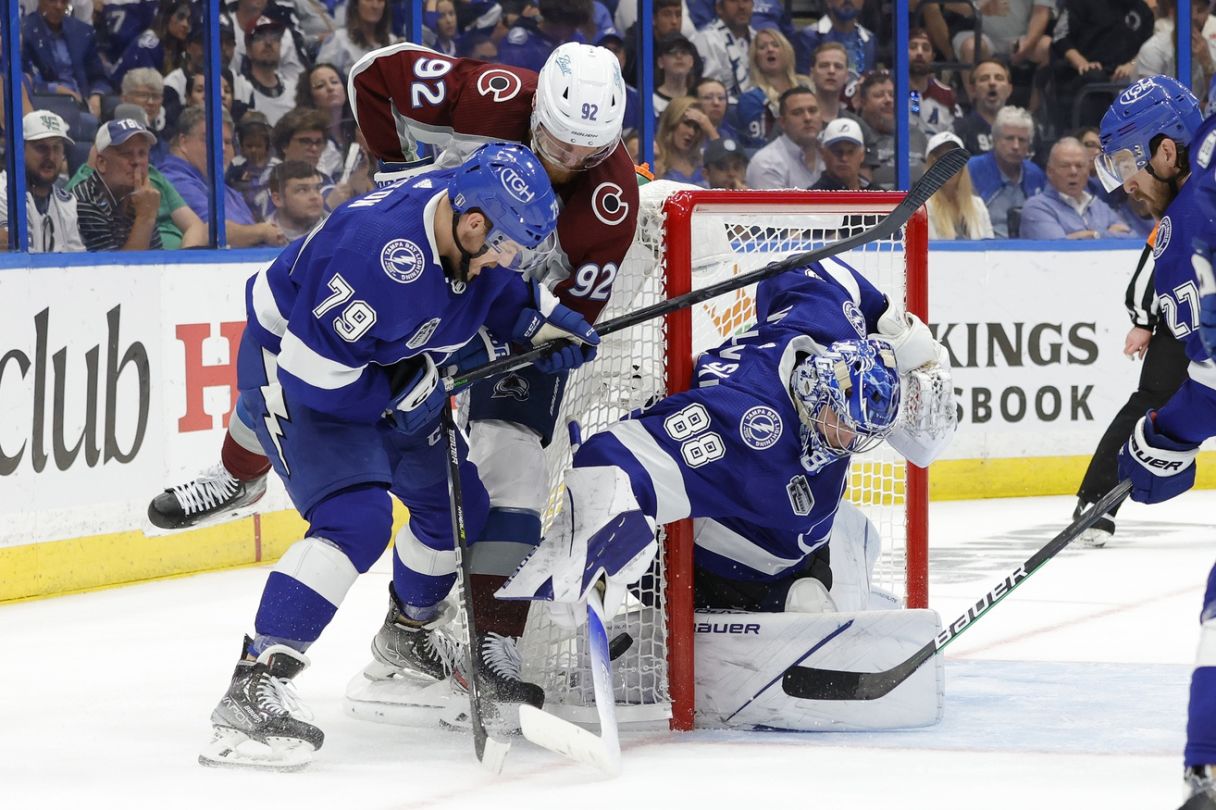 Andrei Vasilevskiy (88) makes a save on Colorado Avalanche left wing Gabriel Landeskog (92). Pic: Geoff Burke-USA TODAY Sports
The Eastern Conference is full of good hockey teams. The Toronto Maple Leafs (+425) Boston Bruins (+1200) and Pittsburgh Penguins (+1000) have a lot of offensive fire-power. When a conference is deep with so many talented teams, often there is value to be found at all the best NHL betting sites by getting your futures bets in early.
Western conference winners
The Colorado Avalanche (+175) and the Vegas Golden Knights (+650) are the clear frontrunners in the Western Conference. Last year, the Avs were tipped to go all the way - and this year's odds have made Colorado the betting favorite once again.
The Edmonton Oilers (+750) have the game's best player currently in Connor McDavid. The Minnesota Wild (+800) and Winnipeg Jets (+2800) will also be looking to take advantage of their forward depth and emerge from the West as champions.
Regular season MVP
Last season saw NHL superstar Auston Matthews crowned the regular season MVP. The Toronto Maple Leafs center is priced at +300 to repeat that feat again this season. Here are the other contenders for the NHL 2022/23 regular season MVP.
| 2022/23 MVP | Odds |
| --- | --- |
| Connor McDavid | +300 |
| Auston Matthews | +420 |
| Leon Draisaitl | +600 |
| Nathan MacKinnon | +1000 |
| Kirill Kaprizov | +1200 |
| Mikko Rantanen | +1200 |
What makes this category fun for gamblers is that there are so many superstars that all of the best NHL betting sites will have numerous players to wager on. The race for the MVP award this season looks set to be one of the best.
NHL playoffs and Stanley Cup explained
Vancouver
@
NY Rangers
Minnesota
@
Dallas
Calgary
@
Detroit
Edmonton
@
Philadelphia
San Jose
@
Florida
Colorado
@
Tampa Bay
Seattle
@
New Jersey
Vancouver
@
NY Islanders
Vegas
@
Minnesota
Seattle
@
NY Rangers
Toronto
@
Columbus
Arizona
@
Chicago
Pittsburgh
@
Anaheim
Vancouver
@
Detroit
NY Islanders
@
Montreal
Edmonton
@
Ottawa
Calgary
@
Buffalo
Nashville
@
Philadelphia
Tampa Bay
@
Dallas
Washington
@
Boston
Colorado
@
Florida
Columbus
@
Toronto
NY Rangers
@
Carolina
New Jersey
@
Minnesota
Arizona
@
St. Louis
Chicago
@
Winnipeg
Pittsburgh
@
Los Angeles
Edmonton
@
Montreal
Seattle
@
Philadelphia
San Jose
@
Washington
Anaheim
@
Vegas
Calgary
@
Ottawa
Florida
@
Minnesota
Arizona
@
Nashville
Detroit
@
Vancouver
Buffalo
@
Los Angeles
Carolina
@
Washington
Chicago
@
Montreal
New Jersey
@
Columbus
Ottawa
@
NY Islanders
Seattle
@
Winnipeg
Florida
@
St. Louis
Boston
@
Dallas
Tampa Bay
@
Colorado
Pittsburgh
@
San Jose
Last updated: Feb 8, 6:15 AM UTC
NHL standings
Division
Atlantic
Metropolitan
All Divisions
Atlantic
GP
W
L
Otl
Sol
Pts
G
GA
Home
Away
Ats
OU

1

Boston

46
39
7
2
3
83
192
111
22-1-1-2
17-6-1-1
33-18
22-24

2

Toronto

44
31
13
7
1
70
175
141
20-5-3-1
11-8-4-0
21-31
22-28

3

Tampa Bay

48
32
16
1
1
66
179
152
20-4-1-1
12-12-0-0
23-27
23-19

4

Buffalo

46
26
20
3
1
56
186
170
11-13-2-0
15-7-1-1
28-22
26-22

5

Florida

47
25
22
5
1
56
185
184
14-7-2-1
11-15-3-0
21-32
30-18

6

Ottawa

47
24
23
3
0
51
151
159
14-11-1-0
10-12-2-0
28-22
19-31

7

Detroit

41
21
20
5
3
50
147
165
12-11-1-2
9-9-4-1
23-26
22-26

8

Montreal

47
20
27
4
0
44
134
189
11-14-1-0
9-13-3-0
26-25
20-27
Last updated: Feb 8, 6:08 AM UTC
Parlay Insurance
Parlay Insurance is a promotion that refunds your stake if one leg of your parlay misses (usually meaning you lose your bet). Your parlay will generally have to include at least four or five teams, however, it is a nice way to ease the loss of a parlay that does not go as planned.
NHL Goal Bonus
An NHL goal bonus is a promotion that awards you bonus money for every goal that your team scores. To participate in this promotion, your initial bet must meet a minimum amount that is determined by the NHL betting site of your choice.
Profit Boost
A profit boost is just what is sounds like. The best NHL betting sites will "boost" your payout by a certain percentage, provided you win your bet. For these types of promotions, there is almost always a limit on how much you can wager because sportsbooks want to protect their liability.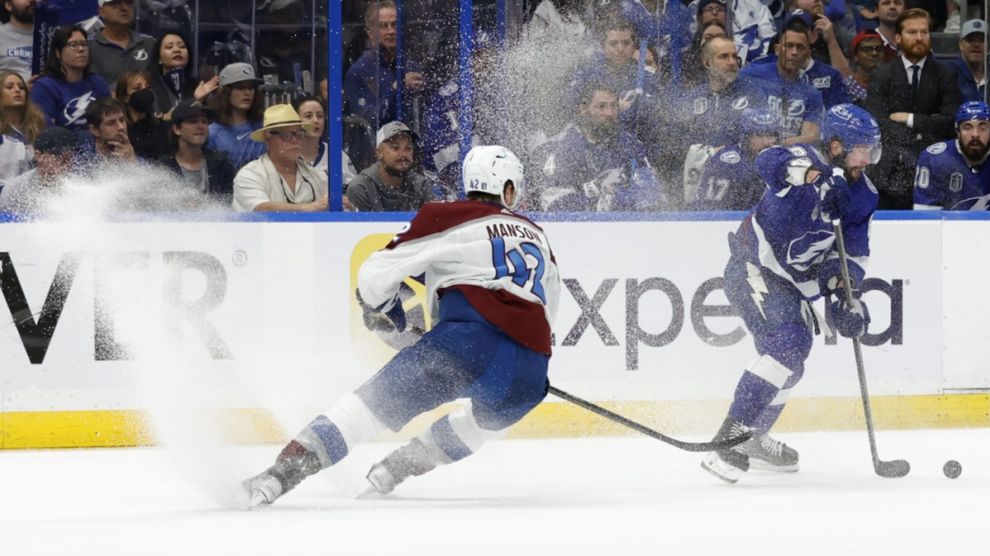 Tampa Bay Lightning right wing Nikita Kucherov (86) skates with the puck as Colorado Avalanche defenseman Josh Manson (42) defends. Pic: Geoff Burke-USA TODAY Sports
Free Live Hockey Bet
A free live hockey bet is money that a sportsbook gives you to place on an in-game bet if you make a pregame wager beforehand. The money can often be used to bet on any live game and not just the one on which you made your pregame wager.
Risk-free Bet
A risk-free bet is money that is credited to your account after you sign up to use a sportsbook for the first time. If you are successful with your bet using this money, then you win as normal. However, even if you lose this bet, the money goes back into your account in the form of credit for another bet, although it cannot be converted into cash to withdraw.
Early Payout
For straight bets, an early payout marks your wager as a winner and pays you out in full if the team on which you bet ever jumps out to a 3-0 lead – even if the opposing team comes back to win the game.
How does NHL betting work?
Is live betting profitable?
Where can I bet on NHL games?
How do you bet the puck line?