NHL playoffs and Stanley Cup explained
The best NHL sportsbooks will always present their odds in the same format. When it comes to NHL betting lines, the favorite in the game is represented by the minus sign (-), while the less favored team, or underdog, is represented by the plus sign (+). Just like every other sport, NHL odds are normally based around bettors wagering $100.
After studying the NHL betting lines, bettors can chose team A, or team B to win the game. This is known as moneyline betting. For example, if you backed the Edmonton Oilers to win a game against the Tampa Bay Lightning at odds of +110, a $100 bet on that selection would return $110 on top of your stake.
Looking for today's best expert NHL picks?
Our NHL expert picks today will help you make the best decisions when betting on the NHL regular season and when making Stanley Cup picks and predictions. All of our hockey handicappers have years of experience and their NHL picks and predictions for tonight are based on priceless industry knowledge gathered through researching and selecting expert NHL picks in all of the biggest hockey games throughout the season. When selecting their NHL picks, our handicappers consider form, the location of the game, historic results between both teams and the value of each preferred bet to make sure your NHL predictions have the best chance of winning.
Free expert NHL moneyline picks
We've got the best NHL moneyline picks today to ensure you get the most value out of your bet. Our handicappers have honed their skills at NHL moneyline betting over the years by picking winners in the biggest hockey games of the season. When making your NHL moneyline picks, make sure you follow the advice of our experts.
Free expert NHL picks against the spread for today's games
Making successful NHL picks against the spread is one of the most satisfying ways to win a bet. Winning NHL point spread bets involves picking a team to win the hockey game after starting with a goal deficit or goal advantage. Our experienced handicappers use years of experience to make NHL expert picks against the spread for tonight's games.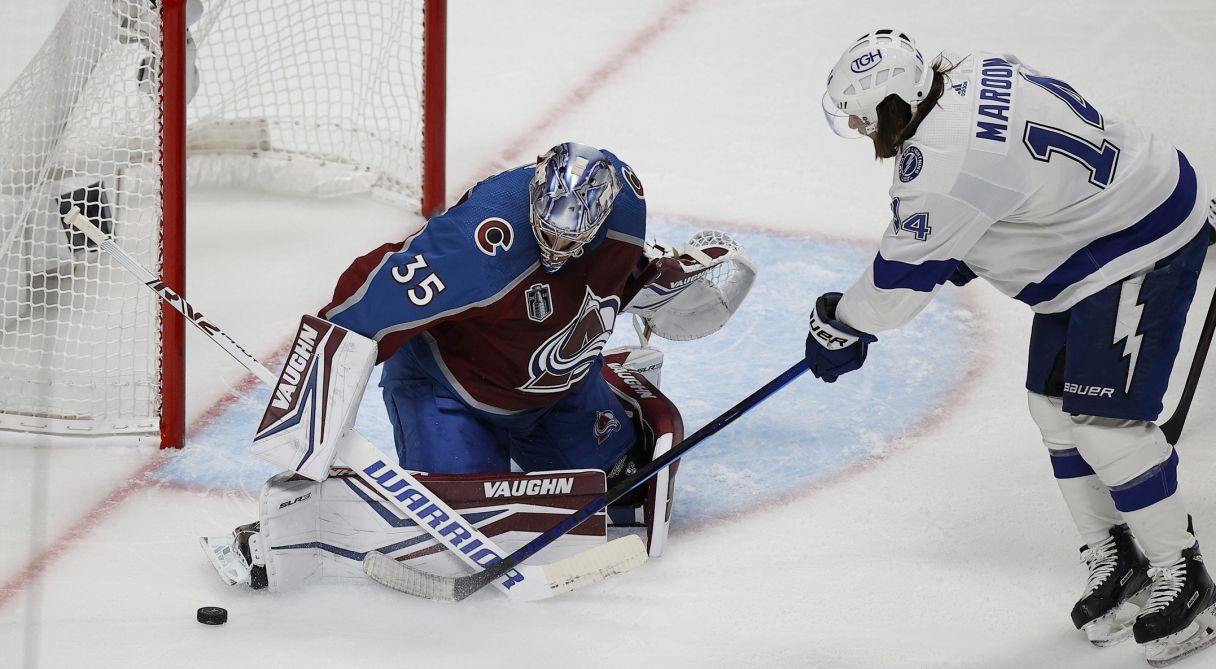 Colorado Avalanche goaltender Darcy Kuemper makes a save on Tampa Bay Lightning left wing Alex Killorn. - © Isaiah J. Downing-USA TODAY Sports
Free NHL over/under picks – NHL totals picks
Betting on NHL over/under picks predictions could not be easier. With an NHL over/under bet, you are not picking one team to score a certain number of goals or to win, you are picking whether both teams will score more or less goals combined than a given number - that's the beauty of hockey over/under predictions. The over/under is normally set between 5 and 8 goals in the NHL, and almost always splits a whole number. Our handicappers use years of experience to make their expert NHL over/under picks.
Puck line betting explained
Spread betting in hockey is similar to betting the spread in other sports but is commonly referred to as the "puck line".
The favorite in each game must win by a certain number of goals, set by a sportsbook, for your wager to win. This is indicated with a minus sign, followed by the number of goals. So if a team is -1.5, for example, they must win by two or more goals for you to win your bet. The underdog must avoid losing by two or more goals for your wager to win. This is indicated with a plus sign (+1.5).
While spreads can vary wildly in sports like football or basketball, the puck line in hockey is usually set at 1.5 for every game, with rare exceptions.
Grand Salami NHL betting
A Grand Salami gets its nickname from baseball but is another type of wager that you can make when hockey betting online. This involves betting on the over or under of total goals scored on a particular day in the NHL. It's just like betting a total, only with a higher number involved. Unlike a parlay, you don't need the total to hit in every specific game, just altogether, so you're never out of it until the very end.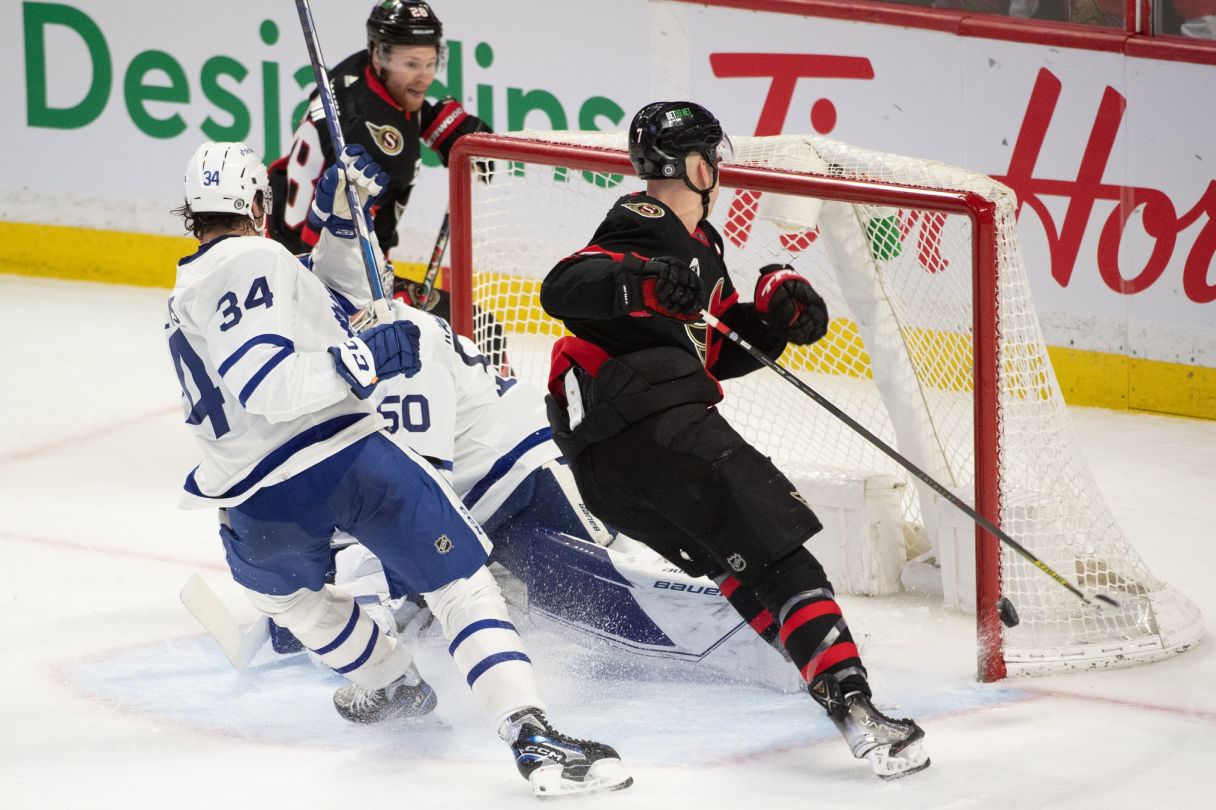 Toronto Maple Leafs center Auston Matthews (34) moves him off the crease in the third period at the Canadian Tire Centre. Pic: Marc DesRosiers-USA TODAY Sports
NHL prop betting
Prop betting refers to hockey odds that don't involve the outcome of the game. Instead, prop bets are a way to increase your bankroll by wagering on the performance of certain players or which team will score the most goals in a particular period, for example.
NHL first period betting
A first period bet is exactly how it sounds. This involves hockey odds on everything from the number of goals in the first period to which team will be leading after one period of play. You can even bet on a tie, if you choose.
Free expert parlay hockey picks today
Looking for some free NHL parlay picks today? Our handicappers use years of betting experience to predict the winners of the biggest and best hockey games. For their NHL picks and parlays, they will study recent form and use their knowledge to make their choice.
Interested in more free advice besides NHL Picks?
We also specialise in expert picks and predictions in baseball , basketball and football picks. Our handicappers use years of experience to make the most informed decisions so you don't have to.
Live betting on the NHL
Just because an NHL game is underway doesn't mean you can't still place a bet on the best NHL betting sites. Live betting provides hockey fans with a way to add to their bankroll, betting as the action takes place. Many bettors prefer live betting because it allows them to take advantage of shifting odds as events in a game unfold.
For example, if you take the NHL lines and have a pregame bet on the favorite, but that team is trailing after one period, you might bet again on the same team because you still believe they will win. However, because they are losing when you place your second wager, you get longer odds and better value.
NHL standings
Division
Atlantic
Metropolitan
All Divisions
Atlantic
GP
W
L
Otl
Sol
Pts
G
GA
Home
Away
Ats
OU

1

Boston

0
0
0
0
0
0
0
0
0-0-0-0
0-0-0-0
0-0
0-0

2

Buffalo

0
0
0
0
0
0
0
0
0-0-0-0
0-0-0-0
0-0
0-0

3

Detroit

0
0
0
0
0
0
0
0
0-0-0-0
0-0-0-0
0-0
0-0

4

Florida

0
0
0
0
0
0
0
0
0-0-0-0
0-0-0-0
0-0
0-0

5

Montreal

0
0
0
0
0
0
0
0
0-0-0-0
0-0-0-0
0-0
0-0

6

Ottawa

0
0
0
0
0
0
0
0
0-0-0-0
0-0-0-0
0-0
0-0

7

Tampa Bay

0
0
0
0
0
0
0
0
0-0-0-0
0-0-0-0
0-0
0-0

8

Toronto

0
0
0
0
0
0
0
0
0-0-0-0
0-0-0-0
0-0
0-0
Last updated: Jul 18, 1:47 PM UTC