World Cup 2022 predictions: Expert handicapper picks for Qatar.
We've assembled some of our best soccer handicappers and asked them to select picks for some of the biggest markets at Qatar 2022. This includes tournament winners, who they think will claim the Golden Boot and a selection of outside picks across the competition. All of which will provide the edge when placing wagers before and during the tournament.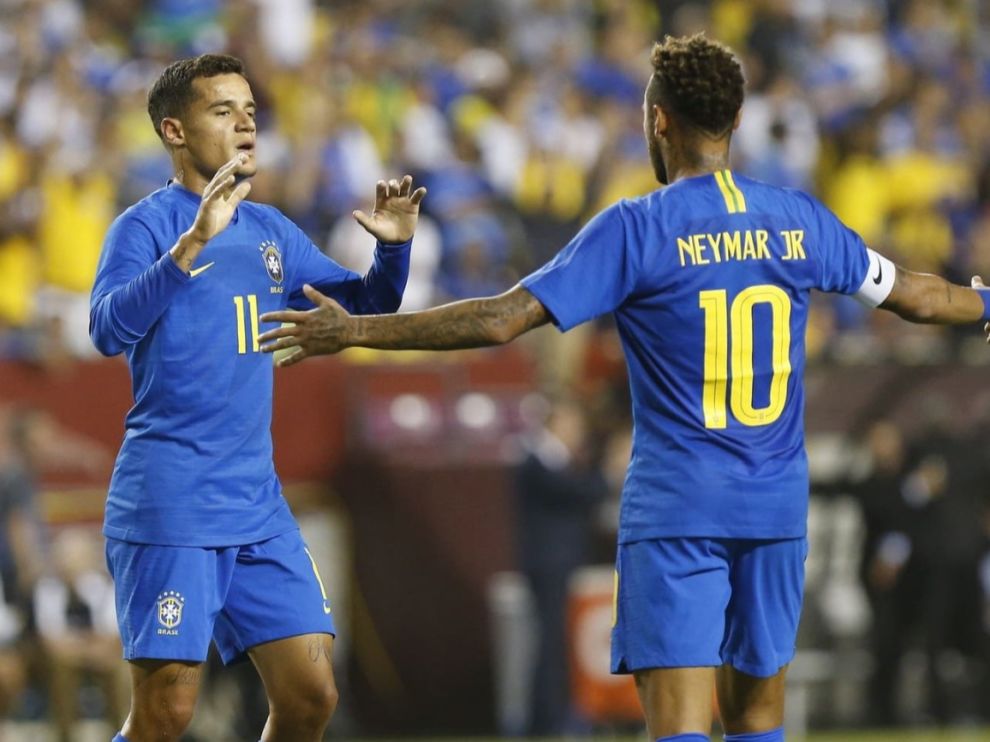 Brazil midfielder Philippe Coutinho celebrates with teammate Neymar. © Geoff Burke-USA TODAY Sports
Jump to:
OBCOM handicappers Qatar 2022 picks
| | Andrew Beasley | Conor Clancy | Ghost Tipster | Stefan Buczko |
| --- | --- | --- | --- | --- |
| WINNER: | Brazil | Brazil | France | France |
| FINALIST: | Belgium | France | Brazil | Brazil |
| OUTSIDE PICK: | Netherlands to make the semifinals | Senegal to make the quarterfinals | Wales to make the quarterfinals | Morocco to make the semifinals |
| BIGGEST DISAPPOINTMENT: | No unlikely finalist like Croatia in 2018, back the big boys to dominate. | Portugal fail to make it past the Round of 16 | Netherlands fail to make it out of their group | England fail to make it past the Round of 16 |
| GOLDEN BOOT: | Memphis Depay | Karim Benzema | Karim Benzema | Lionel Messi |
| GOLDEN BALL: | Kevin De Bruyne | Lionel Messi | Kylian Mbappe | Neymar |
| GOLDEN GLOVE: | Thibaut Courtois | Thibaut Courtois | David De Gea | Thibaut Courtois |
| GOLDEN BOY: | Pedri | Pedri | Pedri | Jude Bellingham |
Golden Boot winner:
Andrew Beasley : MEMPHIS DEPAY
When looking at who will win the Golden Boot at World Cup 2022, bettors might think you must focus upon a player whose team are likely to go far. Yet history shows performance in the World Cup groups counts for more. For instance, Harry Kane scored the most goals four years ago, with five of his six coming in the Group Stage and his final strike occurring in the Round of 16. With that in mind, we need to make some World Cup group stage predictions, and Memphis Depay of Netherlands looks a good value selection. Only two players topped his total of 12 goals in qualifying and he is in Group A, the one section containing two nations ranked outside the top 40 in the FIFA rankings at the time of the draw. Depay can be the top scorer at World Cup 2022 and fire his side deep into the tournament.
Conor Clancy : KARIM BENZEMA
How can it not be Karim Benzema? World Cup predictions and tournament predictions as a whole are never easy to make because of their knockout nature, but the Real Madrid and France forward will likely travel to Qatar having been named the Ballon d'Or a month earlier. He enjoyed a record-breaking 2021/22 season, scoring 44 times and assisting 15 more in just 46 games, helping Real Madrid to a LaLiga and Champions League double along the way. Now, he'll want to fire France to World Cup success. With Kylian Mbappe, too, he appears to have an excellent relationship both on and off the pitch, though that might have changed after the Paris Saint-Germain forward snubbed a move to the Spanish capital.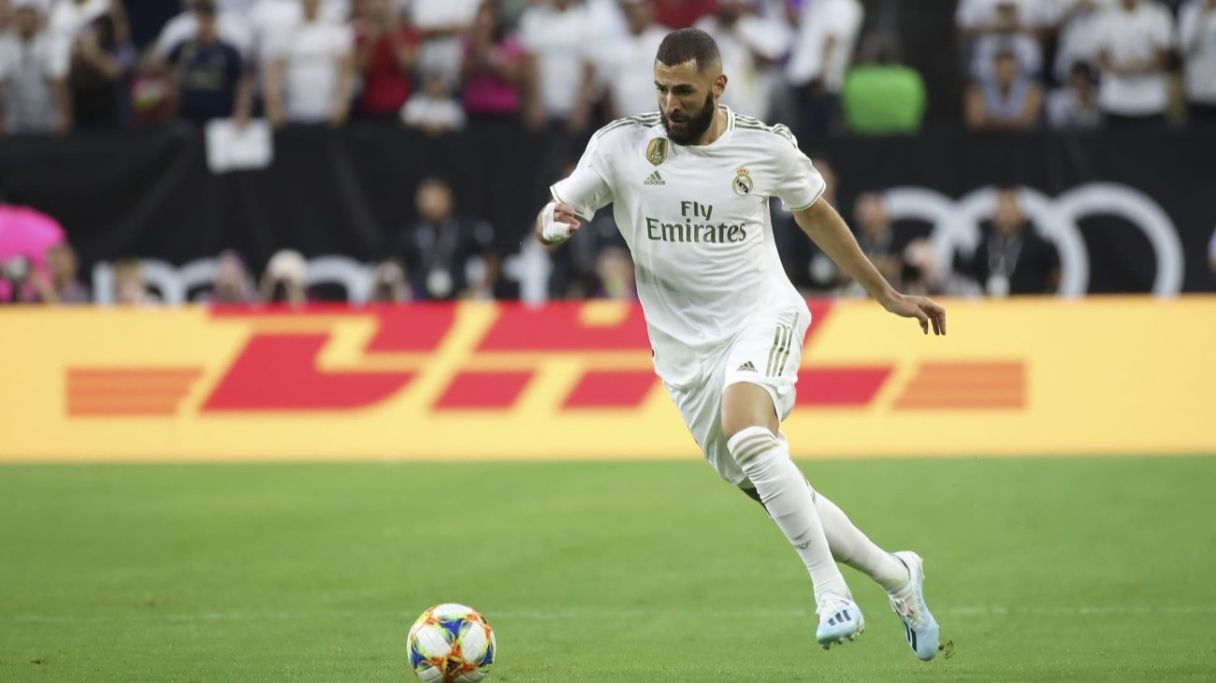 France forward Karim Benzema in action for Real Madrid. © Kevin Jairaj-USA TODAY Sports
Ghost Tipster : KARIM BENZEMA
The 2021/22 season has been one of Benzema's best goalscoring campaigns of his fantastic career showing no signs of slowing down despite his age. The 34 year old has led Real Madrid to league glory scoring 27 goals in LaLiga. It's not just domestically where the Frenchman has proved his worth. In the Champions League, Benzema has netted 15 times including memorable back to back hat tricks against PSG and Chelsea. The striker will head to Qatar full of confidence and we expect to see Benzema's France to go far this tournament him bagging a handful of goals along the way.
Stefan Buczko : LIONEL MESSI.
Picking a World Cup 2022 golden boot winner often comes down to the World Cup group stage predictions. My pick is Lionel Messi not only because he will be a man on a mission in what is likely his final chance to win the World Cup, but also because he will have a field day with Poland, Mexico and Saudi Arabia, as Group C should be one of the easiest World Cup groups to manage. As Argentina's designated penalty taker and excellent free-kick specialist, my prediction is that Messi will carry his country - according to my World Cup predictions - to the World Cup 2022 semifinal as the tournament's top scorer. Next to Lautaro Martinez, the 35-year-old is still Argentina's main goalscorer.
Selected Golden Boot winner pick:
Karim Benzema to win the Golden Boot
Golden Ball winner:
Andrew Beasley: KEVIN DE BRUYNE
A strange quirk of this award is that you have to go back to 1994 to find the last recipient who played for the winning team. Five of the six Golden Ball winners since have lost the final so we need to find someone who will contest international football's showpiece occasion. As the first and second seeds will avoid each other until the final if they top their World Cup groups , we could be set for a Belgium vs. Brazil final (though the odds imply the latter are more likely to face England or France). If the Belgians are to reach their first final, Kevin De Bruyne will play a huge part. He set a new personal best of 15 league goals in 2021/22 and has been in the Champions League team of the season for the last five years in a row. World Cup predictions are hard but De Bruyne making an impact seems nailed on.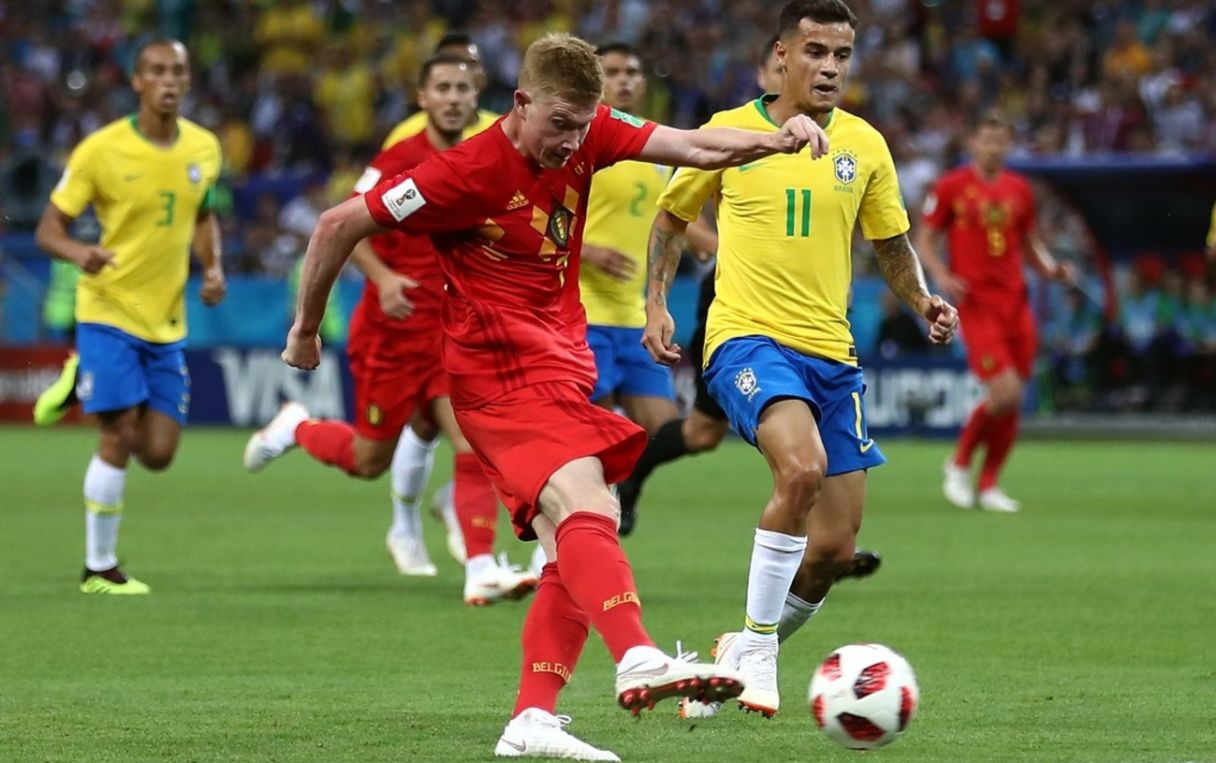 Belgium's Kevin De Bruyne against Brazil at World Cup 2018. © Sipa USA-USA TODAY Sports
Conor Clancy: LIONEL MESSI
Lionel Messi has found new life with Argentina in recent seasons, and World Cup 2022 is likely to be his last chance to get his hands on the one trophy that has evaded him throughout his career. That is something that cannot be overlooked in any World Cup predictions this year. Having won the Copa America and then beating European champions Italy in La Finalissima at Wembley in June, Messi knows how to win silverware at international level know. A glance at the World Cup groups suggests that the Albiceleste will get through, and with Messi in their team anything is possible from there. Argentina have tournament know-how now, and they should be sticking around in Qatar until close to the end. 
If they go all the way - or even close - how could the Golden Ball go to anyone other than the best player most of us have ever seen play?
Ghost Tipster: KYLIAN MBAPPE
With a World Cup medal already to his name, Kylian Mbappe has established himself as one of the best players in world soccer. Each year that passes by, the young Frenchman just seems to keep improving his game. At the 2018 World Cup, Mbappe scored four times including an important goal in the final against Croatia to help his country lift the trophy. In the 2021/22 season, the 23 year old took Ligue 1 by storm leading PSG to a record-equalling 10th top flight title producing the most goals and assists in the league with 42 goal contributions. Our World Cup prediction is to see the three time Ligue 1 player of the season win the Golden Ball.
Stefan Buczko: NEYMAR
What do the last six FIFA World up Golden Ball winners (Luka Modric, Lionel Messi, Diego Forlán, Zinedine Zidane, Oliver Kahn, Ronaldo) all have in common? None of them actually hoisted the World Cup trophy. Except Uruguay's Forlán, five of them were finalists. Because France defeats Brazil in my World Cup predictions, Neymar is my pick. The Golden Ball is as much about excellence of performance as it is about narrative. The setup of the World Cup groups have Brazil and Germany on a collision course in the quarterfinal. When Neymar leads his country to redemption for the historic 7-1 defeat in 2014 and then defeats Lionel Messi's Argentina in a semifinal, the Golden Ball is already as good as his.
Brazil forward Neymar looks back during match against Peru. © Kelvin Kuo-USA TODAY Sports
Selected Golden Ball pick:
Kevin De Bruyne to win the Golden Ball
Golden Glove winner:
Andrew Beasley: THIBAUT COURTOIS
Thibaut Courtois was the Golden Glove winner at the last World Cup, but the six prior to him all appeared in the final and usually won it. The Belgian was one of five goalkeepers who had three clean sheets in Russia. While his five Golden Glove predecessors all had more, what was key was that they had at worst the joint-most in that edition. It may be coincidence but every winner since the award was introduced has been European. As far as World Cup predictions go, saying France will do well is hardly rocking the boat. Hugo Lloris kept the joint-fifth most clean sheets in Europe's big five leagues in 2021/22 so he looks a good choice for the Golden Glove at World Cup 2022.
Conor Clancy: THIBAUT COURTOIS
Much like the pick for Karim Benzema to take the Golden Boot, it's hard not to have this pick shaped by Real Madrid's dominance in 2021/22, and Thibaut Courtois was a big reason for that. Courtois was the best goalkeeper in Europe, and probably the world, last season and when it comes to making World Cup group stage predictions, it's hard to see Belgium not advancing from a Group F that contains Croatia, Canada, and Morocco. The Belgian kept as many as 22 clean sheets in 21/22, and his Champions League final heroics won Real Madrid their 14th European crown. He's going to be a nightmare for those who face him in both the World Cup groups and the knockout rounds.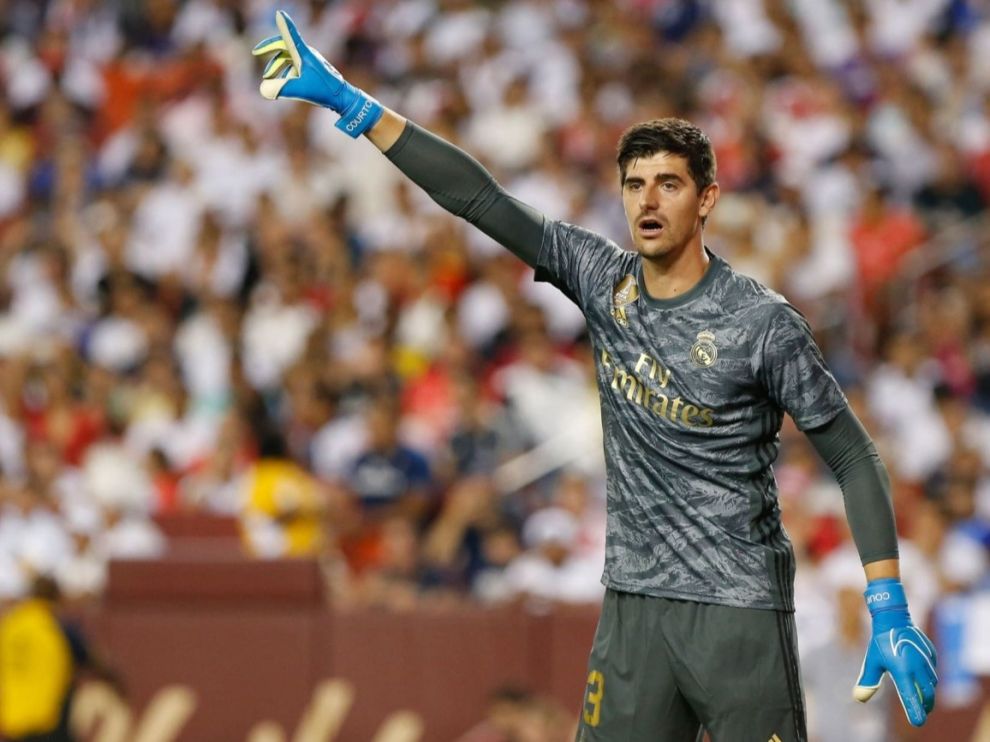 Belgium and Real Madrid goalkeeper Thibaut Courtois. © Geoff Burke-USA TODAY Sports
Ghost Tipster: DAVID DE GEA
The Manchester United keeper has endured a difficult 2012/22 season with his club. However the Spaniard has been a stand out performer for the Red Devils. David De Gea has been at the club for 10 years making over 25 appearances in each of those seasons. The long time servant of the club has performed particularly well this campaign, he has saved 126 shots making him the second highest shot stopper in the league this season. He was awarded with the January Premier League player of the month for his heroics. We predict Spain to go far this tournament with De Gea playing a big part in keeping clean sheets for his country.
Stefan Buczko: THIBAUT COURTOIS
Since the FIFA World Cup Golden Glove is not measured by numbers like least amounts of goals conceded, it will come down to perceived greatness. Whose heroics can produce memorable moments without a clumsy episode between the sticks? The favourite has to be Thibaut Courtois. The Belgium goalkeeper won the FIFA World Cup Golden Glove in 2018 and enters the FIFA World Cup 2022 as the 'UEFA Champions League Final Man of the Match'. Going by my World Cup group stage predictions, the winner of this award may well be decided in the Round of 16, which likely sees Courtois go head-to-head with Germany's Manuel Neuer, a previous World Cup and Golden Glove winner, who has retained his status as a top three keeper.
Selected Golden Glove pick:
Thibaut Courtois to win the Golden Glove
Golden Boy winner:
Andrew Beasley: PEDRI
The pool for this award will be small, as we're looking for someone who will be no older than 21-years-old. Less than six percent of the players at the last World Cup were eligible. They don't need to go too far in the competition, as Michael Owen proved in 1998. Our World Cup group stage predictions will be vital here. Had it not been for his serious injury, Florian Wirtz would've been an excellent selection. We'll have to take another player from Group E instead: Pedri. He too has had fitness issues but started every match for Spain at Euro 2020 and turns 20 during this World Cup. The Barcelona man will have several chances to impress in Qatar as Spain should reach the quarterfinals at least.
Conor Clancy: PEDRI
Pedri impresses every time he sets foot on a pitch, and don't expect that to change at World Cup 2022. The World Cup groups have drawn La Roja against Germany, Costa Rica and Japan, so the Barcelona youngster won't have it easy and will likely face some stern physical tests as Spain look to navigate their way through to the knockout rounds. But Pedri has shown with Barcelona and the national team that he is on another level to most his age, and any World Cup group stage predictions should consider just how fundamental a role he'll play as Spain look to dominate their opponents progress.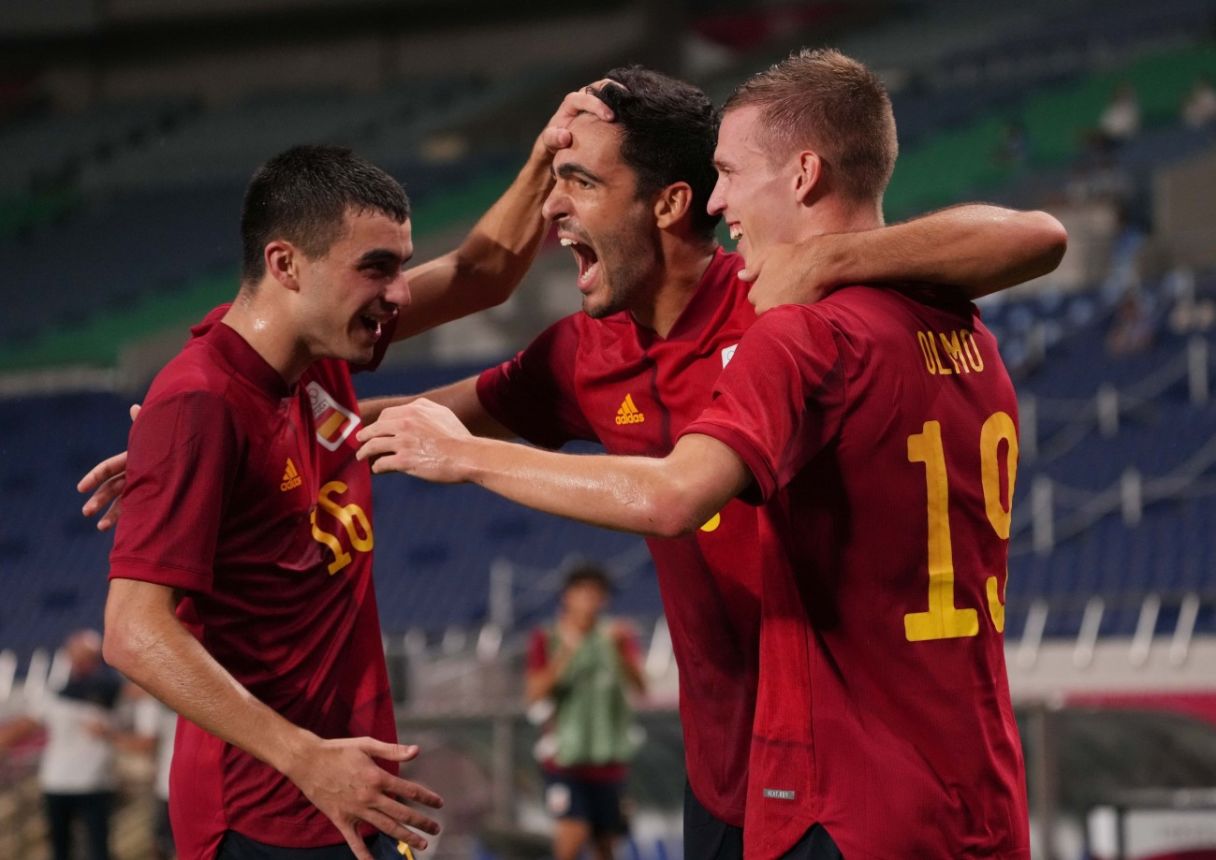 Spain's Mikel Merino (8) celebrates with Dani Olmo (19) and Pedri (16). © Jack Gruber-USA TODAY Sports
Ghost Tipster: PEDRI
The Barcelona youngster took Euro 2020 by storm stunning soccer fans with his maturity on the ball for his age. The 19 year old will head to Qatar knowing he is likely to receive a spot in the starting XI. In the last international competition for Spain, Pedri only missed one minute of soccer. His composed performances consist of high pass completion and distance covered. His calm nature on the pitch impressed many spectators and pundits which saw the midfielder pick up young player of the tournament. After an injury hit campaign, Pedri will be raring to show his talent on the world's biggest stage.
Stefan Buczko: JUDE BELLINGHAM
There will be a lot of exciting young talent at the World Cup 2022, but my pick for the 'Best Young Player Award' is 19-year-old Jude Bellingham. "Bellingham is gradually becoming indispensable for Dortmund and for England," ESPN wrote in their, ranking the Englishman fourth in their list of 'best male players age 21', which ranked the boy from Birmingham at no. 4. The 19-year-old was Borussia Dortmund's player of the season in central midfield because he couples an insatiable winning spirit with a skill set that can cover the no. 6, no. 8 and no. 10 position. Expect Gareth Southgate to make the defensive midfielder, who looks poised to be the Three Lions' future team captain, a regular starter this World Cup.
Selected Golden Boy pick:
Pedri to win the Golden Boy