Sunday night MLB picks: Los Angeles vs San Francisco - Giants can down victorious Dodgers
Our expert MLB handicapper John Lepore looks ahead to Sunday night's live ESPN clash between the Dodgers and believes Los Angeles could be there for the taking if they've been celebrating a divisional win at the weekend...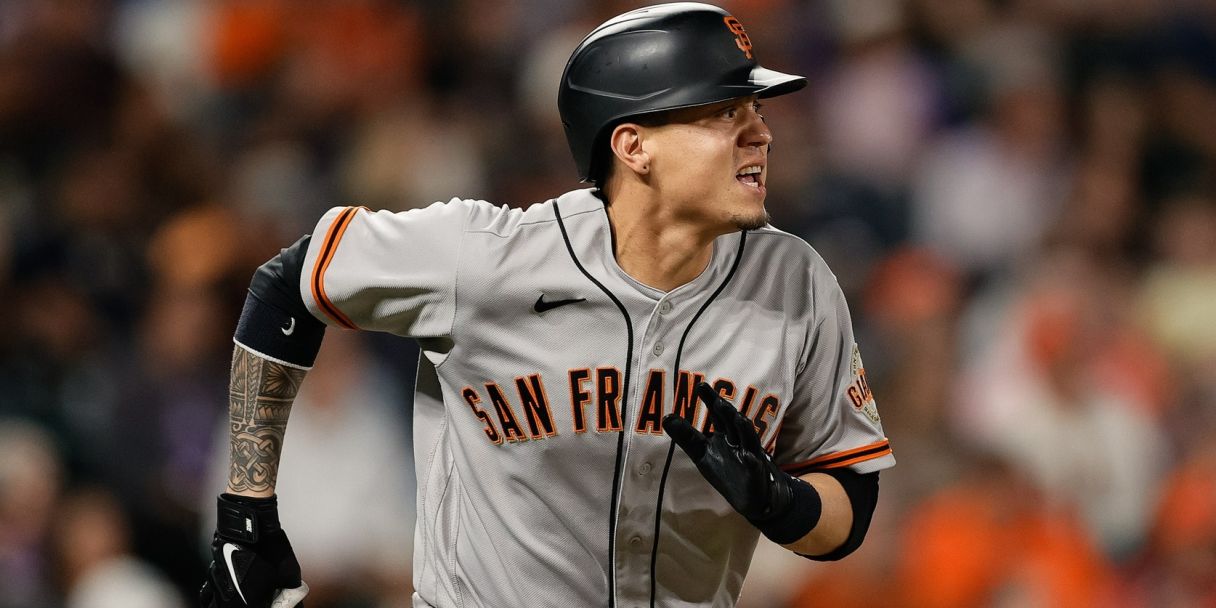 San Francisco Giants second baseman Wilmer Flores is second on the team in hits (108) and home runs (18) - © Isaiah J. Downing-USA TODAY Sports
Best baseball offers 2022
MLB expert picks: Los Angeles Dodgers @ San Francisco Giants (Sunday, September 18: 7.00 EDT)
| Fixture | LA Dodgers @ San Francisco Ginats |
| --- | --- |
| When | Sunday, September 18, 7:00 EDT |
| Likely Starters | Tyler Anderson vs. Alex Cobb |
| Where to watch | ESPN |
Dodgers at Giants - Records go out the window in West Coast clash
The Los Angeles Dodgers will likely have clinched the National League West and surpassed 100 wins by the time this game is played Sunday night. Heading into Wednesday's action the Dodgers have 98 victories and are a win or a San Diego Padres loss away from wrapping up the division. The San Francisco Giants have fallen far from the 107 wins they had in 2021. They have a losing record at 68-74 this year and are nowhere near a playoff spot. When these two rivals meet, though, the records go out the window.
Los Angeles will have Tyler Anderson on the bump. As they have done with a few pitchers, the Dodgers have turned Anderson into a success story. The lefty is 15-3 with a 2.62 ERA this season after pitching to a 29-38 record and a 4.62 ERA in his first six seasons. Anderson isn't a big strikeout guy, but he limits hard contact and limits baserunners carrying an impressive 1.027 WHIP.
Alex Cobb will toe the rubber for the Giants. He has been a very good number three starter this year. He is only 6-6 but has a 3.48 ERA and has been the victim of poor run support. Cobb has thrown a Quality Start in six of his last nine outings. The Dodgers have been able to get on the right-hander the two times they faced him, scoring six runs on 11 hits and six walks over 10.2 innings. Cobb will have to be on his game at home against the best team in baseball.
Dodgers player to watch: Freddie Freeman
Sometimes big free agent signings don't work out as the player underperforms once he gets his payday, or he suffers an injury that he never fully recovers from. Then there are signings like Freeman. He has been the Dodgers' best hitter this season leading the team with a .929 OPS heading into Wednesday. Not only has Freeman been productive, but he has also played in all 141 games for Los Angeles this year. Enjoy watching this future Hall of Famer on Sunday.
https://twitter.com/MLBNetwork/status/1569899237701214212?s=20&t=kwNeufJ0-Kz10wdndg5BXQ
Giants player to watch: Wilmer Flores
There honestly isn't a whole lot going on with the Giants offensively. Flores will most definitely be in the lineup against the left-hander Anderson. The utility infielder may not be having a great season, but he is second on the team in hits (108) and home runs (18). As an added bonus, Flores likes to bat against the Dodger southpaw, going 7-for-19 with a home run in his career vs. Anderson.
Los Angeles Dodgers @ San Francisco Giants conclusion and prediction
Generally, with these two long-time rivals, the season record goes out the window. However, the Dodgers have dominated the Giants in 2022, going 12-4 and outscoring them 83-50. Timing may be on San Francisco's side. If Los Angeles clinches the division and/or wins their 100th game on Friday or Saturday, there could be a little hangover effect. Take advantage of the great odds I am sure the Giants will have.
MLB Picks:
- Giants if the line is +180 or better
- Under if the line is 8.5 or better
- Cobb Over 5.5 strikeouts if the line is +150
Quick Hits:
- Pirates @ Mets Under if the line is 7.5 or better
- Angels if the line is +120 or better (vs. Mariners)
- Padres @ Diamondbacks Under if the line is 7.5 or better
Milwaukee
@
Philadelphia
LA Dodgers
@
Baltimore
Cleveland
@
Pittsburgh
San Diego
@
Toronto
San Francisco
@
Cincinnati
Chi. White Sox
@
NY Mets
Arizona
@
Atlanta
Miami
@
St. Louis
Washington
@
Chi. Cubs
Tampa Bay
@
Texas
Detroit
@
Kansas City
Houston
@
Colorado
NY Yankees
@
LA Angels
Boston
@
Oakland
Minnesota
@
Seattle
Cleveland
@
Pittsburgh
LA Dodgers
@
Baltimore
Tampa Bay
@
Texas
Miami
@
St. Louis
Houston
@
Colorado
Boston
@
Oakland
Milwaukee
@
Philadelphia
San Diego
@
Toronto
NY Yankees
@
LA Angels
Chi. White Sox
@
NY Mets
San Francisco
@
Cincinnati
Arizona
@
Atlanta
Washington
@
Chi. Cubs
Detroit
@
Kansas City
Minnesota
@
Seattle
Arizona
@
Atlanta
San Francisco
@
Cincinnati
Milwaukee
@
Philadelphia
San Diego
@
Toronto
Chi. White Sox
@
NY Mets
Detroit
@
Kansas City
Minnesota
@
Seattle
Baltimore
@
Tampa Bay
St. Louis
@
Chi. Cubs
Houston
@
Oakland
St. Louis
@
Chi. Cubs
Colorado
@
Miami
San Diego
@
Detroit
Baltimore
@
Tampa Bay
San Francisco
@
Washington
Kansas City
@
NY Yankees
Philadelphia
@
Cleveland
NY Mets
@
Boston
Arizona
@
Cincinnati
LA Dodgers
@
Texas
Chi. White Sox
@
Minnesota
Atlanta
@
Milwaukee
Pittsburgh
@
LA Angels
Houston
@
Oakland
Toronto
@
Seattle
Kansas City
@
NY Yankees
Colorado
@
Miami
St. Louis
@
Chi. Cubs
LA Dodgers
@
Texas
NY Mets
@
Boston
Toronto
@
Seattle
Baltimore
@
Tampa Bay
Arizona
@
Cincinnati
San Diego
@
Detroit
San Francisco
@
Washington
Philadelphia
@
Cleveland
Atlanta
@
Milwaukee
Chi. White Sox
@
Minnesota
Houston
@
Oakland
Pittsburgh
@
LA Angels
San Diego
@
Detroit
Kansas City
@
NY Yankees
San Francisco
@
Washington
Philadelphia
@
Cleveland
Baltimore
@
Tampa Bay
Arizona
@
Cincinnati
Colorado
@
Miami
Atlanta
@
Milwaukee
Chi. White Sox
@
Minnesota
St. Louis
@
Chi. Cubs
LA Dodgers
@
Texas
Houston
@
Oakland
Pittsburgh
@
LA Angels
Toronto
@
Seattle
NY Mets
@
Boston
San Francisco
@
Detroit
Kansas City
@
Cleveland
Texas
@
Houston
Pittsburgh
@
San Diego
St. Louis
@
Arizona
Toronto
@
LA Dodgers
Last updated: Jul 18, 2:05 PM UTC