MLB picks and expert predictions: Atlanta ( ) narrow favorites against menacing Marlins ( )
Our expert MLB handicapper John Lepore looks ahead to Friday night's clash between the Miami Marlins and the Atlanta Braves...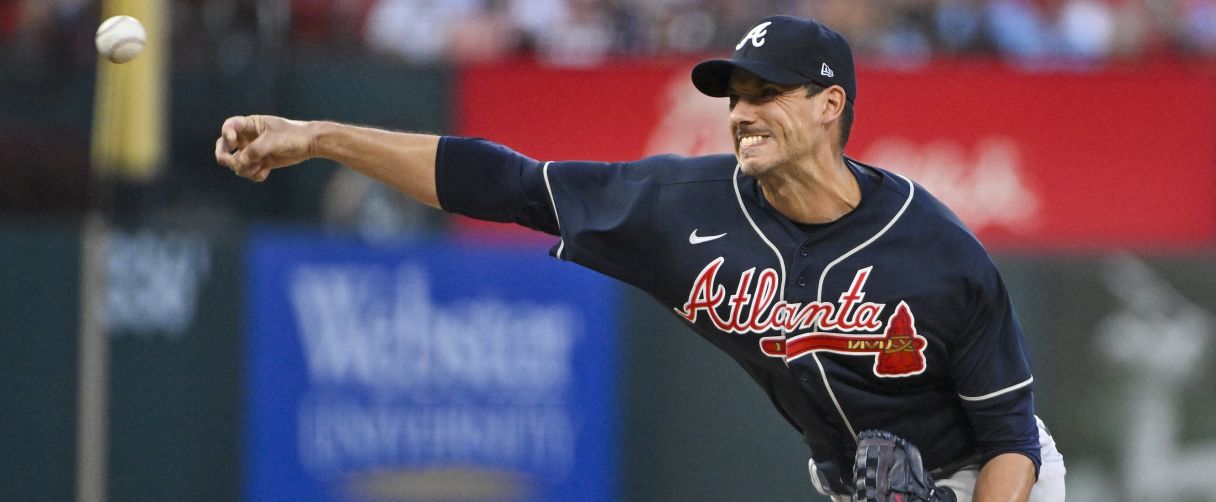 Atlanta Braves pitcher Charlie Morton - © Jeff Curry-USA TODAY Sports
Best baseball offers 2022
MLB expert picks: Miami Marlins @ Atlanta Braves (Friday, September 2: 7.20 EDT)
| Fixture | Miami Marlins @ Atlanta Braves |
| --- | --- |
| When | Friday, September 2, 7:20 EDT |
| Likely Starters | Sandy Alcantara vs. Charlie Morton |
| Where to watch | Apple TV |
The Miami Marlins don't have much to play for the rest of the season. However, they can hurt the Atlanta Braves chances of making a run at the New York Mets for the National League East title (+600). The defending champions look to be in control of a playoff spot, leading the Milwaukee Brewers by 10 games for the final Wild Card seed. This is a division battle though and rosters will be expanded by two players. Anything is possible here. 
The Marlins will throw Cy Young contender Sandy Alcantara on Friday. He has been an absolute workhorse this season with a league-leading 185.2 innings pitched. Not only has Alcantara been durable, but he has also been dominant as well. The young right-hander sports a 12-6 record with a 2.13 ERA. He has allowed opposing hitters only a .568 OPS. The Braves are a home run-hitting team, but Alcantara has surrendered just 10 long balls this year.
The Braves counter with veteran Charlie Morton. The 38-year-old has been solid with a 6-5 record and a 4.10 ERA. The right-hander continues to strike out players at an impressive rate considering his age. He has a 28.6 percent K rate which is the second highest of his career. Morton has run into problems with the long ball. He has allowed 20 home runs, a career high, in just 140.1 innings.  
Marlins player to watch: Sandy Alcantara 
We are watching an ace have his breakout season. Not only is Alcantara putting together his best year at 26 years old, but he is also a throwback to a different time. Nowadays, starting pitchers generally don't go the whole nine innings. He has four complete games in 26 starts. Aside from Aaron Nola and Framber Valdez, no other pitcher has more than one in the majors. You will not just see a great pitcher but may actually see him pitch the whole game. 
https://twitter.com/PitchingNinja/status/1563680271756820480?s=20&t=ceIxk851tpvmg0qIEcCijA
Braves player to watch: Vaughn Grissom 
The youngster has given the Braves some hope at the second base position. When Ozzie Albies went down with a foot injury, Atlanta tried a few different players at the keystone, but they didn't really find anyone to hold the spot. Enter Grissom. The 21-year-old has already made an impact in his 19 games as of Wednesday. He is slashing .324/.368/.493 with three bombs and three stolen bases. Albies should be back in a couple of weeks. Enjoy Grissom now as he may not be playing much once Ozzie returns
Miami Marlins @ Atlanta Braves conclusion and prediction 
The Marlins would normally be heavy underdogs traveling to Atlanta. However, Miami has one of the best pitchers in baseball on the bump for Friday night's game. Alcantara has faced the Braves twice this season and has dominated. He has thrown 17 innings and has given up just one earned run while striking out 21 and walking just two. Atlanta may still be the favorites, but not by much. If so, take the Marlins and the Under. 
MLB Picks: 
Marlins at
Under ( ) at -120 
MLB quick picks Friday, September 2:
Twins at -134 vs White Sox 
Rangers vs Red Sox Under at +102
Athletics at vs Orioles  
Milwaukee
@
Philadelphia
LA Dodgers
@
Baltimore
Cleveland
@
Pittsburgh
San Diego
@
Toronto
San Francisco
@
Cincinnati
Chi. White Sox
@
NY Mets
Arizona
@
Atlanta
Miami
@
St. Louis
Washington
@
Chi. Cubs
Tampa Bay
@
Texas
Detroit
@
Kansas City
Houston
@
Colorado
NY Yankees
@
LA Angels
Boston
@
Oakland
Minnesota
@
Seattle
Cleveland
@
Pittsburgh
LA Dodgers
@
Baltimore
Tampa Bay
@
Texas
Miami
@
St. Louis
Houston
@
Colorado
Boston
@
Oakland
Milwaukee
@
Philadelphia
San Diego
@
Toronto
NY Yankees
@
LA Angels
Chi. White Sox
@
NY Mets
San Francisco
@
Cincinnati
Arizona
@
Atlanta
Washington
@
Chi. Cubs
Detroit
@
Kansas City
Minnesota
@
Seattle
Arizona
@
Atlanta
San Francisco
@
Cincinnati
Milwaukee
@
Philadelphia
San Diego
@
Toronto
Chi. White Sox
@
NY Mets
Detroit
@
Kansas City
Minnesota
@
Seattle
Baltimore
@
Tampa Bay
St. Louis
@
Chi. Cubs
Houston
@
Oakland
St. Louis
@
Chi. Cubs
Colorado
@
Miami
San Diego
@
Detroit
Baltimore
@
Tampa Bay
San Francisco
@
Washington
Kansas City
@
NY Yankees
Philadelphia
@
Cleveland
NY Mets
@
Boston
Arizona
@
Cincinnati
LA Dodgers
@
Texas
Chi. White Sox
@
Minnesota
Atlanta
@
Milwaukee
Pittsburgh
@
LA Angels
Houston
@
Oakland
Toronto
@
Seattle
Kansas City
@
NY Yankees
Colorado
@
Miami
St. Louis
@
Chi. Cubs
LA Dodgers
@
Texas
NY Mets
@
Boston
Toronto
@
Seattle
Baltimore
@
Tampa Bay
Arizona
@
Cincinnati
San Diego
@
Detroit
San Francisco
@
Washington
Philadelphia
@
Cleveland
Atlanta
@
Milwaukee
Chi. White Sox
@
Minnesota
Houston
@
Oakland
Pittsburgh
@
LA Angels
San Diego
@
Detroit
Kansas City
@
NY Yankees
San Francisco
@
Washington
Philadelphia
@
Cleveland
Baltimore
@
Tampa Bay
Arizona
@
Cincinnati
Colorado
@
Miami
Atlanta
@
Milwaukee
Chi. White Sox
@
Minnesota
St. Louis
@
Chi. Cubs
LA Dodgers
@
Texas
Houston
@
Oakland
Pittsburgh
@
LA Angels
Toronto
@
Seattle
NY Mets
@
Boston
San Francisco
@
Detroit
Kansas City
@
Cleveland
Texas
@
Houston
Pittsburgh
@
San Diego
St. Louis
@
Arizona
Toronto
@
LA Dodgers
Last updated: Jul 18, 2:05 PM UTC