MLB picks and expert predictions: Dominant Dodgers to overpower Padres
Our expert MLB handicapper John Lepore looks ahead to Sunday night's clash between the San Diego Padres and the Los Angeles Dodgers...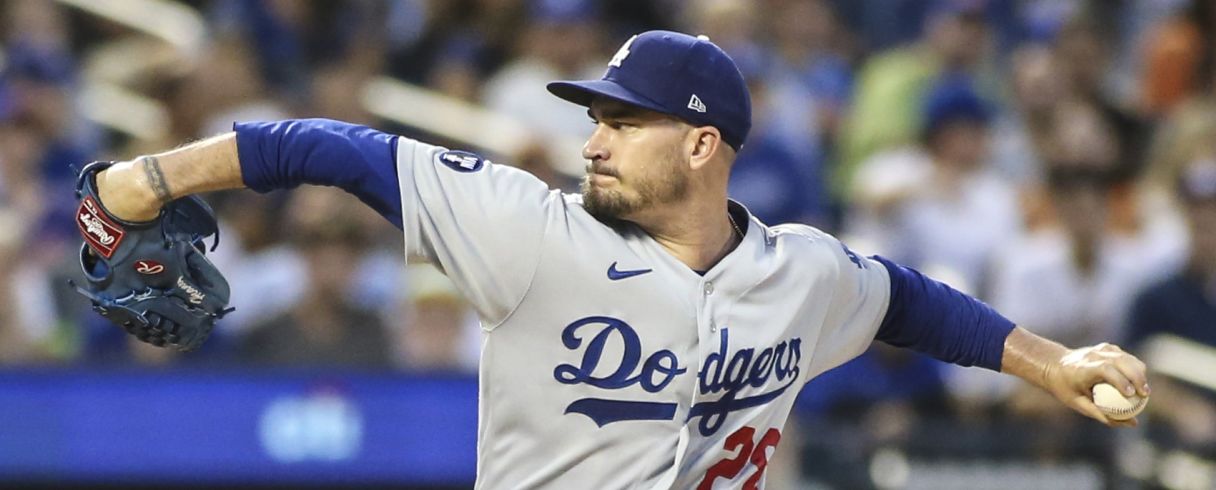 Los Angeles Dodgers starting pitcher Andrew Heaney - © Wendell Cruz-USA TODAY Sports
Best baseball offers 2022
MLB expert picks: San Diego Padres @ Los Angeles Dodgers (Sunday, September 4: 7.00 EDT)
| Fixture | San Diego Padres @ Los Angeles Dodgers |
| --- | --- |
| When | Sunday, September 4, 7:00 EDT |
| Likely Starters | Mike Clevinger vs. Andrew Heaney |
| Where to watch | ESPN |
The Los Angeles Dodgers continue to be the best team in baseball. They logged their 90th win before September 1st. They are a juggernaut and should lock up the top seed in the National League in a few weeks. Meanwhile, their division rivals, the San Diego Padres, continue to fight to keep that last Wild Card spot. Only 2.5 games ahead of the Milwaukee Brewers, the Padres will need every win they can get over the final four weeks of the season. 
Mike Clevinger goes for the Padres. The right-hander has been up and down this season. He still has a good 3.59 ERA. His strikeout rate is at its highest since 2019 and his walk rate is the lowest of his career. Clevinger has a talent for inducing soft contact with an average exit velocity of 87.2 (MLB average is 88.4). He will need everything working for him against the Dodgers. 
Andrew Heaney has found new life in a Dodger uniform. While he has had a short leash recently, the lefty has 28 strikeouts in his past 15.2 innings. He has given up three or fewer runs in all 10 of his starts this season. He is a new pitcher lately and could have his way with the Padres. However, in the outing he had against San Diego on August 6th, Heaney struck out just three which was the fewest of the season.  
Padres player to watch: Juan Soto 
While Soto hasn't been the dominant player the Padres envisioned, he has been better than Josh Bell and Brandon Drury, their other two big trade deadline acquisitions. Soto is slashing .269/.424/.449 with three home runs and six RBIs in 23 games for San Diego. He has scored 18 runs in that time and has been obviously his usual on-base machine. He is starting his second career with a new team; Soto will be looking to bring his game to another level before a new contract in a couple of years. 
https://twitter.com/SportsCenter/status/1563679294123130880?s=20&t=kAKuwH2rEMcOtriwn3orKg
Dodgers player to watch: Mookie Betts 
While there are other players that get hyped up in the major leagues much more like Aaron Judge or Mike Trout, make no mistake, Betts is in that top tier with them. Betts is third in the NL behind Paul Goldschmidt and Nolan Arenado in WAR and has 32 home runs with a .917 OPS. He has also chipped in 12 stolen bases and leads the league in runs scored with 101. Betts also gets it done with the glove, winning five Gold Gloves already at just 29 years old. He is one of the best and will be a Hall of Famer when his career is over. 
San Diego Padres @ Los Angeles Dodgers conclusion and prediction 
The Dodgers are an absolute force right now. They have also won eight of the 10 games against the Padres this season so far outscoring them 55-18. Clevinger has been a little inconsistent and Heaney seems to have found his groove at the right time. Despite Los Angeles likely being heavy favorites, I'll take them to win this one with some power to show as well. 
MLB Picks: 
Dodgers if the line is -130 or better 
Over if the line is 7.5 or better 
Betts Over 1.5 total bases if the line is +110 or better 
Milwaukee
@
Philadelphia
LA Dodgers
@
Baltimore
Cleveland
@
Pittsburgh
San Diego
@
Toronto
San Francisco
@
Cincinnati
Chi. White Sox
@
NY Mets
Arizona
@
Atlanta
Miami
@
St. Louis
Washington
@
Chi. Cubs
Tampa Bay
@
Texas
Detroit
@
Kansas City
Houston
@
Colorado
NY Yankees
@
LA Angels
Boston
@
Oakland
Minnesota
@
Seattle
Cleveland
@
Pittsburgh
LA Dodgers
@
Baltimore
Tampa Bay
@
Texas
Miami
@
St. Louis
Houston
@
Colorado
Boston
@
Oakland
Milwaukee
@
Philadelphia
San Diego
@
Toronto
NY Yankees
@
LA Angels
Chi. White Sox
@
NY Mets
San Francisco
@
Cincinnati
Arizona
@
Atlanta
Washington
@
Chi. Cubs
Detroit
@
Kansas City
Minnesota
@
Seattle
Arizona
@
Atlanta
San Francisco
@
Cincinnati
Milwaukee
@
Philadelphia
San Diego
@
Toronto
Chi. White Sox
@
NY Mets
Detroit
@
Kansas City
Minnesota
@
Seattle
Baltimore
@
Tampa Bay
St. Louis
@
Chi. Cubs
Houston
@
Oakland
St. Louis
@
Chi. Cubs
Colorado
@
Miami
San Diego
@
Detroit
Baltimore
@
Tampa Bay
San Francisco
@
Washington
Kansas City
@
NY Yankees
Philadelphia
@
Cleveland
NY Mets
@
Boston
Arizona
@
Cincinnati
LA Dodgers
@
Texas
Chi. White Sox
@
Minnesota
Atlanta
@
Milwaukee
Pittsburgh
@
LA Angels
Houston
@
Oakland
Toronto
@
Seattle
Kansas City
@
NY Yankees
Colorado
@
Miami
St. Louis
@
Chi. Cubs
LA Dodgers
@
Texas
NY Mets
@
Boston
Toronto
@
Seattle
Baltimore
@
Tampa Bay
Arizona
@
Cincinnati
San Diego
@
Detroit
San Francisco
@
Washington
Philadelphia
@
Cleveland
Atlanta
@
Milwaukee
Chi. White Sox
@
Minnesota
Houston
@
Oakland
Pittsburgh
@
LA Angels
San Diego
@
Detroit
Kansas City
@
NY Yankees
San Francisco
@
Washington
Philadelphia
@
Cleveland
Baltimore
@
Tampa Bay
Arizona
@
Cincinnati
Colorado
@
Miami
Atlanta
@
Milwaukee
Chi. White Sox
@
Minnesota
St. Louis
@
Chi. Cubs
LA Dodgers
@
Texas
Houston
@
Oakland
Pittsburgh
@
LA Angels
Toronto
@
Seattle
NY Mets
@
Boston
San Francisco
@
Detroit
Kansas City
@
Cleveland
Texas
@
Houston
Pittsburgh
@
San Diego
St. Louis
@
Arizona
Toronto
@
LA Dodgers
Last updated: Jul 18, 2:05 PM UTC