MLB picks and expert predictions: Chicago Cubs to make light work of gentle Giants at Wrigley on Sunday
Our expert MLB handicapper John Lepore looks ahead to Sunday night's clash between the San Francisco Giants and Chicago Cubs in Sunday's live game and believes the home side have more to offer than the visitors...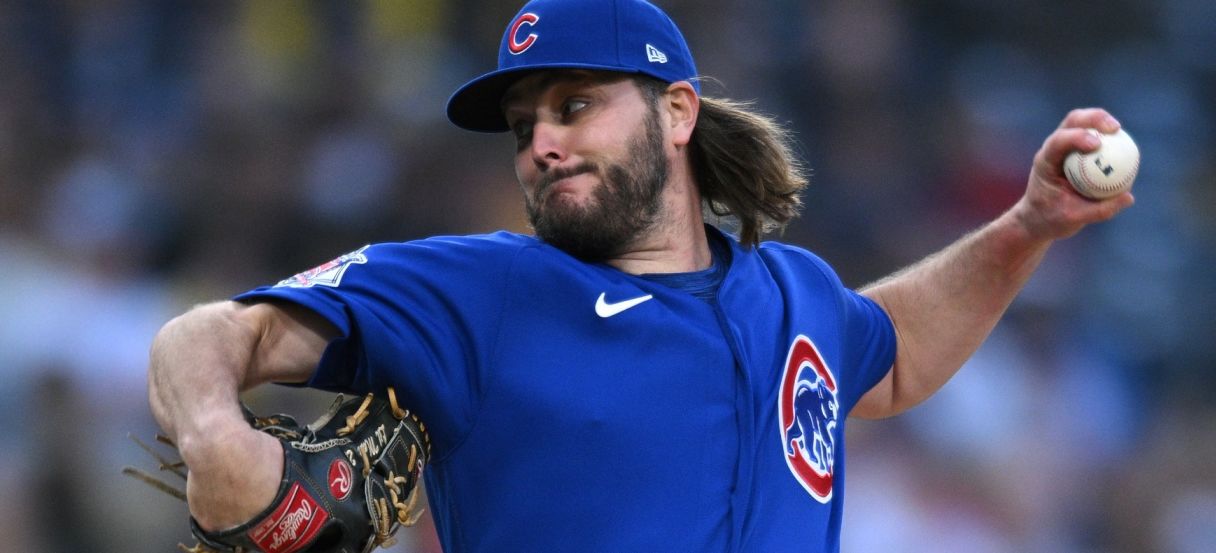 © Orlando Ramirez-USA TODAY Sports
Best baseball offers 2022
MLB expert picks: San Francisco Giants @ Chicago Cubs (Sunday, September 11: 7.00 EDT)
| Fixture | San Francisco Giants @ Chicago Cubs |
| --- | --- |
| When | Sunday, September 11, 7:00 EDT |
| Likely Starters | John Brebbia vs Wade Miley |
| Where to watch | ESPN |
The San Francisco Giants are hanging on for dear life in the hopes of a Wild Card spot. They are 7.5 games out of the playoffs heading into Tuesday night and the outlook seems grim. They get the Chicago Cubs who have been better since the All-Star break, going 21-21. As with many teams out of the race, the Cubs have a few players looking to make an impression and take advantage of their opportunities.
It looks like the Giants may go with John Brebbia. Alex Wood has gone on the IL and Brebbia has pitched well out of the bullpen while making three starts also. His starts were as an opener, and he isn't expected to last long. San Francisco will rely on their bullpen. That doesn't bode well for the Giants as their relievers have a 4.22 ERA and a 1.392 WHIP.
Wade Miley should be taking the hill for the Cubbies. The veteran has been pretty good since joining Chicago albeit in five starts. He was just reinstated from the IL and threw four innings on Tuesday striking out six. He is out there the rest of the season to prove he is healthy and can still compete at a major league level. Turning 36 in November, Miley will be looking to get another contract before calling it quits.
Giants player to watch: Evan Longoria
We are watching a player wind down to the end of his career. He was the face of the Tampa Bay Rays for a long time and is working on his fifth, and likely final year as a Giant. Longoria will be 37 next month and will be trying to finish out the season with a bang. The veteran third baseman has 25 home runs and 76 RBIs in his last 152 games with San Francisco while playing a solid defensively at the hot corner. We could very well be watching a future Hall of Famer.
https://twitter.com/KNBR/status/1561475405982273537?s=20&t=Xf-nvzEX77AjXE4VVciNkQ
Cubs player to watch: Ian Happ
Despite having the same amount of Plate Appearances as last season (535), Happ has hit 10 fewer home runs. That hasn't taken away from his overall numbers though. He is slashing .277/.350/.455 this year as opposed to .226/.323/.434 in 2021. He is also settling in more as a left fielder and has improved defensively. Happ will be a free agent after next season and is having his best season. Watch out for an end-of-the-season run.
San Francisco Giants @ Chicago Cubs conclusion and prediction
The Giants are still fighting against the current for a playoff spot, but the Cubs have a few players who are looking to make an impact and have a leg up for a 2023 roster spot. The energy has brought Chicago better results recently. With the question marks surrounding San Francisco's rotation and the fact this will be a bullpen game for them, I suspect the Cubs will handle them easily.
MLB Picks:
- Cubs if the line is -110 or better
- Over if the line is 8.5 or better
- Happ Over 1.5 total bases if the line is -160 or better
MLB quick picks: Sunday, September 11
- Red Sox if the line is +110 or better (@ Orioles)
- Mets @ Marlins Under if the line is 7.5 or better
- Diamondbacks @ Rockies Over if the line is 9.5 or better
Chi. White Sox
@
NY Yankees
LA Dodgers
@
Cincinnati
Arizona
@
Washington
Minnesota
@
Tampa Bay
Baltimore
@
Milwaukee
San Francisco
@
Colorado
Chi. White Sox
@
NY Yankees
Detroit
@
Philadelphia
Houston
@
Toronto
Boston
@
Cleveland
NY Mets
@
Atlanta
Chi. Cubs
@
LA Angels
Arizona
@
Detroit
Texas
@
Tampa Bay
LA Dodgers
@
Philadelphia
Kansas City
@
Baltimore
Boston
@
NY Yankees
Minnesota
@
Toronto
Houston
@
Cleveland
Washington
@
Atlanta
Oakland
@
Milwaukee
Miami
@
Chi. White Sox
Cincinnati
@
St. Louis
San Diego
@
Colorado
Seattle
@
LA Angels
Chi. Cubs
@
San Francisco
Arizona
@
Detroit
Miami
@
Chi. White Sox
Cincinnati
@
St. Louis
Minnesota
@
Toronto
San Diego
@
Colorado
Kansas City
@
Baltimore
NY Mets
@
Pittsburgh
LA Dodgers
@
Philadelphia
Washington
@
Atlanta
Texas
@
Tampa Bay
Oakland
@
Milwaukee
Houston
@
Cleveland
Boston
@
NY Yankees
Chi. Cubs
@
San Francisco
Seattle
@
LA Angels
Arizona
@
Detroit
Washington
@
Atlanta
Kansas City
@
Baltimore
NY Mets
@
Pittsburgh
LA Dodgers
@
Philadelphia
Minnesota
@
Toronto
Houston
@
Cleveland
Texas
@
Tampa Bay
Miami
@
Chi. White Sox
Oakland
@
Milwaukee
Cincinnati
@
St. Louis
San Diego
@
Colorado
Chi. Cubs
@
San Francisco
Seattle
@
LA Angels
Boston
@
NY Yankees
Atlanta
@
Detroit
Colorado
@
Boston
San Francisco
@
St. Louis
LA Angels
@
Texas
Cincinnati
@
Kansas City
Philadelphia
@
Arizona
Tampa Bay
@
Oakland
Miami
@
Seattle
Atlanta
@
Detroit
Toronto
@
Baltimore
Colorado
@
Boston
NY Yankees
@
NY Mets
San Francisco
@
St. Louis
Pittsburgh
@
Chi. Cubs
LA Angels
@
Texas
Washington
@
Houston
Cincinnati
@
Kansas City
Philadelphia
@
Arizona
Tampa Bay
@
Oakland
Miami
@
Seattle
Chi. White Sox
@
LA Dodgers
Atlanta
@
Detroit
Milwaukee
@
Minnesota
San Francisco
@
St. Louis
Toronto
@
Baltimore
Colorado
@
Boston
NY Yankees
@
NY Mets
Pittsburgh
@
Chi. Cubs
LA Angels
@
Texas
Washington
@
Houston
Cincinnati
@
Kansas City
Philadelphia
@
Arizona
Tampa Bay
@
Oakland
Miami
@
Seattle
Cleveland
@
San Diego
Chi. White Sox
@
LA Dodgers
Last updated: Jun 8, 1:35 AM UTC