Danny Garcia vs Jose Benavidez Jr: Garcia looking to make a splash at a new weight after long absence from the ring
Danny Garcia is looking for a statement win at 154lbs after leaving his glory days at welterweight behind him. The American takes on Jose Benavidez Jr and will be looking to springboard himself into title contention in his new weight with a win. Our man Tom Craze breaks down the fight below.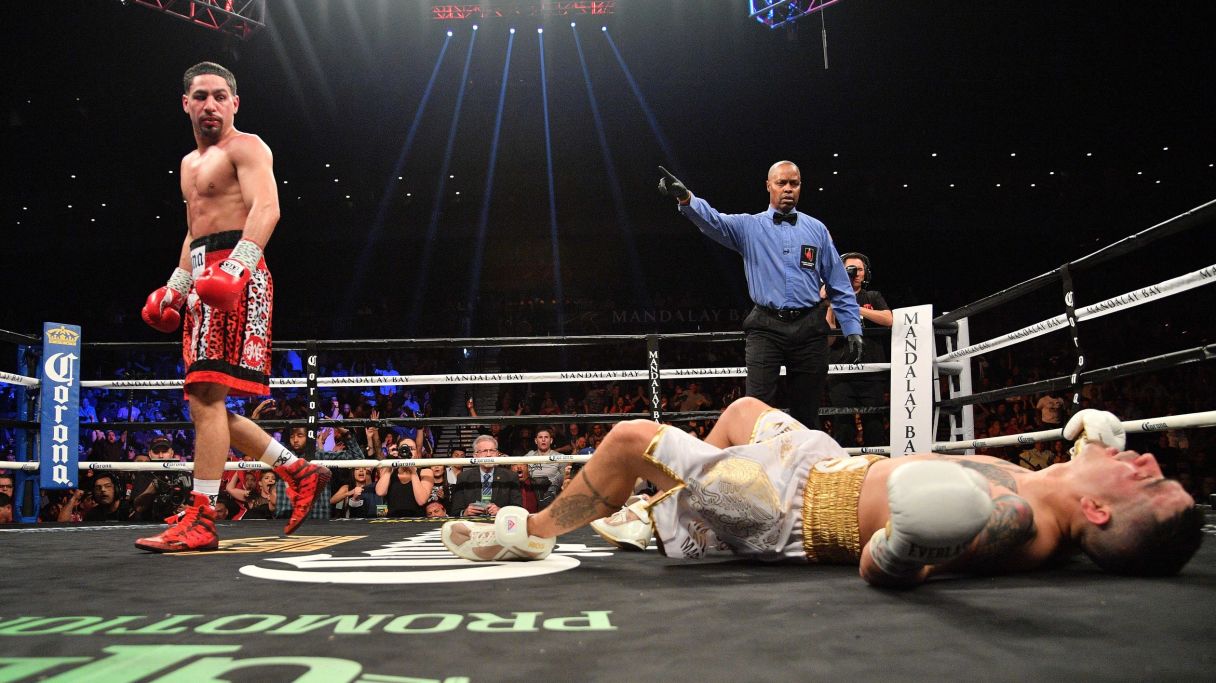 Danny Garcia (red trunks) knocks out Brandon Rios (white trunks) during a boxing match at Mandalay Bay Events Center. Garcia won via ninth round TKO. Pic: Joe Camporeale-USA TODAY Sports
Boxing expert and handicapper. Host of The Boxing Betting Show and contributor to the Transnational Boxing Rankings Board. Full bio here.
| Garcia vs Benavidez Jr | Preview |
| --- | --- |
| Where | Barclays Center, NY |
| When | 9pm ET |
| Garcia | -800 |
| Benavidez | +500 |
| TV | Showtime |
Saturday's Showtime main event from the Barclays Center in Brooklyn, New York, is a super-welterweight match-up between two men looking to kick-start their stalled careers.
Danny Garcia (36-3, 21 KOs), the clear A-side here, is a stalwart of the Premier Boxing Champions (PBC) series, and a fighter who has been campaigning in, or on the periphery of, the upper echelons of the sport for over a decade. Nicknamed 'Swift', Garcia has collected world titles in both the talent-rich super-lightweight and welterweight classes and, at 34 years old, boasts of the deepest resumes of any active fighter, with the likes of Errol Spence, Shawn Porter, Keith Thurman, Erik Morales, and Amir Khan, win or lose, all on his ledger.
This weekend, Garcia intends to begin a new chapter in a new division, super-welterweight, after 19 months away from the ring. It was an absence that, unusually, was not forced by injury or pandemic-related restrictions, but a need to rest and reflect on his next move. The Philadephian's last outing was a high-profile PPV clash with divisional kingpin Spence, and it was a fight that went largely as expected, with Garcia - around a +300 underdog that night - unable to truly impose himself in what was eventually a clear decision loss and, indeed, a third defeat in six at 147lb.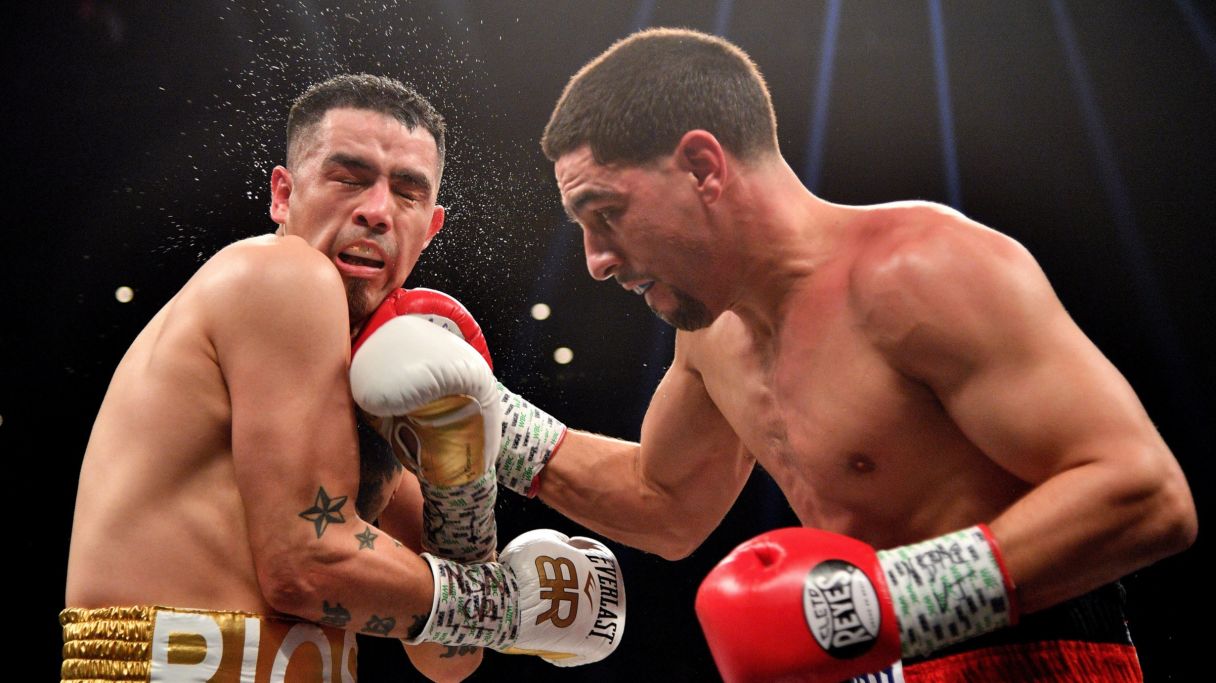 Danny Garcia (red trunks) will be looking for a statement win over Benavidez Jr. Pic: Joe Camporeale-USA TODAY Sports
Standing in Garcia's way for his 154lb debut is an opponent who has endured similarly mixed fortunes of late. Jose Benavidez Jr (27-1-1, 18 KOs) - the older brother of the more accomplished David, a multiple-time super-middleweight world champion - is, at 30, a man at the crossroads of a career that, at times, has struggled to gain momentum. Perhaps best known for his October 2018 knockout defeat at the hands of the excellent Terence Crawford - the bout was stopped with just 18 seconds left of the final round - Benavidez Jr has picked up fringe titles at 140lb and, in that loss to Crawford, challenged for a full world title at 147lb, but remains a boxer with seemingly unfulfilled potential, having had his hopes nearly permanently derailed by a career-threatening gunshot injury in 2016. Benavidez returned from a three-year hiatus from boxing last November, but struggled to a majority draw against the unheralded Francisco Torres at super-welter— a result largely indicative of his stop-start record to date.
The difference in pedigree between the two men means that Garcia being a firm favorite in the betting odds should be no shock. Having opened early this week at a considerably generous-looking -500 - suggesting an 83% win probability for 'Swift - that price was quickly clipped into around -800 (an 89% implied chance), which is where the price has hovered since, although is now touching -850 (90%) with some firms. That market correction seems an entirely sensible one and, in truth, it would be unsurprising if Garcia was backed into four-figure territory by the time of the opening bell. At time of writing, Benavidez is a +500 shot, implying a 17% likelihood of victory for the Californian, in what would - by some distance - be a career-best win.
https://twitter.com/NP18_/status/1266140838234554384
The two main unknowns going into this fight - and indeed, the only real hesitations for pause on the favorite - are how the inactivity has affected Garcia, and how he'll look at his new weight. Given that his time out of the ring was spent in good health, rather than rehabilitating from injury, there is perhaps less reason for bettors to waver. However, the question of whether Garcia will carry his power - his fight-changing left hook is still arguably one of the best single punches in the sport - up to 154lb will be key to the outcome here. 21 stoppages in 36 wins means that only 58% of Garcia's wins have come inside the distance, which in itself is not a particularly impressive statistic, but it's worth noting that his competition has often been fierce, and many of those he did beat on the scorecards in recent years were well-ranked contenders. It's +175 - or an implied 36% chance - that we see a 22nd career stoppage for Garcia, which compares reasonably favorably with that record.
For Benavidez, it would appear that his best chance of success is scoring an upset knockout. Garcia is a promotional favorite and effectively the house fighter here, so it's that - combined with the perceived ability gap - which contributes to a Benavidez points win being priced at +900, or a 10% implied chance. Though he's winless in his last two, Benavidez notched a KO in both of his most recent wins, albeit down at welterweight against modest opposition. 18 stoppages in his 27 wins (67%) marks out the underdog as far from feather-fisted, but he will do well to get Garcia's respect given the A-side's reputation for having a formidable chin — each of Garcia's three defeats came on the scorecards after 12 rounds, with a total of zero knockdowns scored against him, and each was against an elite welterweight. The lofty +1200 (8% implied) on a Benavidez stoppage, then, is testament to Garcia's durability.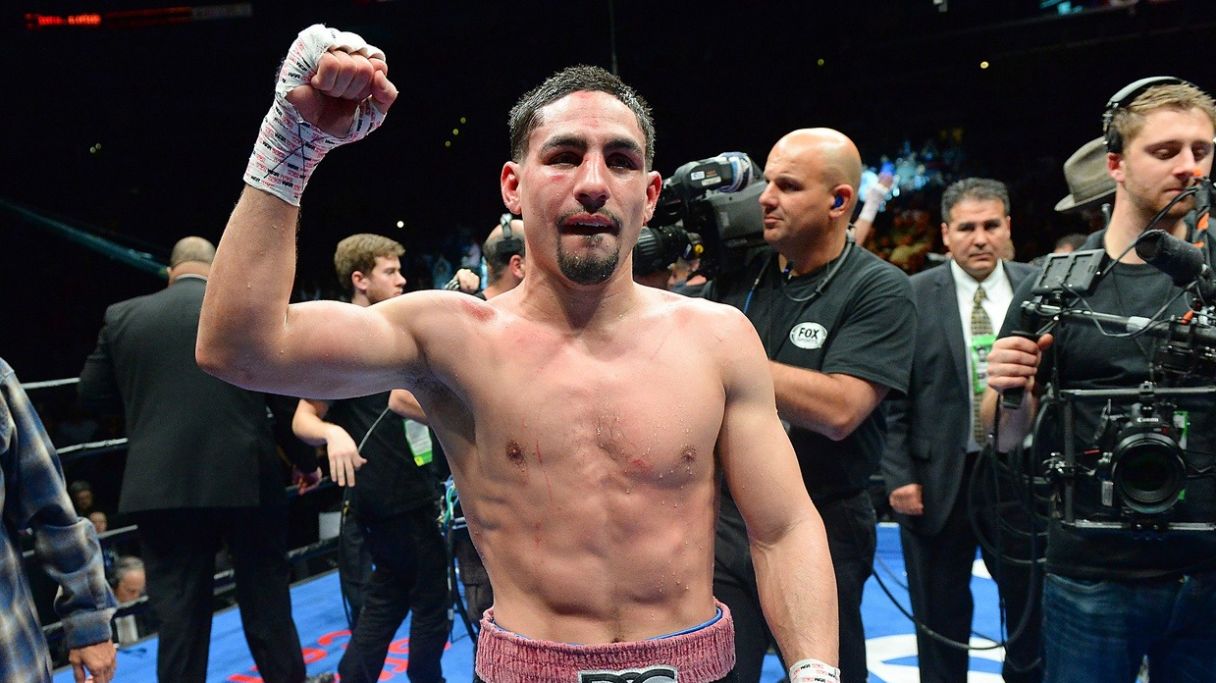 Danny Garcia pumps his fist after defeating Robert Guerrero (not pictured) during their WBC welterweight boxing title fight at Staples Center. Garcia won by decision. Pic: Jayne Kamin-Oncea-USA TODAY Sports
With the formative over/under line set high at 10.5, there's another price in the Method of Victory prop that holds some appeal. In terms of merely predicting an outcome, the Garcia decision feels the most likely — fighters coming back from long layoffs are often not in a hurry, and the favorite fits that mold this weekend. He might be able to able to exploit some of the wear and tear of Benavidez en route to a stoppage win, but even in Garcia's last win - against the game but limited Ivan Redkach - he was taken the duration, and you have to go back as far as 2014, when Garcia fought the horrendously overmatched Rod Salka, to find a contest involving 'Swift' that ended before the 7th round. With Benavidez having already tested the waters at 154lb, against the aforementioned Torres, and going to the judges there - coupled with taking Crawford exceptionally late - a distance fight looks a probable route to victory for Garcia, and the -110 (52%) that he wins on the cards could well have been listed slightly wider.
Danny Garcia vs Jose Benevidez Jr free betting pick
Danny Garcia by decision (-110)
How to watch Danny Garcia vs Jose Benavidez Jr
The Danny Garcia vs Jose Benavidez Jr fight will be shown live on Showtime TV in USA.