College Football National Championship Predictions - will it be one of the usual suspects or a resurgent powerhouse?
The 2022 NCAA Football season will kick off in the coming days. While the bowl selection, College Football Playoff and NCAA Football National Championship Game are still a few months away, there's still some value to be found in the college football national championship odds.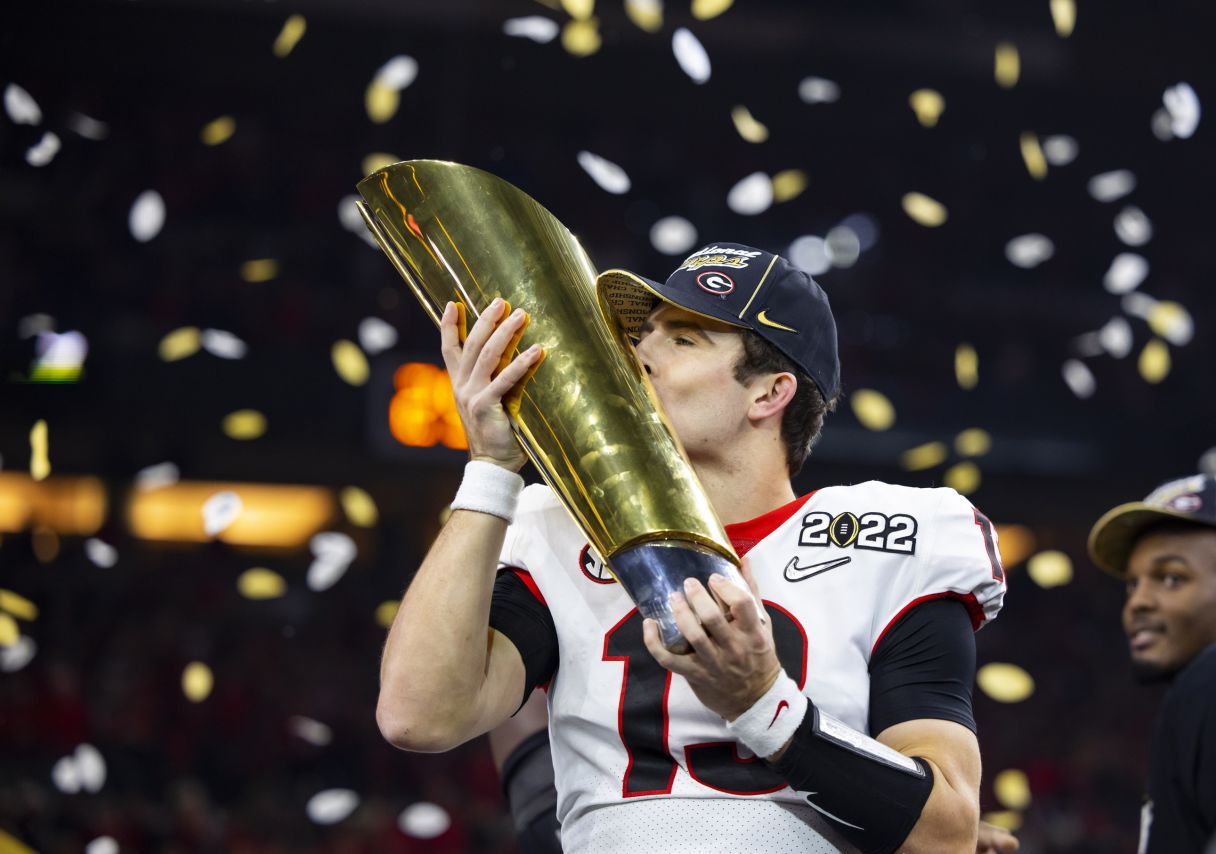 Georgia quarterback, Stetson Bennett lifts the National Championship in 2022 © Mark J. Rebilas-USA TODAY Sports
The Favorite: Alabama Crimson Tide ( )
Alabama is the early favorite to capture the NCAA football championship this season with the returning Heisman Trophy winner from a season ago in quarterback Bryce Young. Young posted 4,872 passing yards, 47 passing touchdowns and only seven interceptions in 2021 and leads a stacked offense that acquired wide receivers Jermaine Burton and Tyler Harrell through the transfer portal. The Crimson Tide also landed star running back Jahmyr Gibbs through the portal. If there are any concerns on this team they must be the offensive line after giving up 41 sacks last season in 15 games. That number needs to get better this season. 
On the defensive side of the ball, Alabama returns star outside linebacker Will Anderson Jr. He led college football in sacks with 17.5 in 2021. His partner in crime, Dallas Turner is also back. Turner really improved throughout the year in 2021 and together he and Anderson make arguably the best pass rushing duo in all of NCAA football. Cornerback Eli Ricks comes in from LSU via the transfer portal. He will be one of the top corners in the Southeastern Conference. 
Alabama is stacked on offense and defense - Bryce Young and Will Anderson Jr are two of the best players in the country. Not only do they have some of the top players, but they have one of the greatest coaches to ever roam the sideline in Nick Saban. Alabama lost to Georgia in the National Championship Game last year, and they are out for revenge. This team will be extra motivated all season long. Alabama has a tough path as they are in the best conference in college football however if you are looking for a relatively safe futures bet, this is it.
Other Frontrunners: Ohio State ( )
The Ohio State Buckeyes have arguably the best offense heading into the 2022 CFB season, led by quarterback CJ Stroud who was a Heisman Trophy finalist last year. He struggled early in the year with accuracy, but he kept improving throughout the season - expect Stroud to be one of the top players in college football this season and a serious Heisman contender. CJ Stroud has one of the best receiving groups in the nation to throw to, led by Jaxon Smith-Njigba who should be one of the best wide receivers in college football in 2022.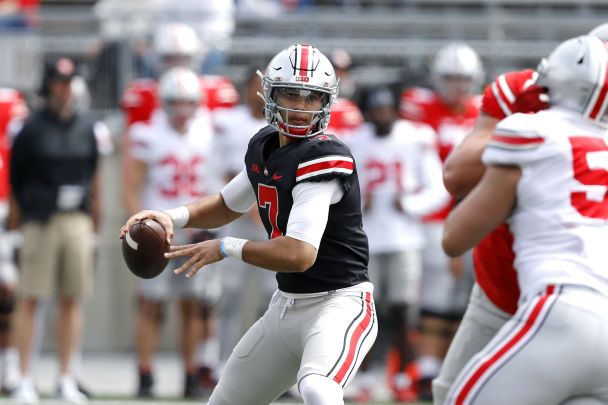 The questions for Ohio State lie on defense - the Buckeyes were ninth in the Big Ten Conference in total defense last season; that needs to improve if OSU wants to compete for a National Championship. Head coach, Ryan Day brought in former Oklahoma State Defensive Coordinator Jim Knowles to take over the defense. Oklahoma State had one of the top defenses last year in the country, so improvement should come for the Ohio State defense. 
This bet has good value at +300 - Ohio State is among a small list of elite football teams heading into the season. They might have the best offense in the country, that alone could get them through the regular season without a major hiccup. However, the defense needs to take the next step if they want to take home the National Championship.
The Reigning Champion: Georgia ( )
Georgia ended their 42-year championship drought last season and solidified their place as an elite program in today's college football world with that title win. UGA had 15 players drafted in the 2022 NFL Draft, five of those went in the first round, and all five were from the Georgia defense which was the best unit in the Southeastern Conference. Georgia must replace a ton of defensive production from last year however they have recruited at a very high level, so there is still plenty of talent on the defensive side of the ball.
Stetson Bennett returns at quarterback for Georgia. The former walk-on led the Bulldogs to a national championship last season - something the likes of Georgia legends Matthew Stafford and Aaron Murray never achieved. Bennett has an elite tight end room to target in the pass game with Brock Bowers showing up as a freshman phenom last year. He'll be the go-to pass catcher although Darnell Washington and athletic freak Arik Gilbert are also worth watching. 
With all the departures on defense, don't be shocked to see the offense play a bigger role this season after last year when Georgia was able to win games based on their defense alone. The defense will still be very good though - Georgia is a program that just reloads, so talent will never be the issue under Head Coach Kirby Smart. It's hard to repeat as champions in any sport. The odds at +400 isn't bad in terms of value. Some books even have Georgia's odds even with Ohio State's odds, which seems off when looking at the rosters on paper. If you are going to bet Georgia, be prepared for them to be a bit rusty to start the year with all the new pieces.
The Underdogs: Clemson ( ) and Michigan ( )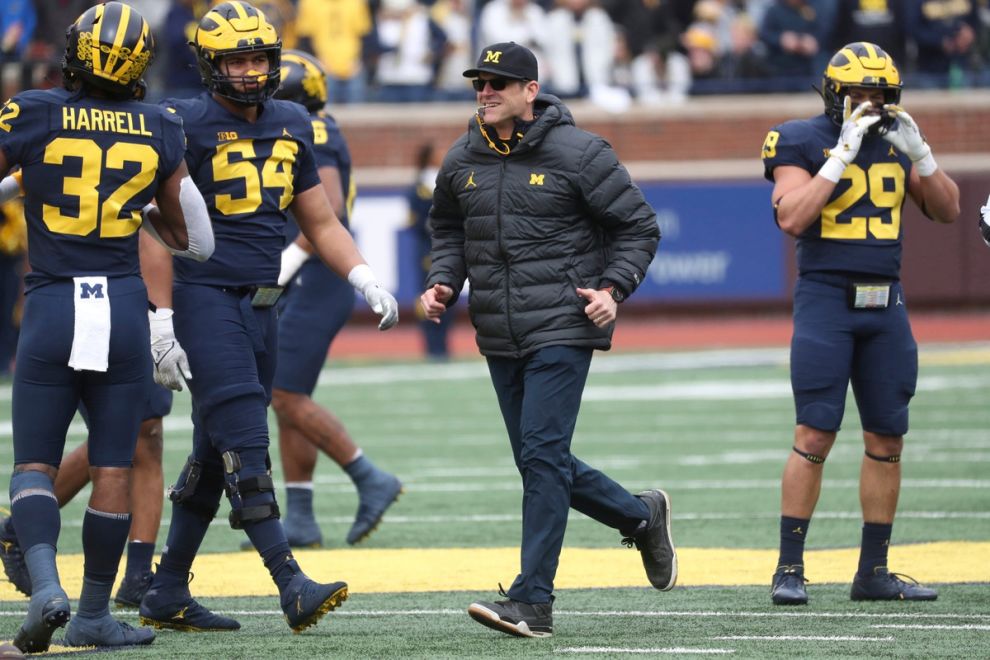 Jim Harbaugh was in contention for a number of NFL jobs in 2022. Another strong Wolverines season should see him in the discussion again © Kirthmon F. Dozier / USA TODAY NETWORK
Clemson is another team that has proven itself capable of winning the national championship. They will likely have one of the very best defenses in the country, especially along the defensive line. Clemson had a top ten defense last season and with another year of experience and maturity, they should improve to maybe even a top five defense. They lost long time Defensive Coordinator Brent Venables to Oklahoma, but the defense has enough talent to make up for a learning curve in a new system. 
The only question mark with Clemson is at quarterback. DJ Uiagalelei struggled last season, throwing nine touchdowns and ten interceptions. If he doesn't improve significantly, expect five star recruit Cade Klubnik to see the field. The chances of both Uiagalelei and Klubnik being worse than the quarterback play last year is slim. Clemson has a much easier path to the playoff then any of the other previously mentioned teams. Clemson can compete with Alabama, Georgia and Ohio State at the line of scrimmage, so if they get into the playoffs, anything can happen. 
Michigan is another underdog that has an outside shot at winning the College Football Playoff. There is a theme here - Michigan will have good line play. Their offensive line last year won the Joe Moore Award, which is given to the nation's best offensive line. The defensive line lost a few players to the NFL, but they still have talent there. 
The offense is going to play a bigger role on this team than they did last year. Michigan has two capable quarterbacks in Cade McNamara, last year's starter, and JJ McCarthy. The Wolverines have very good skill players as well. The path to the playoff for them is a bit tougher than Clemson's because they must play Ohio State, Michigan State, Penn State and Iowa in the regular season. However, they can tolerate some hiccups early on because they have an easy September schedule. Michigan's national title odds have really good value - they are a consensus top ten team on paper, and they have great line play on both sides of the ball which is where the game is won and lost even in today's college football.
NCAAF Standings
American Athletic
Atlantic Coast
Big 12
Big Ten
Conference USA
Independents I-A
Mid-American
Mountain West
Pacific-12
Southeastern
Sun Belt
Division
American Athletic
All Divisions
Team
Conf
W
L
PF
PA
Home
Away
Non-Conf
Div
Ats
OU

1

Central Florida

6-2
9
4
447
301
5-2
4-2
3-2
0-0
7-6-0
6-7-0

2

Cincinnati

6-2
9
3
373
244
5-1
4-2
3-1
0-0
3-8-1
5-6-1

3

East Carolina

4-4
7
5
370
324
4-3
3-2
3-1
0-0
7-5-0
6-6-0

4

Houston

5-3
7
5
446
402
3-3
4-2
2-2
0-0
4-8-0
10-2-0

5

Memphis

3-5
6
6
421
328
5-2
1-4
3-1
0-0
6-6-0
8-4-0

6

Navy

4-4
4
8
263
292
2-4
2-4
0-4
0-0
7-5-0
7-5-0

7

South Florida

0-8
1
11
336
494
1-5
0-6
1-3
0-0
5-7-0
9-3-0

8

Southern Methodist

5-3
7
5
461
416
4-2
3-3
2-2
0-0
5-7-0
5-7-0

9

Temple

1-7
3
9
263
351
3-4
0-5
2-2
0-0
8-4-0
6-6-0

10

Tulane

7-1
11
2
458
266
6-2
5-0
4-1
0-0
11-2-0
7-6-0

11

Tulsa

3-5
5
7
367
397
3-3
2-4
2-2
0-0
3-8-1
7-5-0
Last updated: Mar 20, 7:39 PM UTC
Brand disclaimer
The brands featured in this article are for illustrative and commentary purposes only. There are no commercial associations between the website and any brand featured in this article. Trademark rights and copyrights relating to the teams featured on this page belong to their respective owner(s), which are not associated or affiliated with OnlineBetting.com in any way and did not license rights or authorise or sponsor this article.