Florida State ( ) vs LSU ( ) NCAAF college football predictions - can Brian Kelly start his time in Baton Rouge with a win?
The LSU Tigers open up their season on Sunday, September 4 against the Florida State Seminoles in New Orleans. Florida State already kicked off its season with a 47-7 win over Duquesne on Saturday. This is a pivotal non-conference clash between two historic college football programs.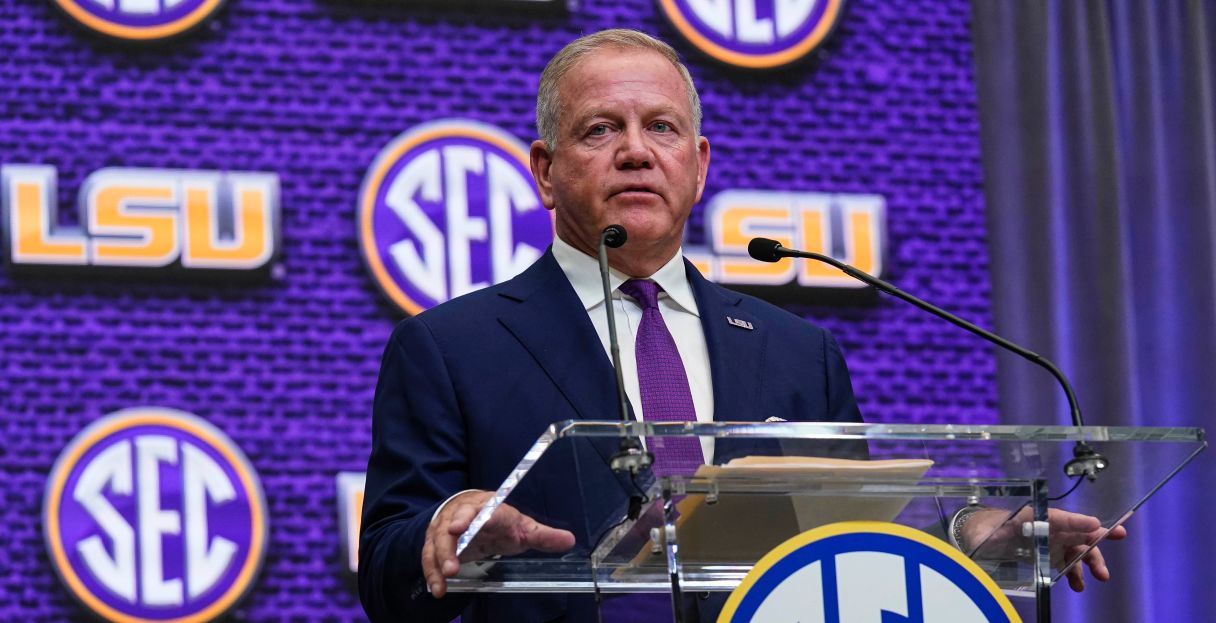 LSU Tigers' new head coach, Brian Kelly will be hoping for victory in his first competitive game © Dale Zanine-USA TODAY Sports
Best sportsbook offers 2022
| Matchup | Florida State Seminoles @ Louisiana State University Tigers |
| --- | --- |
| Location | Caesars Superdome, New Orleans, LA |
| Date | 6.30pm ET, Sunday September 4 2022 |
| How to watch | ABC, FuboTV |
Will FSU replicate 400-yard ground attack from week 0?
Florida State head coach Mike Norvell is facing a lot of competitive pressure this season. His job may not be in danger, but Norvell needs to show progress this season. The Seminoles started their season with a bang, beating Duquesne 47-7. The offense looked promising, especially in the run game: Treshaun Ward, Oregon transfer Trey Benson and Lawrence Toafili all had over 100 rushing yards. 
Florida State didn't need to pass the ball a lot to win last weekend. That portion of its offense is still a bit uncertain. Quarterback Jordan Travis needs to be more accurate with the football this season. He can certainly scramble and make plays that way, but Florida State needs somebody who can deliver the football to its receivers. 
https://twitter.com/FSUFootball/status/1564418537585795073
On defense, FSU has some good pieces. Central Florida transfer linebacker Tatum Bethune had a solid game with four tackles and one tackle for loss. Safety Jammie Robinson is arguably the best player on this defense. He had four tackles and two passes defended in the opening game. Albany transfer Jared Verse is a name to watch for from the edge rushing position – he got a sack against Duquesne and he is expected to play a big role for this defense. 
The Tigers have choices to make at quarterback
This will be LSU's first game of the season. It will be a de facto home game for the Tigers due to the venue being in New Orleans. LSU had a coaching change this offseason as former Notre Dame coach Brian Kelly takes the keys in Baton Rouge. Kelly was the winningest coach in Notre Dame history. 
https://twitter.com/LSUfootball/status/1564764151322386435
Kelly has a quarterback situation to figure out. Jayden Daniels and Garrett Nussmeier have been battling throughout fall camp for the starting position. Myles Brennan was also in the race, but Kelly informed him that he wasn't going to be the starter. As a result, Brennan retired from football. Kelly has kept this battle close to his chest - both Daniels and Nussmeier will likely see snaps on Sunday. This game will be pivotal in deciding who will start for the Tigers down the road.
Another situation to keep an eye on is at running back. John Emery Jr. has been suspended for the first two games of the season due to academic issues. This is not breaking news to LSU fans as this is a carry over from the 2021 season. 
A staple of championship LSU teams is the defense: this team needs to find that alpha on the defensive side of the ball. Someone that can make a play in a big moment. Brian Kelly needs to improve the LSU defense in year one. 
One thing to note: LSU has gone over the total points line in the last four season openers - making an O /U of at -106 an interesting choice.
Florida State and LSU: the matchup
LSU and Florida State are great programs. These two programs are 12th and 14th respectively in all time winning percentage. They have a combined seven national championships. Despite these programs being pretty evenly matched historically, Florida State has dominated the series. The Seminoles hold a seven to two advantage. From 1979 to 1983, the 'Noles won four of five games against LSU. All of those games were in Baton Rouge as well. The last matchup between these teams was in 1991. FSU won that game 27-16 in Baton Rouge. 
In terms of this game, LSU has the talent advantage. The previous regime recruited well but didn't get it done on a consistent level on the field. Brian Kelly needs to continue recruiting well, but he also needs to win on the field. That's what LSU hired Kelly to do. This is not necessarily a must win game, but it would be beneficial for Brian Kelly to get off to a good start at LSU. 
Florida State is the less talented team, but it also has a competitive game under its belt. There is no doubt that it is beneficial to work out the kinks in a real game. Florida State especially worked out its kinks in the running game. The Seminoles were 52nd in the nation in rushing offense with 177.8 yards per game last season. FSU had 406 rushing yards in its opening game. While LSU will be a much better test for Florida State, 406 rushing yards is a great starting point for the offense. 
Both fan bases and programs are hopeful for a bright future. Mike Norvell has improved in each season he's been at Florida State. It hasn't been a big improvement, but progress is progress. Former LSU head coach Ed Orgeron underperformed in his last two seasons in Baton Rouge, going 5-5 and 6-7. Brian Kelly needs to improve that immediately. A winning season would be a great start to his time in Louisiana. With the tough SEC schedule upcoming, a win here for LSU would be huge.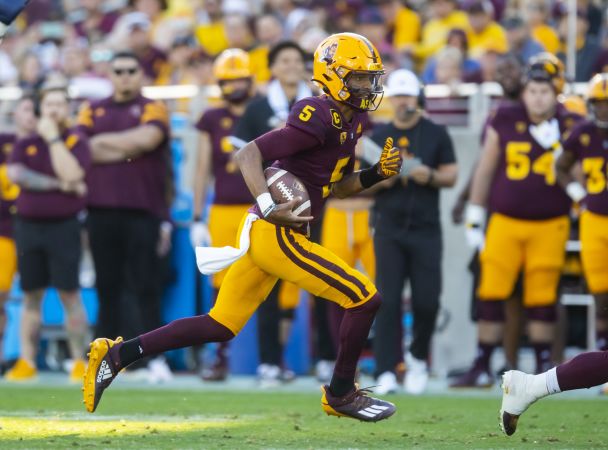 LSU's transfers will need to gel quickly
LSU still has a lot of unknown pieces. Brian Kelly hit the transfer portal hard, so LSU has numerous new players. Nobody knows how good those players will gel together: a team can have great pieces to the puzzle, but if they don't fit into place then LSU would have a problem. However, we do know that Brian Kelly wants a great defense. 
The LSU defense needs to stop the Florida State run game. FSU has three reliable running backs in Treshaun Ward, Trey Benson and Lawrence Toafili. LSU plays a 4-3 defense. The Tigers defensive line needs to generate push against the Florida State offensive line. Last season, LSU was 46th in the nation in rushing defense. Players to watch out for along the LSU defensive front include Ali Gaye and BJ Ojulari - both of those veteran players will need to make plays or at least draw double teams for the second level guys to make plays against the run. 
LSU needs to make Florida State quarterback Jordan Travis prove that he can be accurate delivering the football. Travis was accurate against Duquesne, throwing 11 completions in 15 attempts for 207 yards, the LSU defense will pose a much bigger challenge though. The Tigers have a ton of transfers in the secondary: it will be interesting to see how they gel. Some key names to watch for include Arkansas transfers Greg Brooks Jr. and Joe Foucha, Oklahoma State transfer Jarrick Bernard and Louisiana transfer Mekhi Garner. 
LSU could feature two different packages based on who plays quarterback. Jayden Daniels is the more athletic guy. If Florida State's defensive line can get a lot of penetration, look for Brian Kelly to draw up plays to get Daniels in space. LSU will have the advantage on the outside where wide receiver Kayshon Boutte should be in-line for a big game. Expect him to draw safety help from the Florida State defense. As a result, Jaray Jenkins, Malik Nabers and Jack Bech could all hit paydirt - Florida State will definitely need to step up their play in the secondary. Garrett Nussmeier is more of a pocket passer - if the LSU offensive line can protect him, he could have a lot of success.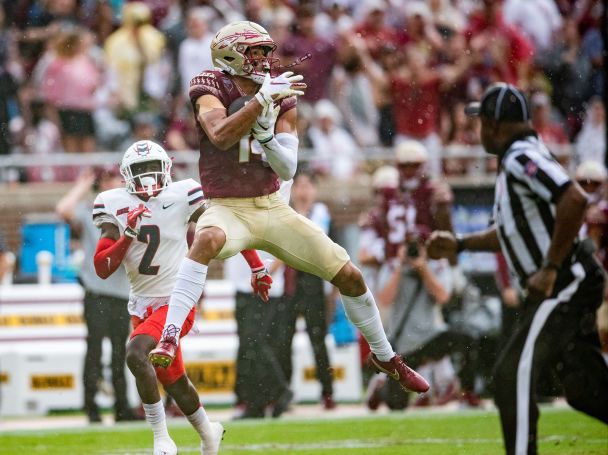 Florida State vs LSU player to watch: Johnny Wilson, WR, Florida State
There will be a lot of future NFL talent on display in this game. One guy to watch for is Florida State wide receiver Johnny Wilson. He only had one catch in Florida State's opener against Duquesne, but it went for 51 yards. Wilson is a transfer from Arizona State and measures at an incredible 6'7" and weighs 235 pounds. That makes him a matchup nightmare for the LSU secondary. Wilson should be able to win 50-50 balls against any defensive back in the country. He isn't the best receiver due to his raw potential, but he can be a x-factor in any game this season. If quarterback, Jordan Travis gets into trouble against the LSU defense: look for Wilson to bail him out. 
It's not just Wilson that has an advantage out wide. Florida State has plenty of size at the receiver position. Oregon transfer Mycah Pittman is one of FSU's go-to receivers… Malik McClain stands 6'4" and weighs 200 pounds, Deuce Spann is also 6'4". Jordan Travis just needs to get the ball out to the playmakers. Florida State has an underrated receiving group, and these players could be the key factor in the outcome of this game.
Florida State vs LSU picks and predictions
This game will be one of the more competitive games on the slate in week one. LSU should have the talent edge mostly everywhere across the field. The Tigers will also have more speed on the outside, but Florida State will have the height advantage on offense at the wide receiver position. 
I like LSU against the spread here. The Tigers are favored by three points, so it should be a close game throughout. However, I trust in Brian Kelly more than Mike Norvell despite it being Kelly's first game at LSU. Kelly is a great coach, and he knows how to win. That's all LSU needs right now. 
I also like LSU with the moneyline in this game at . I'm confident in Brian Kelly and he will start his LSU tenure with a win. 
I also think that it might take some time for the offenses to get going since it is week one. That is why I like the under in the first half at . This early in the season, the defenses will be ahead of the offenses.
NCAAF Standings
American Athletic
Atlantic Coast
Big 12
Big Ten
Conference USA
Independents I-A
Mid-American
Mountain West
Pacific-12
Southeastern
Sun Belt
Division
American Athletic
All Divisions
Team
Conf
W
L
PF
PA
Home
Away
Non-Conf
Div
Ats
OU

1

Charlotte

0-0
0
0
0
0
0-0
0-0
0-0
0-0
0-0-0
0-0-0

2

East Carolina

0-0
0
0
0
0
0-0
0-0
0-0
0-0
0-0-0
0-0-0

3

Florida Atlantic

0-0
0
0
0
0
0-0
0-0
0-0
0-0
0-0-0
0-0-0

4

Memphis

0-0
0
0
0
0
0-0
0-0
0-0
0-0
0-0-0
0-0-0

5

Navy

0-0
0
0
0
0
0-0
0-0
0-0
0-0
0-0-0
0-0-0

6

North Texas

0-0
0
0
0
0
0-0
0-0
0-0
0-0
0-0-0
0-0-0

7

Rice

0-0
0
0
0
0
0-0
0-0
0-0
0-0
0-0-0
0-0-0

8

South Florida

0-0
0
0
0
0
0-0
0-0
0-0
0-0
0-0-0
0-0-0

9

Southern Methodist

0-0
0
0
0
0
0-0
0-0
0-0
0-0
0-0-0
0-0-0

10

Temple

0-0
0
0
0
0
0-0
0-0
0-0
0-0
0-0-0
0-0-0

11

Texas-San Antonio

0-0
0
0
0
0
0-0
0-0
0-0
0-0
0-0-0
0-0-0

12

Tulane

0-0
0
0
0
0
0-0
0-0
0-0
0-0
0-0-0
0-0-0

13

Tulsa

0-0
0
0
0
0
0-0
0-0
0-0
0-0
0-0-0
0-0-0

14

UAB

0-0
0
0
0
0
0-0
0-0
0-0
0-0
0-0-0
0-0-0
Last updated: Jul 18, 2:08 PM UTC