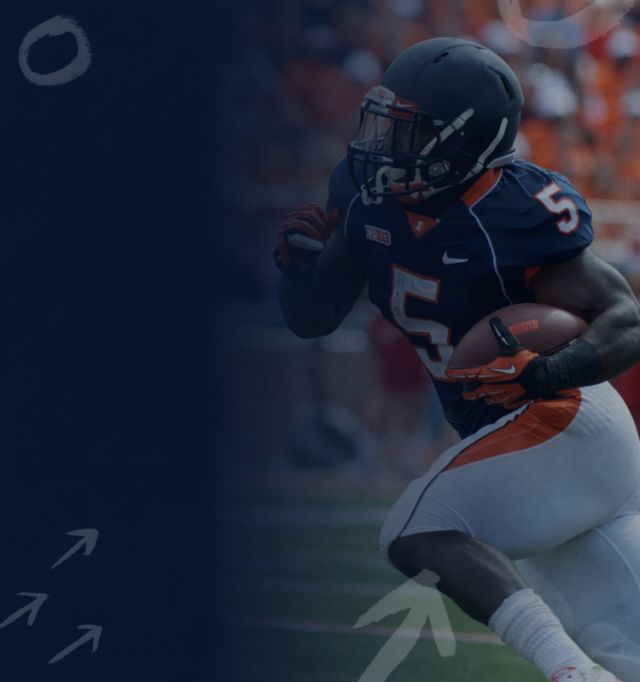 Betting on the NFL Draft
Although the NFL playing season runs from September to early February, football is a sport that doesn't sleep and Las Vegas provides the perfect backdrop to the 2022 Draft with a hint of betting interest.
The NFL Draft presents the emerging college talent to the professional game and offers the chance for teams to plug talent gaps in their roster and hopefully improve for the upcoming NFL season. The NFL Draft runs from 28 to 30 April comprising seven rounds during which eligible players can be selected. Although much of the focus will center on the opening two rounds, where the highest rated talent will inevitably be selected.
Teams have a limited time to make their selections, with slots allocated firstly to the teams with the poorest regular season record who failed to make the playoffs and then by record in order of their elimination from the post season.
The Super Bowl champion has the final selection of the opening round, although trades may mean selection positions originally allotted to one team are now be the property of another team. This season's final first round pick lies with the Lions courtesy of the Rams. Currently eight teams will have two first round picks and six will double up in the second round. Kansas City, Green Bay and the Jets will each come to the table four times in the opening two rounds, with compensatory picks giving the Chiefs a total of 12 over the duration.
As well as providing a glimpse of your team's possible immediate future, the draft is an early opportunity to pit your wits against the sportsbooks with a wide range of opportunities spread over the event.
Selections are based on a wide range of variables, from a team's need to the array of talent available, with a strategic element as each side vies with each other to select for their needs without overpaying by wasting high value picks on questionable talent. The possibility of trading picks for available veteran talent merely adds to the drama.
As with everything NFL, there's a plethora of data and opinion to assimilate. Mock drafts, projected best scenario trades, ratings of college players and team needs and areas where a franchise is comfortably sorted for the immediate future are available on the internet in abundance. You only need to recall though that Tom Brady was an unheralded 6th round 199th overall pick to know that draft selection is part science, part art and intuition to realize that we have a betting market, with a fair degree of uncertainty.
I've adopted a crowdsourcing approach using a variety available college ratings to rank the talent, together with the needs of a side to suggest ten prop bets that will add some spice to an already compelling event.
1) Who will be the first QB to be drafted?
Quarterbacks often dominate the NFL draft. There have been nine first overall picks since 2010 at the QB spot, but that isn't going to be the case this year. The Jags are first to pick, but they selected their future QB with their top pick in 2021 and the quarterback class this year isn't of the highest quality.
Malik Willis (-145) and Kenny Pickett (+135) are closely rated entering the draft, but both rank only in the mid 20's for all eligible positions. Next comes Matt Corral, who is projected to be around the 35th best overall prospect.
However, need will trump overall player ability with six teams who will pick in the first 10 slots listing the QB position as needing an upgrade. Pickett has more poise and is likely NFL game ready, but Willis is a modern, dual purpose QB, with more upside and many take him to be the first QB called.
2) When will the first QB be picked?
If we assume passing and running ability will swing sentiment towards Willis being the first QB taken he'll have a trio of likely suitors from Carolina picking sixth overall, Atlanta at seventh and particularly Seattle who may look to replace the departed Russell Wilson with a similar skillset when they pick ninth.
So, we can expect a QB to have been picked before the 10th pick.
https://twitter.com/PFF_College/status/1515797247476207620
3) How many first round draft picks will Georgia have?
Alabama dominated the 2021 draft with six first round picks alone. Georgia won't beat that in 2022 but their premier position in college football, fuelled by a dominant defence, makes them favourite to have the most first round picks.
Travon Walker, Jordan Davis and Nakobe Dean are ranked in the top 20 of overall prospects. Devonte Wyatt is on the cusp of joining the trio in the first round and four overall first round picks is the bet.
https://twitter.com/NFL/status/1518659097691832320
4) Who will be the first running back drafted?
The stock of running backs has generally fallen in the modern NFL with more emphasis heaped on the system, rather than the runner. Michigan State's Kenneth Walker III (+200) and Iowa State's Breece Hall (-250) are closely matched, albeit ranked only around the 40th best overall prospect. So, this year's draft may follow the 2014 draft by failing to pick a first round running back. Take Walker from Michigan State – he's a physical runner with upside as a receiver who impressed at the Combine to be called first.
5) Will a running back be selected in the First Round?
The declining stock of running backs suggest the answer is "no".
6) Who will be the 1st pick of the NFL Draft?
In other words, who will Jacksonville select to open the first round, unless they trade down. The Jags had an easy decision when they also had the dubious honour of opening the 2021 NFL Draft when they selected their intended franchise QB in Trevor Lawrence. This year they are keeping their cards closer, only saying they want an immediate, NFL ready starter.
New head coach, Doug Pederson is an offensive coach and Lawrence could do with better protection after he was sacked 32 times in his rookie season, which might suggest the Jags will look to strengthen the offensive line with a player like Alabama OT, Evan Neal (+1400), ranked third overall.
On the defensive side of the ball, Aidan Hutchinson (-220) tops the cumulative wisdom in a variety of rankings. He fits the bill as an immediate starter and has a clean bill of health following a leg fracture in 2020. He's the safe choice for an organisation who haven't always excelled in the draft.
7) Who will be top WR in the NFL Draft?
Deep in quality this year, wide receivers begin to make an appearance in the overall rankings once we reach double figures and there's a glut of similar talent from Garrett Wilson (+135) and Jameson Williams (+300) at respectively 11th and 12th, stretching to Treylon Burks (+1200), Drake London (+150) and Chris Olave (+1800) at 24th.
It's a congested pecking order with a fair bit of uncertainty and more than a few injury red flags. Olave has seen his stock slide, Burks had a slightly disappointing Combine, and Williams' speed wasn't showcased at the Combine due to an ACL injury. Of the two remaining, Wilson has an exceptional skillset to be a regular target, but the slight preference is for London whose impressive size, speed and wingspan carried the USC offense.
8) Who will be the first offensive lineman selected?
Evan Neal (-150) and Ikem Ekwonu (+185) dominate this market, with Charles Cross (+250) a step or two back in third. Both Neal and Ekwonu are versatile, but the former may need time before his ideal position is decided and Ekwonu appeals as a more straightforward athlete with excellent technique.
9) When will Kayvon Thibodeaux be drafted?
Matching need with talent and availability is the art of draft predictions. Thibodeaux's less than whole hearted focus on the sport may have alienated some head coaches, but his talent as an edge rusher is undeniable and the Jets will find it difficult to resist him as the 4th overall pick. The over/under on his draft position sits at 4.5 with under being the favourite at -145 and over at +115. Thibodeaux is -250 to be drafted in the first five picks.
https://twitter.com/emesola/status/1518352475320897536
10) Which side of the ball will 'Mr Irrelevant' play on?
A coin toss type bet on who the 49'ers will select with the very last pick. The choices are an offensive player or a kicker and a defensive player or a punter. The 49'ers have more defensive needs and the final selected player does sometimes have a NFL career, so we'll go there for this final fun bet.
Draftkings are currently offering two options on the Mr Irrelevant position prop:
Final pick of the draft to be a Defensive Player or Punter -115

Final pick of the draft to be an Offensive Player or Kicker -115
OnlineBetting.com NFL Draft Best Prop Bets
- First quarterback to be taken: Kenny Pickett, +135
- First overall pick: Evan Neal, +1400
- First WR Drafted: Jameson Williams, +300
- Total number of WRs in the first round - O/U 5.5: Over (+215)
NFL standings
Division
AFC East
AFC North
AFC South
AFC West
All Divisions
AFC East
W
L
T
PF
PA
Home
Away
Conf
Non-Conf
Div
Ats
OU

1

Buffalo

0
0
0
0
0
0-0-0
0-0-0
0-0-0
0-0-0
0-0-0
0-0-0
0-0-0

2

Miami

0
0
0
0
0
0-0-0
0-0-0
0-0-0
0-0-0
0-0-0
0-0-0
0-0-0

3

New York

0
0
0
0
0
0-0-0
0-0-0
0-0-0
0-0-0
0-0-0
0-0-0
0-0-0

4

New England

0
0
0
0
0
0-0-0
0-0-0
0-0-0
0-0-0
0-0-0
0-0-0
0-0-0
Last updated: Jul 18, 1:43 PM UTC