NFL picks and expert predictions: Bills ( ) slight edge over reigning Super Bowl champion Rams ( ) in opening day pick 'em.
NFL expert Scott Kacsmar previews the start of the new NFL season, with two Super Bowl contenders meeting in Los Angeles in Thursday Night Football.

Los Angeles Rams wide receiver Cooper Kupp. © Mark J. Rebilas-USA TODAY Sports
| Fixture | Buffalo Bills @ Los Angeles Rams |
| --- | --- |
| Location | SoFi Stadium Los Angeles, CA |
| When | Thursday, September 8, 8:20pm ET |
| Where to watch | NBC |
Buffalo Bills: Super Bowl favorites? (Best available odds )
Nothing says Super Bowl favorite like going into the defending champs' building on banner night and being a 2.5-point favorite. Expectations are sky high for the Bills this year, the Super Bowl favorite at most sportsbooks, after a thrilling postseason where quarterback Josh Allen led the offense to 12 touchdowns on 16 possessions. But it still wasn't enough to reach the AFC Championship game, after the Bills fell in Kansas City for the second postseason in a row.
The core of Buffalo returns much the same, minus offensive coordinator Brian Daboll, who is now the head coach of the Giants. But most elite quarterbacks adjust to a new coordinator just fine, and Allen's last two seasons suggest he belongs in that class.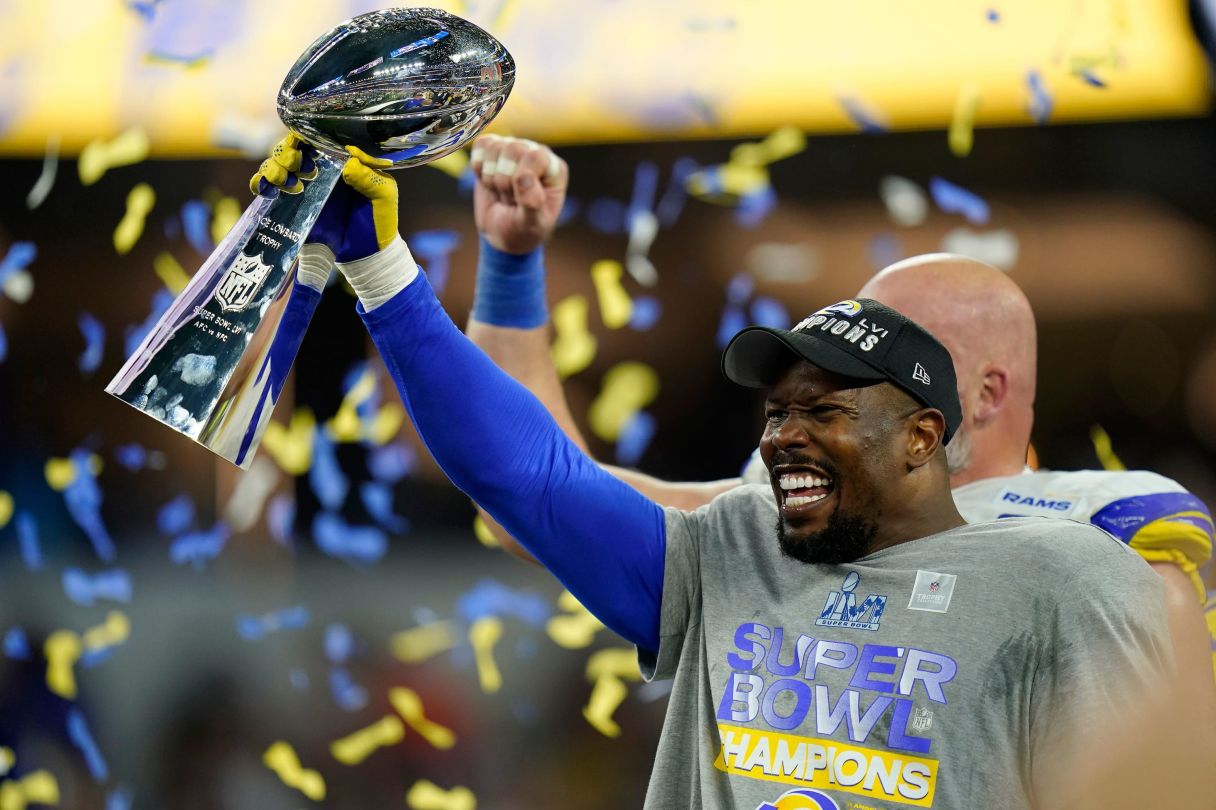 Los Angeles Rams outside linebacker Von Miller (40) raises the Vince Lombardi Trophy after Super Bowl 56. © Sam Greene/Cincinnati Enquirer / USA TODAY NETWORK
Buffalo also added future Hall of Fame edge rusher Von Miller, fresh off a Super Bowl win with the Rams. He should improve what was already a very good defense last season. But the Bills are going to get a great test in this game from the Rams, and they need to show they can hold the top offenses down after allowing 42 points in the playoffs to the Chiefs. This will be the first challenge of many this year as the Bills play a lot of the top contenders this regular season.
Los Angeles Rams: Aiming to go back to back (best available odds )
The Rams will try to end the longest drought in NFL history without a repeat champion, something no one has achieved since the 2003-04 Patriots. But it will be hard to repeat. They play in a loaded division and start with this very tough game, against the favorite in the AFC.
Sean McVay's team made their own history last year by becoming the first team to win three straight playoff games by three points, including Super Bowl 56 over the Bengals. Some of the key players from that team are gone – Miller is on Buffalo's side, Odell Beckham Jr. is still injured, and left tackle Andrew Whitworth retired. Even longtime punter Johnny Hekker is gone.
https://twitter.com/RamsNFL/status/1541595617293524993
However, the Rams still have Matthew Stafford, Aaron Donald, Cooper Kupp, and Jalen Ramsey. Allen Robinson will make his team debut at wide receiver as he looks for the most competent quarterback play of his career. There's even former Seahawks linebacker Bobby Wagner now with the team, proving they are still finding veterans to collect and win with.
Player match up: Josh Allen vs. Aaron Donald
When these teams last met in 2020, Josh Allen was only two games into his breakout season. It came as a surprise when he shredded the Rams and Buffalo jumped out to a 28-3 lead. But it was even more surprising when the Rams stormed back behind an efficient day from Jared Goff to take a 32-28 lead with 4:30 left. A strip-sack by Aaron Donald had set up that go-ahead scoring drive. Donald finished with 2.0 sacks in the game and his sack total for the season looks appealing:
The Rams have only blown six fourth-quarter leads under McVay, tied for the second fewest in the NFL since 2017, but Allen was able to get them that day on the final drive. He did need some big help from officials on a fourth-down penalty that looked like a phantom call for defensive pass interference to extend the game. On the next play, Allen threw a game-winning touchdown pass to Tyler Kroft with 15 seconds left. Buffalo won 35-32.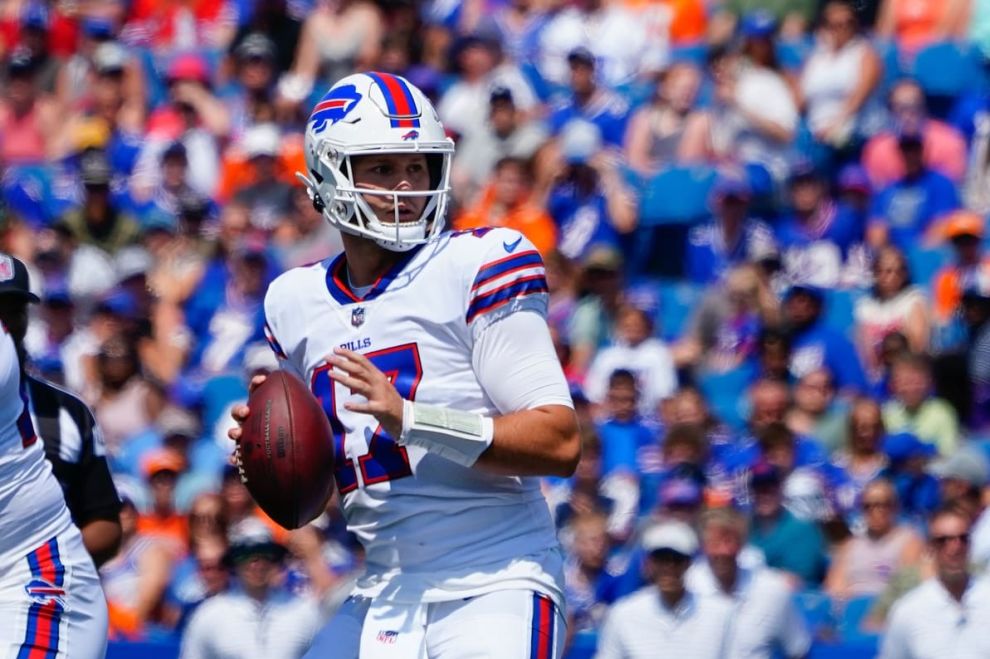 Buffalo Bills quarterback Josh Allen. © Gregory Fisher-USA TODAY Sports
A game that good to start this season would be something else, but the key matchup for the Rams is going to be getting pressure on Allen. While they sacked him four times in 2020 and held him to just 8 rushing yards, he still passed for 311 yards and accounted for five touchdowns. This may not be the opponent that Allen tries to run over with his legs, with Donald and Wagner in the middle, but he should have the ball in his hands often as the Bills are not fond of running their backfield. The Rams have also finished in the top 10 in yards per rush allowed in each of the last three seasons.
If the Rams want to try taking No. 1 wide receiver Stefon Diggs out of the picture with corner Jalen Ramsey, the Bills still have plenty of weapons. Isaiah McKenzie has a big opportunity to have his best season in the slot now that Cole Beasley is gone. Gabriel Davis is eyeing a huge year as well with Emmanuel Sanders out of the picture. Tight end Dawson Knox broke out last year and gives the Bills a better tight end than what they had in 2020 when these teams last met.
Can anyone stop Cooper Kupp this year?
It will be interesting to see how Cooper Kupp, the reigning Super Bowl MVP – could he do the same again ( )? He now has to follow up what was arguably the best season by a wide receiver in NFL history last year.
Including the playoffs, Kupp is the first player in NFL history to break 2,000 receiving yards in a single season, with 2,425 yards in 21 games.

Including the playoffs, Kupp's 178 receptions are 22 more than the previous record, held by Michael Thomas (156) for the 2019 Saints.

Kupp became the NFL's fourth receiver since the 1970 merger to win the triple crown for receivers, leading the league in catches (145), yards (1,947), and receiving touchdowns (16) in the regular season. He absolutely could score the most receiving TDs agains this year ( ).

Kupp had at least five catches for 60 yards in all 21 games. The only longer streak in NFL history belongs to Antonio Brown (24 games in 2013-15).

Kupp's streak of 13 games with 90-plus receiving yards is the new NFL record, breaking Michael Irvin's record of 11 games.
https://twitter.com/RamsNFL/status/1556747303121080321
Kupp was insanely consistent last season. He had at least six catches and 92 yards in all but the two games at home with Arizona.
While we might get one premiere corner-wideout matchup in this game with Diggs and Ramsey, it's unlikely that we'll get two. The Bills are not going to have the services of corner Tre'Davious White in this game after placing him on the Reserve/PUP list. He will miss at least the first four games of the season after he tore his ACL last Thanksgiving.
After that happened last season, it became a quiet story once the Bills played New England in that windy game where the Patriots threw three passes. But in the final eight games of the season, the Bills only played two high-octane passing games with the quarterback and receivers capable of lighting them up without White.
They allowed 363 passing yards to Tom Brady (Buccaneers) and 378 yards to Patrick Mahomes (Chiefs) in the playoffs. The Bills allowed at least 33 points in each game and lost them both in overtime after allowing a touchdown pass.
Adding Miller to the pass rush will help, but the Bills are unlikely to get into Super Bowl form on defense against the most dangerous opponents until White can return to the lineup. His absence could be greatly felt on Thursday night if Kupp continues his dominance.
Player to watch: Gabriel Davis
The last time we saw Buffalo wide receiver Gabriel Davis, he caught his fourth touchdown pass of the game to give the Bills a lead with 13 seconds left in Kansas City. We know what happened after that, but it was an incredible day for Davis, who had 201 yards.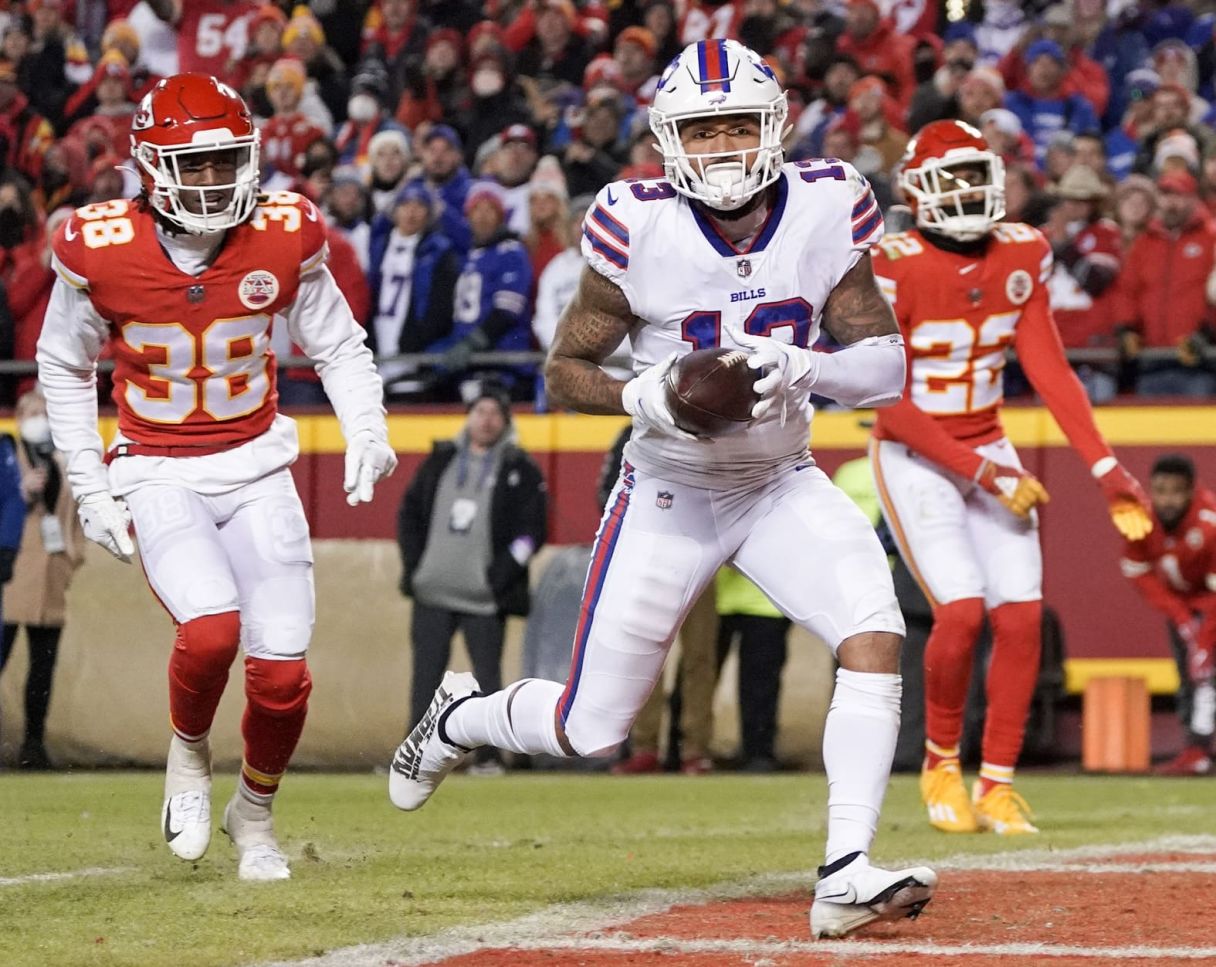 Buffalo Bills wide receiver Gabriel Davis scores touchdown against the Kansas City Chiefs. © Denny Medley-USA TODAY Sports
This really feels like a breakout season is on the way as he enters his third season, but the Bills also did not bring back Cole Beasley and Emmanuel Sanders. He is effectively the No. 2 receiver now behind Diggs.
This matchup could be a great one for him if Diggs is locked up with Ramsey. The Rams do not have another corner of that caliber, and even if he's matched up with Ramsey, Davis has the size and speed to make a play on him.
In the third game of his NFL career, Davis had 81 yards against the Rams in 2020, his first big game. He is a player to watch out for this season, and Thursday night is a great opportunity for him on another national stage.
Davis receptions against LA:
Buffalo Bills @ Los Angeles Rams conclusion and prediction 
It's a brilliant matchup to start the season and get us back to making NFL picks. These teams pride themselves on their ability both sides of the ball, but they may be too anxious or rusty early for this to get to 35-32 again. While both teams should score into the 20s, I still like the under in a 27-24 type of finish.
Expert NFL Pick: Under points (-110)
This matchup is also between the two teams with the best and worst records in close games last season (playoffs included). The Rams were 9-1 while the Bills were 1-6. Extremes like that tend to regress to the mean the next season, so let's start the regression in Week 1 with a close win by the Bills, or just take Bills -2.5 if you are nervous.
Expert NFL Pick: Bills by 1-13 points (+160)
Finally, Gabriel Davis should have no problem hitting his over in this game as he looks for that big start to what could be a special year for the Bills, and for Davis.
Free NFL Pick: Gabriel Davis Receiving Yards over 60.5 receiving yards