NFL picks and expert predictions: The first Monday Night Football of the season sees Denver (best available odds ) heading to Seattle (best available odds ).
NFL handicapper Ian Cameron previews the Monday night game, with the Seattle Seahawks welcoming back former QB Russell Wilson as he begins his new Denver Bronco career.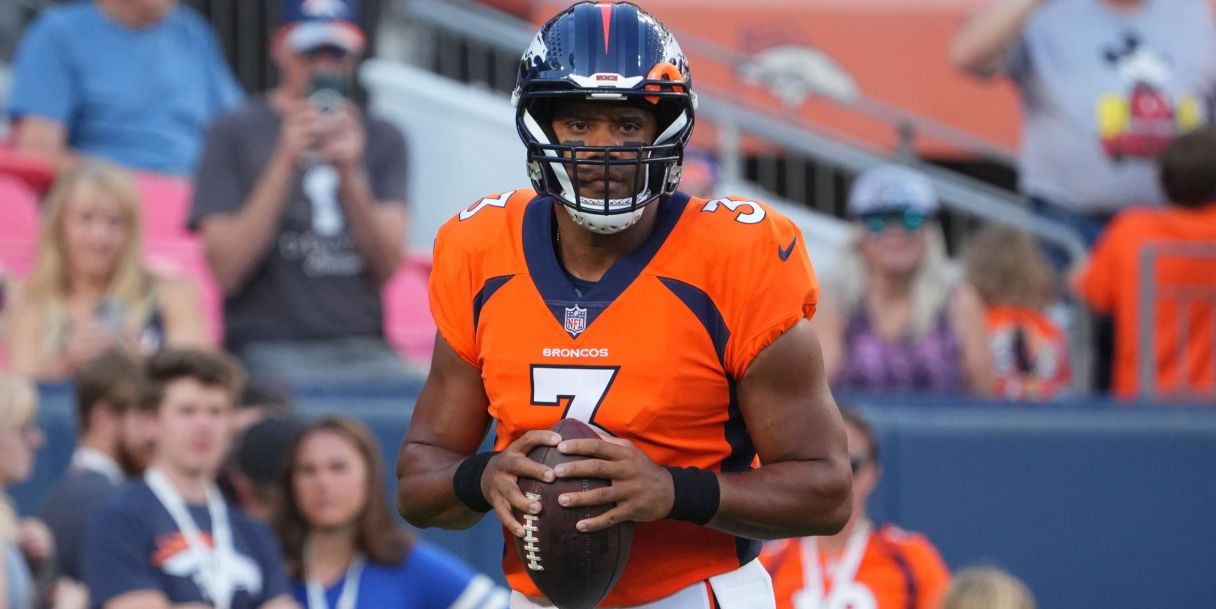 Denver Broncos quarterback Russell Wilson. © Ron Chenoy-USA TODAY Sports
| Fixture | Denver Broncos @ Seattle Seahawks |
| --- | --- |
| Location | Lumen Field, Seattle, WA |
| When | Monday, September 12, 8:15pm ET |
| Where to watch | ESPN |
Denver Broncos ( ) @ Seattle Seahawks ( ) predictions
The Denver Broncos have had a solid roster on both sides of the football in recent seasons but have been let down by subpar QB play. Denver has put a roster on the field that looks to be above average but far too often Drew Lock at the QB position was making critical mistakes and bad decisions with the football. The team went out to fix those issues by acquiring Russell Wilson (best available odds to win regular season MVP ) in a trade with the Seattle Seahawks – the team he will be playing in his very first game as a Bronco.
The Broncos hope that with a solid offensive line, ground game, deep wide receiver corps and a very capable defense, Wilson will be the missing piece to put them back in the playoffs in 2022. Denver hired a new head coach, bringing in Nathaniel Hackett who had been an offensive coordinator with Buffalo, Jacksonville and Green Bay prior to his appointment at the Broncos. Denver's two most impactful injuries entering Week 1 are WR Tim Patrick, who is out for the season with a torn ACL, and defensive end Randy Gregory (signed in the offseason to bolster the pass rush), who is questionable with a shoulder injury.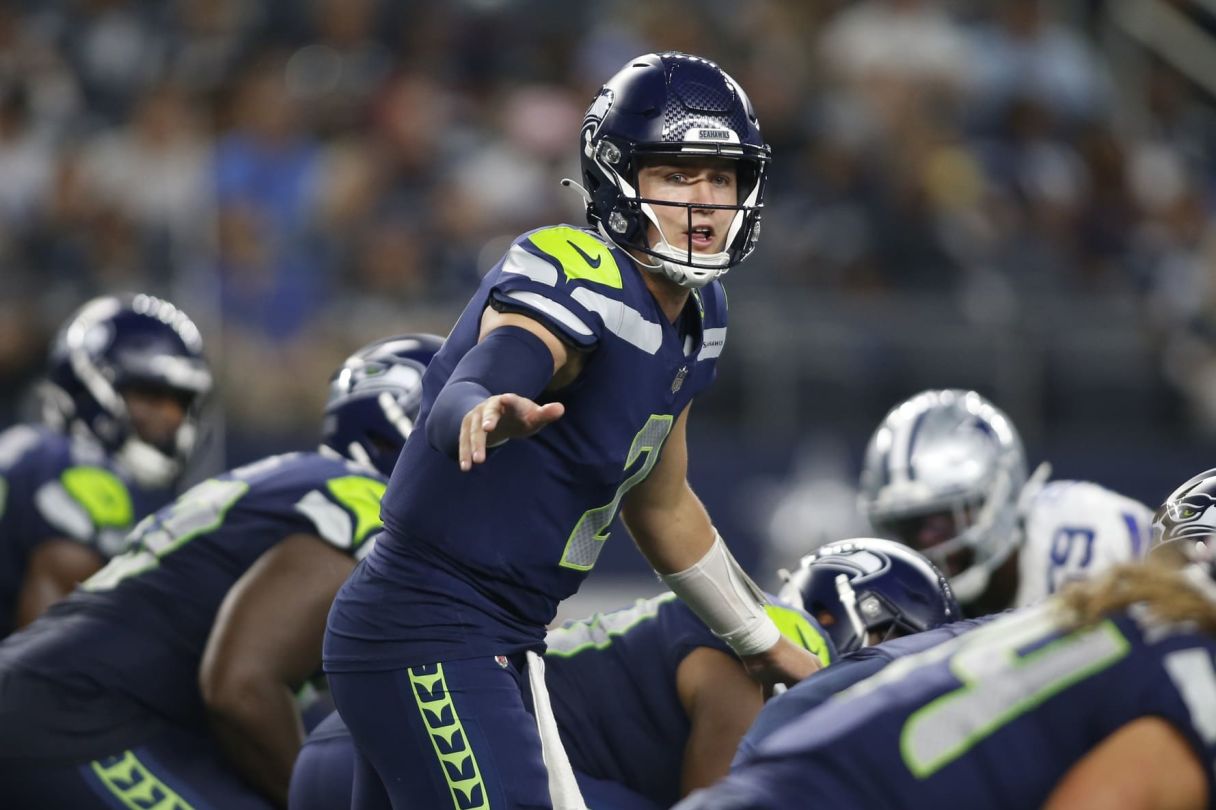 Seattle Seahawks quarterback Drew Lock. © Tim Heitman-USA TODAY Sports
The Seattle Seahawks endured a losing season last year and finished outside of the playoffs for the first time since 2011, ending up 7-10. Seattle is likely going to be in for another long season in 2022 as the team is going with journeyman veteran QB Geno Smith to start the season. The offensive line has been a problem area for them for the last few years and remains that way, while there isn't the skill position depth that they once had. The defense lacked a pass rush and they made some upgrades in that area but the LB corps is weaker after Bobby Wagner's offseason exit and the secondary gave up big plays, still looking a bit shaky entering the upcoming season. Seattle also has some key injuries of note heading into the Monday night clash as offensive lineman Gabe Jackson, wide receiver Marquise Goodwin, LB Jordyn Brooks and corner back Sidney Jones are all questionable to suit up for the Seahawks in this contest.
Matchups and betting analysis
The Denver Broncos will be able to provide Russell Wilson with something his former team really couldn't over the last few seasons and that is more time to throw the football. I'm not ready to call the Broncos offensive line one of the top OL units in the NFL but it's a massive upgrade from what Wilson had been experiencing in Seattle. Garett Bolles is a good left tackle and the rest of the line should be solid at most of the other positions. I expect Wilson to have a cleaner pocket in Denver and if he has time he can make plays down the field with a WR corps that includes Courtland Sutton, Jerry Jeudy and KJ Hamler. The RB duo of Melvin Gordon and Javonte Williams should also provide some nice balance for this offense. Seattle's pass rush was horrific last season and there is real concern the ability to pressure the QB could be lacking once again this season because the Seahawks are not strong at the DE position. That's trouble against someone like Wilson.
The Seattle offense is also a major area of concern because they are going with veteran QB Geno Smith – a placeholder at the position for the Seahawks at this stage of his career until Seattle can draft a QB from next year's very deep QB class. He will be forced to operate behind one of the worst offensive lines in the NFL. The Seahawks will be starting a pair of rookie tackles on both sides of the OL and they are also seeing a couple of their other starters decline with their performance in recent seasons. It's a very rough situation up front along the offensive line. The WR corps is solid with the returns of Tyler Lockett and DK Metcalf, and the addition of Noah Fant at TE from Denver in the return from the Russell Wilson trade is a good one. The RB tandem of Rashaad Penny and Kenneth Walker, rookie from Michigan State, gives them some hope to be able to run the football and this will absolutely be a run heavy offense. There are some skill position pieces here for success but there are far more reasons for doubting this team offensively.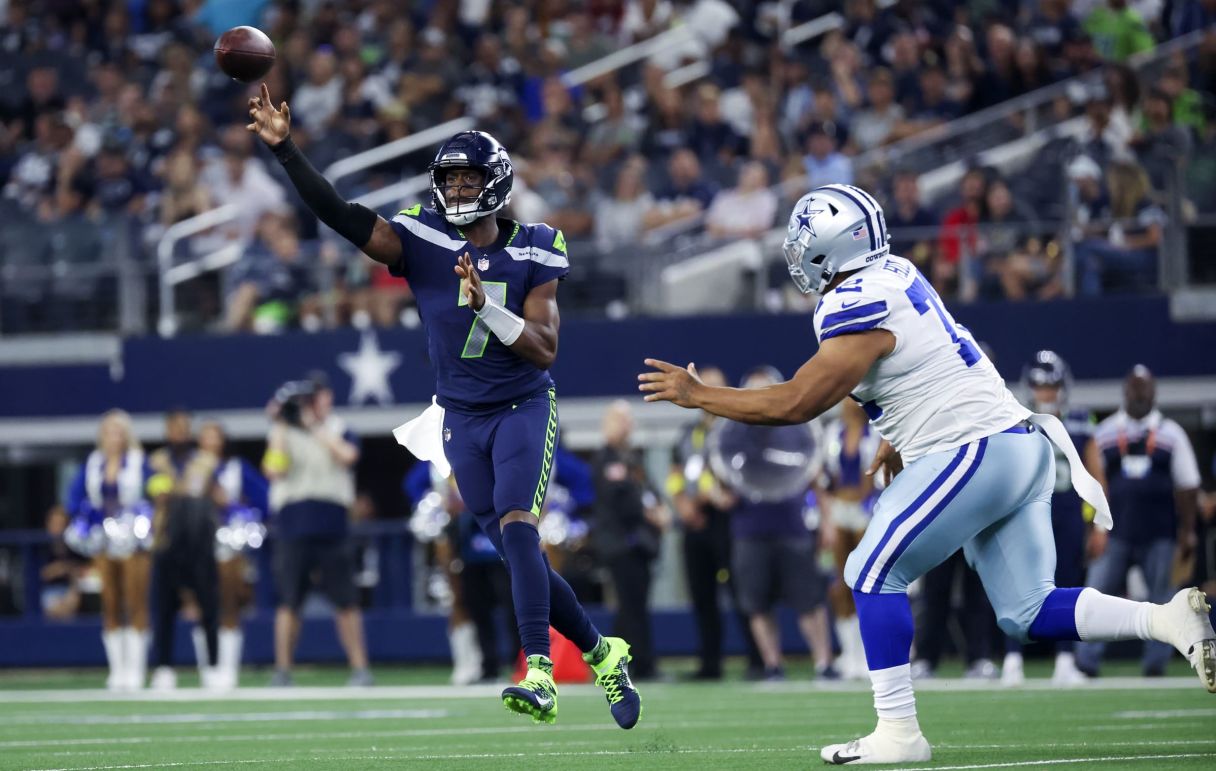 Seattle Seahawks quarterback Geno Smith throws against the Dallas Cowboys. © Kevin Jairaj-USA TODAY Sports
The biggest reason being Seattle's starting offense looked atrocious in the preseason and while it is important not to overreact to certain things in the month of August, it is still very alarming that Seattle's starters on offense couldn't move the football or score points consistently against backup units from the opposing team in multiple preseason games last month. The Seahawks offense certainly appears to be in for some early season growing pains. Decision making from the QB position could really end up being something that hurts Seattle too. The offensive line is not very good on paper at all which is bad enough but then you have Geno Smith who could find himself making some mistakes and throwing interceptions – a bad habit of his in the past. He will be going up against a Denver Broncos secondary that boasts plenty of talent including Patrick Surtain II, Ronald Darby, K'Waun Williams, Justin Simmons and Kareem Jackson.
There are a few against the spread betting trends in this game which favor Seattle with Denver currently listed as a six point road favorite in this game on Monday night. Seattle is 16-7 ATS in their last 23 games as an underdog and 17-6 ATS in their last 23 games as a home underdog specifically. However, when considering those favorable Seahawks trends, it is important to point out that many of those results accumulated when Seattle had a much better team and a more talented roster than they currently have. The problems with this Seahawks team are multiple on both sides of the football and that is why it is important to take those strong long-term ATS trends pointing toward Seattle in this game with a grain of salt considering just how much the quality of this roster has declined in the last couple seasons.
Broncos at Seahawks player to watch :
Bradley Chubb, Denver Broncos linebacker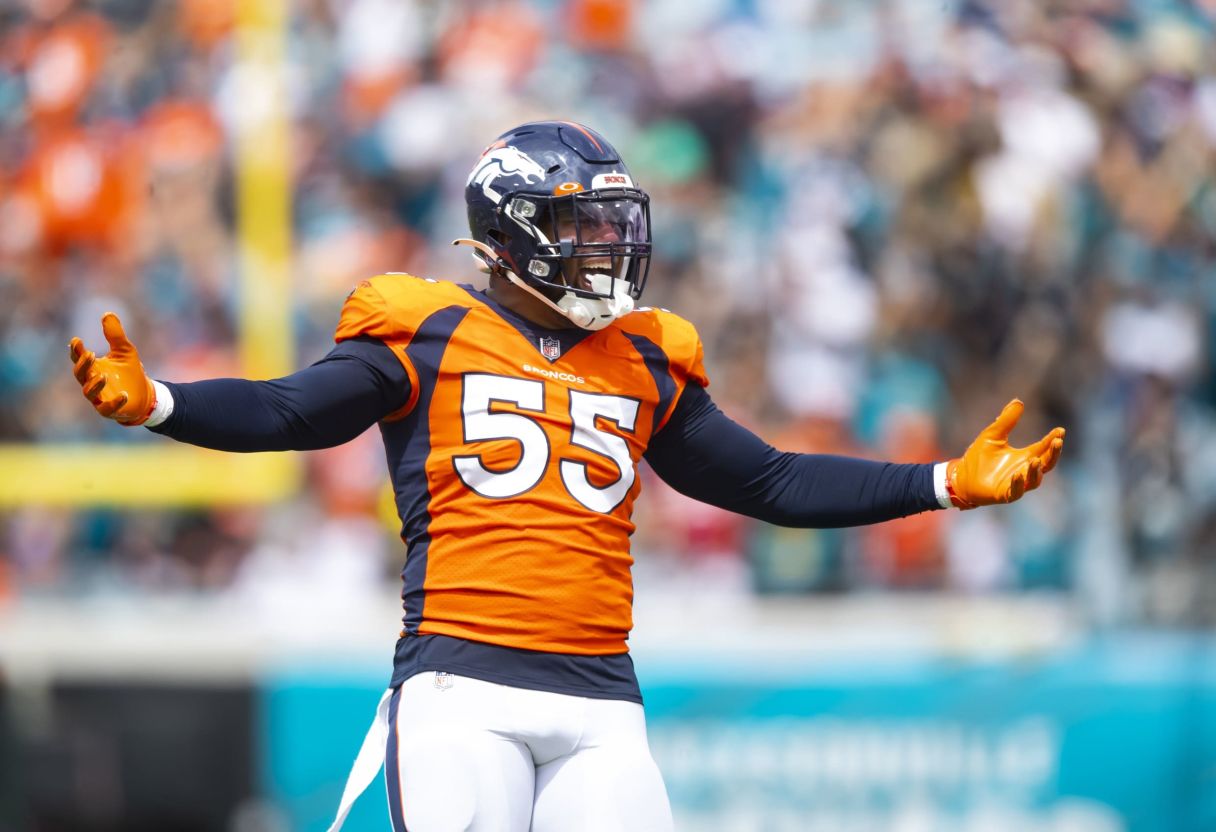 Denver Broncos linebacker Bradley Chubb. © Mark J. Rebilas-USA TODAY Sports
I'm sure I will use more players from the offensive side of the football in these articles with the "player to watch" portion of it but in this game, which I expect to be somewhat lower scoring, I wanted to select a defensive player that could dominate in this game and I'm going with Denver LB Bradley Chubb. He has battled injuries in two of the last three seasons following an outstanding rookie year in 2018. Broncos head coach Nathaniel Hackett described Chubb as being 'unblockable' in training camp and there is still plenty of pass rushing ability that Chubb has going back to his awesome rookie season and what he was able to do in college playing for NC State. The Seattle offensive line is a horrific unit and this is the prime opponent and opportunity for Chubb to unleash that 'unblockable' quality that his head coach describes against a team that is likely to struggle in pass protection for Smith for much of the season. Chubb player props such as over sacks and solo/assisted tackles are probably a good bet in this game.
Some other players to watch in this game are WR Jerry Jeudy for Denver who is healthy once again. For Seattle, I think TE Noah Fant could be a prime receiving target for Smith, not to mention Fant will be highly motivated to play well in this game after being traded from Denver to Seattle in the offseason as part of the Russell Wilson deal. Players in any sport usually play well against their former team. I expect the Denver pass rush to not give Smith much time to find the wide receivers down the field as much nor is Smith's accuracy down the field all that good so this could be a run heavy and throw to the TE type of game plan offensively for Seattle making Fant a possible player prop choice for over receptions and receiving yards.
Futures to consider:
Bradley Chubb most sacks in the league (best available odds )
Noah Fant to score a touchdown vs Denver (best available odds )
Read NFL Week 1 quick picks here.
Denver Broncos @ Seattle Seahawks conclusion and prediction
I don't have a strong betting opinion here but I lean to both Denver -6 and also under 43 in this game from a side and total perspective as my NFL Picks for this contest. I don't love the idea of laying nearly a TD on the road in the first week of the season with Denver as they break in a new QB albeit a good one in Russell Wilson who also wasn't on the field for a single snap in the preseason with the Broncos. There are concerns betting Denver -6 knowing the offensive cohesion with Wilson and his receivers may not be there immediately. However, the alternative for me is worse and that would be betting on a Seattle team with problems in the trenches on both sides of the football. They lack quality pass protection on offense and they struggle to garner a pass rush on defense. Those are not ingredients for success in the modern day NFL.
The under might be the best option here as I think the defenses on both sides will be the superior unit while Denver pushes across enough points on the road in Russell Wilson's return to Seattle to cover the number as road chalk. 24-13 Denver is the type of final score I project in this first Monday Night Fooball game of the new NFL season. I will also suggest player prop wagers on the player I mentioned as my "Player To Watch" in this game Bradley Chubb for Denver either Over sacks and/or Over solo/assisted tackles depending on what your sportsbook provides.
Expert NFL picks:
- Denver points
- Under points