NFL Thursday Night Football Picks and best odds - can the Steelers offense keep pace with wounded Browns?
Coming off a crushing last-minute loss to the New York Jets this past Sunday, the Cleveland Browns welcome their biggest rivals, the Pittsburgh Steelers to the shores of Lake Erie for on Thursday Night Football. NFL betting expert, Scott Kacsmar has broken down the Cleveland Browns vs Pittsburgh Steelers matchup with his  free NFL betting picks and predictions  and the best odds available.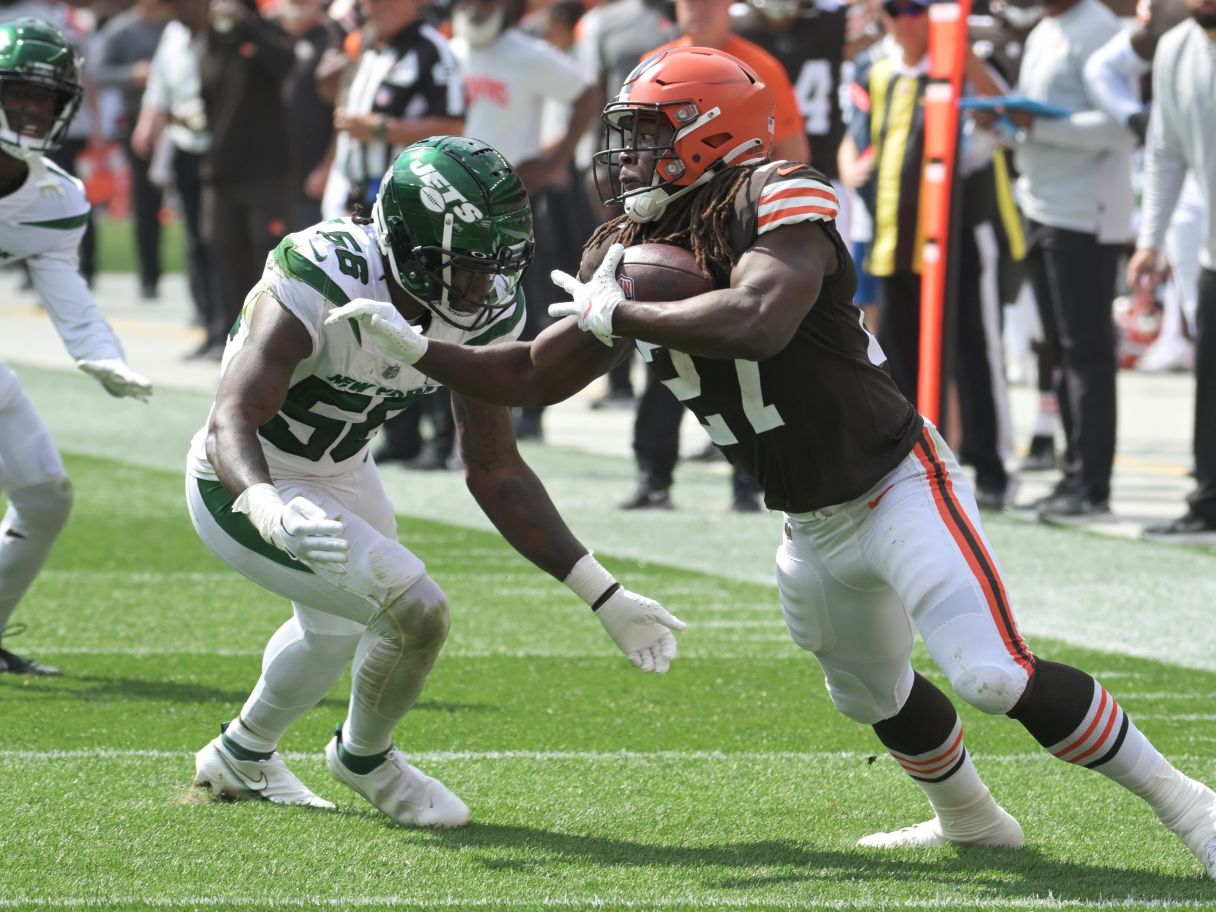 Browns running back, Kareem Hunt will look for a big game when the injury-hit Steelers defense comes to town © Ken Blaze-USA TODAY Sports
| Matchup | Pittsburgh Steelers at Cleveland Browns |
| --- | --- |
| Location | FirstEnergy Stadium, Cleveland, OH |
| When | Thursday September 22, 8.15pm ET |
| Where to watch | Amazon Prime |
Pittsburgh Steelers (moneyline: ) - leash getting shorter for Mitch Trubisky?
You can continue hoping that the Steelers will unleash a more potent offense led by a quarterback with a stronger arm and better mobility than the 2021 form of Ben Roethlisberger.
But that quarterback is never going to be Mitch Trubisky, who threw his first interception of the season in a 17-14 home loss to the Patriots. The Pittsburgh offense has scored 30 points in two games, and without the aide of turnovers that come easier when T.J. Watt is healthy: it is going to be hard for Trubisky to overcome the bad design provided by offensive coordinator Matt Canada.
The defense almost has to play perfect for this team to succeed right now. On Sunday, the defense dropped an interception in the third quarter, which led to a punt that was muffed, setting up New England on a very short field for a 10-yard touchdown drive to take a 17-6 lead. That was the pivotal sequence of the game, but it did not end the game itself.
In the fourth quarter, Trubisky had a couple of key third downs. Both passes went to running back Najee Harris, and neither was successful at keeping the drive alive. One was a predetermined throw well short of the sticks – a hallmark of this Pittsburgh offense since late 2020 – and the other was a low-percentage throw into coverage that would have been better served going to No. 1 wide receiver Diontae Johnson or tight end Pat Freiermuth.
The Steelers finished with just one 20-yard play on Sunday as the inability to create running room for Harris, the over-reliance on short passes, and the avoidance of the middle of the field or anything deep beyond go-routes down the sideline all combine to hamper this offense.
Would it get any better under rookie quarterback Kenny Pickett? Mike Tomlin may need to find out sooner than later if this continues.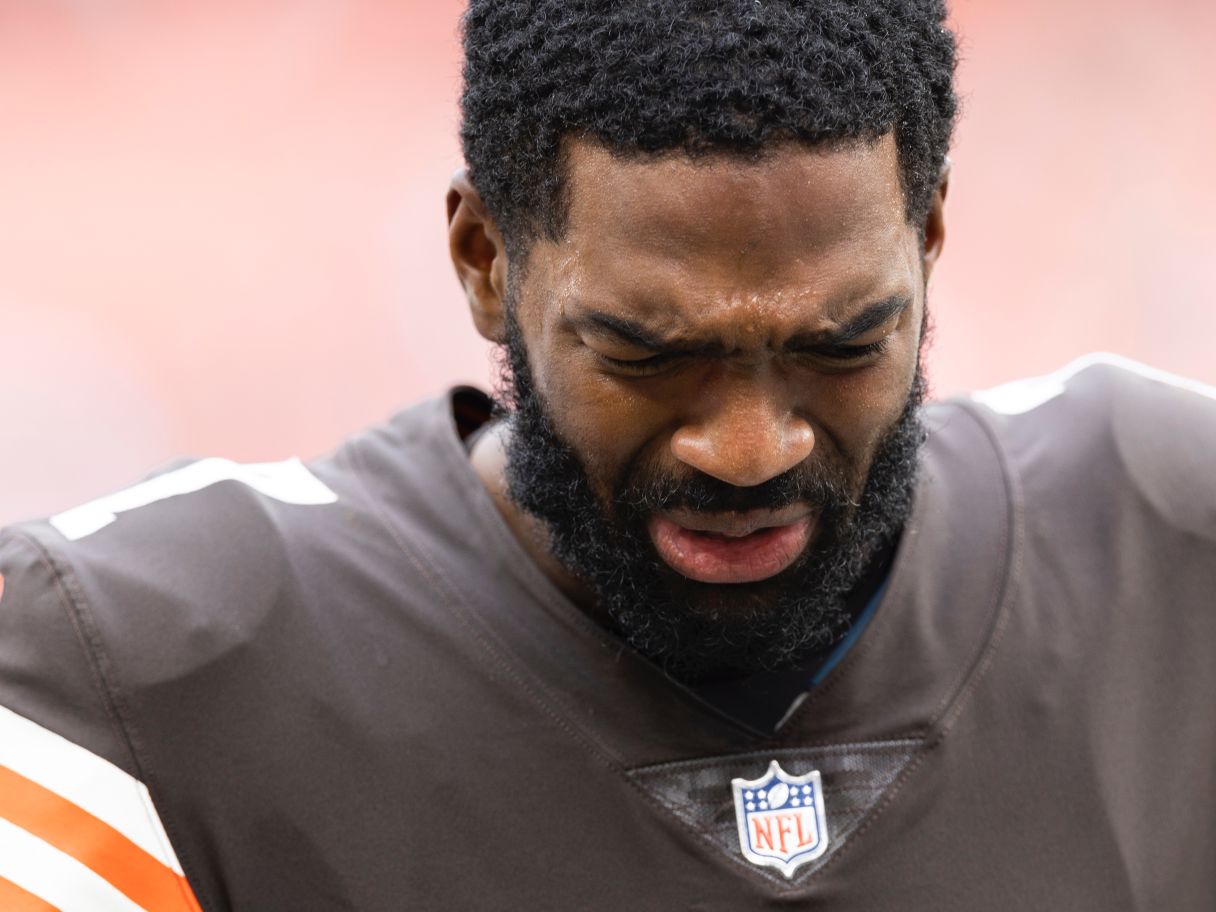 Jacoby Brissett and the Browns come off a heartbreaking loss of their own making this past Sunday © Scott Galvin-USA TODAY Sports
Cleveland Browns (moneyline: ) - poise under pressure
Cleveland's 1-1 record is fair given a 58-yard field goal and onside kick recovery are pivotal moments in the team's season. A 2-0 start could just as easily be 0-2 right now.
But what the Browns did against the Jets on Sunday was completely inexcusable, and it was a failure on all three units: the Browns had played an adequate game for over 57 minutes to build a 24-17 lead, and they were getting close to running the clock out on the Jets before this mess happened. Here's a brief overview of how a team imploded in 180 seconds…
Offense : Running back, Kareem Hunt went out of bounds twice to stop the clock on plays where he needed to slide down to keep the clock running. The second time he did it was most crucial as the Browns could have kneeled out the clock after the two-minute warning once he had the first down. To make matters worse, Nick Chubb decided to run in his third touchdown with 1:55 left instead of going down short of the end zone to end the game. It is a low probability to blow a lead like this (the Browns had a win probability of 99.9% according to ESPN analytics), but this game proves exactly why it is the smart play to not score. Cleveland's running back duo failed on three plays to go down.

Special teams : It literally was the worst-case scenario when scoring that touchdown, but missing the extra point and keeping it a 13-point game is what makes it risky to score. Now the Jets could win on two improbable touchdowns if they could recover an onside kick in between them. Guess what? They did exactly that, giving the Jets a second chance with a full 80 seconds left.

Defense : For eight quarters this year, Joe Flacco could not push the ball down the field with the Jets. But with the game undecided, he found Corey Davis left wide open on a busted coverage by corner Denzel Ward for a 66-yard touchdown. How does that happen in a spot where the only thing you need to prevent is the quick score? After Flacco got the ball back, he calmly directed a 53-yard touchdown drive with the game-winning throw at 22 seconds. People easily forget Flacco took the Baltimore Ravens to a Super Bowl and won the MVP – his later career doesn't sparkle but he has proven he's capable of big plays in big spots.
The Browns did many things well on Sunday, but the execution in the final minutes, something that has been lacking under head coach Kevin Stefanski, was some of the poorest you'll ever see.
Now the Browns have a short week to play their hated rivals from Pittsburgh.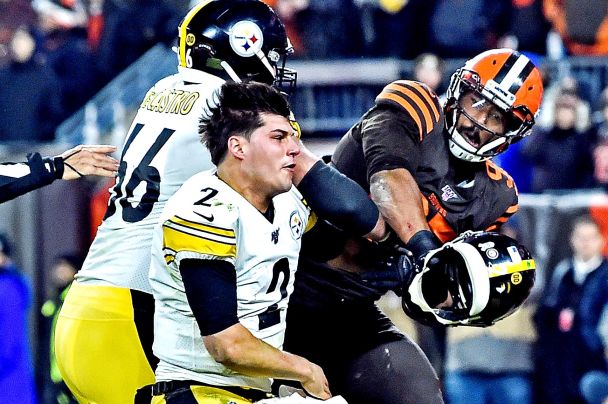 Player match up - Mitch Trubisky vs. Myles Garrett
In a quarterback battle between Mitch Trubisky and Jacoby Brissett, a dominant edge rusher seeking a Defensive Player of the Year award would have a huge impact. Unfortunately, we are not going to see T.J. Watt (pectoral) for Pittsburgh try to one-up anything Myles Garrett does for Cleveland due to his injury.
The Steelers are 1-8-1 in games where Watt is inactive or plays under 60% of the snaps (0-6-1 since 2021). This gives Cleveland a big edge in this matchup as Garrett already has 3.0 sacks and a forced fumble in two games this season. We know he is extra motivated to go after Pittsburgh quarterbacks, sometimes even with a helmet.
Emotions will be high in this game, but it is hard to see the Steelers snapping out of their offensive funk. Last year, despite sweeping the Browns, the Steelers scored just 15 points in Cleveland. In his last home game, Ben Roethlisberger threw for 123 yards on 46 attempts against the Browns. Not only was that Roethlisberger's lowest yards per attempt (2.67) in his 272-game career, but it is the lowest game in NFL history for anyone who threw at least 45 passes.
So, Pittsburgh's offense has been having issues with Cleveland's defense in recent meetings. When Trubisky has to hold the ball for more than 2.5 seconds, he is struggling to get clean pockets behind this offensive line. With the Browns able to rush Garrett and Jadeveon Clowney at him, look for the mistakes to add up on the road in an ugly game.
Can the Steelers contain Nick Chubb again?
Pittsburgh had the worst run defense in the league last year. So far in 2022, things have not been up to that level, but they also have not been good. For just the third time since 1990, the Steelers have allowed over 120 rushing yards in the first two games of a season.
On Sunday, the Patriots' two backs combined for 118 yards on 24 carries and a touchdown. The Browns can do better than that with the duo of Nick Chubb and Kareem Hunt, and quarterback Jacoby Brissett (43 yards vs. Jets) can also contribute to that attack. It has helped Cleveland to over 180 rushing yards in both games this season with the run taking more of a leading role as the team makes Brissett comfortable in the passing game.
But Chubb hasn't had a ton of success against Pittsburgh in his career. In eight career meetings, he has one rushing touchdown and one 100-yard rushing game. That happened in the same game in 2020, a Week 17 finale against a lot of Pittsburgh backups.
Last season, Chubb had 28 carries for 119 yards against Pittsburgh. That might sound solid for one game, but that was his two-game total as he never broke 65 yards in either game.
Pittsburgh's ability to contain Chubb from breaking the big play can help it stick around into the fourth quarter in another close game. But it is worth noting that Hunt was inactive for both matchups last season. When he faced the Steelers in the 2020 wild card round, he was dynamic early in the game with two quick touchdowns. This will only be the second time the Browns have had Chubb and Hunt together in a game against Pittsburgh's starting defense. A defense that will have to survive without Watt again.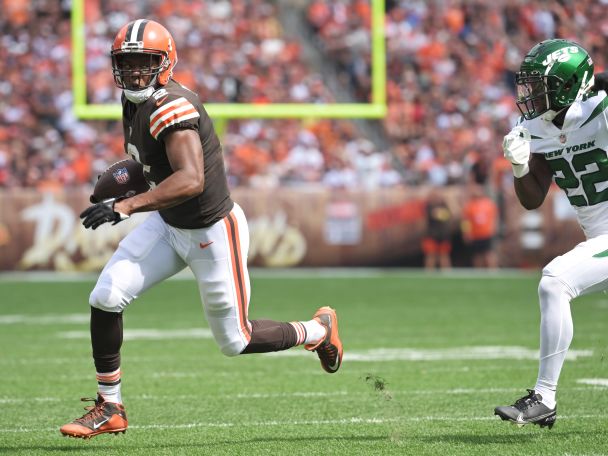 Steelers at Browns player to watch - Amari Cooper, WR, Cleveland Browns
After such a quiet Week 1 with 17 yards, Amari Cooper made his presence felt in his second game with the team against the Jets. Cooper caught his first touchdown and had a team-high nine catches for 101 yards. He caught all but one of his targets from Brissett.
This is the kind of receiver the Browns wanted after not having a 600-yard receiver in 2021. Cooper can do damage to a Pittsburgh secondary that has already struggled with a huge game allowed to Ja'Marr Chase (129 yards) in Week 1. Before you say Chase can do that to anyone, keep in mind the Steelers just allowed the Patriots to produce two 90-yard receivers on Sunday. Jakobi Meyers was busy with nine catches for 95 yards while Nelson Agholor made an incredible 44-yard touchdown before halftime on his way to 110 yards.
The Steelers can create turnovers in the secondary with safety Minkah Fitzpatrick, but you can also hit big plays on this unit too. Again, it comes even easier when Watt is not hurrying the quarterback, stripping the ball, or tipping a pass into traffic for a pick.
It should be easier for Cooper to go off in this game than it will be for Diontae Johnson on the other side for Pittsburgh. Cooper is currently sitting +/- receptions on the game, which represents good value.
Pittsburgh Steelers at Cleveland Browns predictions and best NFL picks
The Jets and Browns just played a 31-30 game a week after the Jets were down 24-3 in the final minute against Baltimore. Anything can happen in this league, but after 26-14 and 15-10 last year, and the way the Steelers struggle to score, I still like the under 40 points here. The last time the Browns hosted Pittsburgh on a Thursday night, it was the infamous 21-7 game in 2019 when Garrett swung a helmet at Mason Rudolph. We might get more points this time around, but not more than 40.
Expert NFL pick: Under (-110)
Mike Tomlin is 32-22-2 ATS (59.3%) as a road underdog in his career, one of the best records in the league. This is usually the kind of spot where the Steelers thrive in prime time, but when you subtract Watt and put Trubisky at quarterback, that's advantage Cleveland. Brissett also feels like he is less likely to screw the game up than Baker Mayfield would, especially with the way they have coddled him with the run the last two weeks. I will take Cleveland in a 20-16 kind of game.
Expert NFL pick: Browns (-110)
For a prop pick, the Browns have been switching things up in the backfield with Kareem Hunt scoring both touchdowns in Week 1 and Chubb adding three of his own in Week 2. Brissett running one in from the quarterback position is going to be the right call one of these weeks, but for more of a sure thing, let's count on Hunt this time to score. He already has more touchdowns against the Steelers than Chubb has despite fewer games played.
Free NFL pick: Kareem Hunt anytime touchdown scorer ( )