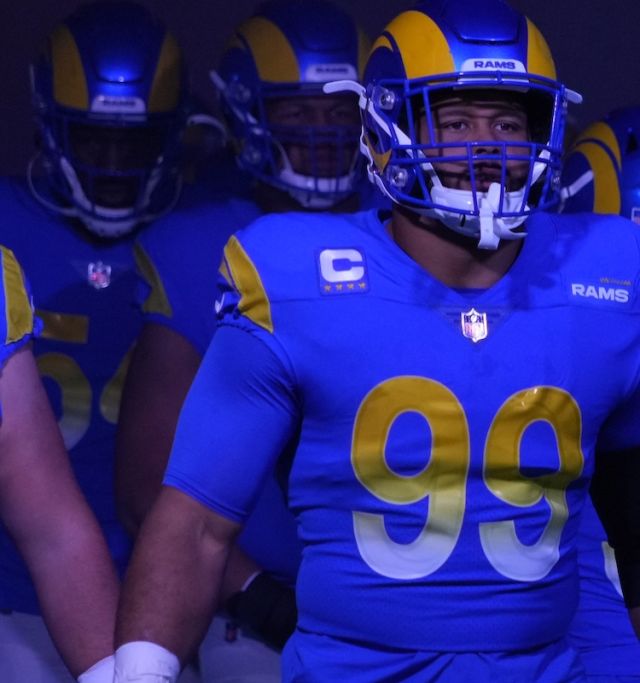 'Wins Above Replacement' and the best players in the NFL today
Using Wins Above Replacement data to find the best players in the NFL today and a surprising team of unheralded all-stars
'Wins Above Replacement' is a great leveller when comparing players from different teams and different positions and their contributions to their teams' success. It's swayed in favor of quarterbacks because as many people know NFL quarterbacks are amongst the most important players in any sport in the USA.
That's why a quarterback's average salary is over twice as much as the next highest paid position in football ($6.2 million vs $3.1 million, the average salary of defensive ends).
'WAR': what is it good for?
 'Wins Above Replacement' is a way to standardize and evaluate the contribution of sports people to the success of their team. This is done by comparing their contributions and statistics to those of an average replacement player. There are several different ways to establish this metric with analytics providers like Pro Football Focus and SISS each having a proprietary method.
This is such a highly regarded method of evaluating players in a broad or headline way that some companies will only share WAR data with professional sports teams.
Despite its inherent bias towards quarterbacks: WAR can be used to analyze almost every position in football on a player's accumulated contribution in passing, rushing, receiving, blocking, pass defense, pass rush, or run defense. When these are combined a player's overall wins above replacement, or WAR is confirmed.
Onlinebetting.com's analysts looked over the top performers at each position on both offense and defense for the 2021 season - here are the players who contributed most to their team's success:
The Top 5 NFL players at each position: offense
QB
Justin Herbert, LAC
Josh Allen, BUF
Tom Brady, TB
Pat Mahomes, KC
Matt Stafford LAR
| RB | WR |
| --- | --- |
| Jonathan Taylor, IND | Deebo Samuel, SF |
| James Conner, ARZ | Cooper Kupp, LAR |
| Nick Chubb, CLE | Davante Adams, GB |
| Aaron Jones, GB | Justin Jefferson, MIN |
| Kareem Hunt, CLE | Diontae Johnson, PIT |
| TE | OL |
| --- | --- |
| Mark Andrews, BAL | Tristan Wirfs, TB |
| Travis Kelce, KC | Ali Marpet, TB |
| Dalton Schultz, DAL | Kevin Zeitler, BAL |
| Dallas Goedert, PHI | Zack Martin, DAL |
| George Kittle, SF | Joe Thuney, KC |
As you can see there are very few surprises amongst the top quarterbacks by war rating from the past season. All five were among the best performing quarterbacks in all the major categories and all bar the top quarterback, Justin Herbert, won games in the postseason. Fifth-placed Matt Stafford of the Los Angeles Rams would play a key role in his team's Super Bowl win this past February.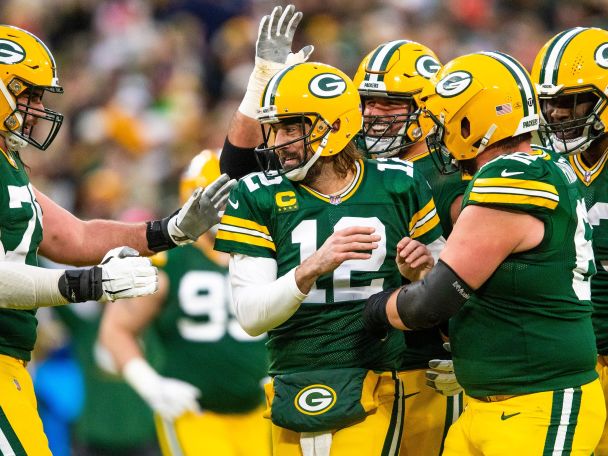 Perhaps the most surprising omission from this list is Aaron Rodgers - the Green Bay Packers quarterback won the NFL MVP trophy for the 2021-22 season but was just outside the top five performers at the position when basing the rankings order on wins above replacement.
Another player who surprisingly missed out on a place in the top five for running backs was Cincinnati Bengal, Joe Mixon. Mixon finished third in rushing yards behind Jonathan Taylor and Nick Chubb, he also scored 13 touchdowns on the ground and was a big part of Cincinnati's fairytale playoff run to super bowl LVI.
The wide receiver top four are no surprise at all: Deebo Samuel contributed as a running back as well as a wide receiver in 2021 which boosted his WAR value. It is worth noting however that without his contribution to the 49ers' ground attack, Samuel would still be the number three wide receiver on the list! Kupp, Adams, and Jefferson are names we could expect to appear in a top five list of wide receivers based on any metric, however, Diontae Johnson of the Pittsburgh Steelers is an unexpected number five. By beating out receivers like AJ Brown, Tyreek Hill, and Keenan Allen: we can expect fourth-year man Johnson to garner a lot more attention from defenses in 2022. 
Perhaps the biggest shock from amongst the offensive top five players at each position comes in the offensive line, where potential future Hall of Famers like Trent Williams, Quentin Nelson, and Jason Kelce were beaten out by second-year tackle, Tristan Wirfs. This is one of the excellent qualities of a metric like WAR: name value and previous seasons' contributions are negated in favor of giving a true reflection of a player's abilities in a given year.
The Top 5 NFL players at each position: defense
| DL | LB |
| --- | --- |
| Aaron Donald, LAR | Micah Parsons, DAL |
| Jadeveon Clowney, CLE | TJ Watt, PIT |
| Robert Quinn, CHI | Nick Bosa, SF |
| Christian Wilkins, MIA | De'Vondre Campbell, GB |
| Myles Garrett, CLE | Leonard Floyd, LAR |
| CB | S |
| --- | --- |
| Jalen Ramsey, LAR | L'Jarius Sneed, KC |
| AJ Terrell, ATL | Jordan Whitehead, TB |
| Rasul Douglas, GB | Kevin Byard, TEN |
| Marshon Lattimore, NO | Jalen Thompson, ARZ |
| Eric Rowe, MIA | Derwin James, LAC |
Surprise, surprise… Aaron Donald of the Los Angeles Rams is one of the best defensive players in football. This is not news to anyone, given Aaron Donald secured his 7th all-Pro nomination this season, is a three-time defensive player of the year, and is now a Super Bowl champion. The rest of the list of the best defensive lineman in football shows the true power of the pass rush and why effective edge rushers are the second highest paid group in the NFL. 
Pass rush effectiveness also contributed heavily amongst linebackers where Micah Parsons,TJ Watt, and Nick Bosa head up the list. In fact, only one true 'off the ball' linebacker broke the top five (De'Vondre Campbell, GB). Among the big names to miss out in the linebacker top five was Bobby Wagner, who will hope to continue his Hall of Fame-worthy career in his new home with the Rams in Los Angeles.
Perhaps the biggest upset of this whole exercise was the appearance of Rasul Douglas (GB) and Eric Rowe (MIA) amongst the top-ranked cornerbacks in the NFL. Both were drafted by the Philadelphia Eagles and were considered busts after early returns were poor however with some league experience under their belts and both players now on the 3rd teams in the league they have blossomed and are now outplaying their contracts. 
The NFL salary cap all-stars: building the perfect NFL team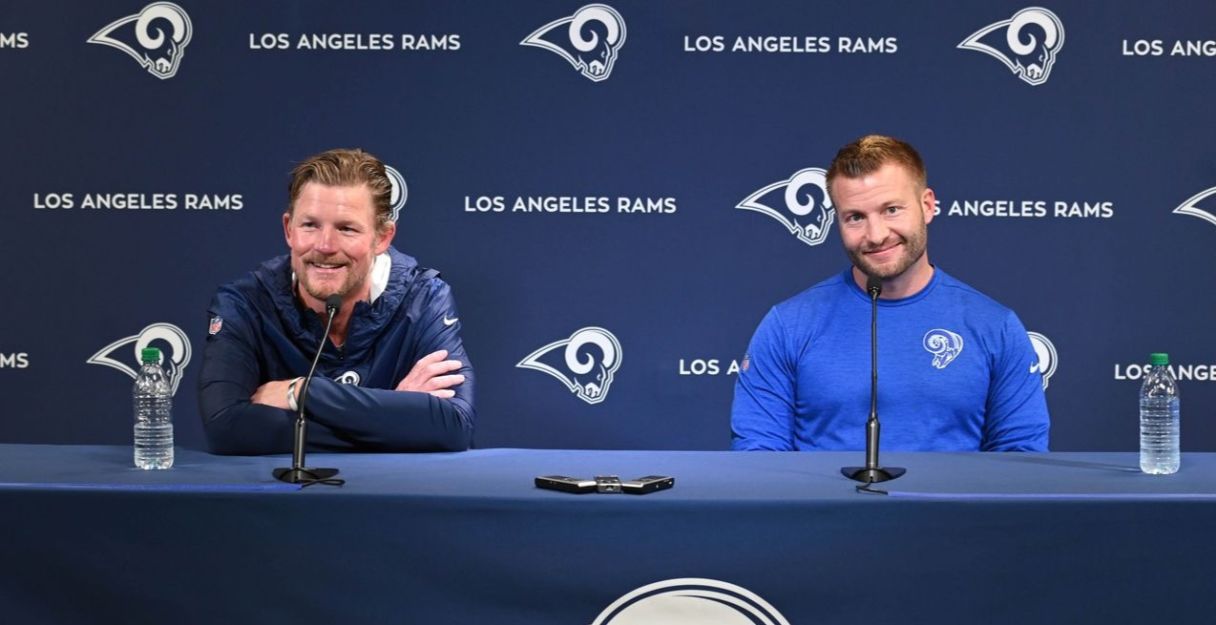 Les Snead is one of the best GMs and team-builders in the NFL today © Kirby Lee-USA TODAY Sports
Imagine you woke up tomorrow as the general manager of a new NFL franchise.
After choosing which savage wild animal to name your team after, you are given the chance to take whichever players you want from any of the other teams - Do you go all-star power? Tom Brady under center, Aaron Donald and JJ Watt lined up ready to disrupt any of offense in the league? Or do you play it smart and, well, 'Moneyball' it?
The Football experts at onlinebetting.com chose the latter approach and sat down to put together the best team in the league using 2021-2022 salary cap data and the latest WAR, or Wins Above Replacement data.
In looking at the WAR data collected during the 2021 NFL season and the current cap values for all NFL players, the OnlineBetting.com team found players who had below-average salary cap costs and above-average WAR numbers. This eliminated any high-priced players and any underperforming ones from making it on to our all-star team.
As you'll see below, some players made the top five at their position for 'wins above replacement' and made our team - these were real unicorn players who are most likely to see a pay increase and a new contract very soon. In fact, a number of players from our NFL All-Star team have already signed contract extensions that will kick see their cap number increase after the 2022 offseason.
The players featured below represent some of the best value players in the NFL based on salary cap number and on-field contribution.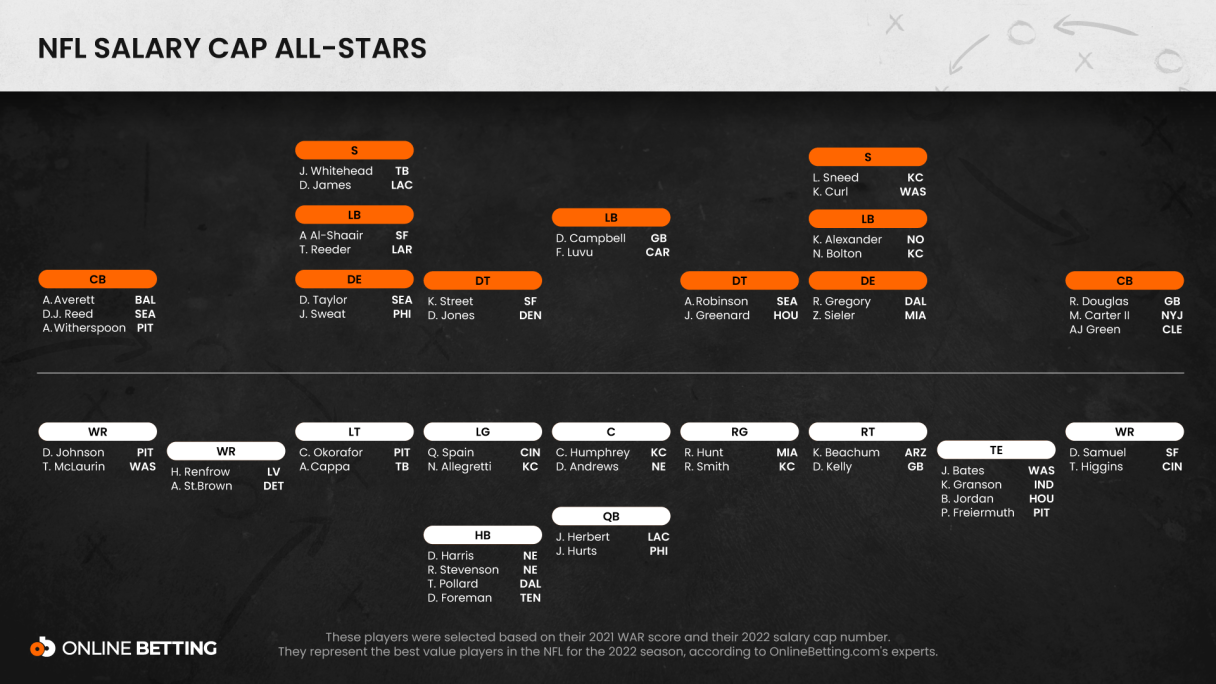 The first thing to note about the team is that Justin Herbert, who is the best quarterback in the NFL by his WAR number, is also one of the cheapest available to join our team. Herbert is still playing on his rookie contract, which is due to expire at the end of 2023. We can expect him to negotiate and sign one of the league's richest contracts in the next year.
Our all-star team's backup quarterback is somewhat of a surprise in Jalen Hurts of the Philadelphia Eagles. In his first season as a starting quarterback, Hurts was solid if unspectacular, however his contribution on the ground of 784 rushing yards and 10 rushing touchdowns bolstered his position. Like Herbert, he's also still playing on a rookie contract which means he is affordable and could profit on his second contract in the near future.
The 'salary cap all-star team' isn't just a list of who's who from the last few NFL Draft classes: two offensive tackles to make the team, Kelvin Beachum and Dennis Kelly, have a combined 22 years in the league! However, given the number of high-performing low cost young players on the team, it's easy to see who should be or could be in line for a big payday in 2022.
Some on the list have already signed big contracts, making them some of the highest-paid players in the NFL like Deebo Samuel of the San Francisco 49ers and Hunter Renfrow of the Las Vegas Raiders who, despite his relatively young age, is already one the better slot receivers in the NFL.
What is the NFL salary cap?
The salary cap for the 2022 NFL season is $208.2 million. That number is the maximum a team is allowed to spend to field a 53-man roster. This amount is specified within the collective bargaining agreement that exists between the National Football League and the National Football League Players Association or NFLPA. The exact value of the salary cap is 48% of revenue sharing profits - how this is calculated is a little complicated and the exact amount teams have to spend is announced at the start of the NFL league year in March.
Alongside their being a maximum spending allowance: teams are required to spend a minimum of 95% of the salary over the course of the collective bargaining agreement - this ensures the players are receiving a fair share of the profits from the league's many revenue streams. If a team fails to pay 95% of the salary cap they are required to pay the outstanding amount directly to players. For the purpose of putting together the Salary Cap All Stars team we ignored the minimum salary spend requirement of the salary cap - the total spend for the OnlineBetting.com team was $137,745,691: some way short of the NFL minimum spend for 2022 ($197.79 million).
OnlineBetting.com's experts, who regularly contribute to our weekly NFL Picks and analysis used 2021 NFL salary cap data collected from Spotrac and Sports Info Solution's 2021 WAR data to analyse every player in the NFL from last season. Every player in the NFL was classified by position and then ordered by Wins Above Replacement score. Any players with 2022 salaries below the average for their position were highlighted: the top performing of these were chosen to be a part of the NFL Salary Cap All Star team. The roster above stands at 50 players leaving four spaces empty. This number was reached by choosing a first and second team at every position - an offense of 2x QB, 4x HB, 4x TE, 6x WR, 4x OT, 4x OG, 4x C, and a defense with 4x DE, 4x DT, 6x LB, 6x CB, 4x S. This is a fairly standard roster makeup for an NFL team when excluding special teams specialists.
Wins above replacement data is not readily available for special teams specialist players like punters, kickers and long snappers.
Fair Use:  
When using this data and research, please attribute by linking to this study and citing OnlineBetting.com  
The NFL salary cap all-stars: the data
| Offense | Team | Position | 2022 Salary Cap Number | 2021 WAR | | Defense | Team | Position | 2022 Salary Cap Number | 2021 WAR |
| --- | --- | --- | --- | --- | --- | --- | --- | --- | --- | --- |
| Justin Herbert | LAC | QB | $7,248,751 | 4.9 | | Darrell Taylor | SEA | DE | $1,844,867 | 0.3 |
| Jalen Hurts | PHI | QB | $1,643,230 | 2.2 | | Josh Sweat | PHI | DE | $3,628,000 | 0.3 |
| Damien Harris | NE | HB | $1,186,534 | 0.5 | | Randy Gregory | DAL | DE | $5,600,000 | 0.5 |
| Rhamondre Stevenson | NE | HB | $1,012,265 | 0.5 | | Zach Sieler | MIA | DE | $2,575,000 | 0.4 |
| Tony Pollard | DAL | HB | $1,132,582 | 0.5 | | Kentavius Street | SF | DT | $1,265,000 | 0.2 |
| D'Onta Foreman | TEN | HB | $2,000,000 | 0.4 | | Dre'Mont Jones | DEN | DT | $2,806,600 | 0.3 |
| John Bates | WAS | TE | $1,005,604 | 0.3 | | Alton Robinson | SEA | DT | $982,836 | 0.4 |
| Kylen Granson | IND | TE | $1,001,591 | 0.2 | | Jonathan Greenard | HOU | DT | $1,231,495 | 0.3 |
| Brevin Jordan | HOU | TE | $748,046 | 0.2 | | Azeez Al-Shaair | SF | LB | $3,986,000 | 0.5 |
| Pat Freiermuth | PIT | TE | $1,370,041 | 0.2 | | Troy Reeder | LAR | LB | $1,075,000 | 0.5 |
| Diontae Johnson | PIT | WR | $7,617,870 | 0.8 | | De'Vondre Campbell | GB | LB | $4,241,176 | 0.9 |
| Terry McLaurin | WAS | WR | $7,329,923 | 0.4 | | Frankie Luvu | CAR | LB | $3,485,294 | 0.4 |
| Hunter Renfrow | LV | WR | $3,543,987 | 0.9 | | Kwon Alexander | NYJ | LB | $1,047,500 | 0.5 |
| Amon-Ra St. Brown | DET | WR | $1,021,315 | 0.6 | | Nick Bolton | KC | LB | $1,325,918 | 0.4 |
| Deebo Samuel | SF | WR | $6,676,519 | 1.5 | | Anthony Averett | BAL | CB | $3,910,000 | 0.7 |
| Tee Higgins | CIN | WR | $2,369,124 | 0.7 | | D.J. Reed | SEA | CB | $4,601,765 | 0.7 |
| Creed Humphrey | KC | C | $1,264,820 | 0.3 | | Ahkello Witherspoon | PIT | CB | $2,517,500 | 0.8 |
| David Andrews | NE | C | $4,275,000 | 0.2 | | Rasul Douglas | GB | CB | $3,334,313 | 1.0 |
| Quinton Spain | CIN | OG | $987,500 | 0.2 | | Michael Carter II | NYJ | CB | $907,232 | 0.8 |
| Nick Allegretti | KC | OG | $1,002,988 | 0.1 | | AJ Green | CLE | CB | $825,000 | 0.5 |
| Robert Hunt | MIA | OG | $2,199,748 | 0.3 | | Jordan Whitehead | TB | S | $4,223,382 | 0.9 |
| Trey Smith | KC | OG | $857,676 | 0.2 | | Derwin James | LAC | S | $9,052,000 | 0.7 |
| Chukwuma Okorafor | PIT | OT | $4,333,333 | 0.4 | | L'Jarius Sneed | KC | S | $1,053,580 | 0.9 |
| Alex Cappa | TB | OT | $6,750,000 | 0.3 | | Kamren Curl | WAS | S | $923,332 | 0.4 |
| Kelvin Beachum | ARZ | OT | $2,425,000 | 0.4 | | | | | | |
| Dennis Kelly | GB | OT | $1,047,500 | 0.2 | | | | | | |