NHL Draft 2022 biggest winners and losers: What it means for the 2022/23 Season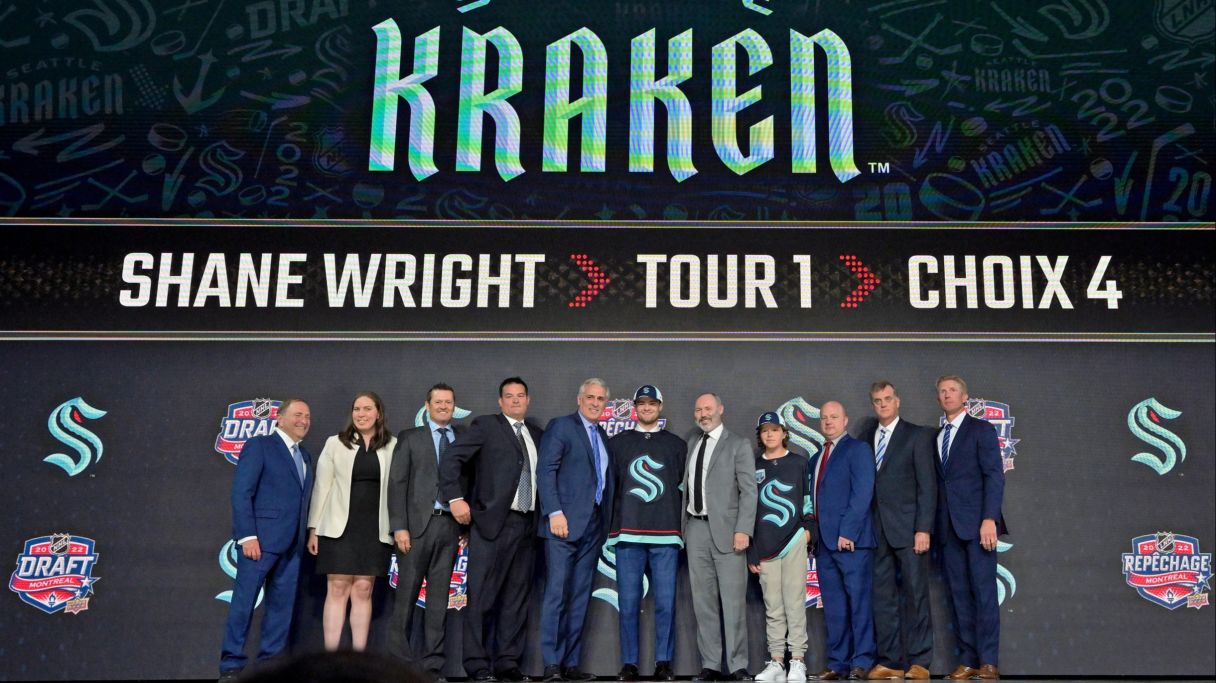 Shane Wright after being selected as the number four overall pick to the Seattle Kraken in the first round of the 2022 NHL Draft at Bell Centre. Pic: Eric Bolte-USA TODAY Sport
The 2022 NHL Draft in Montreal certainly had its share of suspense and intrigue, with the top five picks in the first round setting the tone for what was a night of plenty of surprises. The draft is a key piece of the puzzle to what ultimately makes a team successful.
With that in mind, I'll talk about some of the surprises that took place in the 2022 NHL Draft. We'll discuss which teams did the best with this year's draft and which teams didn't do so well based on player projections. We'll also look at how it will impact next season and the chance to win a Stanley Cup for these teams from a betting perspective.
2022 NHL draft winners
When we talk about winners and losers in the draft we can only go by projections and how we think the player will perform and how they will fit in with the team. As far as teams that I thought did well with their draft class this year, I'll start with the Seattle Kraken who obviously suffered the typical first season struggles as a brand new franchise.
Despite this, they managed to have projected #1 overall pick Shane Wright fall down to the 4th overall pick and Wright ended up in their lap. Seattle gets a player that is expected to be a premier and elite two way center in the NHL with very strong leadership skills and qualities as well. It was the perfect fit for the Kraken to get Wright. After that, Seattle drafted Jagger Firkus, David Goyette and Ty Nelson who are three of the most physically gifted players available in the draft. All three of those players were thought to be possible first round picks. Seattle did an excellent job of drafting the best player on the board each time they had a pick in the draft and to me this team had a very solid draft and improved their team entering next season.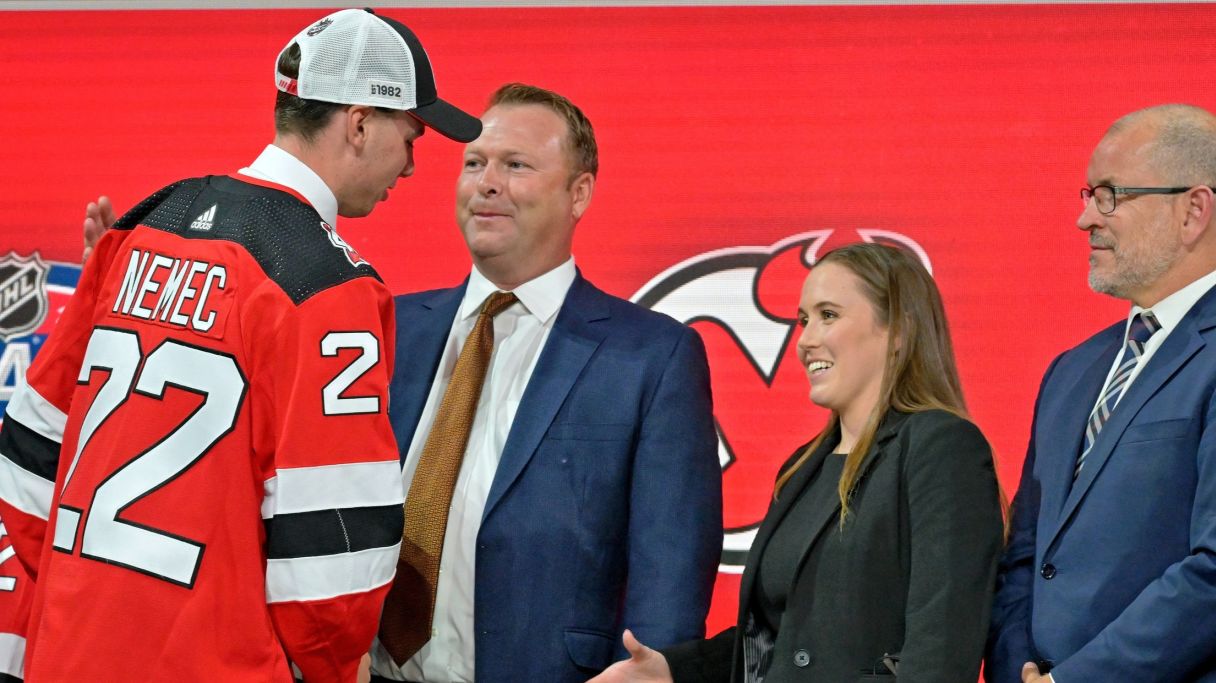 Simon Nemec after being selected as the number two overall pick to the New Jersey Devils in the first round of the 2022 NHL Draft at Bell Centre. Pic: Eric Bolte-USA TODAY Sports
The Buffalo Sabres, Columbus Blue Jackets and Minnesota Wild all drafted strong classes as well in 2022 and their scouting departments for a while have been regarded as being quite good. They lived up to that billing this past season. Columbus could offer some betting value next season because they had a good draft and an offseason that also included the prized free agent signing of Johnny Gaudreau.
Minnesota has accumulated even more quality depth thanks to this year's draft. The Wild are coming off an outstanding regular season albeit they were eliminated in the first round of the playoffs ending their season before anyone in the state of hockey would have wanted. But the building blocks are in place for this team to be one of the upper tier teams in the Western Conference for some time.
The Buffalo Sabres made their backers plenty of dollars late in the regular season last year when they played their best hockey and there is reason for optimism with them going into next season.
2022 NHL draft losers
I think the Arizona Coyotes belong on the list of teams that underwhelmed and didn't do nearly enough in this year's draft to improve in the long term. I don't think Arizona did a good enough job of always selecting the best player available at the time of each of their selections. The Coyotes selected several players projected to be selected lower in the draft than where they picked and I'm not sure that is a shrewd approach for a team in the current state they are.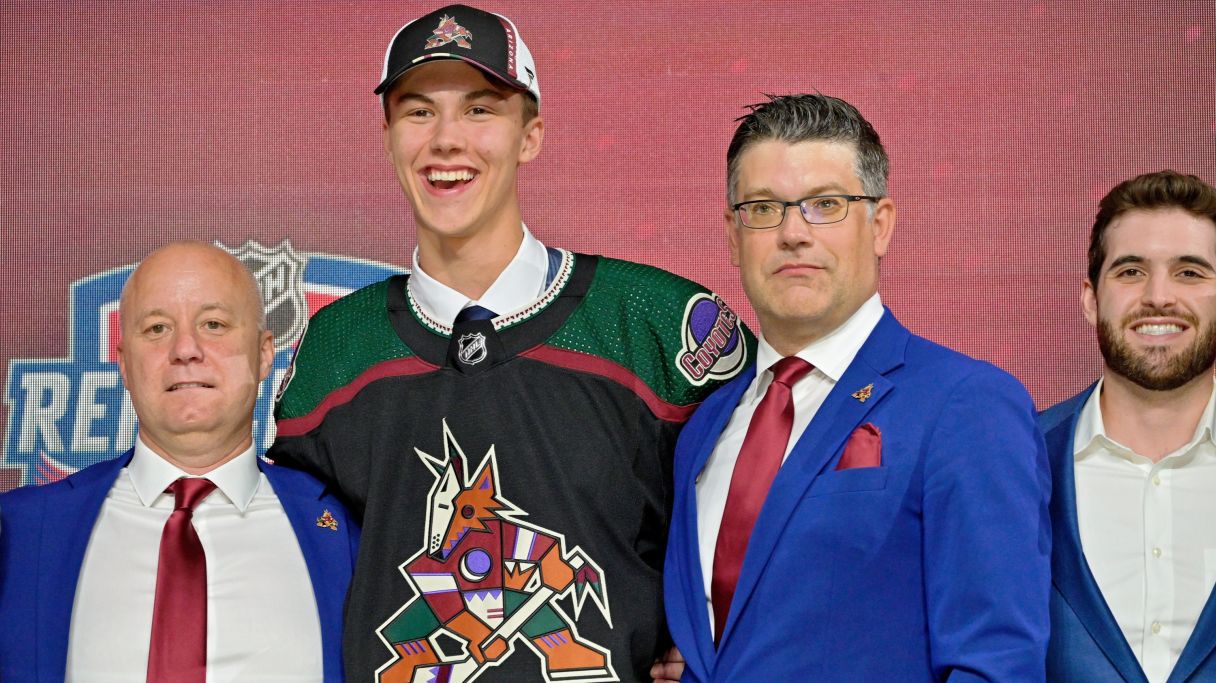 Maveric Lamoureux after being selected as the number twenty-nine overall pick to the Arizona Coyotes in the first round of the 2022 NHL Draft at Bell Centre. Pic: Eric Bolte-USA TODAY Sports
Arizona has a lot of work to do to become just competitive with the rest of the league and we are talking a rebuild that could last multiple years for them. Calgary, Colorado and Florida are three teams that also didn't have a great draft mostly due to the lack of a high volume of draft picks compared to many other teams but that isn't surprising for three teams that were Stanley Cup contenders this past season and hope to be once again this upcoming season.
How does the 2022 NHL draft impact next season?
Only on very rare occasions does a single draft pick or single draft class significantly enhance or lessen a team's chances to have a strong season the following year. The exceptions being the generational talent players that have been drafted over the last decade like Auston Matthews (below) and Connor McDavid. Those two players immediately made their teams better the next season because they are ready for the NHL right away and are so skilled and dominant that they make an instant impact. But those two examples are often the exceptions to the rule.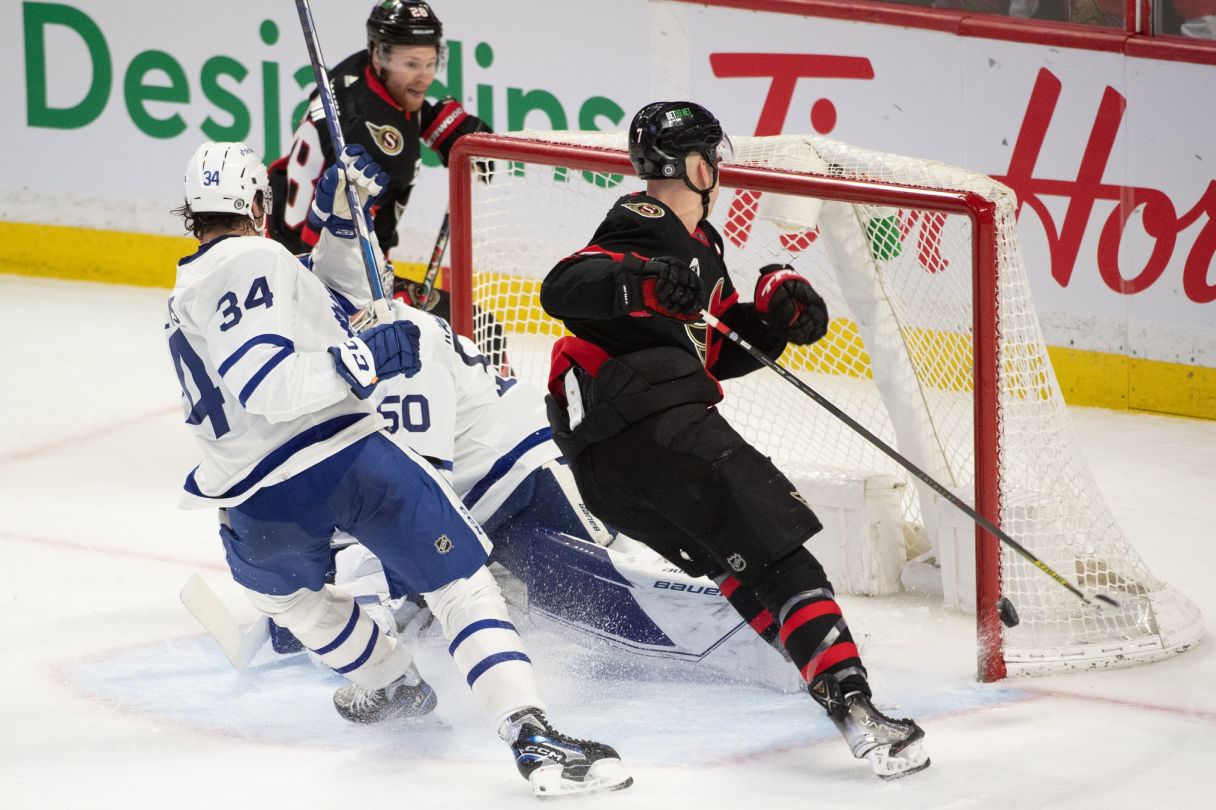 Toronto Maple Leafs center Auston Matthews (34) in action at the Canadian Tire Centre. Pic: Marc DesRosiers-USA TODAY Sports
This year's draft didn't feature any players worthy of being called a "franchise player" so most of these teams will see their draft class and even their first round picks not make an impact on their team for possibly two or three years. I would say that Shane Wright with Seattle might be the one player who is almost assuredly going to be in the opening night lineup for the Kraken next season. The 4th overall pick should form what will become the long-term, bright future for the team at the center ice position with him and Matty Beniers. Seattle is a team that could make one of the biggest jumps in terms of improvement from last season to next season and I would say they will be a 'bet on' squad and a profitable one as well.
The 2022 NHL Draft class was the weakest overall collection of players in years and as a result, I would not expect any of the players drafted in this year's draft to greatly enhance any team's Stanley Cup aspirations for the 2022-2023 season.
Stanley Cup 2023 betting odds
| Team | Odds |
| --- | --- |
| Colorado Avalanche | +450 |
| Toronto Maple Leafs | +850 |
| Tampa Bay Lightning | +900 |
| Florida Panthers | +1000 |
| Carolina Hurricanes | +1200 |
| Vegas Golden Knights | +1400 |
| Edmonton Oilers | +1600 |
| Calgary Flames | +1800 |
| Minnesota Wild | +1800 |
| New York Rangers | +2000 |
| Pittsburgh Penguins | +2000 |
| St Louis Blues | +2200 |
| Boston Bruins | +2500 |
| New York Islanders | +3000 |
| Washington Capitals | +3500 |
| Dallas Stars | +4000 |
| Detroit Red Wings | +4000 |
| L.A. Kings | +4000 |
| Nashville Predators | +5000 |
| Ottawa Senators | +5000 |
| Vancouver Canuck | +5000 |
| New Jersey Devils | +6600 |
| Philadelphia Flyers | +6600 |
| Winnipeg Jets | +6600 |
| Anaheim Ducks | +8000 |
| Buffalo Sabres | +8000 |
| Chicago Blackhawks | +10000 |
| Columbus Blue Jackets | +10000 |
| San Jose Sharks | +10000 |
| Seattle Kraken | +12500 |
| Montreal Canadiens | +15000 |
| Arizona Coyotes | +50000 |