Best betting sites in the US 2022
The online sports betting industry is an incredibly competitive place for sportsbooks. There is a lot of choice for bettors when it comes to finding the best betting apps and most trusted sports betting sites. Whether you're after promos and free bets, the best same game parlay offerings, or want to line shop for the lowest vig (the amount that sportsbooks charge for taking a bet), there are so many options to consider. That's why we're here to help.
We have put together a conclusive list of the best betting sites available to US sports bettors. While there are intricacies based on state legislation – a situation that is constantly changing – our detailed analysis of US sportsbooks caters to all types of bettor, helping to make the decision on which sportsbook to use as simple and straightforward as possible.
Top betting sites in US
Our team of sports betting experts has leveraged their decades worth of experience to develop the OnlineBetting.com Trusted Sportsbook System to rate individual sportsbooks. This rigorous process, involving thorough testing and in-depth analysis of standardized criteria, enables us to put together a list of the best sportsbooks for US bettors. The use of clearly documented data points for sportsbook reviews allows this system to produce fair and impartial scoring, based on factors that our research shows are the most important for sports bettors.
In addition to our list below of the top 13 best online betting sites, our team have also put together detailed sportsbook reviews to help provide more detail. This means we can give you all the information you need
The most trusted betting sites in US
We know that trust is key for bettors. If you're parting with your cash, you want to be able to sit back and enjoy the game with the knowledge that if your bet wins, you won't have any issues getting your money. It's also important to know that the offers and promotions that sportsbooks advertise are easy to understand.
The OnlineBetting.com Trusted Sportsbook System not only guarantees a safe and secure sports betting experience, it is continuously reviewed with regular updates to our sportsbook reviews and ratings to consistently provide the most accurate information possible.
How we rate online sportsbooks
Betting at the right sportsbook is one of the most important factors in ensuring we have an enjoyable sports betting experience. At OnlineBetting.com, we make finding the right sportsbook for you as easy as possible. We do all the hard work, allowing you to focus on choosing what to bet on and enjoying the action.
How to choose the right sportsbook
There is no reason why you can't spend your time researching all your available options when it comes to choosing a sportsbook. There are all the intricacies of their offerings and some may be better suited to you than others, depending on what you're after. However, this is a time-consuming exercise, and it is difficult to capture all the important points of consideration when doing it by yourself.
The OnlineBetting.com Trusted Sportsbook System is the most in-depth sportsbook rating system available online. It has been developed by experts and refined through testing with real life bettors, from complete beginners to high stakes professionals. Our focus is on using a data-led approach, producing impartial results which can be tailored to your specific needs. This process for rating sportsbooks is clearly explained below.
How safe is the sportsbook? What kind of benefits do they offer? Do they offer good odds and the markets you want to bet on? How easy is it to deposit and withdraw money? Can you speak to an actual person when you have an issue? These are just some examples of important questions bettors may want answered. Our system provides those answers and helps you make more informed decisions about which sportsbook is best for you, without having to spend too much doing the research yourself.
What is the OnlineBetting.com Trusted Sportsbook System?
We believe it's important to provide transparency and show how the OnlineBetting.com Trusted Sportsbook System works. It allows you to understand the level of detail that has gone into determining our sportsbook ratings and the amount of research required to provide a rating for each sportsbook. While we simplify the final output to give you an easy-to-understand rating, we also provide insight into the complexities that determine these ratings.
In short, the OnlineBetting.com Trusted Sportsbook System is a five-point rating system that can be applied to any online sportsbook. The rating for a particular sportsbook is generated by analysing 85 different data points across eight key criteria, with specific weighting to the most important factors. These are all determined by real bettors. The criteria, benchmarks and weighting are all relative to where a sportsbook operates and the customers it serves; we know a US sportsbook should be held to different rating criteria compared to a sportsbook based elsewhere.
The rating given to a sportsbook is the result of a detailed review conducted by our in-house experts who will consult with real life bettors for every review that we publish. The same criteria and guidelines are always followed for each review (and subsequent rating), while also being assessed and validated by other members of the team before being finalised and published.
How does the OnlineBetting.com Trusted Sportsbook System work?
Below is a breakdown of the criteria that is reviewed as part of the OnlineBetting.com Trusted Sportsbook System.

Offers: One quick look at your options for signing up to a sportsbook and you'll see that there are plenty of different offers available to new customers. We make sure these offers provide proper value to you as a customer and that they're not just a one-off promotion provided by the sportsbook.
User experience: Whether it's the sign up process, making a deposit, navigating the sportsbook, placing a bet, or the functionality of any of the features on offer, using your sportsbook should be as stress-free as possible. Our ratings for user experience focus on finding the easiest sportsbooks to use.

Banking: What's the point of having a great sportsbook if it isn't easy to deposit and withdraw your money? In addition to a variety of options, we look for sportsbooks that process your deposits and withdrawals quickly and efficiently.

App: One of the best parts of betting nowadays is holding the ability to place your bets in the palm of your hand. If you want to bet while watching the game or when you're on the move, it's essential that your sportsbook has an app. Importantly, this app should be just as good as its desktop counterpart.

Value: It goes without saying that the best sportsbooks out there are the ones that give you the best chance of making a profit in the long run. While these businesses still need to make money, some offer a lot more value than others. We take an in-depth look at the juice (also known as vig/vigorish or margin) to make sure your sportsbook is keeping things fair.

Betting coverage: The number of available betting options is crucial for customers. Most sportsbooks will offer the basics across the NFL, NBA, MLB and NHL, but we know that people want much more than that. We look at the number of sports, bet types and the markets available to bet on at sportsbooks, as well as the quality of any additional betting features; in-play betting, for example.

Customer service: Even at the best sportsbooks in the world some things don't go to plan. That's why it's important that the sportsbook you choose is easy to contact and that they respond quickly. We know there's nothing more frustrating than trying to sort out a bet settlement or withdrawal issue and having to deal with an automated messages from a robot.

Player protection: Betting should always be about having fun. Sometimes that isn't always the case and bettors need to adjust their betting activity. Sportsbooks play a crucial role in supporting customers and helping them to always bet responsibly. That's why a core part of our rating is based on the gambling controls available to customers, how easy they are to access, and the additional responsible gambling awareness work carried out by sportsbooks.
What do our ratings means?
The OnlineBetting.com Trusted Sportsbook System criteria is broken down and compared against industry standards to provide a clear individual score breakdown (from 1-5 with 0.5 increments included).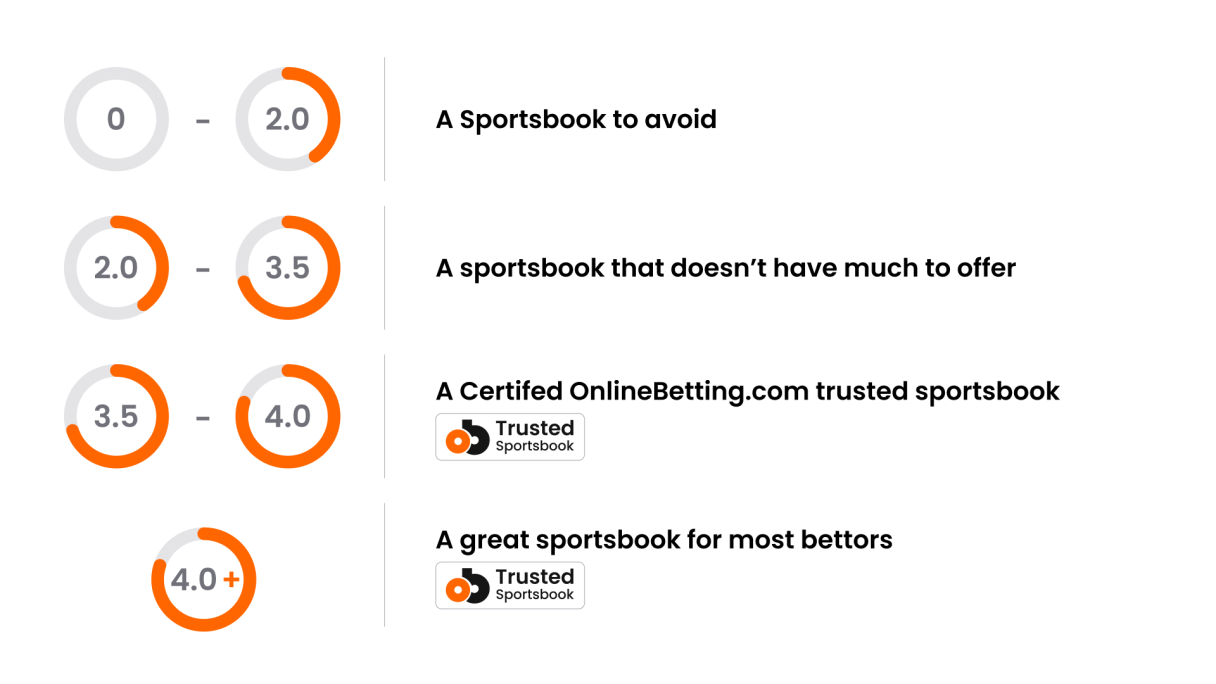 If a sportsbook has an overall score below 2.0 then we strongly recommend it be avoided as most bettors will run into some sort of issue or frustration. If the score is between 2 and 3.5, there is work to be done by the sportsbook to make improvements, although some bettors may still get something out of signing up and using the services. If a sportsbook scores over 3.5, then it can be trusted to provide a positive experience to most bettors and is deemed to be an OnlineBetting.com Trusted Sportsbook. Anything above a 4 will deliver an excellent experience to customers and is worth signing up to help you learn more about what they can offer you and your specific needs.
Scoring criteria
These scores, for each criteria, are then averaged out to produce the overall rating out of five.
| Score | Offers |
| --- | --- |
| 1 | No offers ever made available to customers |
| 1.5 | <$10 in bonuses made available to customers |
| 2 | $10-$20 in bonuses made available to customer |
| 2.5 | $20-$30 in bonuses made available to customers |
| 3 | $30-$50 in bonuses made available to customers |
| 3.5 | $50-$100 in bonuses made available to customers |
| 4 | $100-$150 in bonuses made available to customers |
| 4.5 | $150-$250 in bonuses made available to customers |
| 5 | $250+ in bonuses made available to customers |
| Score | User experience |
| --- | --- |
| 1 | It takes multiple attempts to sign up. The sportsbook is frustrating to use. It is very difficult to find what you're looking for and can result in missing the opportunity to place a bet. |
| 1.5 | The sign up process may take multiple attempts and requires support. Finding what you're looking for can be frustrating. Placing your desired bet in time is a challenge. |
| 2 | The sign up process is difficult and requires support to navigate. It is hard to find what you are looking for without support. Placing your desired bet can be a challenge. |
| 2.5 | The sign up process is relatively time consuming. You can find what you are looking for without support. You can place your desired bet in in minutes. |
| 3 | The sign up process is relatively straightforward. You can find what you are looking for without support. You can place your desired bet in in minutes. |
| 3.5 | The sign up process is simple and straightforward. You can find what you are looking for without support. You can place your desired bet in in minutes. |
| 4 | The sign up process is seamless. You can find the majority of features you are looking for with relative ease. You can place your desired bet in seconds. |
| 4.5 | The sign up process is seamless. It is easy to find anything you are looking for from specific events to different markets and bet types. You can place your desired bet in seconds. |
| 5 | The user experience cannot be faulted after vigorous testing to meet various needs. |
| Score | Banking |
| --- | --- |
| 1 | No choice of banking options with less than $250 max limits available and a payout speed in excess of 7 days. |
| 1.5 | Less than 2 banking option available with less than $500 max limits available and a payout speed in excess of 7 days. |
| 2 | 2-3 banking option available with less than $500 max deposit limits available and a payout speed in excess of 7 days. |
| 2.5 | 3-5 banking option available with less than $1,000 max deposit limits available and a payout speed in excess of 7 days. |
| 3 | 3-5 banking option available with less than $1,000 max deposit limits available and a payout speed of 5-7 days. |
| 3.5 | 5-7 banking options available with up to $5,000+ max deposit limits for some options and a typical payout speed of 3-5 days. |
| 4 | 5-7 banking options available with up to $5,000+ max deposit limits for some options and a typical payout speed of 2-3 days. |
| 4.5 | 8+ banking options available with up to $10,000+ max deposit limits for some options and a typical payout speed of 1-2 days. |
| 5 | 8+ deposit options available with up to $10,000+ max deposit limits for some options and a typical payout speed of under 24 hours. |
| Score | App |
| --- | --- |
| 1 | There is no app or mobile version of the website available. |
| 1.5 | There is no app or mobile version of the website available. The sportsbook has communication plans to develop one. |
| 2 | The app or mobile version of the website is in development. |
| 2.5 | There is an app available but only on limited devices. The interface makes it difficult to use and there are regular performance issues that result in it being unusable. |
| 3 | There is an app available but only on limited devices. The interface can be difficult to use and performance issues can sometimes occur. |
| 3.5 | The app is available on both iOS and Android with an easy to use interface. There are minor differences between the app and desktop version of the site. Performance issues can sometimes occur. |
| 4 | The app is available on both iOS and Android and has a similar offering to the desktop version of the site. App performance is reliable with only minor disruptions. |
| 4.5 | The app is available on both iOS and Android and has exactly the same offering as the desktop version of the site. App performance is reliable with very few disruptions. |
| 5 | The app is available on both iOS and Android and has exactly the same offering as the desktop version of the site. There is no disruption with the app performance. |
| Score | Odds comparison |
| --- | --- |
| 1 | 20%+ vig on the majority of markets |
| 1.5 | 18-20% vig on the majority of markets |
| 2 | 16-18% vig on the majority of markets |
| 2.5 | 14-16% vig on the majority of markets |
| 3 | 12-14% vig on the majority of markets |
| 3.5 | 10-12% vig on the majority of markets |
| 4 | 7-9% vig on the majority of markets |
| 4.5 | 5-7% vig on the majority of markets |
| 5 | <5% vig on the majority of markets |
| Score | Betting options |
| --- | --- |
| 1 | The sportsbook does not offer main betting markets (money line, spread and totals) for major sports (NFL, NBA, MLB and NHL). |
| 1.5 | Main betting markets are regularly unavailable for major sports. |
| 2 | Main betting markets are sometimes unavailable for major sports. |
| 2.5 | Consistent offering of main betting markets for pre-game betting for all major sports. |
| 3 | Consistent offering of main betting markets for pre-game and live betting for all major sports. |
| 3.5 | Main betting markets for all major sports are always available for pre-game and live betting. At least 100 different markets available across 30+ sports and leagues |
| 4 | Main betting markets for all major sports are always available for pre-game and live betting. More than 250 different markets available across 30+ sports and leagues with some additional features. |
| 4.5 | Main betting markets are available to sometimes available to bet early with limited delays on live betting. More than 500 markets available across 40+ sports and leagues with multiple additional features. |
| 5 | All betting markets for all major sports are available to bet early with minimal delays on live betting. More than 600 different markets available across 50+ sports and leagues with numerous additional features. |
| Score | Customer service |
| --- | --- |
| 1 | Very difficult to find contact information and no response from customer service. |
| 1.5 | Very difficult to find contact information with limited response from customer service. |
| 2 | At least one contact option is clearly advertised. Unreliable in response time/responding at all. |
| 2.5 | At least one contact option is clearly advertised. Typical response time is within days. |
| 3 | At least one contact option is clearly advertised. Typical response time is within 24 hours. |
| 3.5 | Two or more contact options are clearly advertised. Typical response time is within 24 hours. |
| 4 | Three or more contact options clearly advertised. Typical response time is under 12 hours. |
| 4.5 | Four or more contact options clearly advertised. Typical response time is under an hour with polite and friendly staff. |
| 5 | Five or more contact options (for example, live chat, phone, email, social media, contact address) clearly advertised. Typical response time is in minutes with polite and friendly staff. |
| Score | Player protection |
| --- | --- |
| 1 | Requests for responsible gambling tools or support goes unanswered. |
| 1.5 | No responsible gambling tools or information is accessible unless requested. |
| 2 | Responsible gambling tools and information does exist but is difficult to find on the website and/or app. |
| 2.5 | Some responsible gambling controls are available to customers. |
| 3 | All major responsible gambling controls are available to customers but require additional support to activate. |
| 3.5 | All major responsible gambling controls are available to customers and are easy to activate. |
| 4 | Will sometimes check in for player welfare. All main responsible gambling controls are available to customers and are easy to activate. |
| 4.5 | Regular check in for player welfare. All main responsible gambling controls are available to customers and are easy to activate. |
| 5 | Regular check in for player welfare. All main responsible gambling controls are available to customers and are easy to activate. Online presence is used to promote safe gambling. |