Dealbreakers: Sports and relationships
It's one thing to be devoted to your significant other, but some of us are equally, or more, devoted to another love: our favorite sports team. When it comes to the love that Americans have for their favorite teams, does that love impact their dating life and relationships? We surveyed more than 1,100 Americans to find out their top dating dealbreakers when it comes to sports and which MLB fan bases they think are the best (and worst) in the dating world.
Dateable or Dumpable MLB Fan Bases

As Katy Perry once sang: California girls, they're unforgettable. People agreed. Los Angeles Dodgers fans are considered the most dateable and flirtiest in the MLB. LA Angels fans ranked the third flirtiest fan base and fifth most dateable. The San Francisco Giants and San Diego Padres fans ranked the 9th and 10th flirtiest respectively. But you better watch your heart. Dodgers fans ranked the third most likely to cheat!
People were torn about New York Yankees fans. The fan base ranked the second most datable and flirtiest, but they also ranked the most dumpable, most likely to cheat, and most likely to be eternally single. Ouch.
The Houston Astros ranked the fifth most likely to cheat. We can't say we're surprised (remember the sign stealing scandal?). People were especially critical of Philadelphia Phillies fans. The only list that fan base made was the most dumpable (#6).
Others who landed in the eternally single category included the Boston Red Sox (#2), Arizona Diamondbacks (#3), Chicago Cubs (#4), Cleveland Guardians (#5), Detroit Tigers (#6), Oakland Athletics (#7), Miami Marlins (#8), Baltimore Orioles (#9), and New York Mets (#10). But you never know with those Cubbies and Red Sox. The MLB fan bases also ranked in the top five fan bases that are marriage material!
The other fan bases people want to put a ring on include the Colorado Rockies (#1), Atlanta Braves (#2), Toronto Blue Jays (#4), Los Angeles Dodgers (#6), Minnesota Twins (#7), New York Yankees (#8), Seattle Mariners (#9), as well as the Texas Rangers, San Francisco Giants, and Kansas City Royals who all tied for 10th place!
Rival teams and fans
Most Americans won't let their favorite sports team get in the way of love, with 93% of people saying they could date a fan of their rival sports team. Of those, almost half say that even though they would, they'd rather not. Broken down, 41% of women and 45% of men say they would prefer not to date a fan of a rival sports team.
Those who said dating a fan of a rival team would be a dealbreaker are mostly fans of the Cleveland Browns, so keep an eye out Steeler fans as it appears difficult to find true love amid the Turnpike rivalry. Maybe keep an eye out on dating apps for fans of other NFL teams .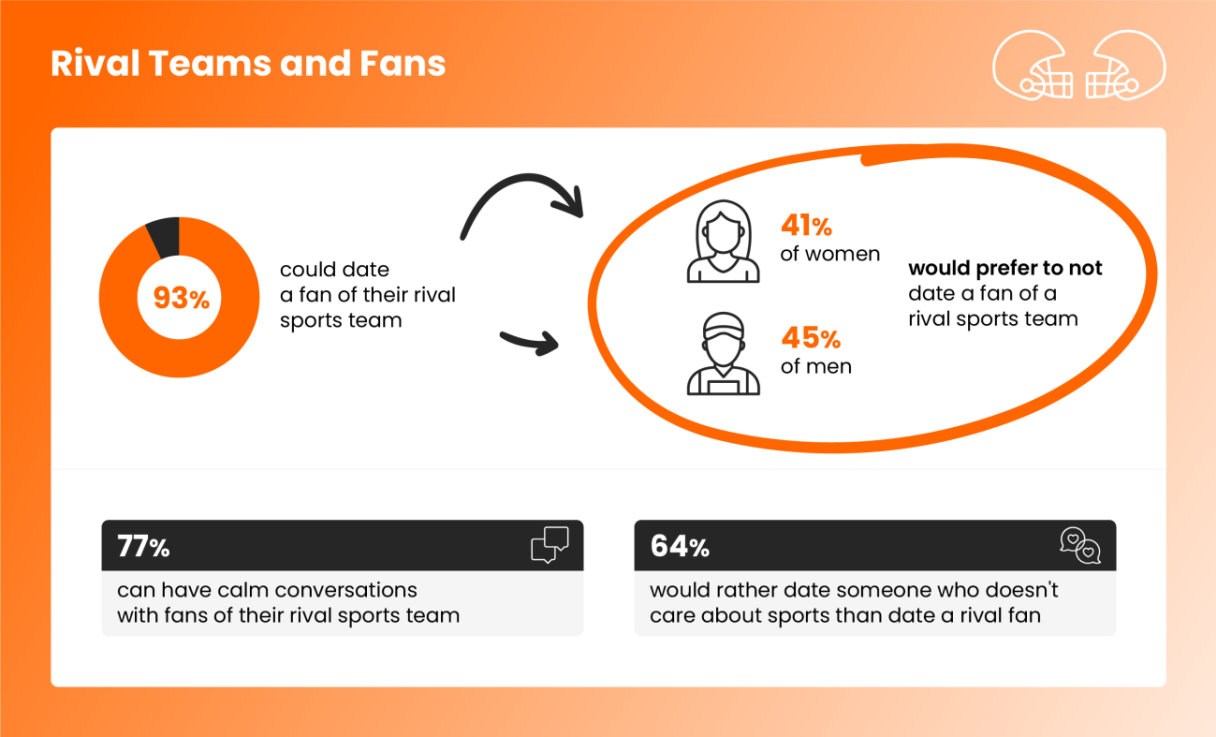 No couple wants to argue, so it's a relief to see that more than three quarters (77%) of Americans say they can have calm conversations with a fan of a rival sports team.
Despite saying they could date a fan of a rival sports team, 64% of Americans say they'd rather date someone who doesn't care about sports at all over someone who's a fan of their rival team.
Sports and relationships
Just like an athlete making their first appearance for a team, when we start dating someone we want to impress. Over one quarter (27%) have pretended to like a sport to please a partner, and almost half (43%) have even done research to learn more about their date's favorite sport or team.
Plus, 40% say they've even gone to a sports game they don't like just to please their date. One in five (20%) of Americans say they even pretended to like a certain team to please their partner.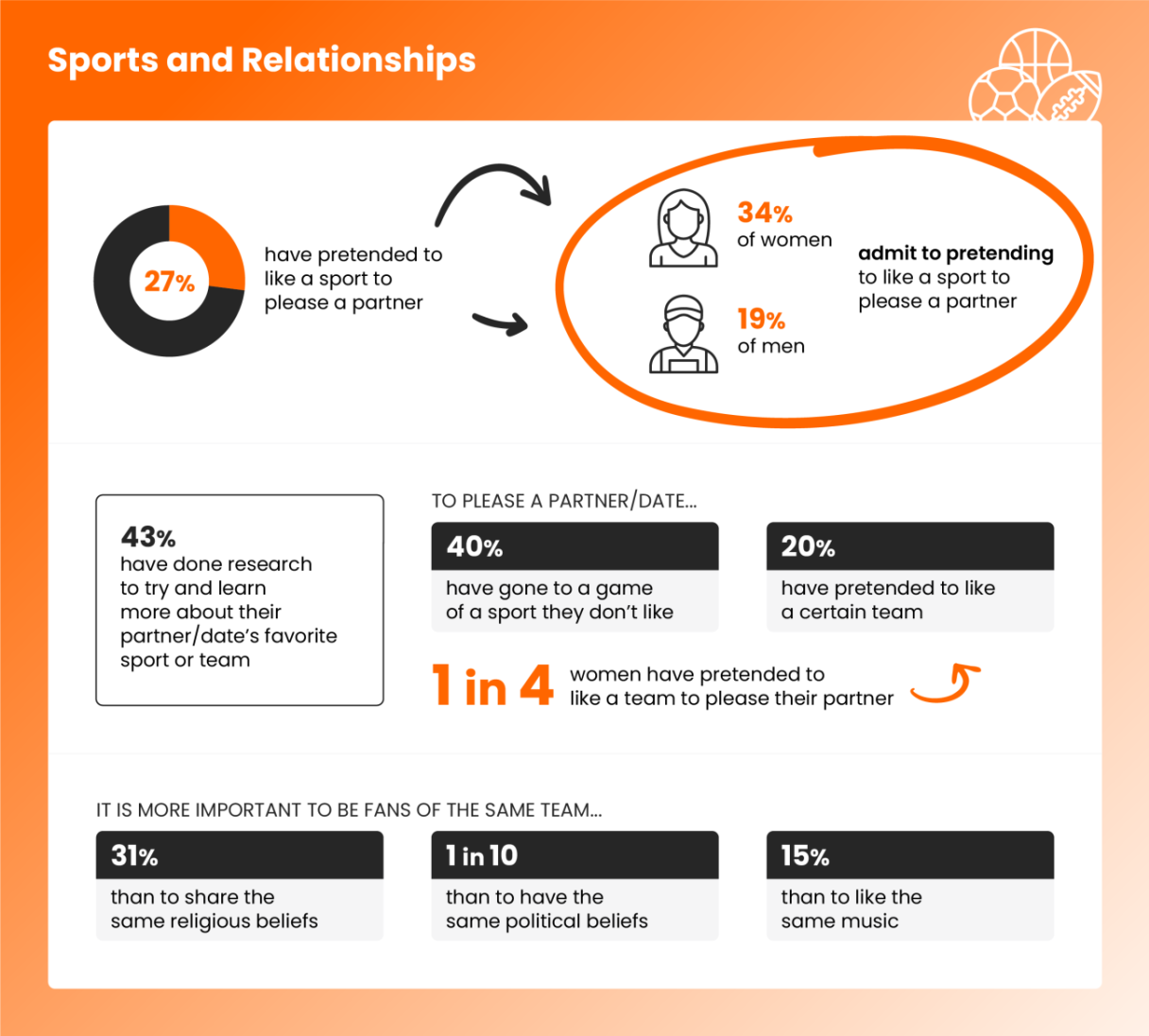 When it comes to what's more important in a partner:
31% of Americans say it's more important to be fans of the same sports team than to share the same religious beliefs

One in 10 say it's more important to be fans of the same team than to share the same political beliefs

15% say it's more important to be fans of the same team than to like the same music
Sports watching and relationships
Now we know what Americans are willing to settle for. But what do they secretly wish their date really thought when it comes to sports? Almost one quarter (22%) say they wish their partner was more interested in sports, while only 12% wish their partner was actually less interested in sports.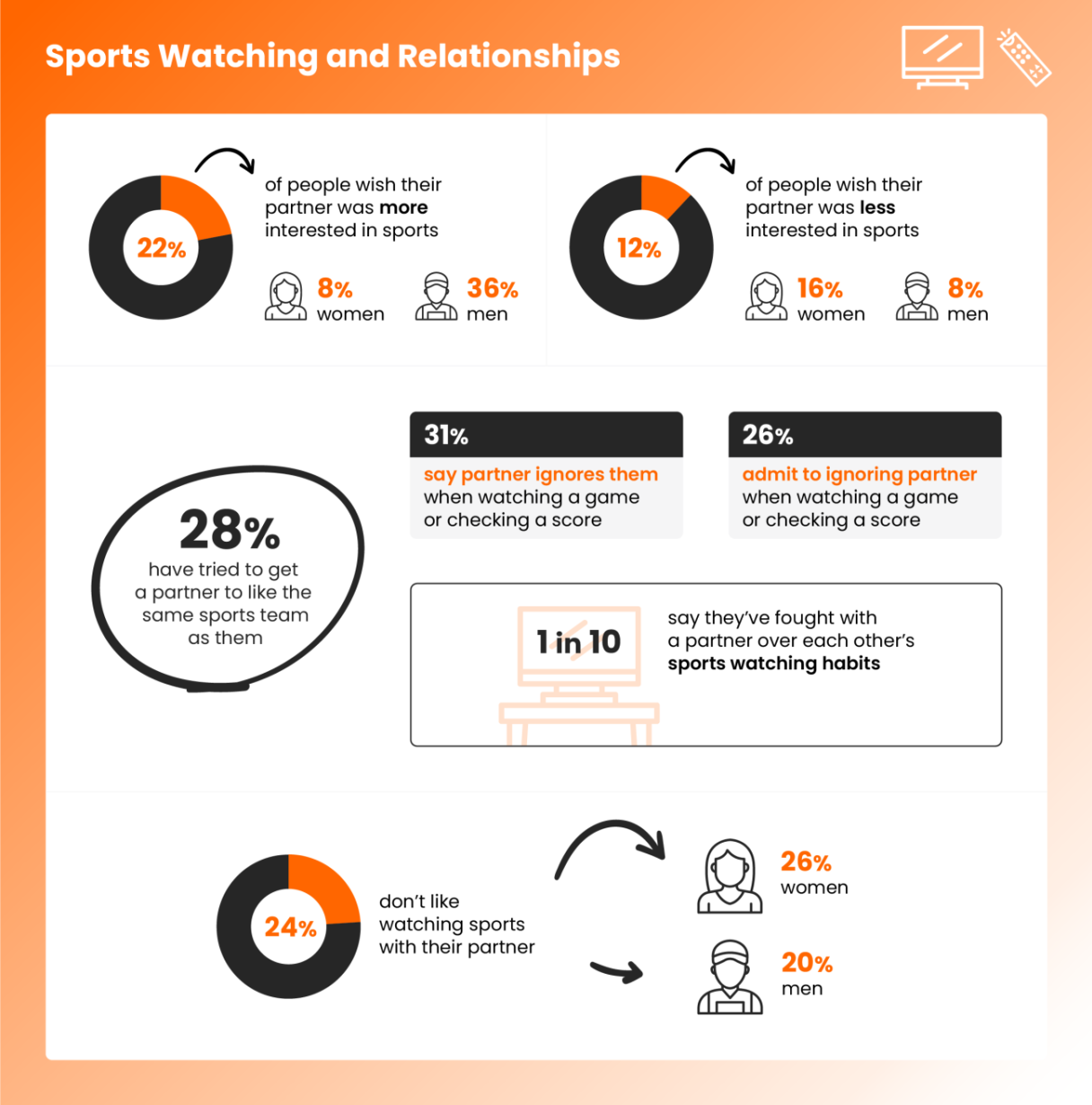 It seems like even though most Americans are willing to overlook their dates' dedication to a particular team, 28% have tried to get a date to like the same team as themselves.
The passion for a sports team may, however, cause trouble in paradise, as one in 10 Americans say they've fought with a partner over sports. Maybe that's because 31% say they've been ignored by a partner who was checking a game or score, or because almost one quarter (24%) don't actually like watching sports with their partner.
Sporting merchandise
If you're a sports fan and decked out in your team's colors, it may even help you find your perfect partner. More than half (51%) of Americans think wearing a sports jersey is attractive, and 19% say jerseys automatically make someone look more attractive.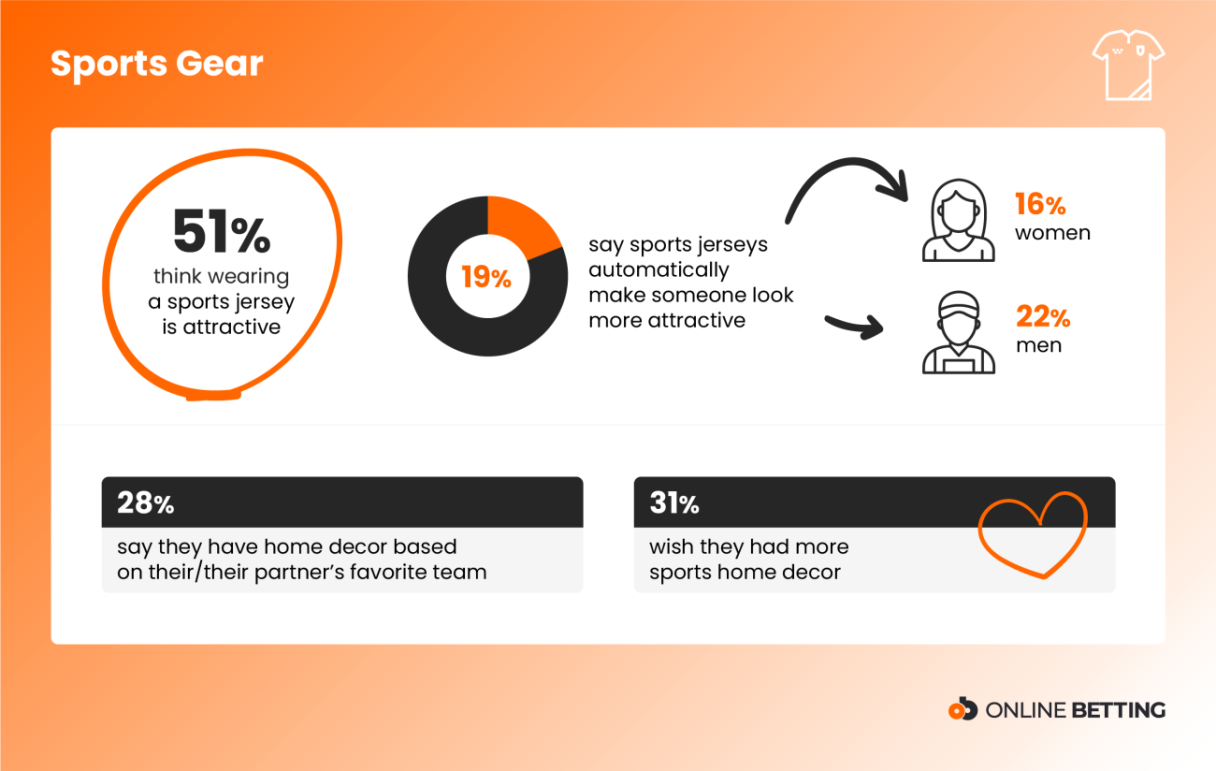 If sports merch is your thing, 28% of Americans say they have some sort of home decor based on their partner's favorite team.
Wrap up
Next time you're swiping on dating apps, maybe include your favorite sports team in your bio to weed out those who'll hold it against you. And include a photo of you in a jersey for good measure.
Methodology : We surveyed 1,114 Americans about their opinions on how sports impact relationships. Of those surveyed, 60% were married, 34% were in a relationship, 4% were engaged, and 2% were single. Respondents were 49% male, 48% female, and 3% non-binary or transgender. The average age of all respondents was 38 years old.
Fair use : When using this data and research, please attribute by linking to this study and citing Online Betting .