UFC 274 picks: Gaethje picked to edge by Oliveira but betting value lies elsewhere
| Our pick | Michael Chandler vs Tony Ferguson |
| --- | --- |
| Where | Footprint Center, Phoenix, Arizona |
| When | Saturday, May 7, 11:00pm ET |
| Chandler via decision | +240 |
| Fight to go the distance | +150 |
| TV | ESPN+ |
We've got ourselves a solid night of fights this weekend when the UFC heads to Phoenix, Arizona, for UFC 274. Two title fights, plus a couple blasts from the MMA past, and one desperate struggle between veteran lightweights trying to prove that they're still contenders despite recent losses. In other words, a little something for everyone.
But for the savvy gambler, events like this present some challenges. For one thing, good fights between evenly matched opponents are hard to call. UFC lightweight champ Charles Oliveira seems to be at the height of his powers, but here he's facing Justin Gaethje, a dangerous slugger with exactly the right style to give the champ problems – especially early in the fight. (I lean towards Gaethje here, but confidently enough to throw more than a small bet on at +145 odds.)
https://twitter.com/ufc/status/1522373451947909125
It's a similar story with the first fight on the main card. Donald Cerrone isn't the fighter he once was, and neither is his opponent Joe Lauzon, but who's fallen the farthest and who has the better chance to be great again if only for a night? (Here I favor Lauzon, and the +155 line is tempting.)
One that seems a lot easier to call is the rematch between strawweight champ Rose Namajunas (-210) and former champ Carla Esparza (+175). It's not 2014 anymore and this version of Namajunas beats this version of Esparza nine out of 10 times. The underdog odds aren't even good enough to be worth the risk here.
My favorite pick on this lineup actually comes from the fight that oddsmakers are expecting to be the least competitive. Former Bellator champ Michael Chandler enters as a big favorite (-365) over Tony Ferguson (+280). It's not hard to see why. Chandler may have two straight losses, but they came against two of the best in the division. Ferguson lost to those same two people, but also followed that with a loss to Beneil Dariush, which is when he really started to look like a nearly 40-year-old man in steady decline.
https://twitter.com/MikeChandlerMMA/status/1521168996049035265
I think Chandler probably wins this. Ferguson has some tricks in his bag, no doubt, and he's tough as can be, but I still have a hard time picturing how he beats the athletic, dynamic Chandler. That said, I think Chandler is going to have to put in three rounds of work to get the win here, since Ferguson is notoriously difficult to finish. Even Gaethje – who lambasted him with many, many punches that would have put most of us in a coma – couldn't get him out of there inside three rounds.
It's possible that Ferguson's decline will affect his resiliency at some point. It's also possible he's found the fountain of youth in his time away from the cage recently. But if you're looking for the most likely scenario, based on what we actually know and not what we might want to talk ourselves into believing? Then Chandler via decision is your best bet, and you can get fairly juicy +240 odds on it right now. If you want to play it safer, it's also worth looking at the +150 odds that this fight goes the distance regardless of who wins.
UFC 274 free betting picks:
Michael Chandler via decision (+240)

Chandler vs Ferguson: Fight to go the distance - Yes (+150)
Oliveira vs Gaethje headlines a fantastic night of action in Phoenix on Saturday night. Here's the full UFC 273 fight card and prelims.
Charles Oliveira vs Justin Gaethje

Rose Namajunas vs Carla Esparza

Michael Chandler vs Tony Ferguson

Mauricio Rua vs Ovince Saint Preux

Donald Cerrone vs Joe Lauzon

Randy Brown vs. Khaos Williams

Macy Chiasson vs Norma Dumont

Brandon Royval vs Matt Schnell

Blagoy Ivanov vs Marcos Rogerio de Lima
You can find a UFC 274 live stream on ESPN.com. The UFC 274 main event and prelims can be streamed around the world on smartphones, iPads, Fire Sticks and laptops. In the UK, the event will be live on BT Sport.
Want more combat sports betting picks?
Want to bet on more combat sports? We also have expert boxing handicappers providing free picks and expert insight into the biggest fights in the industry. Each week, they find the best value bets in the sport and do all the hard work so you don't have to.
UFC bets explained
To win fight
This is the most straightforward bet you will find at UFC betting sites. Which of the fighters do you think will emerge victorious from the Octagon? Simply make your choice after studying the form and the odds available and place a wager in line with your judgment.
Method of victory
There are several ways in which a UFC bout can end, including knockout, technical knockout, submission or a points verdict. You will find UFC betting odds on each of those outcomes – select the method in which you think the fight will end and place your stake accordingly.
Round betting
Standard UFC fights consist of three five-minute rounds. In championship bouts, there are five. If you choose to predict in which round the fight will finish – regardless of who you think the winner will be – you will be able to find UFC odds for that result.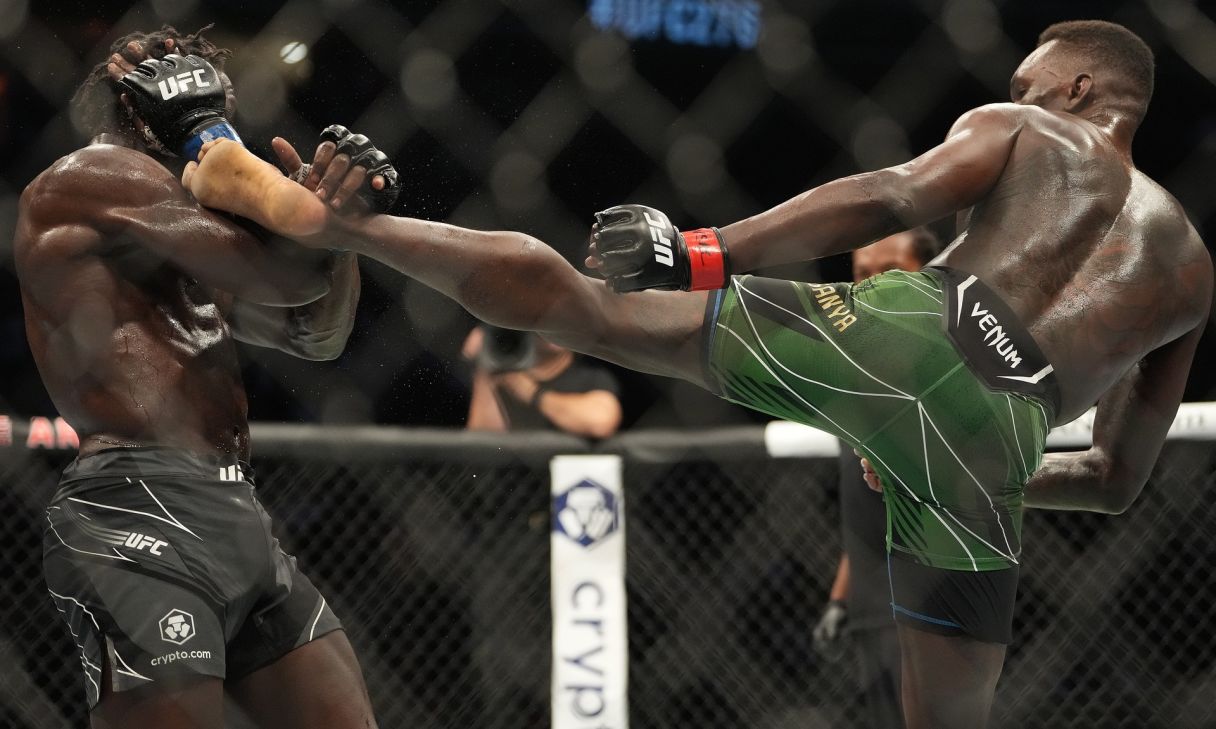 Israel Adesanya attempts a kick on Jared Cannonier (blue gloves) in a bout during UFC 276 at T-Mobile Arena. Mandatory Credit: Stephen R. Sylvanie-USA TODAY Sports
When will fight end
This is similar to round betting, except that this market includes the option for the fight to go the full distance and be decided on points. When you have assessed the UFC betting odds on the various outcomes and made your selection, you will be able to back your choice.
Method and round combination
A slightly more complicated wager, in that you have to predict two things. How will the fight end, and at what stage? You will find UFC betting lines that include all the various combinations and it will provide an extra interest as the action unfolds.
Total rounds
If you think you know how long a bout will last, this offers you an over/under option. The sportsbook will set a number of rounds; if you believe the fight will last more than that, you go "over" and if you think it will be over more quickly, the "under" is for you.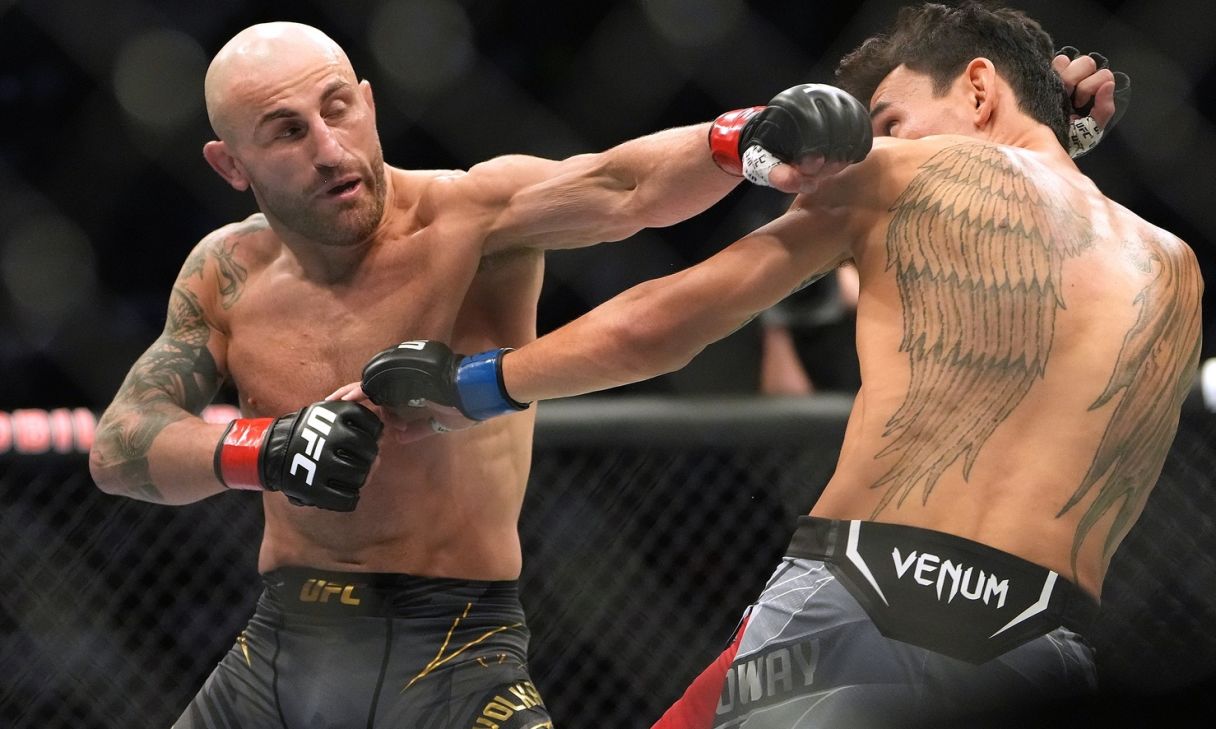 Alexander Volkanovski (red gloves) and Max Holloway (blue gloves) fight in a bout during UFC 276 at T-Mobile Arena. Pic: Stephen R. Sylvanie-USA TODAY Sports
Fight to go the distance
UFC betting sites will offer you a simple yes/no option. Will the fight last the full number of rounds? The sportsbook will present odds on each of the two outcomes and you decide – using your knowledge of the fighters involved – which to wager on.
Method of victory double chance
When you believe a fighter will prevail, but really can't decide how they will do so, this is for you. Instead of having to back a single method of victory, you will be able to choose UFC odds covering two ways in which your pick will win, doubling your chance of a return.