UFC betting picks: Masvidal vs Covington fight prediction & odds
| Jorge Masvidal vs Colby Covington | Preview and Pick |
| --- | --- |
| Where | T-Mobile Arena, Vegas |
| When | Saturday, March 5, 10pm ET |
| Jorge Masvidal odds | +280 |
| Covington odds | -290 |
| TV | ESPN+ PPV |
Former friends, training partners and housemates clash in a true grudge match at UFC 272 on Saturday as Colby 'Chaos' Covington (16-3) squares off against former ally Jorge 'Gamebred' Masvidal (35-15) in Las Vegas.
Both men are coming off two humbling defeats to welterweight king Kamaru Usman. Covington's fifth-round TKO and unanimous decision loss sandwiched a dominant TKO win over Tyron Woodley, while Masvidal has suffered back-to-back losses to the champ. Covington pushed Usman all the way in his last fight whereas Masvidal was leveled by Usman's piston of a right hand that rendered him unconscious for only the second time in his 50-fight career. Now, the two meet in the octagon to finally squash their beef.
Covington represents a very similar assignment for Masvidal. 'Chaos' does not possess Usman's knockout threat, but he has the same bottomless gas tank to fuel his NCAA Division 1 calibre wrestling. Covington has the skill set to close the distance and grapple Masvidal for five rounds just like Usman did in their first fight. That said, 'Gamebred' could not be better prepared for this. As Covington's former training partner, he has spent hours on the mat with his opponent and is coming off 31 minutes of cage time with Usman.
https://twitter.com/LawrenceObonyo2/status/1386177054316679172
During that time, Masvidal got taken down seven times and was controlled for a total of 18 minutes and 20 seconds. I feel Covington will have similar success, but there will be more opportunities for Masvidal to unleash his superior striking as Covington spends more time on the feet to set up his takedowns.
Covington lands over 4 significant strikes per minute with a lot of those being kicks from range. He overwhelms opponents with his pressure that helps him break into the pocket and seal a takedown, but Masvidal's striking is at such a level that Covington must be cautious walking into range in pursuit of the takedown.
What will also give Masvidal confidence is Covington's lack of knockout power. Unlike against Usman, he can afford to eat strikes to enter his threatening range. Gamebread has absorbed over 3 significant strikes per minute in the UFC but only been knocked out once. Masvidal also has a two-inch reach advantage over Covington which will be an important factor in distance control. Masvidal has an impressive 75% takedown defence considering the opponents he has faced, and Covington is only successful in his takedowns 46% of the time. However, it is relevant to compare this to Usman. His takedown accuracy is 49% overall and 39% in his two fights with Masvidal and I expect Covington to have a similar success rate.
https://twitter.com/playbabaijebu/status/1498636461922562048
Masvidal will make it very difficult for him, but Covington will be relying on surviving the first three rounds so he can drag this fight into the championship rounds. If he does, his cardio will allow him to sap Masvidal's energy with clinch work, takedowns and even his striking.
The only way I can see Masvidal winning is if he finds an early knockout, and considering the odds, it is worth a punt. He has hours of sparring time with Covington and can catch him in an exchange or elbows in the clinch. He also has knockout wins over other high-level southpaws Darren Till and Nate Diaz.
That said, I expect Covington to get in Masvidal's face from the bell to negate the distance and suffocate him with his grappling. Masvidal will still be a knockout threat whenever he can create space, but come the fourth round, Covington will become dominant raining down ground-and-pound while transitioning to Masvidal's back. I am leaning towards a decision, but do not be surprised to see a fifth-round finish from Covington (+2200).
Covington vs Masvidal UFC 272 free betting pick:
Covington via Decision (-105)
Masvidal vs Covington undercard
Jorge Masvidal vs Colby Covington takes place on a stacked card from the fight capital of the world this Saturday. Here's the full UFC 272 running order:
Colby Covington vs. Jorge Masvidal

Edson Barboza vs. Bryce Mitchell

Kevin Holland vs. Alex Oliveira

Sergey Spivak vs. Greg Hardy

Jalin Turner vs. Jamie Mullarkey

Marina Rodriguez vs. Yan Xiaonan

Nicolae Negumereanu vs. Kennedy Nzechukwu

Maryna Moroz vs. Mariya Agapova

Brian Kelleher vs. Umar Nurmagomedov

Tim Elliott vs. Tagir Ulanbekov

Devonte Smith vs. Ľudovít Klein

Michał Oleksiejczuk vs. Dustin Jacoby
What have Masvidal and Covington said about the fight?
There has been now shortage of smack talk in the lead up to this fight. Combat sport is no stranger to manufactured animosity - but this is a genuine grudge match. Masvidal and Covington were once training partners, friends and even housemates. Here's what both fighters have had to say ahead of UFC 272.
Jorge Masvidal
Masvidal's threats in the build up to this fight have been pretty horrific. He told DAZN: 'The headline Sunday morning is going to be Jorge Masvidal wins and sends Colby Covington to his funeral. I'm going to knock him unconscious, and send him off on a stretcher.'
Colby Covington
Covington was equally nasty when discussing the fight. He told TMZ: 'This is a blood feud. This goes back to a brotherhood. We were eight years together every single day, side by side, couldn't leave each other - best friends.
'Now, we're the biggest bitter enemies. Anytime I see him, I want to send that guy straight to hell and luckily I get to do it in the UFC Octagon next Saturday night. I'm gonna make him pay. I'm gonna make him suffer for backstabbing me.'
Where can I stream Masvidal vs Covington?
The fight will be shown live on ESPN+ PPV in the US and on BT Sport in the UK and Ireland. Fight fans can stream the fight straight to their smartphone or other device by downloading the official ESPN or BT app respectively.
UFC bets explained
To win fight
This is the most straightforward bet you will find at UFC betting sites. Which of the fighters do you think will emerge victorious from the Octagon? Simply make your choice after studying the form and the odds available and place a wager in line with your judgment.
Method of victory
There are several ways in which a UFC bout can end, including knockout, technical knockout, submission or a points verdict. You will find UFC betting odds on each of those outcomes – select the method in which you think the fight will end and place your stake accordingly.
Round betting
Standard UFC fights consist of three five-minute rounds. In championship bouts, there are five. If you choose to predict in which round the fight will finish – regardless of who you think the winner will be – you will be able to find UFC odds for that result.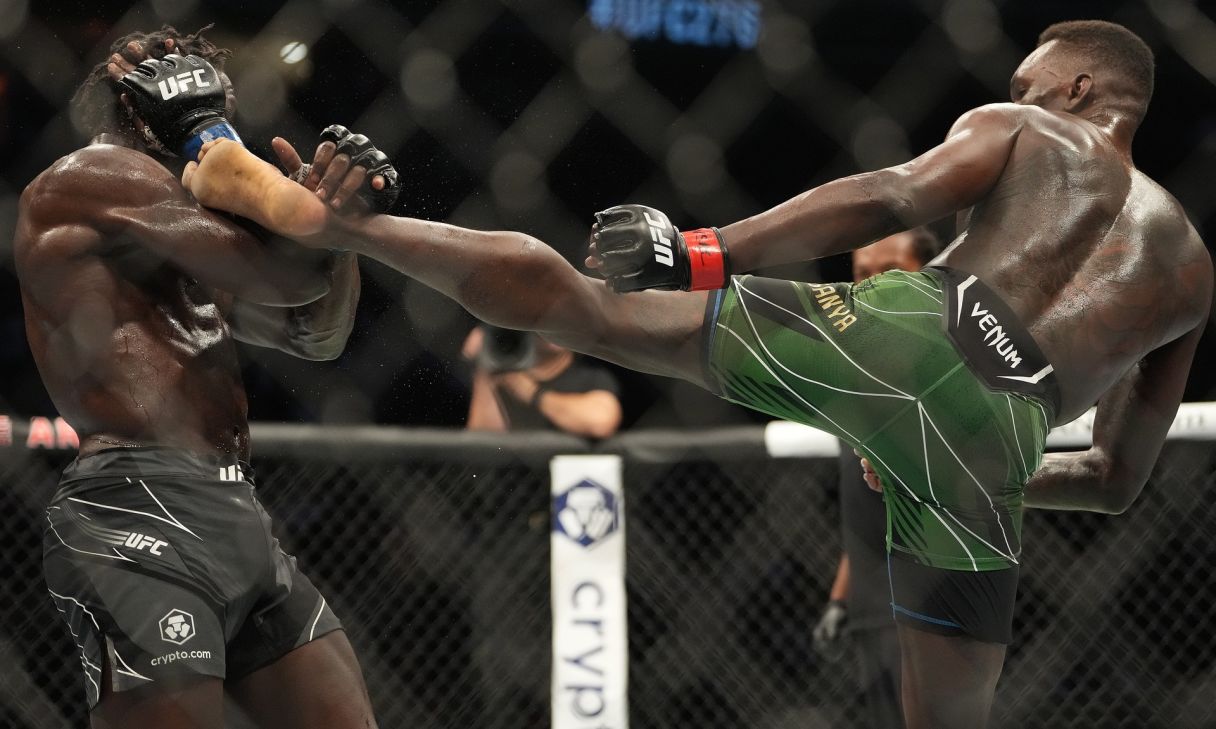 Israel Adesanya attempts a kick on Jared Cannonier (blue gloves) in a bout during UFC 276 at T-Mobile Arena. Mandatory Credit: Stephen R. Sylvanie-USA TODAY Sports
When will fight end
This is similar to round betting, except that this market includes the option for the fight to go the full distance and be decided on points. When you have assessed the UFC betting odds on the various outcomes and made your selection, you will be able to back your choice.
Method and round combination
A slightly more complicated wager, in that you have to predict two things. How will the fight end, and at what stage? You will find UFC betting lines that include all the various combinations and it will provide an extra interest as the action unfolds.
Total rounds
If you think you know how long a bout will last, this offers you an over/under option. The sportsbook will set a number of rounds; if you believe the fight will last more than that, you go "over" and if you think it will be over more quickly, the "under" is for you.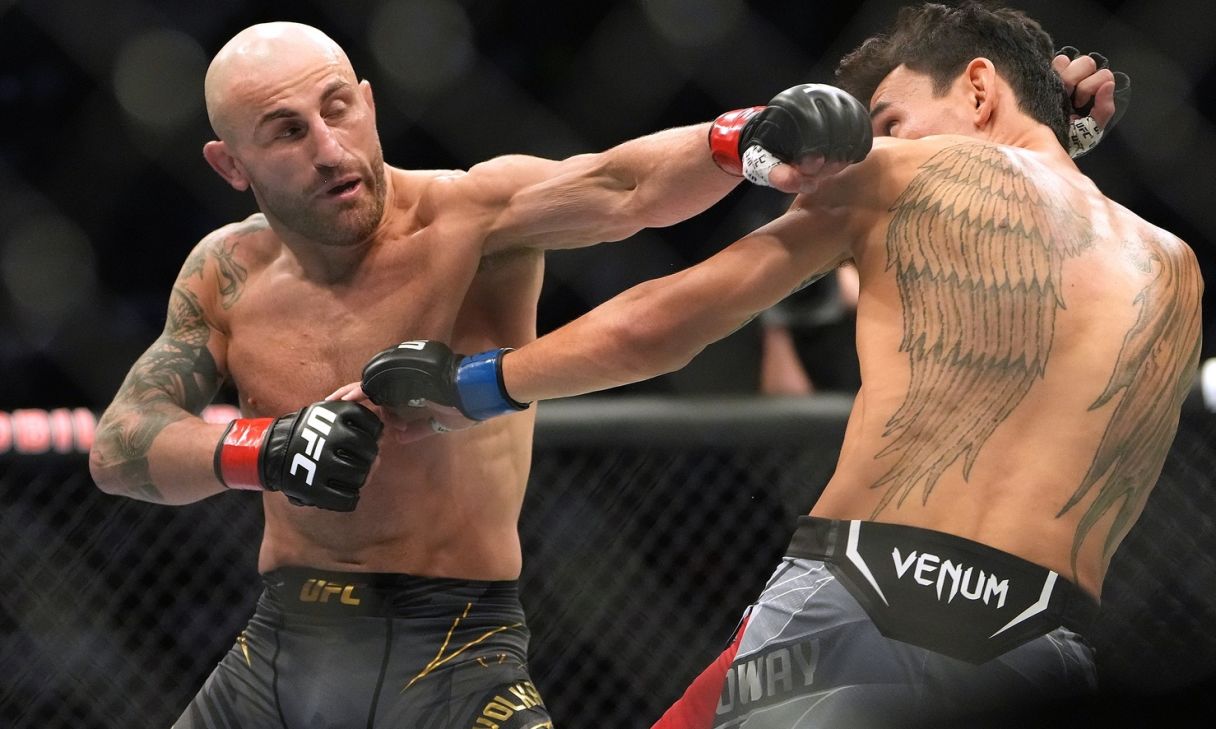 Alexander Volkanovski (red gloves) and Max Holloway (blue gloves) fight in a bout during UFC 276 at T-Mobile Arena. Pic: Stephen R. Sylvanie-USA TODAY Sports
Fight to go the distance
UFC betting sites will offer you a simple yes/no option. Will the fight last the full number of rounds? The sportsbook will present odds on each of the two outcomes and you decide – using your knowledge of the fighters involved – which to wager on.
Method of victory double chance
When you believe a fighter will prevail, but really can't decide how they will do so, this is for you. Instead of having to back a single method of victory, you will be able to choose UFC odds covering two ways in which your pick will win, doubling your chance of a return.