UFC 273 betting picks: Predictions for Volkanovski vs The Korean Zombie, Petr Yan, Khamzat Chimaev and Mark Madsen
| When | Saturday, April 9, 10pm |
| --- | --- |
| Volkanovski odds | -700 |
| Korean Zombie odds | +540 |
| TV | ESPN+ PPV |
UFC 273 goes down in Jacksonville, Fla, on Saturday night, and on paper it looks like a bit of a throwback to the days when the world's top MMA promotion used to load up these events so that the value to fans was in the aggregate rather than one big name.
Two title fights on the main card, one of them a grudge match with a bitter history, plus a big step up in competition for one of the most hyped prospects in years? That ought to be a good night of fighting – not that oddsmakers are expecting any of the top three bouts to be all that competitive. So how does the savvy gambler approach such an event, where the underdog odds are big but risky and the favorites are mostly cost-prohibitive?
Start at the top, with featherweight champ Alexander Volkanovski (-720) taking on "The Korean Zombie" Chan Sung Jung (+500). I'm not foolish enough to say that Jung has no chance in any fight against a man of flesh and blood, but it's still hard to talk myself into thinking he wins this. He's a hard-headed, creative fighter, and he thrives in chaos, but in Volkanovski he faces one of the toughest, most resilient, and smartest champs in the UFC. Maybe that explains why he's the biggest favorite on the entire card.
Then there's the bad blood rematch between bantamweight champ Aljamain Sterling (+360) and interim champ Petr Yan (-490). Sterling captured the title last year when Yan's attacks flowed well outside the rules and he got himself disqualified due to a blatantly illegal knee strike, but since then Sterling hasn't fought at all as he's struggled to return from a pretty serious neck surgery. Was Yan on his way to winning that first fight before he cheated so bad he lost? Probably. Could Sterling still surprise him with a better game plan in the rematch? Absolutely.
Lastly, there's the one-man wrecking crew Khamzat Chimaev (-510), bringing a ton of hype and momentum into his first major test against former welterweight title contender Gilbert Burns (+375). If it's a live underdog you seek, Burns is probably it. He's got more big fight experience than Chimaev, who's been beating people so quickly that it's tough to get a read on him, and he's good everywhere with several ways to finish. The smart money says Chimaev's size, strength, and pace still carry the day, but if you want to get crazy and you're comfortable with some risk to get the bigger payoff, consider Burns.
https://twitter.com/Sammyboymma/status/1510999871347740678
If you absolutely hate risk but also don't see the point in betting on a 5-1 favorite for paltry payouts, consider lumping all three favorites together in a parlay, which will get you respectable -152 odds. If you want to spice things up even more, considering adding Mark Madsen to that parlay, since +105 underdog odds on him against Vinc Pichel is actually pretty tempting.
As for me, I think it's Sterling vs. Yan where you can find some value, but I can't quite convince myself to pick Sterling, especially in a fight this tough after a year on the shelf. That neck surgery is no joke, and it's borderline insane to expect him to be right back to championship caliber in his first fight back. Those are all points in Yan's favor, though I suspect Sterling is still too tough for him to put away (within the bounds of the unified rules).
UFC 273 fight pick and predictions
Yan via decision (+110)
UFC 273 parlay picks
Alexander Volkanovski (-720)

Petr Yan (-490)

Khamzat Chimaev (-510)

Mark Madsen (+105)
UFC 273 full undercard and prelims
Volkanovski vs The Zombie will hit our screens after an incredible night of UFC 273 fights from Florida. Here's the full running order:
Volkanovski vs The Korean Zombie

Aljamain Sterling vs Petr Yan

Gilbert Burns vs Khamzat Chimaev

Mackenzie Dern vs Tecia Torres

Ian Garry vs Darian Weeks

Jairzinho Rozenstruik vs Marcin Tybura

Aspen Ladd vs Raquel Pennington

Mickey Gall vs Mike Mallot
A UFC 273 stream can be found by logging on to ESPN.com on your laptop, phone, Smart TV or Amazon Fire Stick. The main event starts at 10pm ET on Saturday April 9.
UFC bets explained
To win fight
This is the most straightforward bet you will find at UFC betting sites. Which of the fighters do you think will emerge victorious from the Octagon? Simply make your choice after studying the form and the odds available and place a wager in line with your judgment.
Method of victory
There are several ways in which a UFC bout can end, including knockout, technical knockout, submission or a points verdict. You will find UFC betting odds on each of those outcomes – select the method in which you think the fight will end and place your stake accordingly.
Round betting
Standard UFC fights consist of three five-minute rounds. In championship bouts, there are five. If you choose to predict in which round the fight will finish – regardless of who you think the winner will be – you will be able to find UFC odds for that result.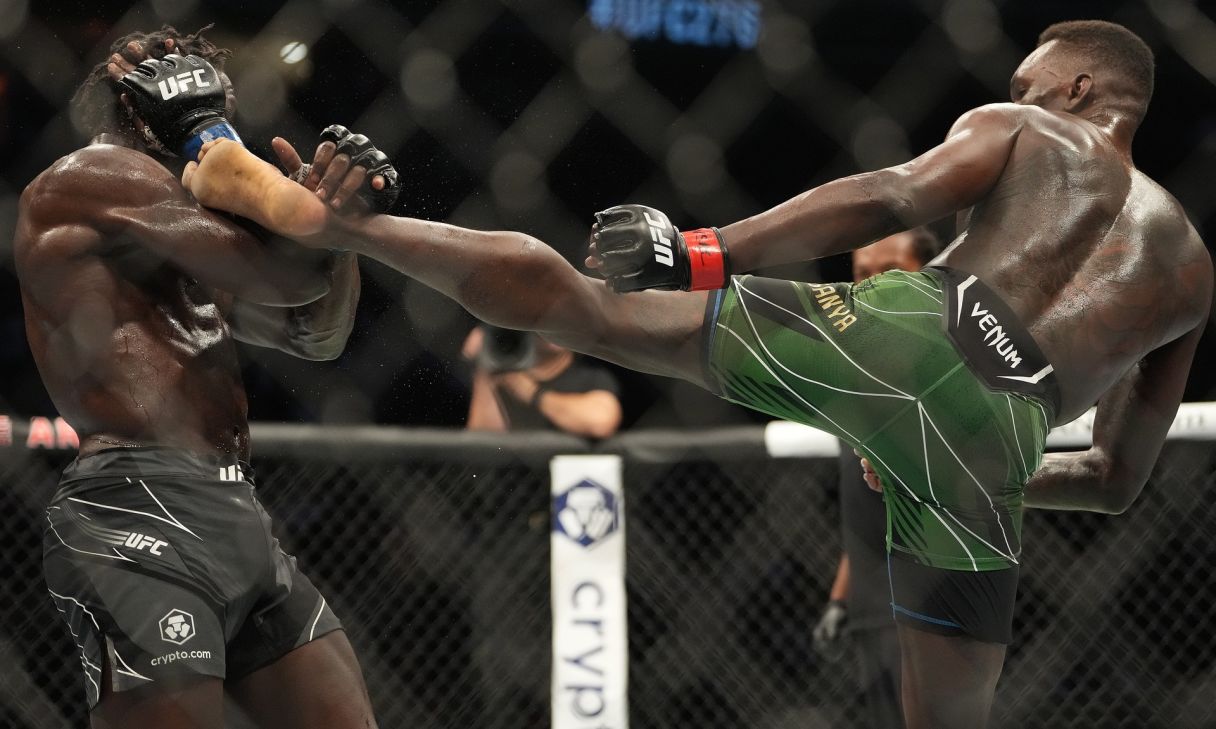 Israel Adesanya attempts a kick on Jared Cannonier (blue gloves) in a bout during UFC 276 at T-Mobile Arena. Mandatory Credit: Stephen R. Sylvanie-USA TODAY Sports
When will fight end
This is similar to round betting, except that this market includes the option for the fight to go the full distance and be decided on points. When you have assessed the UFC betting odds on the various outcomes and made your selection, you will be able to back your choice.
Method and round combination
A slightly more complicated wager, in that you have to predict two things. How will the fight end, and at what stage? You will find UFC betting lines that include all the various combinations and it will provide an extra interest as the action unfolds.
Total rounds
If you think you know how long a bout will last, this offers you an over/under option. The sportsbook will set a number of rounds; if you believe the fight will last more than that, you go "over" and if you think it will be over more quickly, the "under" is for you.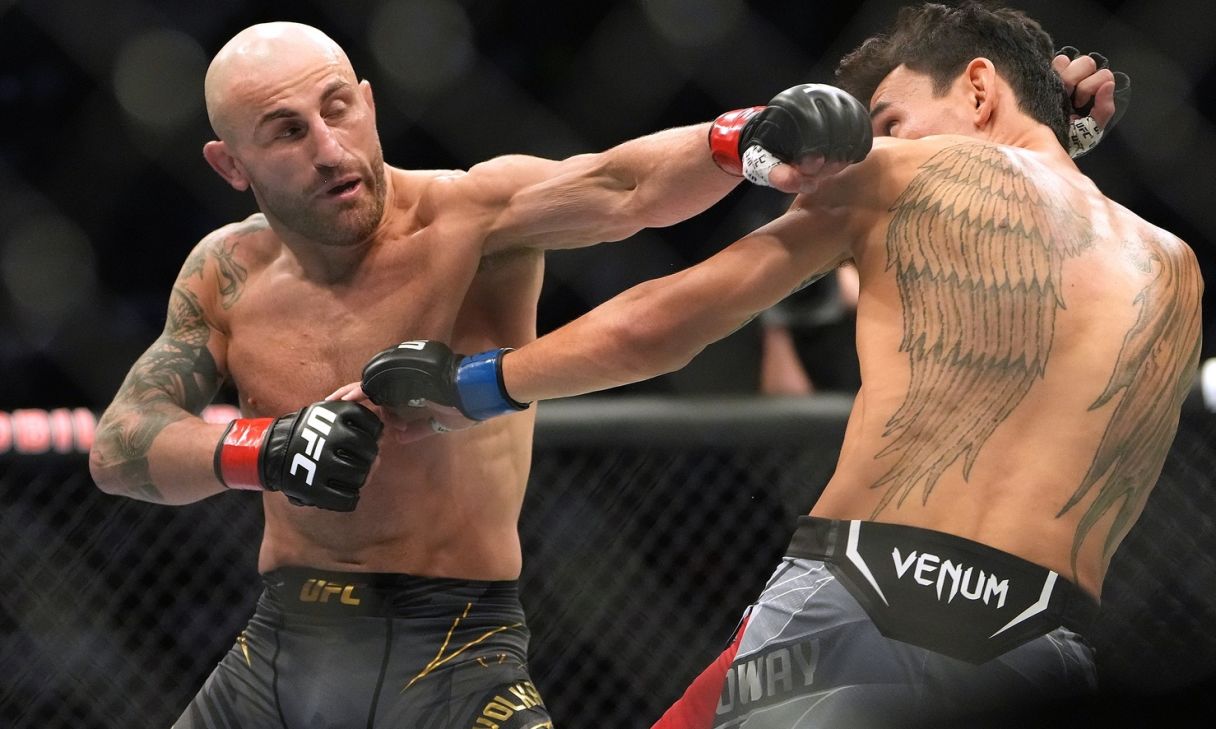 Alexander Volkanovski (red gloves) and Max Holloway (blue gloves) fight in a bout during UFC 276 at T-Mobile Arena. Pic: Stephen R. Sylvanie-USA TODAY Sports
Fight to go the distance
UFC betting sites will offer you a simple yes/no option. Will the fight last the full number of rounds? The sportsbook will present odds on each of the two outcomes and you decide – using your knowledge of the fighters involved – which to wager on.
Method of victory double chance
When you believe a fighter will prevail, but really can't decide how they will do so, this is for you. Instead of having to back a single method of victory, you will be able to choose UFC odds covering two ways in which your pick will win, doubling your chance of a return.