Khamzat Chimaev vs Nate Diaz odds and betting picks: Diaz +700 underdog in UFC 279 swansong - but can he upset the odds?
Nate Diaz will bow out of the UFC with one of the toughest tests of his career on Saturday night when he enters the Octagon to face the fearsome Khamzat Chimaev (-1000). Diaz has a mountain to climb, but his fans will be hoping he can upset the odds and cause a shock. Our man Ben Fowlkes gives his big fight breakdown and pick below.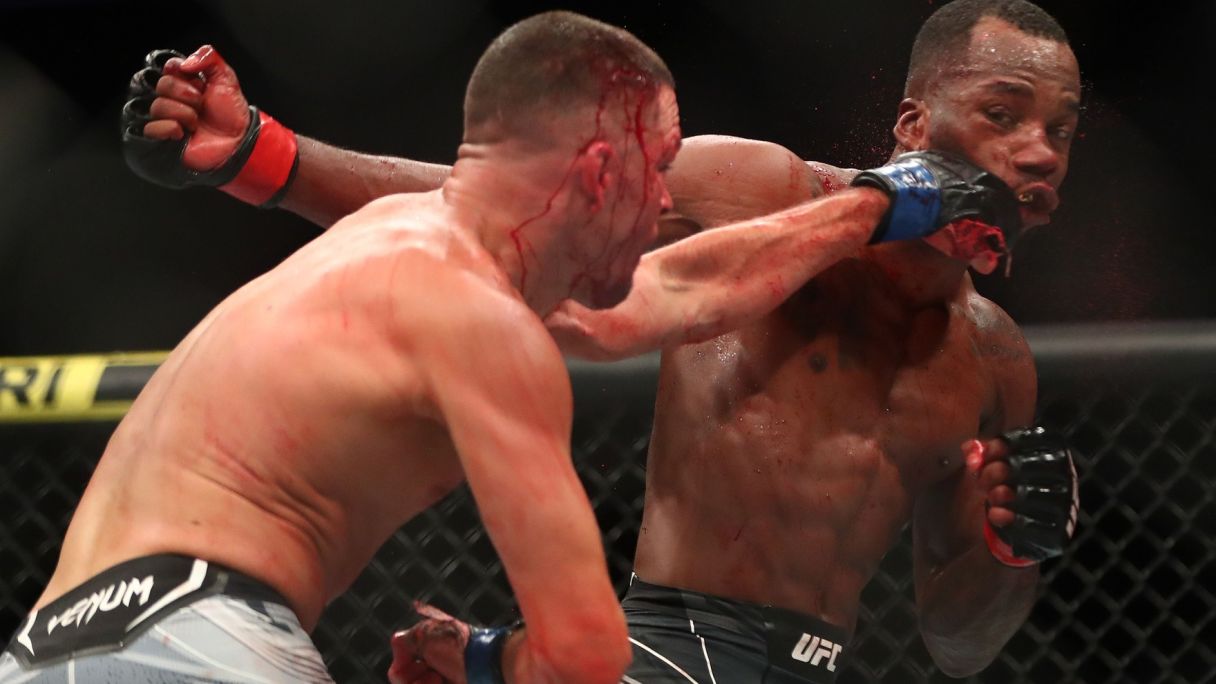 © David Yeazell-USA TODAY Sports
If you like extreme long shot bets and/or the types of fight bookings that seem likely to end in grotesquely one-sided beatdowns, UFC 279 is the event for you. This Saturday in Las Vegas the UFC returns with a pay-per-view topped by two somewhat bizarre matchups that both seem destined to deliver very bad nights to a couple respected elder statesmen of MMA – and boy are the odds crazy.
In the main event, Khamzat Chimaev is an eye-popping -1000 favorite to beat beloved rascal Nate Diaz, who is practically doing this fight at gunpoint after spending the last year and change demanding to finish out his UFC contract and be on his merry way. In the co-main event, there's also aging but crafty Tony Ferguson (+255) taking on the solid but not spectacular Li Jingliang (-305) in what feels like part back-up plan, and part attempt to prove to Ferguson that he is not, in fact, a welterweight.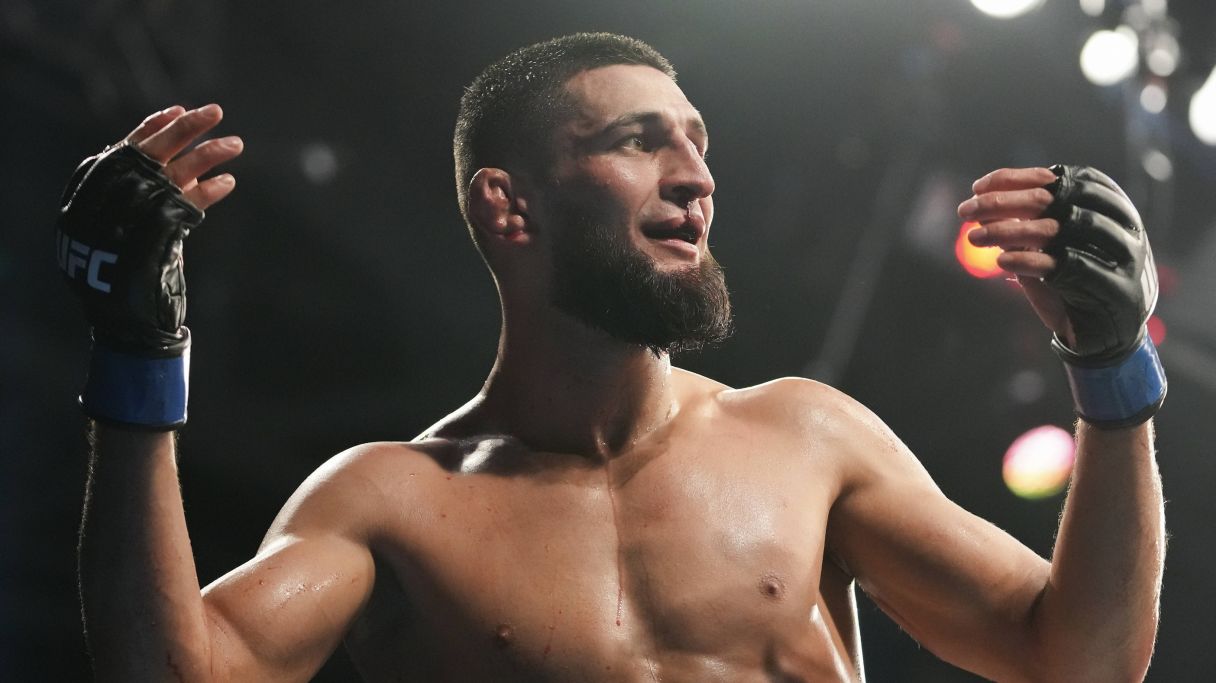 © David Yeazell-USA TODAY Sports
We all see what's happening in the case of Diaz. He wants out and has refused to sign the kind of length contract extension that might have kept him in the UFC's good graces. In response, the UFC is trying to use him as a springboard to help vault Chimaev into the next tier of stardom, while also sending Diaz into free agency with a few new scars on his face.
The flip side to making Diaz walk the plank on his way out the door is that it sets up the promise of a long shot payoff for those hardcore Diaz fans who can talk themselves into believing he's got one last rabbit in his hat. The 37-year-old Diaz is currently going off as a whopping +700 underdog, which is bound to appeal to fans who still have fond memories of the time he shocked the world (but not himself) against Conor McGregor (below). Is there a chance he catches Chimaev slipping in much the same way?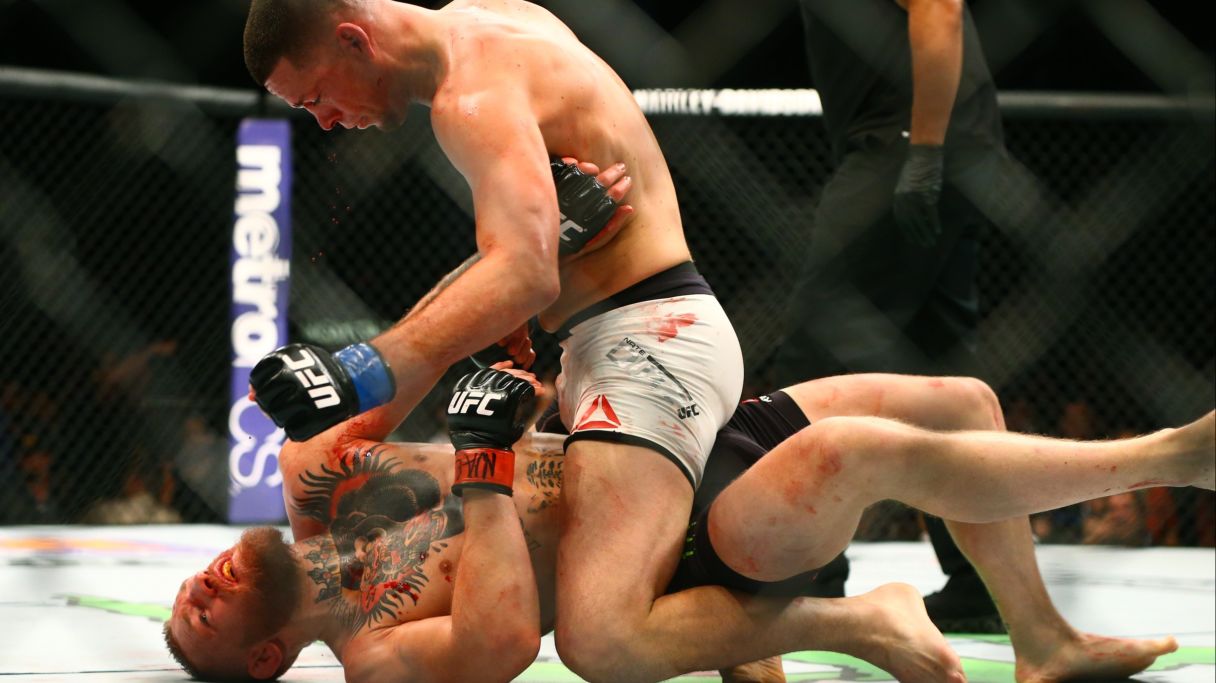 Nate Diaz shocks Conor McGregor during UFC 196 at MGM Grand Garden Arena. © Mark J. Rebilas-USA TODAY Sports
As much as I'd love to talk myself into that, I just don't see it. Diaz is always tough and always in shape, but Chimaev is bigger, stronger, and younger, all in addition to being a stylistic nightmare for Diaz. The only thing Chimaev has to not do is get pulled into a brawl like he did against Gilbert Burns his last time out. Diaz may not have one-punch power, but he does have an uncanny knack for wearing opponents out, physically and mentally, with his non-stop volume punching game and his ability to absorb tremendous punishment.
Chimaev's best approach here is to take Diaz down, feed him elbows, and force the referee to stop it. I think he'll do that, but I don't think it'll happen all at once. I also don't think it's worth the 10-1 odds, which means I lean more toward picking the method (Chimaev via TKO/KO at -120 is the safe play) or the round (Chimaev in Round 2 at +550, or Chimaev in Round 3 at +1000). If Chimaev plays it smart, I don't think Diaz will see the fourth stanza, though I do think toughness alone could get him through the first five minutes. That might make it worthwhile to spread small action out on Chimaev in the second and the third, just to cover the likely bases.
UFC 279 Chimaev vs Diaz free expert betting picks
The safe bet: Chimaev via TKO/KO (-120)

The higher risk/higher reward play: Chimaev in Round 2 (+550) and Chimaev and Round 3 (+1000)
UFC 279: Chimaev vs Diaz undercard
Main card
Khamzat Chimaev vs Nate Diaz

Tony Ferguson vs Jingliang Li

Kevin Holland vs Daniel Rodriguez

Irene Aldana vs Macy Chiasson

Johnny Walker vs Ion Cuțelaba
UFC 279 late prelims
Hakeem Dawodu vs Julian Erosa

Jailton Almeida vs Anton Turkalj

Jamie Pickett vs Denis Tiuliulin

Jake Collier vs Chris Barnett
UFC 279 early prelims
Danyelle Wolf vs Norma Dumont

Alateng Heili vs Chad Anheilger

Elise Reed vs Melissa Martinez

Darian Weeks vs Yohan Lainesse