UFC Fight Night: Blaydes vs Daukaus free betting picks
Blaydes vs Daukaus predictions
| Curtis Blaydes vs Chris Daukaus | Preview |
| --- | --- |
| Where | Nationwide Arena, Columbus, OH |
| When | Saturday, March 26, 7pm ET |
| Blaydes odds | -380 |
| Daukaus odds | +320 |
| TV | ESPN+ |
The heavyweights are back in the spotlight on Saturday's UFC Fight Night card in Columbus, OH, and this time it's the suffocating wrestling of Curtis Blaydes against the smooth striking of Chris Daukaus.
Blaydes enters this fight as a considerable favorite, and it's not hard to see why. He's been in the UFC for nearly six years now, mixing it up with some of the best fighters in the heavyweight class, and so far only two men have managed to beat him – current heavyweight champ Francis Ngannou (who did it twice), and knockout artist extraordinaire Derrick Lewis, who also iced Daukaus just a few months ago. This high level experience is what makes Curtis Blaydes' record so respectable.
Is it a good idea for Daukaus to jump back into the deep waters of the division so soon after being violently separated from his consciousness by Lewis? Probably not. But against Blaydes he faces a very different type of challenge, and it's one we haven't seen Daukaus confront too much in the UFC so far.
https://twitter.com/lthomasnews/status/1472951360010260490
Blaydes isn't exactly what you'd call one-dimensional, but he knows who he is as a fighter. He wants to back you up against the fence, take you down, drape his weight all over you as you labor to stand, then do it all over again until you're so exhausted you can barely lift your arms to protect your face. He's very good at this, and he knows it. Blaydes will stand and strike when he needs to, but he doesn't take unnecessary risks and he's not easy to hit cleanly. He's a wrestler first and everything else second.
Daukaus has it all to do
It's possible that Daukaus has the tools to deal with that, but we haven't seen it in the UFC. He's been getting by so far on speed and athleticism, both of which you need when you're a 230-pound heavyweight. He has a smooth, easy striking style, but isn't the one-punch threat that guys like Lewis or Ngannou are. Daukaus is almost certainly going to get taken down at least once or twice, at which point he'll need to prove that he can get back up on his own and get the separation he needs in order to put his own offense to work. I don't like his chances of doing either of those things.
The best chance Daukaus has is if he can catch Blaydes early, before Blaydes has a chance to find his rhythm. Even then, he'll probably need to finish via accumulation of blows rather than one massive knockout shot, which would give the savvy and experienced Blaydes time to regroup and recover. Blaydes isn't really known as a finisher, but here he has five rounds to work against a smaller man who will likely find himself on his back and eating elbows for much of the fight. Factor in Daukaus' quick turnaround after a brutal knockout loss and I'd say there's a good chance Blaydes gets him out there before the 25 minutes are up.
Blaydes vs Daukaus free betting pick
Blaydes inside the distance (-125 on DraftKings)
UFC Fight Night card: Blaydes vs Daukaus
Curtis Blaydes vs Chris Daukaus headlines an action packed night of UFC in Ohio. The full UFC fight night card can be seen below.
Main card
Curtis Blaydes vs. Chris Daukaus

Askar Askarov vs. Kai Kara France

Matt Brown vs. Bryan Barberena

Nate Landwehr vs. Lerone Murphy

Joanne Wood vs. Alexa Grasso
UFC Fight Night prelims
Michelle Waterson vs. Amanda Ribas

Tucker Lutz vs. Seungwoo Choi

Sara McCann vs. Karol Rosa

Montel Jackson vs. Batgerel Danaa

Matheus Nicolau vs. David Dvorak

Aliaskhab Khizriev vs. Abus Magomedov
What time does UFC Fight Night start?
The main card for UFC Fight Night: Blaydes vs Daukaus kicks off at 7:00pm ET on ESPN+. The main event ringwalks are planned for 11pm ET. As ever with combat sports, these timings will depend on how long the previous fights last.
UFC Fight Night: Blaydes vs Daukaus stream
Fight fans can stream Blaydes vs Daukaus on their laptops, phones or fire sticks using ESPN+ or BT Sport. Check out their websites for more information.
UFC bets explained
To win fight
This is the most straightforward bet you will find at UFC betting sites. Which of the fighters do you think will emerge victorious from the Octagon? Simply make your choice after studying the form and the odds available and place a wager in line with your judgment.
Method of victory
There are several ways in which a UFC bout can end, including knockout, technical knockout, submission or a points verdict. You will find UFC betting odds on each of those outcomes – select the method in which you think the fight will end and place your stake accordingly.
Round betting
Standard UFC fights consist of three five-minute rounds. In championship bouts, there are five. If you choose to predict in which round the fight will finish – regardless of who you think the winner will be – you will be able to find UFC odds for that result.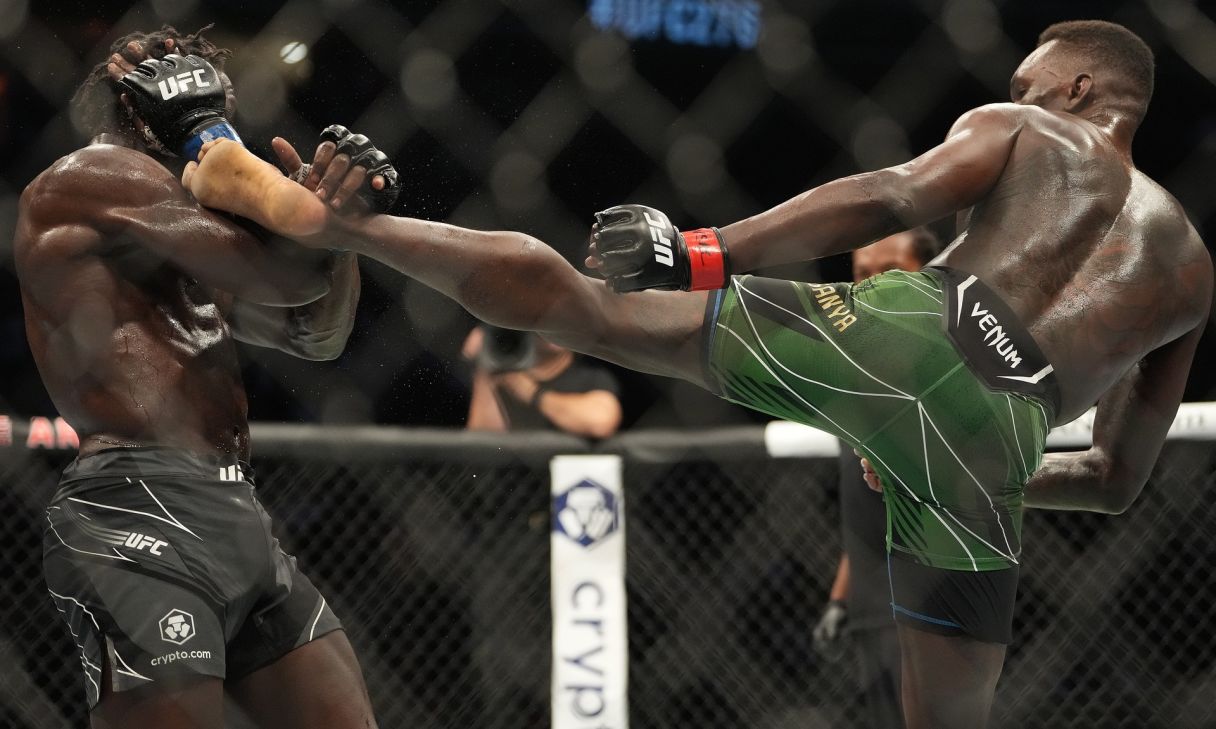 Israel Adesanya attempts a kick on Jared Cannonier (blue gloves) in a bout during UFC 276 at T-Mobile Arena. Mandatory Credit: Stephen R. Sylvanie-USA TODAY Sports
When will fight end
This is similar to round betting, except that this market includes the option for the fight to go the full distance and be decided on points. When you have assessed the UFC betting odds on the various outcomes and made your selection, you will be able to back your choice.
Method and round combination
A slightly more complicated wager, in that you have to predict two things. How will the fight end, and at what stage? You will find UFC betting lines that include all the various combinations and it will provide an extra interest as the action unfolds.
Total rounds
If you think you know how long a bout will last, this offers you an over/under option. The sportsbook will set a number of rounds; if you believe the fight will last more than that, you go "over" and if you think it will be over more quickly, the "under" is for you.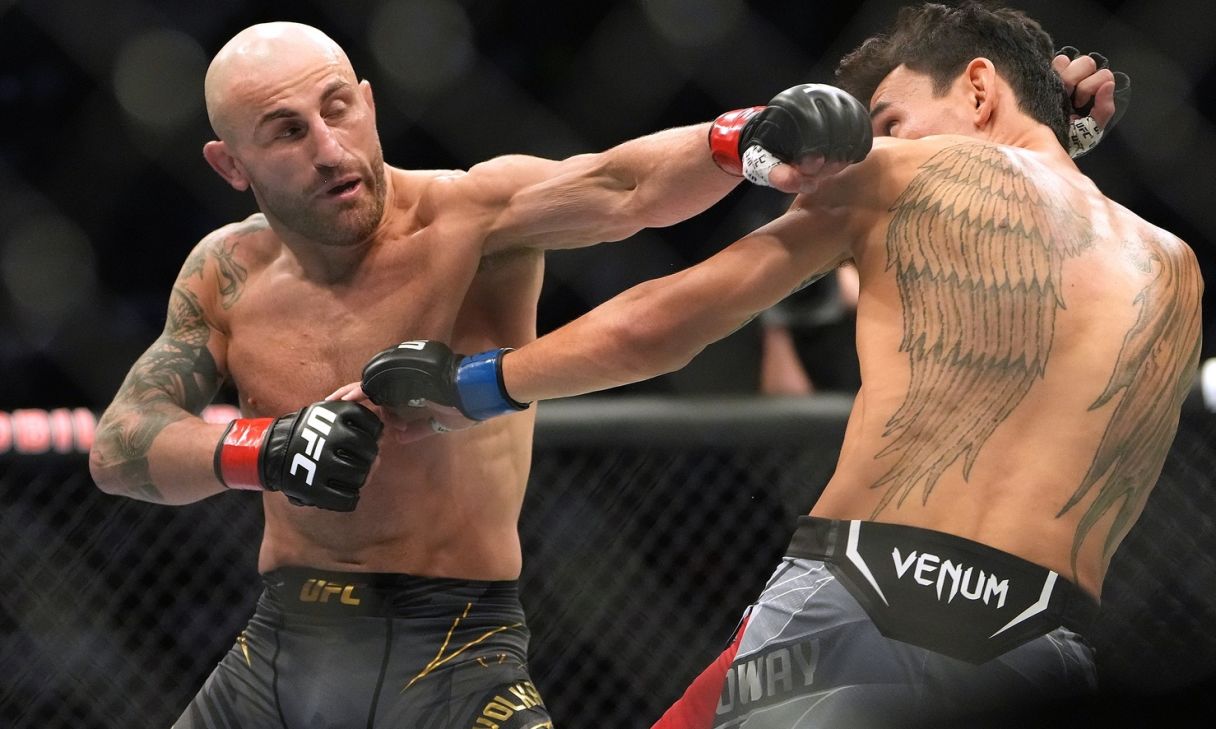 Alexander Volkanovski (red gloves) and Max Holloway (blue gloves) fight in a bout during UFC 276 at T-Mobile Arena. Pic: Stephen R. Sylvanie-USA TODAY Sports
Fight to go the distance
UFC betting sites will offer you a simple yes/no option. Will the fight last the full number of rounds? The sportsbook will present odds on each of the two outcomes and you decide – using your knowledge of the fighters involved – which to wager on.
Method of victory double chance
When you believe a fighter will prevail, but really can't decide how they will do so, this is for you. Instead of having to back a single method of victory, you will be able to choose UFC odds covering two ways in which your pick will win, doubling your chance of a return.