UFC Fight Night: Font vs Vera free betting picks
| Font vs Vera | Preview |
| --- | --- |
| Where | UFC Apex, Vegas |
| When | Saturday, April 30, 8pm ET |
| Font odds | -140 |
| Vera odds | +120 |
| TV | ESPN |
It's back to UFC Fight Night action at the UFC Apex in Las Vegas on Saturday, and there are some solid bets to be found on this card if you know where to look. The key with an event like this one, however, is not so much picking winners as it is assessing tendencies. By all means, allow me to explain.
Our top two fights this weekend feature Rob Font vs Marlon "Chito" Vera in a legitimately interesting bout of bantamweight contenders, and Andrei Arlovski vs. Jake Collier in a fight between heavyweights who just happen to still be around. These are two very different fights in terms of the action, excitement, and pace they are expected to deliver, and also in terms of the stakes. The winner of Font vs Vera could end up challenging for a 135-pound title in the somewhat near future. The winner of Arlovski vs. Collier could … be marginally better off than the loser.
https://twitter.com/ufc/status/1519449077246836738
But you know what they both have in common? A strong chance of going the distance.
Five of Font's last six fights went to the judges, and the one that didn't was against Marlon Moraes, who recently called it quits in part because of how disturbingly easily he's been getting knocked out lately. Vera's last finish came when Sean O'Malley suffered a leg injury that left him basically unable to stand. Giving those guys five rounds to work means more chances to end it, but they're also close enough in skill level that this ought to be a competitive fight all the way through.
As for the big guys, Arlovski is one of the most decision-prone heavyweights on the UFC roster – especially in fights he wins. He's the favorite over Collier, who's seen the scorecards in half his UFC bouts so far. And while the heavyweights are always a threat to put each other away with one punch (or tire themselves out trying), this is one that has a good chance to last, probably in a not terribly fun to watch way.
https://twitter.com/AndyHickeyMMA/status/1519435987734126593
Thing is, oddsmakers know it. The line on Vera-Font to go the distance is a modest -150, and Arlovski-Collier is -175. Of those two, the bantamweights seeing the scorecards is the better pick. But if you want to get adventurous? Parlay the two together for +161 odds and hope that there are no finishes to end the night this time around. You might also consider just taking Font and Arlovski separately via decision. They're each slight favorites in their respective bouts, and both have been better lately at winning with help from the judges than in ending it on their own. You can get a decent +165 line on Font via decision, and +130 on Arlovski.
UFC Fight Night Font vs Vera free betting picks:
The safe pick: Font vs. Vera to go the distance (-150)

The riskier yet more lucrative pick: Font-Vera and Arlovski-Collier to go the distance parlay (+161)
UFC Fight Night: Font vs Vera undercard and prelims
Our Font vs Vera free betting picks come in a main event that sits at the top of a very exciting UFC card. Here's the confirmed undercard for UFC Fight Night in the Apex, Las Vegas.
Rob Font vs Marlon Vera

Andrei Arlovski vs Jake Collier

Andre Fili vs Joanderson Brito

Jared Gordon vs Grant Dawson

Darren Elkins vs Tristan Connelly

Krzysztof Jotko vs Gerald Meerschaert
UFC Fight Night Font vs Vera live stream
UFC Fight Night Font vs Vera will stream live on Saturday night from UFC Apex. The main card on ESPN and ESPN+ at 7 pm ET and prelims on ESPN2 and ESPN at 4:30. For more streaming UFC live stream information, vist UFC.com or ESPN.com.
UFC bets explained
To win fight
This is the most straightforward bet you will find at UFC betting sites. Which of the fighters do you think will emerge victorious from the Octagon? Simply make your choice after studying the form and the odds available and place a wager in line with your judgment.
Method of victory
There are several ways in which a UFC bout can end, including knockout, technical knockout, submission or a points verdict. You will find UFC betting odds on each of those outcomes – select the method in which you think the fight will end and place your stake accordingly.
Round betting
Standard UFC fights consist of three five-minute rounds. In championship bouts, there are five. If you choose to predict in which round the fight will finish – regardless of who you think the winner will be – you will be able to find UFC odds for that result.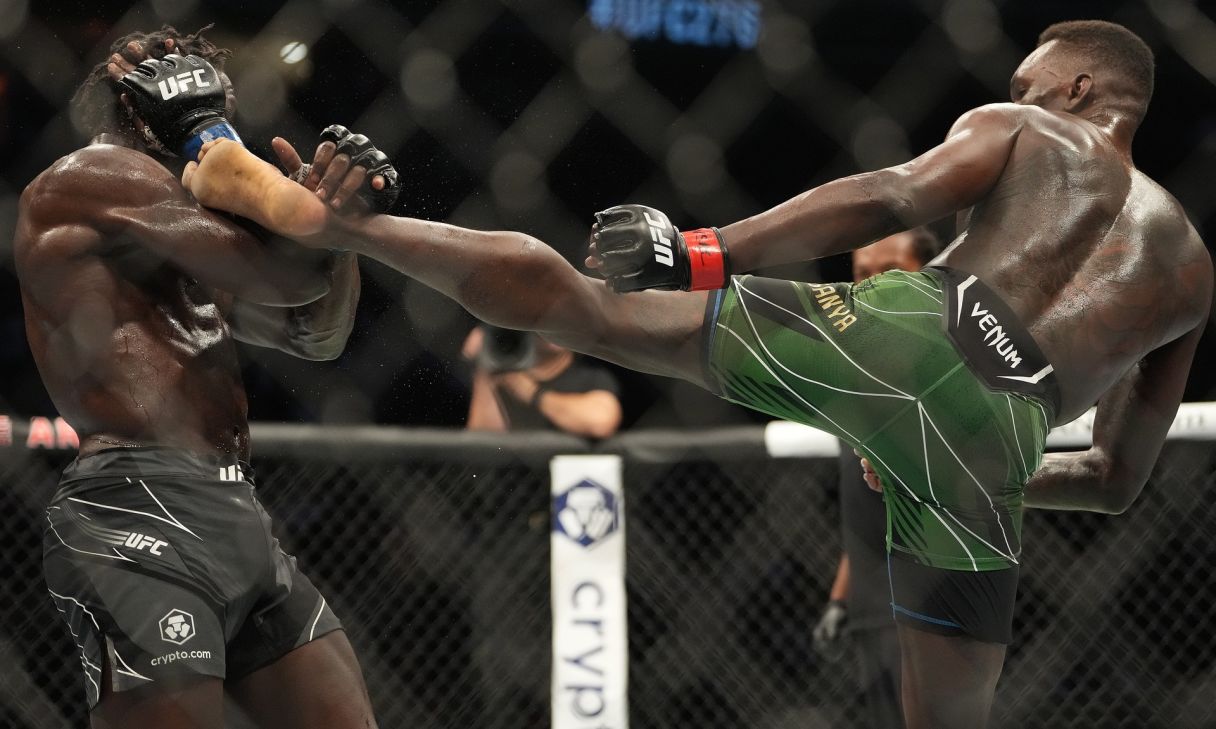 Israel Adesanya attempts a kick on Jared Cannonier (blue gloves) in a bout during UFC 276 at T-Mobile Arena. Mandatory Credit: Stephen R. Sylvanie-USA TODAY Sports
When will fight end
This is similar to round betting, except that this market includes the option for the fight to go the full distance and be decided on points. When you have assessed the UFC betting odds on the various outcomes and made your selection, you will be able to back your choice.
Method and round combination
A slightly more complicated wager, in that you have to predict two things. How will the fight end, and at what stage? You will find UFC betting lines that include all the various combinations and it will provide an extra interest as the action unfolds.
Total rounds
If you think you know how long a bout will last, this offers you an over/under option. The sportsbook will set a number of rounds; if you believe the fight will last more than that, you go "over" and if you think it will be over more quickly, the "under" is for you.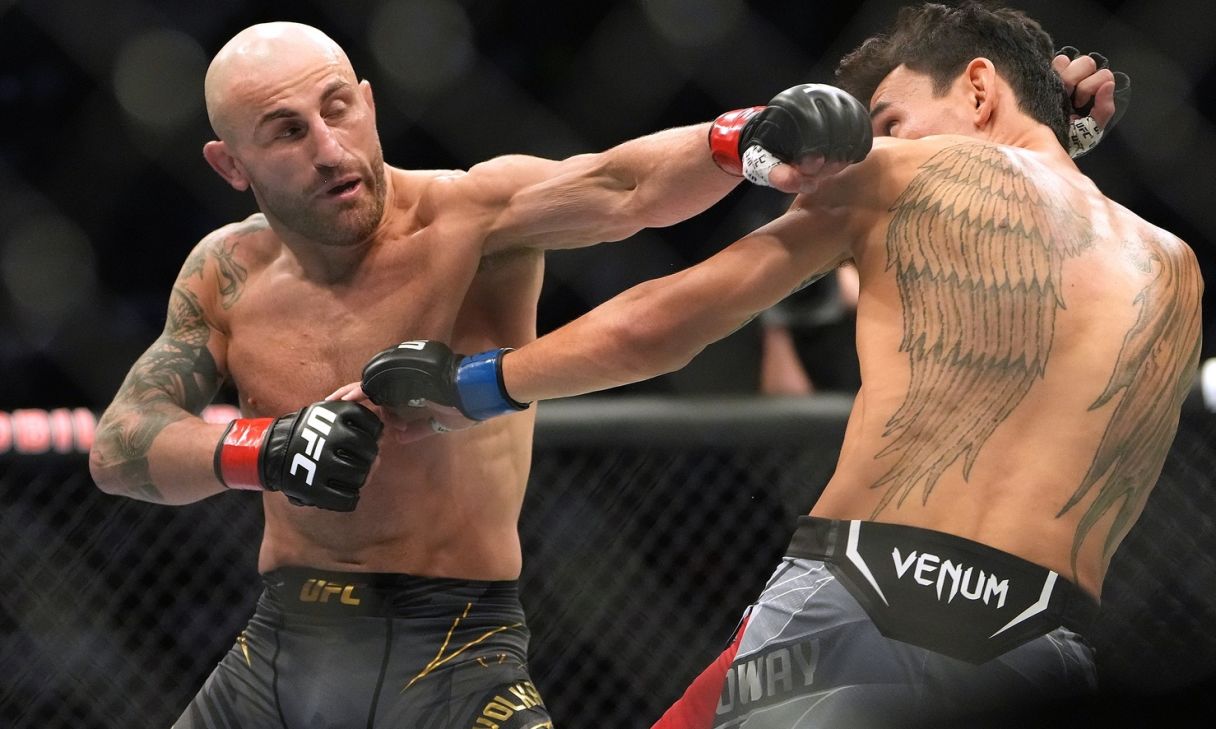 Alexander Volkanovski (red gloves) and Max Holloway (blue gloves) fight in a bout during UFC 276 at T-Mobile Arena. Pic: Stephen R. Sylvanie-USA TODAY Sports
Fight to go the distance
UFC betting sites will offer you a simple yes/no option. Will the fight last the full number of rounds? The sportsbook will present odds on each of the two outcomes and you decide – using your knowledge of the fighters involved – which to wager on.
Method of victory double chance
When you believe a fighter will prevail, but really can't decide how they will do so, this is for you. Instead of having to back a single method of victory, you will be able to choose UFC odds covering two ways in which your pick will win, doubling your chance of a return.