What is the Super Bowl MVP?
Super Bowl Sunday decides football's world champions, but it also gives an individual player the chance to write their name into NFL folklore. A singularly outstanding performance will earn the Most Valuable Player award. This means bettors can root for a team, but also a single player.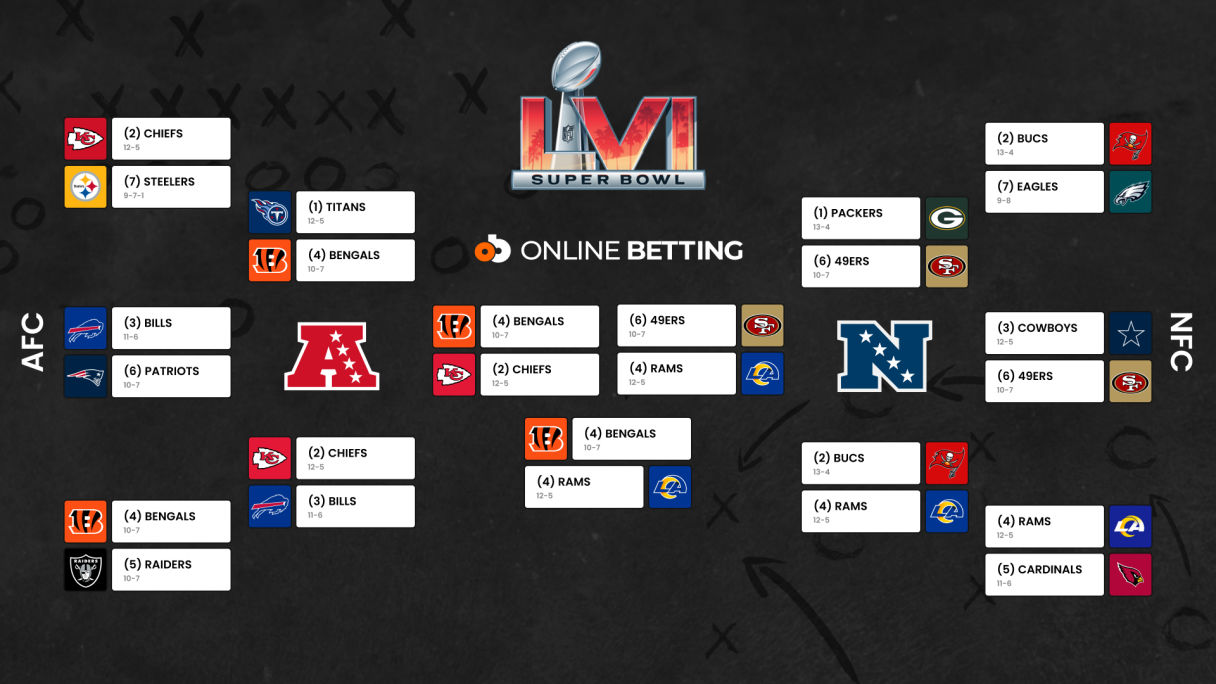 History of the Super Bowl MVP
The MVP has been awarded since the first Super Bowl, when Green Bay's Bart Starr set the tone for quarterbacks to take the award, along with the almost total domination of players from the winning team.
Just once, way back in Super Bowl V, did a player from the losing team – Dallas' Chuck Howley – win the accolade. From a betting perspective, to win the Pete Rozelle trophy, your team needs to win the game.
There have been 56 MVPs in the 55 Super Bowls (as one year there was a joint award) and 31 have gone to the quarterback. Running backs and wide receivers are the next most common position with seven MVPs apiece, followed by 10 awards spread across the defensive side of the football and a lone kick/punt returner.
Tom Brady is the most decorated individual, with five, winning it in his first SB appearance in Super Bowl XXXVI for New England, as well as most recently last year, with the Tampa Bay Buccaneers.
It shouldn't be a surprise to see Matt Stafford heading Joe Burrow in the betting to be named the Super Bowl MVP. It has been a market dominated by the winning quarterback. Winning the game is a prerequisite: losing players have only ever been MVP once and QBs are currently 31 out of 55 – in fact voters for the MVP award are now instructed to only choose from the winning team.
Stafford is priced around +125 to lift the Pete Rozelle Trophy, an implied probability of 44%, including the margin. He has been instrumental in most Rams' wins in the regular and post season. He threw the ball 33.4 times per game in a winning cause, completed 23.4 times for an average of 296 yards per game at nearly 9 yards per attempt and passed for an average of 2.5 touchdowns per game and just 0.6 interceptions.
Burrow has also been the Bengals main man in victory, emulating Stafford's benchmark winning averages. He has the added capability to make an eye-catching scramble and is available at +235, a likelihood of 30%. Betting lines suggest a Rams win by an average of 26-22. High enough to expect the quarterback to find the end zone at least once, but close enough that the underdog Bengals could cause an upset. If you like a side and think they'll win on the arm of their passer, the outright odds of -200 for the LA Rams or +165 for Cincinnati can be enhanced by instead betting the quarterback for the MVP.
Wide receivers have won seven times, equal with running backs, but have landed in four of the last 20 Super Bowl MVPs. Typically, they've needed 100+ yard games and either double figure catches or a touchdown. The Rams' outstanding Cooper Kupp is available at around +600 or an implied probability of 14%. He has topped many metrics that measure wide receiver contribution, and he also combines with Stafford for explosive plays, reaching the MVP benchmark for a wide receiver in eleven out of the Rams' 15 wins.
He's inevitably been in competition with Stafford in these wins and there's barely a regular season victory where Kupp's yardage and touchdowns wouldn't have been at least equaled by Stafford's passing prowess. However, as opponents have grown stronger in the post season, Kupp has been an increasingly dominant player, eclipsing even his quarterback. Double digit targets, high catch percentage, 145+ yardage per game from the divisional round onwards and single and multiple touchdowns have made him a credible MVP, even with Stafford delivering a strong performance. He's a live chance in the season's biggest game.
Odell Beckham Jr (+2500) has proven a fine, improving and more frequently targeted addition since breaking ties with Cleveland, but he's only reached 100 receiving yards in the championship game and Stafford's go to guy, Kupp outshone him on that occasion. Swerve Beckham. LA Rams' commitment to the pass (they threw on 60% of post season snaps) guarantees lots of wide receiver involvement, but the Bengals are more circumspect. They go aerial 55% of the time and Ja'Marr Chase's +1500, reflects this more balanced pass/run split.
He has only broken 100 receiving yards on six winning occasions. His contribution has more variation and a repeat of his 11 receptions, 266 yards and three TD's in a regular season victory against Kansas City would undoubtedly take the award. But his price looks too short given his rookie inconsistencies. The stock of running backs has fallen in the MVP race since Terrell Davis' 3 TDs and 157 yards, in SB XXXII, so the defense is the place to look for an alternative. Aaron Donald leads the Rams with 14 total sacks and Burrow has attracted sacks in the past, although he has proven he can hit the turf and still win the game. Rams' Von Miller has two post season sacks and is a previous MVP. Defense will need a low scoring affair and a wrecking ball individual cameo.
Ready narratives for the voting press to embellish and a likely score line in the 20's for both teams, suggests a quarterback will again prevail, with Burrow appealing at the prices.
Superbowl LVI prop betting MVP pick : Burrow (+225)
Super Bowl MVP and prop bets
If you fancy a quarterback will do well, the MVP award is one route to getting them onside and cheering their every play. But a props bet, where you back a player to outperform a pregame quote, such as throwing for over 275.5 yards, is a viable alternative.
On average, an MVP quarterback has thrown 27 completions in the Brady era, from 40 attempts, with a 68% completion rate for 295 yards. They have thrown 2.3 touchdowns per game, had 0.7 interceptions and suffered almost two sacks.
If your quarterback MVP of choice may struggle to reach those recent benchmarks, the props route may be the better choice, without the worry that they may be usurped by a ball hawk on the defensive side of the ball, a receiver or fail to win the match.
Brady has twice won Super Bowls where he has lost out on the MVP award to his wide receivers and three times he's been effectively ruled out by losing the big game to Eli Manning twice and Nick Foles.
Who decides who the Super Bowl MVP will be?
One golden rule of betting is to know how the outcome on which you are waging will be decided. Since SB XXXV, the one prior to Brady's first appearance, the award is chosen by a panel of 16 sports journalists and broadcasters and a public vote.
The professional panel has an 80% weighting, compared to just 20% for the public. They can select a player from each team, but instruct their final choice to default to the winning side and they can change their selection at full time. Voting commences at the start of the fourth quarter.
The identity of the voters may change, but the mechanism has remained for the last 21 Super Bowls, with a likely recency bias towards events that occur in the usually higher-scoring final quarter.