Highest paid NHL players
Talent comes at a price. Pay big money and you can land yourself one of the best players in the league, maybe even a generational talent, but what if it doesn't quite work out that way? What do you get for that money? Hockey is a brutal, physical sport with the potential for serious injury a constant and that, combined with dips in form, can mean less game time on the ice. So who's getting what for their outlay? We crunched the numbers from the 2020/21 NHL season to work out the most expensive NHL asset across the league.
It's worth noting that this is minutes for money. This doesn't factor in goals and assists, even if players are scoring or creating more in less time. This list also doesn't include players like Jonathan Toews or Brent Seabrook, the Chicago Blackhawks pair, who sat out the entirety of the 2020/21 NHL season through injury. Players have to have made it onto the ice.
Now clearly, there are those players with the biggest contracts. The likes of John Tavares at the Toronto Maple Leafs, Erik Karlsson at the San Jose Sharks, and the Washington Capitals' Nicklas Bäckström, all picked up around $12 million for their 2020/21 salaries. However, when you factor in their time on the ice, and compare that to some smaller contracts, they're actually offering more bang for their buck.
Most expensive player in the NHL
As it turns out, there's a clear winner. Head to Texas , where the Dallas Stars forked out $176,500 for every minute that Tyler Seguin played. The centre, who joined Dallas in 2013, signed an eight-year $78.8 million contract in 2018. Two year later, during the 2020 Playoffs, Seguin completely tore his acetabular labrum (cartilage in his hip), meaning that he missed the majority of the following season. He then returned on May 3, 2021, scoring against the Florida Panthers – some of the just 51 minutes he played during that season. It's fantastic that he's back, but that's an extremely tough year (for the Stars' accountant at least) when someone is picking up a $9 million per year pay check.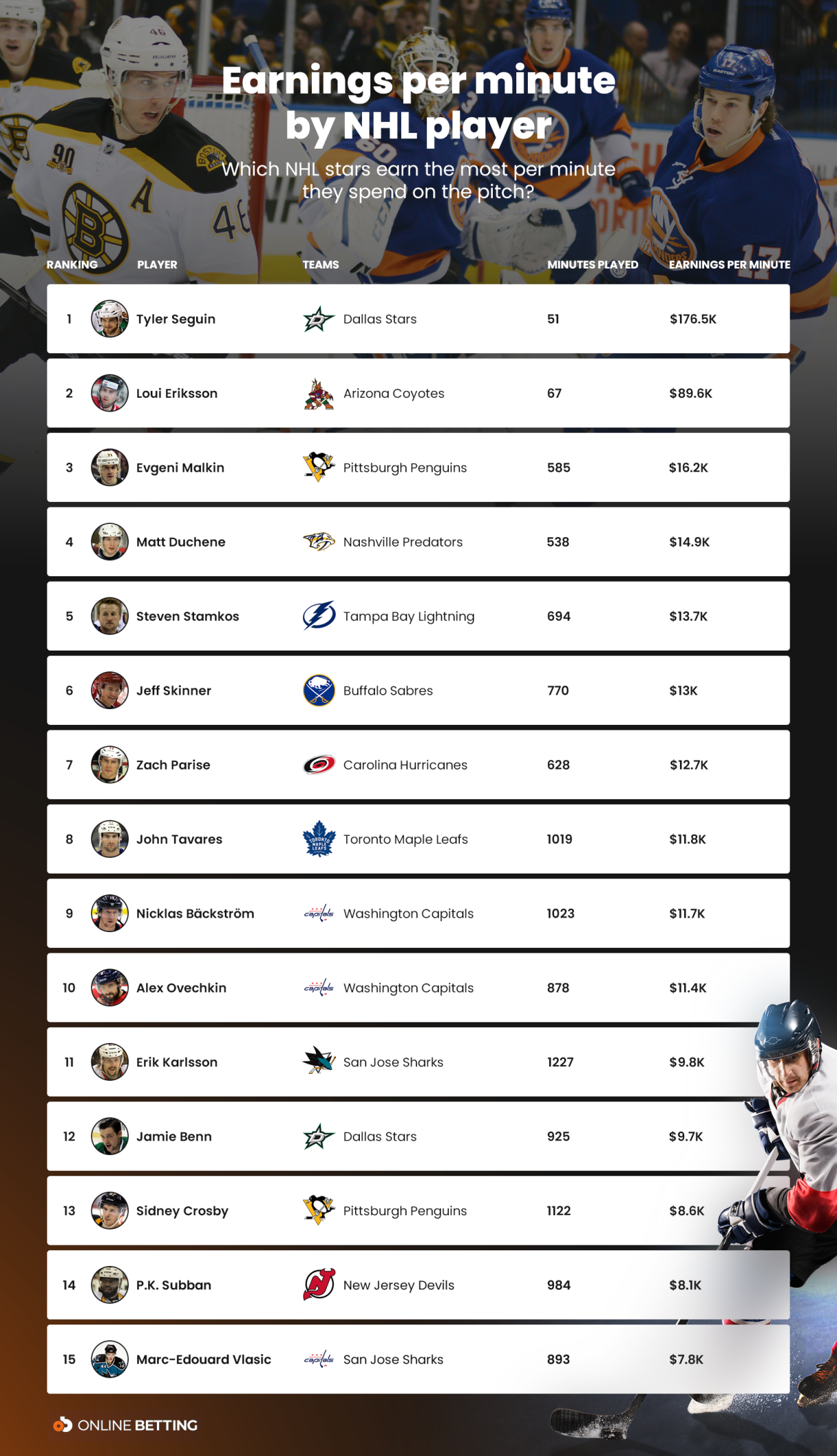 The great part for Seguin, and the Dallas Stars, is that the comeback from injury has been excellent and enough to earn him a nomination for the 2022 Masterson Trophy. The honour is given to a player who displays perseverance, sportsmanship, and dedication. Traits that he really has.
Following behind Seguin is the Arizona Coyotes' Loui Eriksson. The Swedish forward only managed 67 minutes all season, meaning that the Coyotes had to pay $89,600 for every minute he was in the game, given his $6 million per year contract.
https://twitter.com/BallySportsSW/status/1519127712610365441
It's then another significant drop before you get to a cluster of players. Evgeni Malkin ($16,200 per minute) at the Pittsbugh Penguins, Matt Duchene ($14,900 per minute) on the Nashville Predators and Steven Stamkos ($13,700 per minute) plying his trade at the Tampa Bay Lightning. All take home between $8 million and $9 million per season from their respective contracts.
Sidney Crosby, who's earned over $135 million during his time at the Penguins, more than anyone else when it comes to career earnings, comes in at 13th on the list. His $8,600 per minute makes him technically cheaper than the Stars' Jamie Benn, or Jeff Skinner at the Buffalo Sabres. That said, if you factor in the same data over an entire career, Crosby's $6,025 per minute is only bettered by Malkin's $6,149.
NHL cheapest team?
By going through all 22 NHL franchises it's possible to see the richest – or most expensive – player on each team. There are definitely some teams spending far less per head, but it may be the case that in the 2020/21 NHL season they just got luckier with injuries and didn't have to pay for a sidelined star for most of the year.

There any teams squeezing out incredible value, or at least keeping the purse strings tight? Step forward the New York Islanders – the only NHL franchise to not pay any player more than $1,000 per minute during the 2020/21 season. Zdeno Chára proved to be their most expensive outlay, the Slovak defenceman coming in at $789 per minute of play.
Just ahead of the Islanders was Patrice Bergeron ($4,400 per minute) at the Boston Bruins, Ryan O'Reilly ($5,200 per minute) at the St. Louis Blues and Milan Lucic ($5,200 per minute) on the Calgary Flames.
All career earnings data is taken from Cap Friendly, while statistics and playing time for the 2020/21 season is taken from Hockey Reference.