MLB Picks and Predictions: Who is in contention for the 2022 Rookie of the Year award?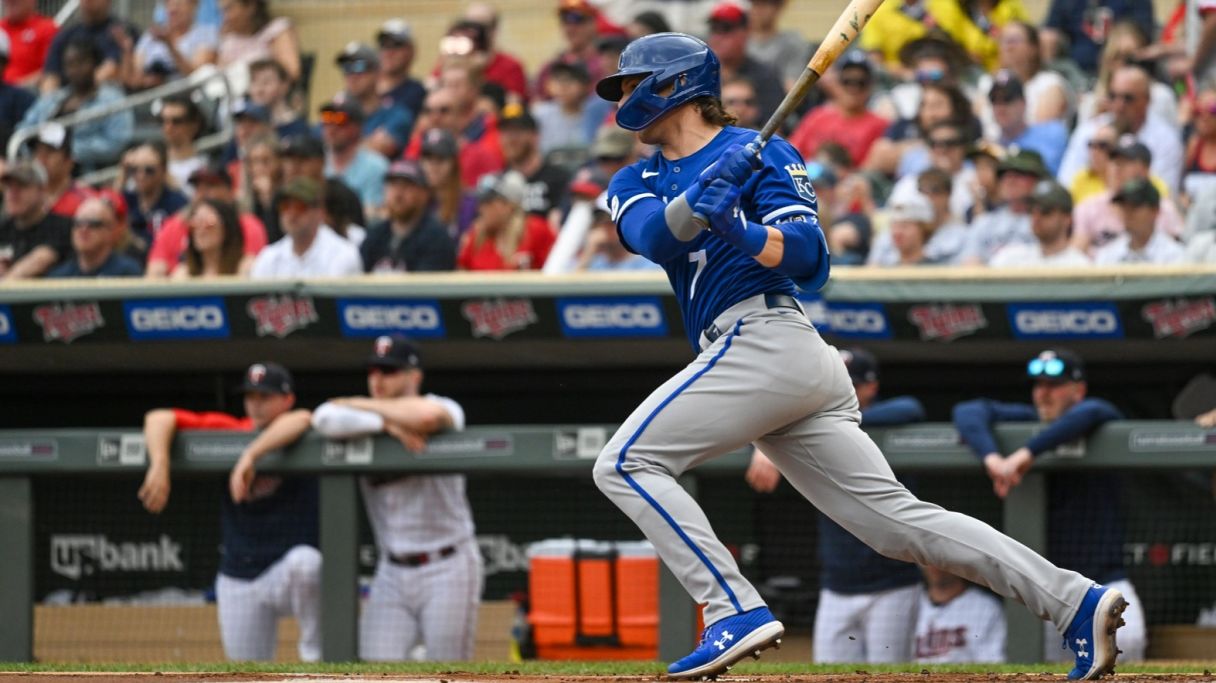 © Nick Wosika-USA TODAY Sports
A favorite, a contender, and a longshot for the 2022 MLB Rookie of the Year
Picking the 2022 MLB Rookie of the Year award is more difficult than predicting other accolades around Major League Baseball.
For one, there is no track record for these players except for minor league experience or a small sample size in the big leagues – unlike the other awards where the candidates have more of a body of work to be judged on.
Another tough part of knowing who to put your money on in the Rookie of the Year race is playing time as some of these youngsters will get a chance immediately while some will start the season in the minors.
On the other hand, if a highly touted prospect struggles early in the season, he could find himself back in the minors for an indefinite amount of time.
The volume of at-bats at the major league level is also important here and knowing which players are starting the season with the big club and who are likely to stay there all year is key in making some money on a futures bet for MLB Rookie of the Year.
So here is where we sift through the top 2022 MBL rookies and try to find that perfect combination of opportunity and talent.
Picking an American League Rookie of the Year winner
| Player | Odds |
| --- | --- |
| Bobby Witt Jnr | +310 |
| Adley Rutschman | +600 |
| Julio Rodriguez (SEA) | +600 |
| Shane Baz | +1100 |
| Jeremy Pena | +1200 |
(*Odds courtesy of Draftkings /April 2022)
Tampa Bay Rays outfielder Randy Arozarena took home the AL Rookie of the Year award in 2021 thanks to a stunning postseason which saw him hit 10 homers in 18 games during their run to the World Series.
Kansas City Royals prospect Bobby Witt Jr. has the best odds to win the award this year but has plenty of competition when it comes to the MLB American League ROY.
Favourites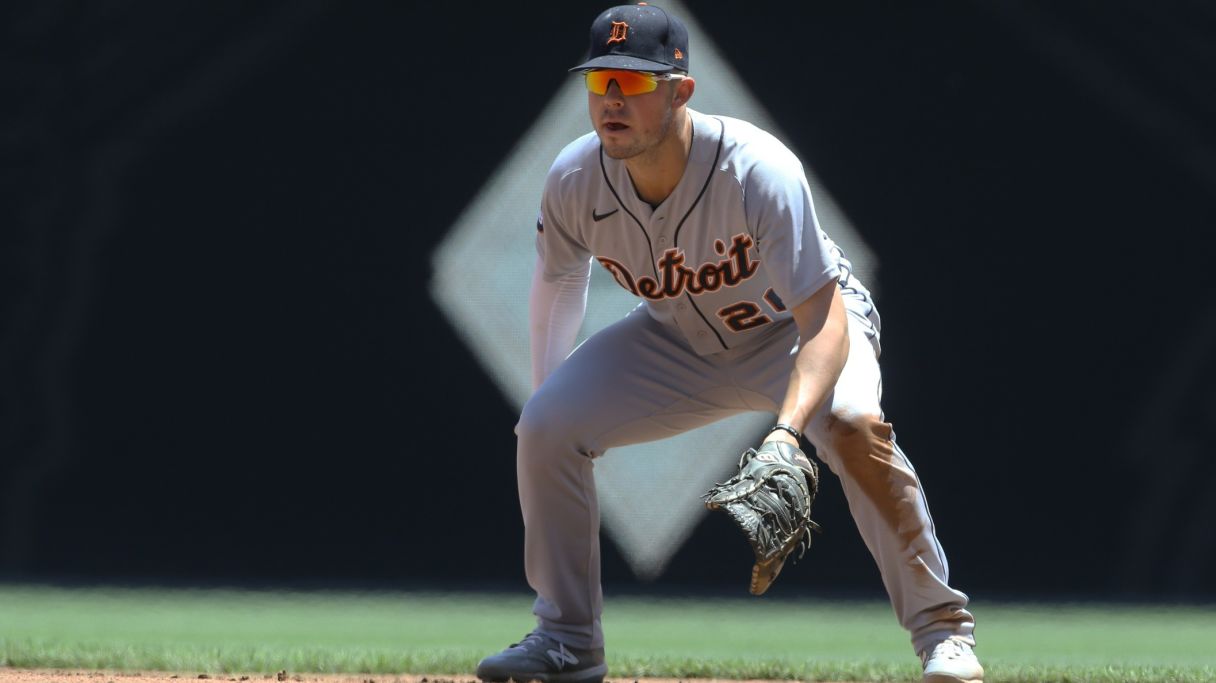 Spencer Torkelson is one of the favourites for the American League title -© Charles LeClaire-USA TODAY Sports
Spencer Torkelson: Detroit Tigers
American League Rookie of the Year odds: +450
Like Witt Jr., Torkelson will begin the season in the majors after Detroit decided to have the former first overall pick take the first base job and see if he can run with it. Although he doesn't have the all-around game that Kansas City's young phenom does, Torkelson might have the best bat of any prospect and his ability to drive the ball to all fields with power is exceptional.
He pairs that with elite pitch recognition and excellent plate discipline. Torkelson has moved up quickly in the Tigers system after being drafted in 2020. At three different stops last season, he hit 30 home runs in just 121 games and walked an impressive 14.5 percent of the time. He gets to work closely with future Hall-of-Famer Miguel Cabrera, who has already taken him under his wing. Throwing some cash on Torkelson would be a great hedge in case something happens to Witt Jr whether it is injury or struggles early on.
Bobby Witt Jr.: Kansas City Royals
American League Rookie of the Year odds: +310
The son of former major league pitcher, Bobby Witt is considered by many to be the top prospect in all of baseball and not surprisingly one of the 2022 ROY favorites. He tore up the minors last season and combined between Double-A and Triple-A, Witt Jr. slashed .290/.361/.576 with 33 home runs and 29 stolen bases while making just eight errors in nearly 1,000 innings in the field at shortstop and third base.
During spring training with the Royals in 2022, the 21-year-old has shown he can handle major league pitching as well batting .406 with three homers and a couple of steals. Witt Jr. will begin the season on Kansas City's roster so you would be wise to throw some money on this kid - he could have a truly special season.
Contenders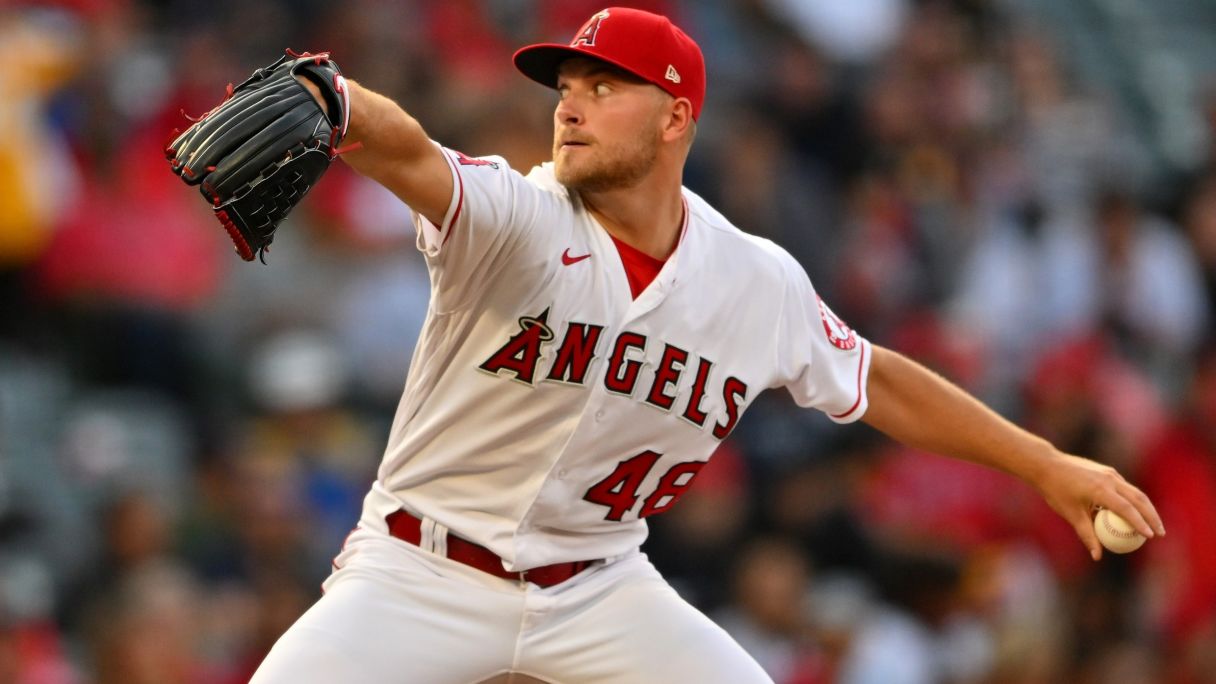 Reid Detmers of the LA Angels is expected to be in the picture - © Jayne Kamin-Oncea-USA TODAY Sports
Reid Detmers: Los Angeles Angels
American League Rookie of the Year odds: +2000
You don't get to the majors much faster than Detmers did. He was selected 10th overall in 2020, pitched 14 games last season in the minors, and then came the call. While his five starts with the Angels didn't go particularly well, one can understand it.
However, this spring, Detmers is pitching well. In 5.2 innings, the young lefty has struck out 11 and walked none. On top of that, Joe Maddon, the Angels manager, just named Detmers to the starting rotation. The kid has great stuff and now that the jitters are gone, he is worth putting some money on for this year's Rookie of the Year.
Joe Ryan: Minnesota Twins
American League Rookie of the Year odds: +2500
Ryan came over to the Twins last season and made five starts for Minnesota. He pitched well striking out 30 while walking only five in his first taste of the major leagues. Now, Ryan finds himself as the Opening Day starter. As they say, life comes at you fast.
The right-hander is 25 years old and has nothing left to prove in the minors. If the Twins can make a little noise in the AL Central, Ryan will be a big part of that. He can be the ace and at +2500, he could win you some cash like one.
Longshot
Matt Brash of Seattle sports an impressive record -© Thomas Shea-USA TODAY Sports
Matt Brash: Seattle Mariners
American League Rookie of the Year odds: +4500
A hot name right now, Brash just made the rotation as the fifth starter and has been lights out at every stop in the minors. He has made 25 appearances (20 starts) in his minor league career and sports an impressive 2.28 ERA with 150 strikeouts in just 102.2 innings.
If that wasn't enough to convince Seattle that he needs to be up this season, Brash has thrown 9.1 innings this spring and has allowed three hits and one run while striking out 12. While his teammate, fellow Rookie of the Year candidate Julio Rodriguez gets much of the hype, Brash has done a ton with his opportunity and is a bargain at these odds.
Picking a Natonal League Rookie of the Year winner
| Player | Odds |
| --- | --- |
| Oniel Cruz | +380 |
| Seiya Suzuki | +380 |
| Joey Bart | +750 |
| C.J. Abrams | +900 |
| Bryson Scott | +900 |
(*Odds courtesy of Draftkings /April 2022)
Cincinnati Reds infielder Jonathan India is the reigning NL Rookie of the Year having beaten Miami left-handed pitcher Trevor Rogers and St. Louis outfielder Dylan Carlson after receiving 29 of 30 first-place votes.
Pittsburgh Pirates shortstop Oneil Cruz has the best odds to win the award this year but who else is in contention?
Favourites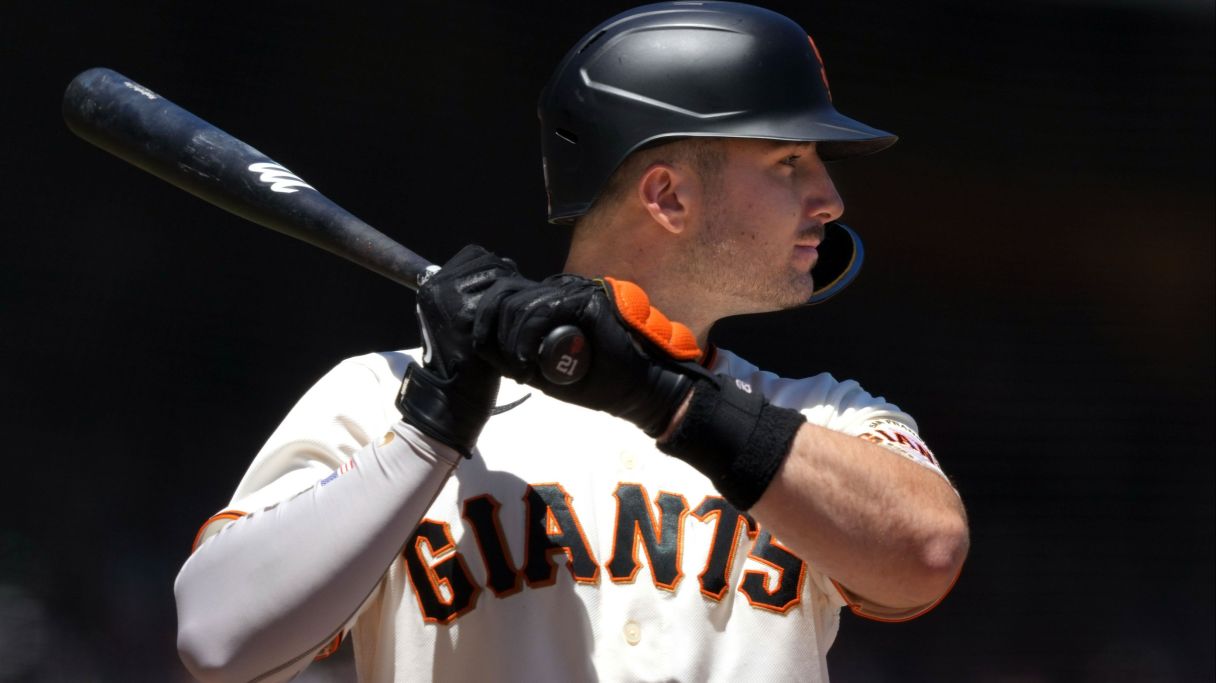 Joey Bart of San Francisco has what it takes - © Darren Yamashita-USA TODAY Sports
Joey Bart: San Francisco Giants
National League Rookie of the Year odds: +900
Bart takes over for retired legend Buster Posey. Huge shoes to fill for sure, but the former Georgia Tech star has what it takes. Not only is Bart polished behind the plate which will keep him in the lineup, but he is also a power bat.
Although he has struggled in his short stint in the majors, Bart has three homers in eight games this spring. A Gold Glove and 25+ bombs go a long way to winning a Rookie of the Year award - that is what Bart brings to the table.
CJ Abrams: San Diego Padres
National League Rookie of the Year odds: +900
Like Bart, Abrams has the defensive acumen at a premium position to keep his bat in the lineup. Abrams' offensive profile is more speed than power. However, the young shortstop for the Padres has impressed this spring and his base-stealing ability is elite.
With Fernando Tatis Jr. out for a significant amount of time, San Diego should have Abrams starting at short more times than not for the first few months.
Contender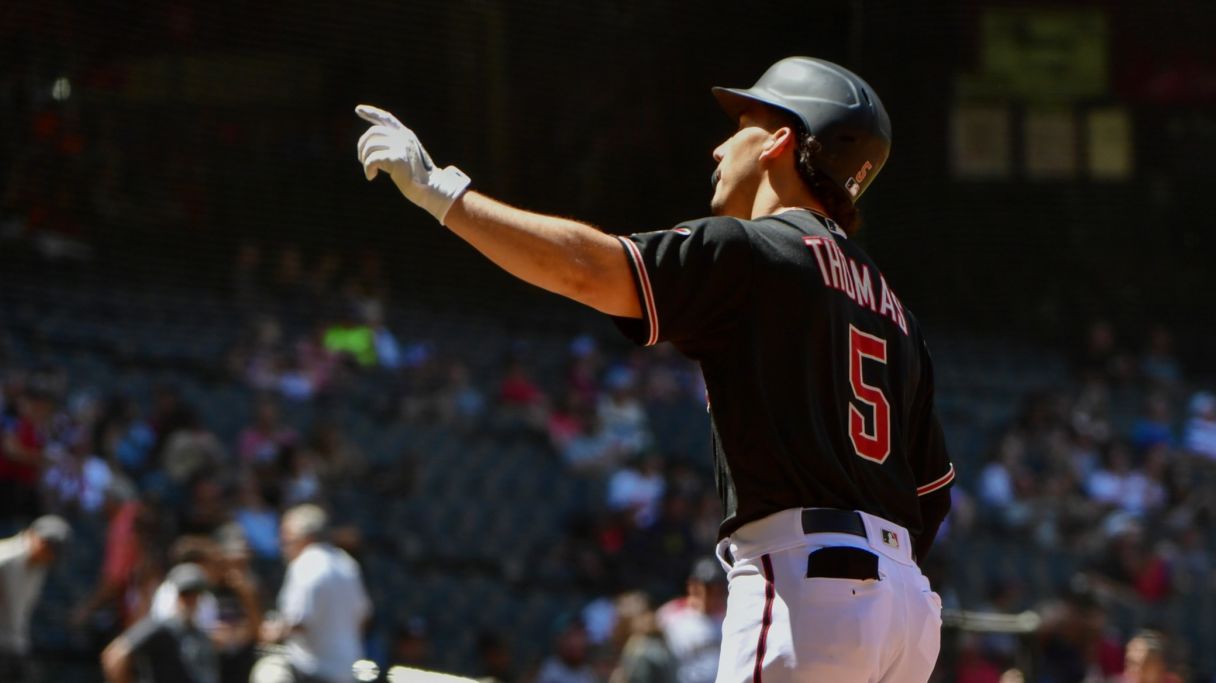 Alek Thomas could have enough time to show what he can do - © Matt Kartozian-USA TODAY Sports
Alek Thomas: Arizona Diamondbacks
National League Rookie of the Year odds: +2000
Thomas won't start the season with the Diamondbacks after a poor showing in spring training and begins this year in the minors, but he is in a good spot playing for a team that won't likely contend.
With not much outfield depth, Arizona could bring up Thomas by the end of April, which would give him enough time to show what he can do and allow the Diamondbacks to make decisions on who to get rid of at the deadline.
Longshot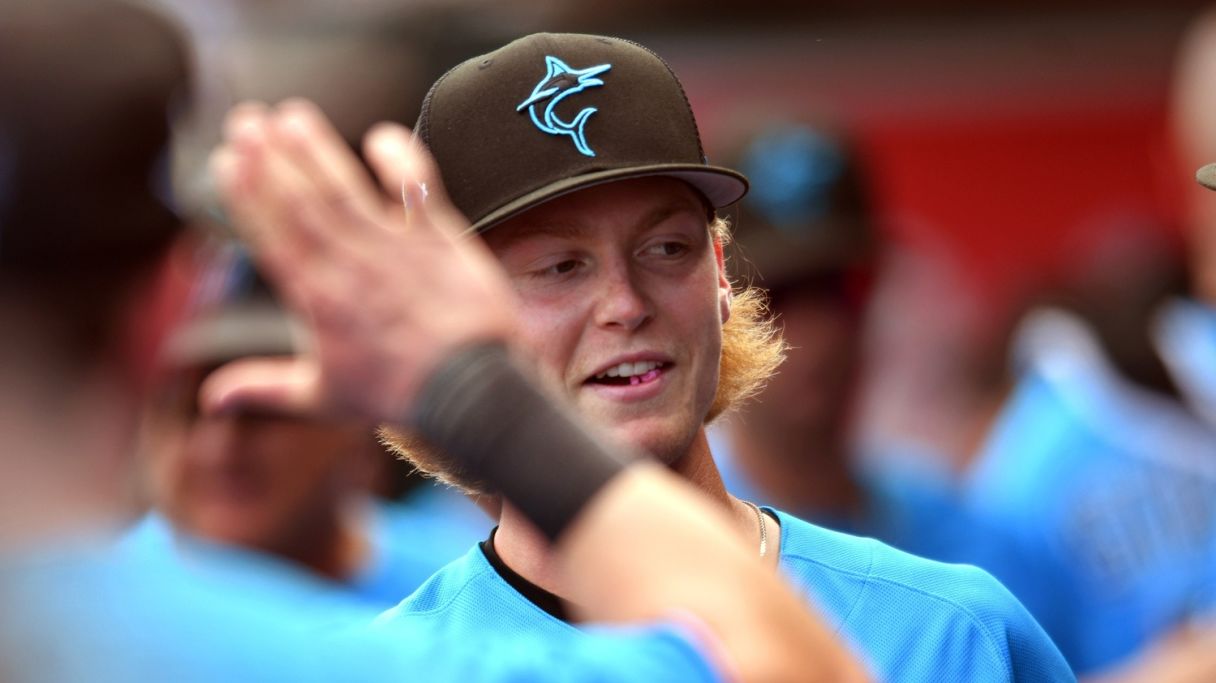 Max Meyer recently threwe five perfect innings - © Jim Rassol-USA TODAY Sports
Max Meyer: Miami Marlins
National League Rookie of the Year odds: +5000
The big right-hander will start at Triple-A to begin the season as Miami has a set rotation as of now, but we know how quickly injuries can derail a team's plans.
Meyer recently tossed five perfect innings against the Houston Astros and doesn't have much else to prove so will just await the call – but at these odds, you really can't go wrong betting on an unusually polished pitcher like Meyer.
MORE: Read our 2022 MLB picks here
How to bet on MLB games: a guide to betting on Major League Baseball online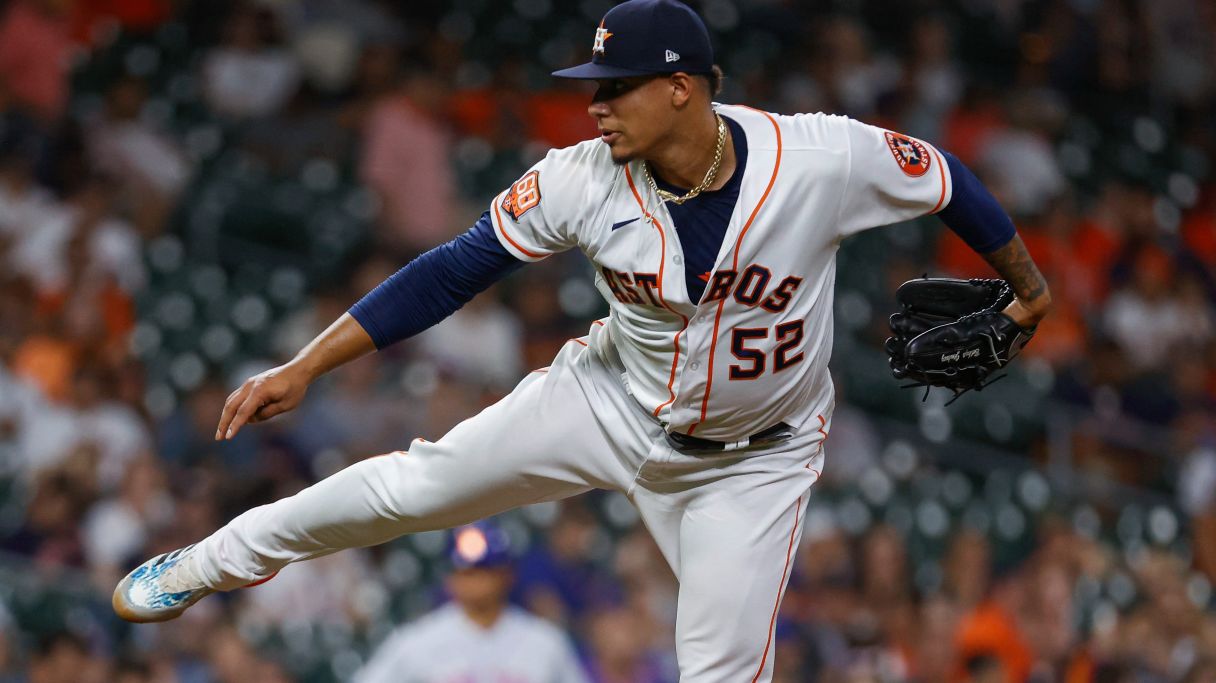 © Troy Taormina-USA TODAY Sports
The MLB Season is often described as a marathon not a sprint, with over seven months of action and roughly 2,430 regular-season games to wager on. During this time, players, teams, and yes, even baseball handicappers will experience highs and lows.
If this is your first venture into the MLB betting world, the most important piece of advice we can offer is to be patient and vigilant with your wagers.
There are plenty of betting options available within MLB, and understanding how each one works and what to look for when placing said wager can be the difference between winning and losing.
So if you often find yourself asking questions like; how does baseball betting work? we are going to break down the most common wagering options and offer up our most important baseball betting advice for each potential wager.
The MLB moneyline bet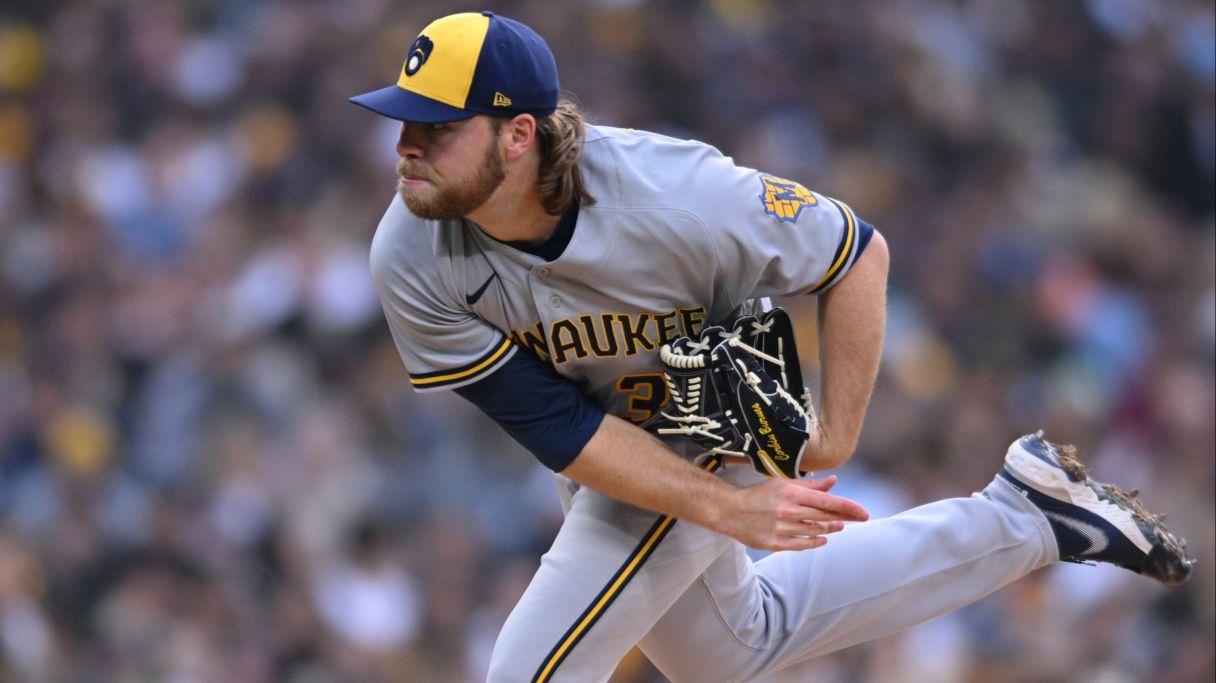 © Orlando Ramirez-USA TODAY Sports
This is the easiest wager to understand, no matter what sport you are betting on. The MLB moneyline betting option allows you to place a bet on the team you think is simply going to win the game. As per baseball betting rules, extra innings are included in the outcome of this bet.
Example: Toronto Blue Jays (-200) at New York Yankees (+140), Monday at 7:08 pm
In the above example, you can see that the Toronto Blue Jays are taking on the New York Yankees at Yankee Stadium on Monday. First pitch is scheduled for 7:08 pm. If you want to bet the Blue Jays to win the game, you would have to bet $200 to win $100. If you want to take the underdog Yankees, you would risk $100 to return a profit of $140.
Betting the MLB runline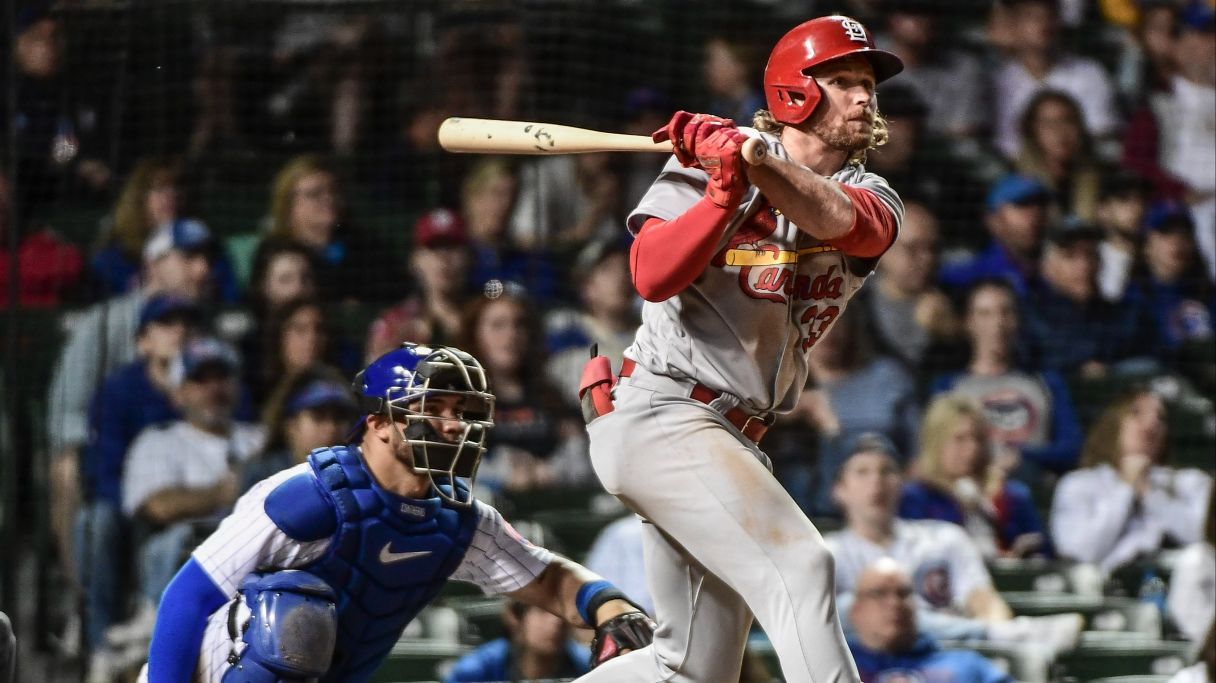 © Benny Sieu-USA TODAY Sports
Baseball utilizes a spread system to add alternative wagering options for bettors. If we look at the above example of Toronto-200 vs New York +140, the runline would look something like this:
Toronto Blue Jays -1.5 (+120) or New York Yankees +1.5 (-200)
This option gives you the chance to take the favorite (Toronto) and get plus-money value on them. The catch is that the Blue Jays must now win by two or more runs in order for you to win your bet. If you think New York has a chance to win, but don't trust them, you can grab them at +1.5 runs, which means if they win the game or lose by exactly one run, you win your bet.
MLB Over/Under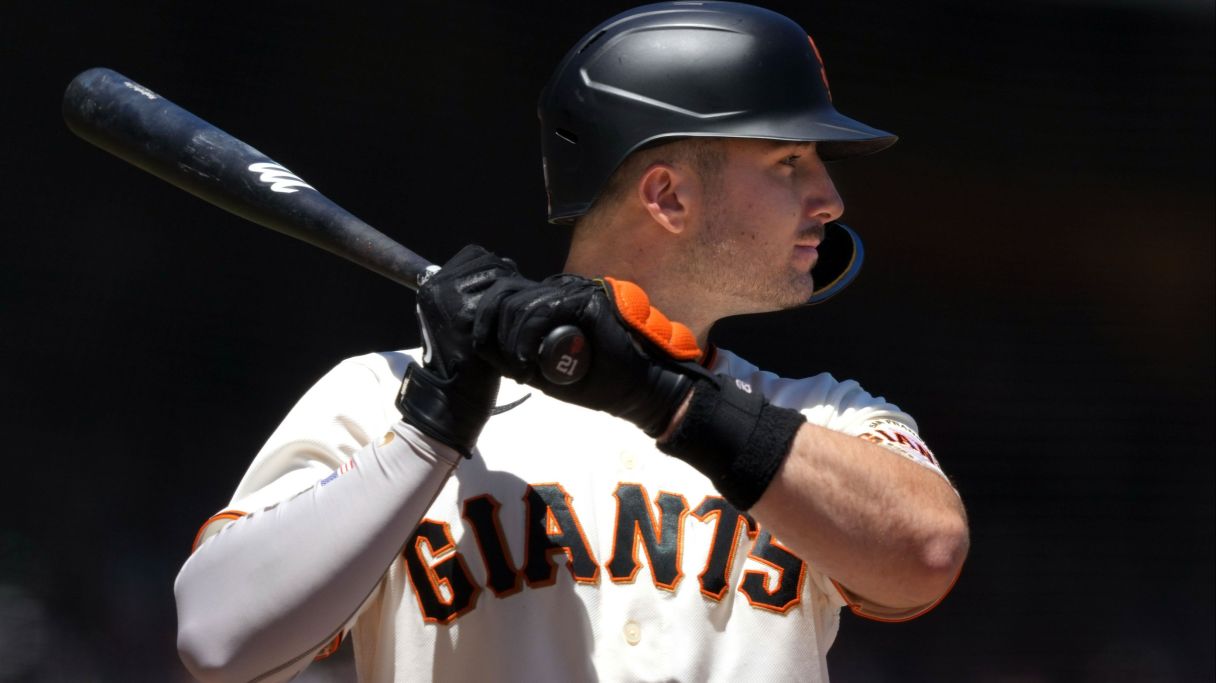 © Darren Yamashita-USA TODAY Sports
The MLB Over/Under betting option is another straightforward concept, as sportsbooks will offer a total for every game that's on the board for the night. You might see totals as low as 6.5 for games featuring two high-caliber pitchers, and totals as high as 12.5 in games featuring pitchers that are not as good or based on the weather forecast.
If we look at an example, you will see this:
Toronto Blue Jays/New York Yankees – "Over" 9.5 -110 or "Under" 9.5 -110
If you think both teams are going to combine to score 10 or more runs, you will bet the over and you would need to bet $110 to win $100. If you think that pitching will reign supreme, you can take the "under" and hope for nine or fewer runs to be scored. Similarly, you'd have to risk $110 to win $100.
Sometimes you will see sportsbooks totals such as 8.0. That means that if the total combined score lands on exactly eight runs, your bet will push, and you will get your wager back.
Futures MLB Bets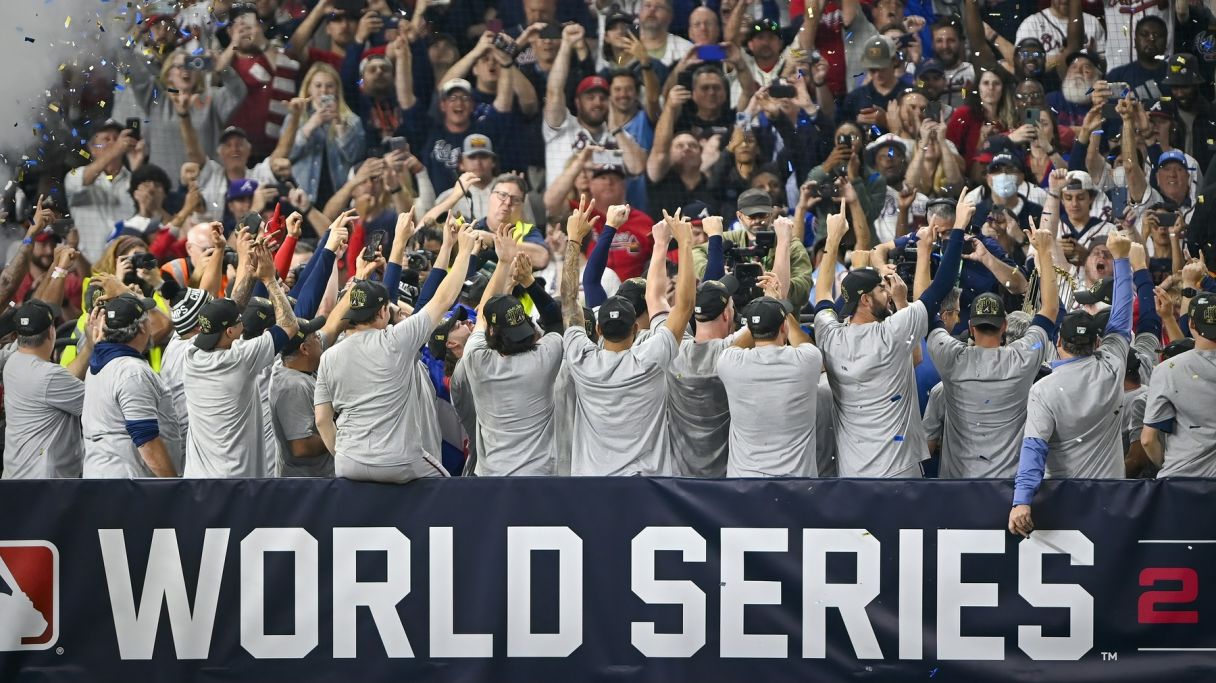 © Darren Yamashita-USA TODAY Sports
If you are fine with having money tied up for seven months or are just interested in putting a few bucks on your favorite team to do well this year, then you can find some big odds on the betting board. There are a number of futures bets you can make in terms of MLB betting, for example:
Who will win the World Series?
This is straightforward. You must pick a team that you believe is going to win the World Series in October. The odds are subject to change daily but once you place your wager, those odds are locked in for you.
Who will win the American League or National League?
This betting option stops one step short of the World Series. You simply bet on which team will make the World Series from their respective leagues. The odds won't be as good, but there is still value to be had.
Picking Divisional winners
This bet is as it sounds. You are picking the team you believe will win their respective division.
MLB Parlays
Parlays can be a great way to maximize the return with limited risk. MLB parlays will consist of two or more wagering options on a single betting ticket.
You could combine two teams, two totals, or one team and one total. The number of games you can parlay is usually capped at 12-15 depending on the sportsbook, but with each added leg comes a higher degree of difficulty – thus the higher odds/payout.
MLB Player Props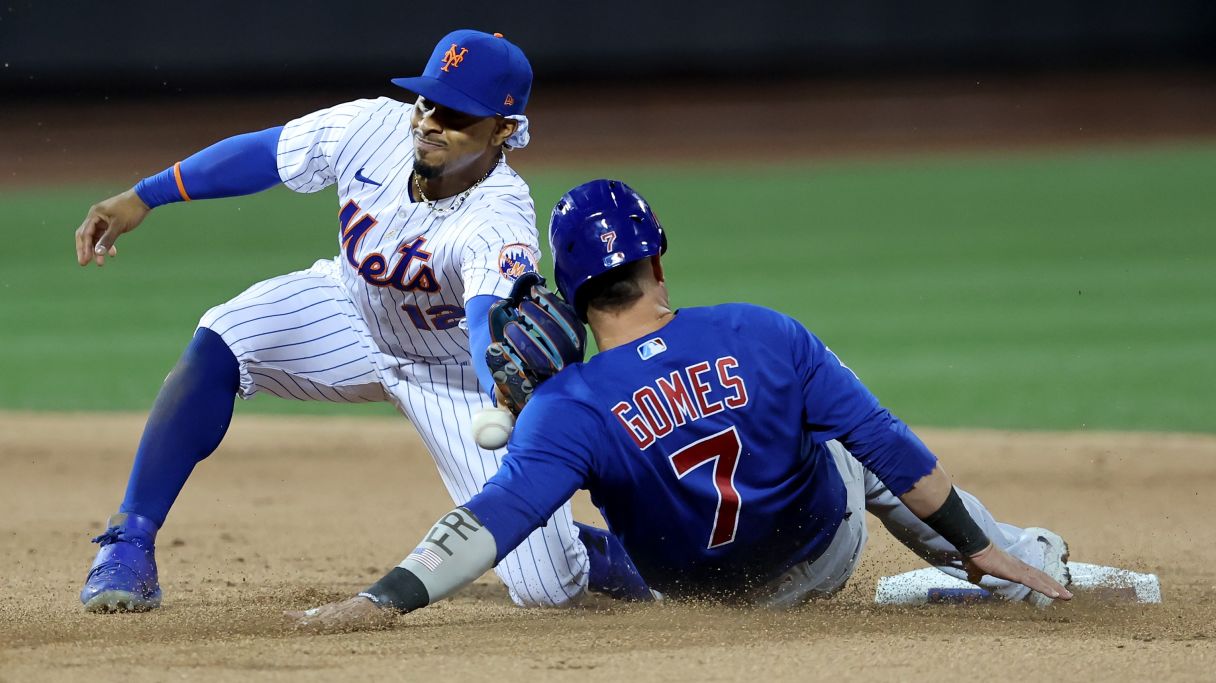 © Jessica Alcheh-USA TODAY Sports
Baseball is the most 'statistically measured' sport as it can be boiled down to pitcher versus batter for the duration of the game. MLB player prop options include:
Will Player X Hit a Home Run?

Over/Under Number of Strike Outs for Pitcher X

How Many RBIs Will Player X Have?
Keeping up to date to date with hot/cold streaks is a great way to find a favorable matchup to place prop bets on.
MLB World Series Betting
As if 2,430 regular-season games weren't enough to wager on: the MLB postseason and World Series add that extra element of excitement for bettors.
MLB Post Season Picks
The most common MLB postseason wagers are typically futures bet on World Series or American/National League pennants. These bets can be placed as soon as the odds are released (before the season) right through to playoff time.
How to bet on baseball and win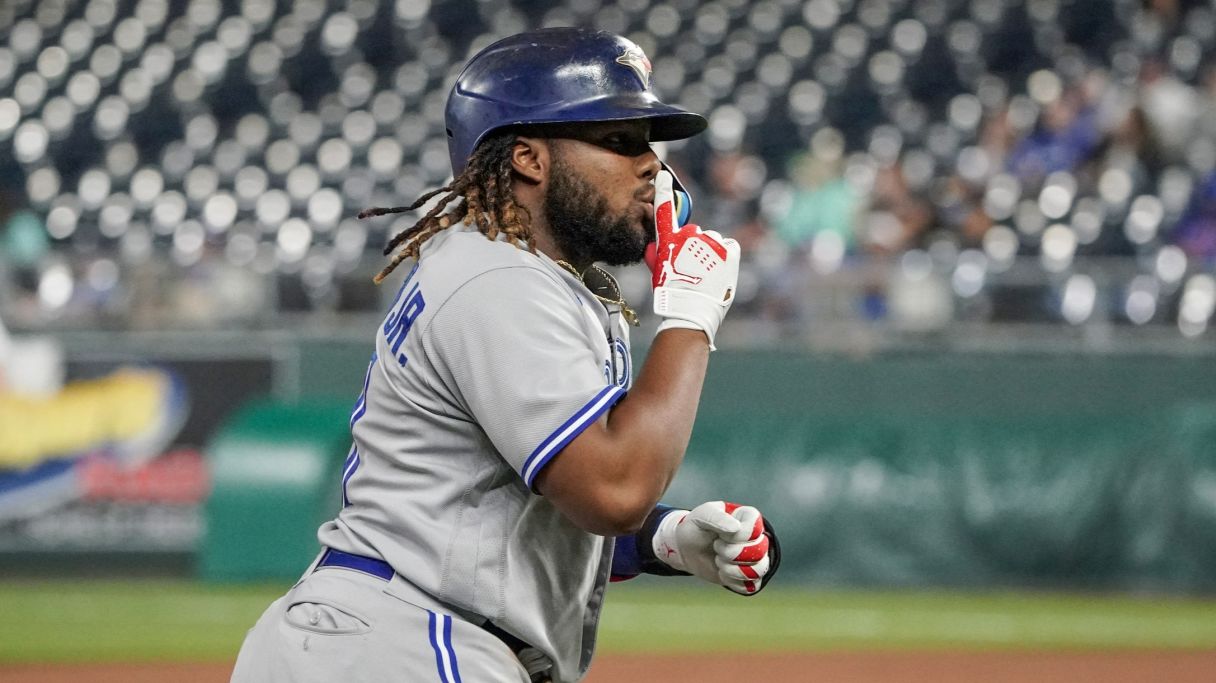 © Denny Medley-USA TODAY Sports
Now that we have explained the main wagering options for MLB, here are some pointers to help you boost your bankroll for the upcoming baseball season.
Moneyline
When betting on MLB money lines, we suggest staying away from extremely high-priced favorites. The best teams in the league lose at least 50 games each season and if you are consistently laying over -150 to bet public teams like the Yankees, Dodgers, or Cubs, you will end up in the negative.
Since 2005, teams that are favored at -150 or higher have won just 63 percent of the games. If you bet them blindly each game, you'd be down -310 units, despite having a positive winning percentage.
Totals
A Major League team rarely has five all-star caliber pitchers. Usually, the No.4 or No.5 pitcher is someone the opposing team is hoping they can sneak by to pick up a win occasionally.
If you can find a spot where the total is relatively reasonable (8.5 or 9.5) and you are getting a chance to bet against both team's No.5 starters, you must take the over.
Futures
These bets last the entire season. Seven months. 213 days from April 1 to October 31. Unless you are throwing a few bucks on your favorite team to win it all, then fine. But if you want to bet daily, having too much exposure on futures bets is a very bad idea.
Chances of them hitting are slim and that will only take away from any profits you do turn betting the daily baseball card.