MLB Picks and Predictions: Who is in contention for the 2022 Cy Young award?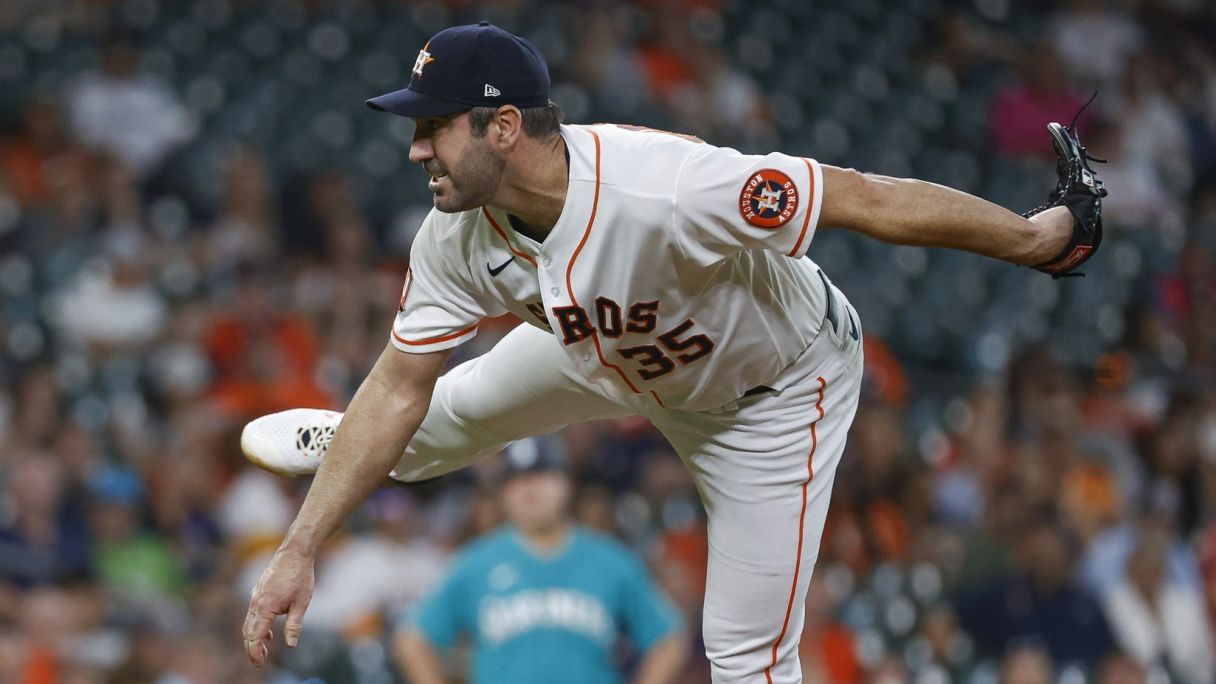 © Troy Taormina-USA TODAY Sports
Odds to win 2022 Cy Young award
| Player | Odds |
| --- | --- |
| Gerrit Cole | +450 |
| Shane Bieber | +700 |
| Robbie Ray | +900 |
| Lucas Giolito | +1000 |
| Lance McCullers Jr. | +1400 |
| Dylan Cease | +1400 |
| Kevin Gausman | +1400 |
| Shane McCLanahan | +1500 |
(*Odds courtesy of Draftkings /April 2022)
A favorite, a contender, and a longshot for the 2022 MLB Cy Young winner
Pitching is a volatile position mainly due to the number of injuries that are prevalent. The guys on the mound also depend on their fielders which can be good or bad depending on the team.
A few plays not made or even a few horrible outings and it could seriously hurt a pitcher's season stats and put them out of contention for the Cy Young award.
Strikeouts are a two-fold positive for Cy Young hopefuls. Not only do voters weigh them heavily, but strikeouts also allow the pitcher to stay in control by taking any chance out of his fielders' hands.
American League
Robbie Ray was a surprise winner last season - © Troy Taormina-USA TODAY Sports
Few people, if any, would have predicted Robbie Ray would win the AL Cy Young Award last season.
The left-hander was coming off a disastrous 2020 campaign in which he posted a 6.62 ERA and 1.90 WHIP while leading the Majors in walks.
Be he rattled off an AL-best 2.84 ERA, led the Majors with 248 strikeouts and received 29 of the 30 possible first-place votes for the 2021 AL Cy Young Award - can he do the same in 2022 at odds of +900 or will someone else take his crown?
AL CY Young Favorites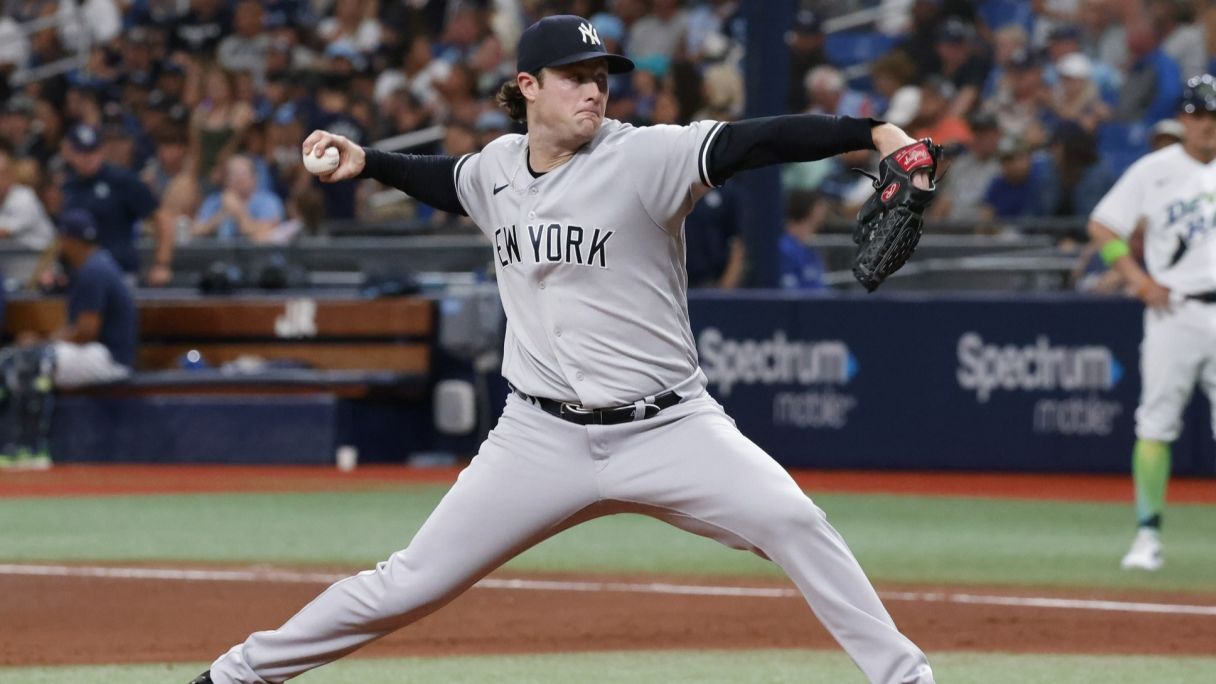 Gerrit Cole has finished in the top five of the Cy Young race in each of the last four years - © Reinhold Matay-USA TODAY Sports
Gerrit Cole: New York Yankees
Odds: +425
One of the most dominant pitchers in the American League since he came over from Pittsburgh in 2018, Cole has finished in the top five of the Cy Young race in each of the last four years, including twice being the bridesmaid.
He is consistently good and can be relied upon to throw plenty of innings as he has averaged over six innings per start for his career - making him a Cy Young favoroite in the process.
Shane Bieber : Cleveland Guardians
Odds: +700
Bieber won the pitching triple crown – leading the league in wins, strikeouts, and ERA (earned run average) – in 2020. Granted, it was a short season of only 12 starts for the right-hander, but he looked like he was coming into his own. Last year started off fine also, but in June Bieber landed on the Injured List. He then returned for just a couple of short starts at the end of September looking like his old self.
The thing that makes the Guardians' ace a good bet also is that he plays in the weakest division in the league, as opposed to Cole, who is in the toughest.
Robbie Ray: Seattle Mariners
Odds: +900
Last year's Cy Young winner has a new home after signing a five-year/$115 million contract with the Seattle Mariners and Ray seemed to have finally figured it out in Toronto in 2021.
After years of having a great arm but bad control, the big lefty began to trust his stuff and throw strikes. He now moves to the AL West which isn't nearly as dangerous as the AL East, so if the improvements the 30-year-old has made continue, he has a great chance to repeat.
AL Cy Young Contenders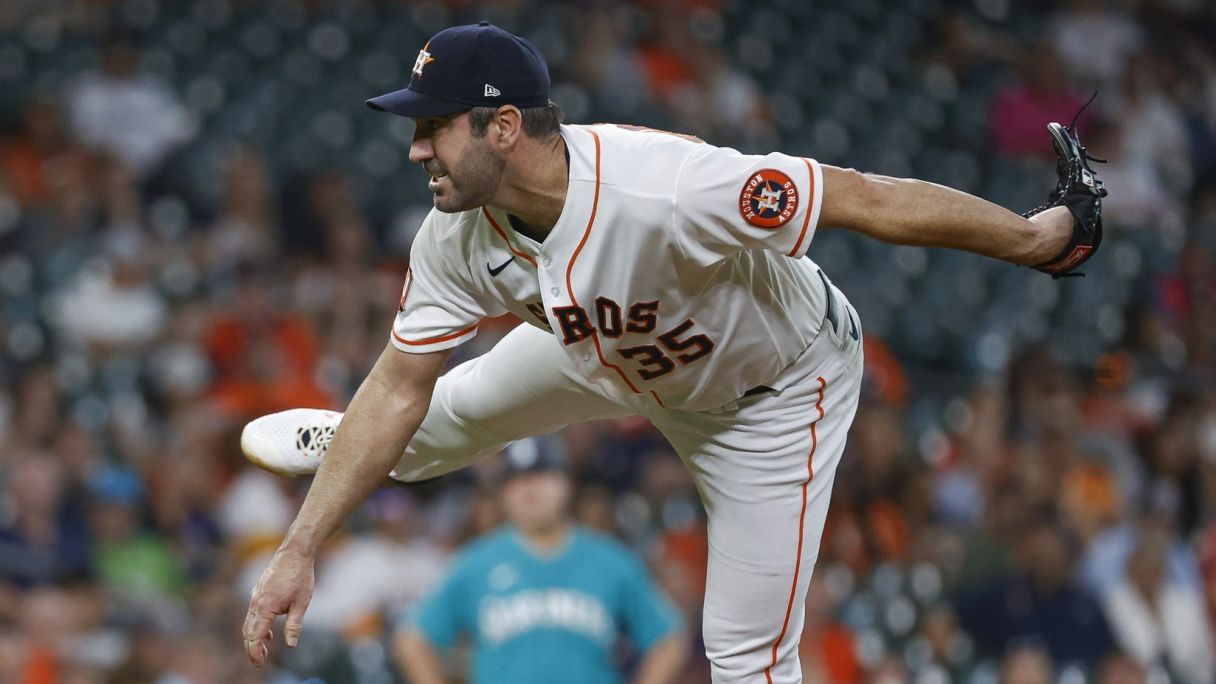 Justin Verlander was second in Cy Young voting in 2018 and won the award in 2019 - © Reinhold Matay-USA TODAY Sports
Justin Verlander: Houston Astros
Odds: +1600
The major question here: Can a 39-year-old come back from Tommy John Surgery as strong as before? Verlander is about to answer that. His initial couple of innings in spring training looked good as the right-hander was hitting 95 mph on the gun.
Let's not forget that Verlander was second in Cy Young voting in 2018 and won the award in 2019. The odds for him returning to his previous dominance aren't great but if anyone can do it, it would be Kate Upton's husband.
Dylan Cease: Chicago White Sox
Odds:+1400
Cease had a breakout season last year and while a 3.91 ERA is not going to get you many votes for the Cy Young award, leading the league in strikeouts per nine at 12.3 will. One thing the White Sox right-hander has to work on is limiting his walks.
He went from 5.2 per nine in 2020 to 3.7 per nine in 2021. That isn't bad, but if Cease can bring that number below three while maintaining an elite strikeout rate, he could be in the Cy Young race at the end of the season.
AL Cy Young Longshots
A great season could be on the cards for Eduardo Rodriguez - © Thomas Shea-USA TODAY Sports
Eduardo Rodriguez: Detroit Tigers
Odds: +3500
The newest Tiger has the stuff to be a top-notch starter in the AL. He goes to a pitcher's park along with having what could be an elite defense behind him. The Tigers signed Javier Baez and may have youngster Riley Greene manning centerfield.
He will be 29 on opening day and last year had his best walk rate (2.7/9) and his best strikeout rate (10.6/9) of his career. The possibility for a great season is lined up for Rodriguez.
Noah Syndergaard: Los Angeles Angels
Odds: +4500
Injuries have derailed Thor's career so far. He was looking like he could be an ace in the making but struggled in 2019 and then had Tommy John surgery (TJS) in 2020. It wasn't long ago when Syndergaard was a dominant starter. At only 29 years old and two years removed from TJS, there is hope that he can find his old self. Betting on that is worth it at these odds.
National League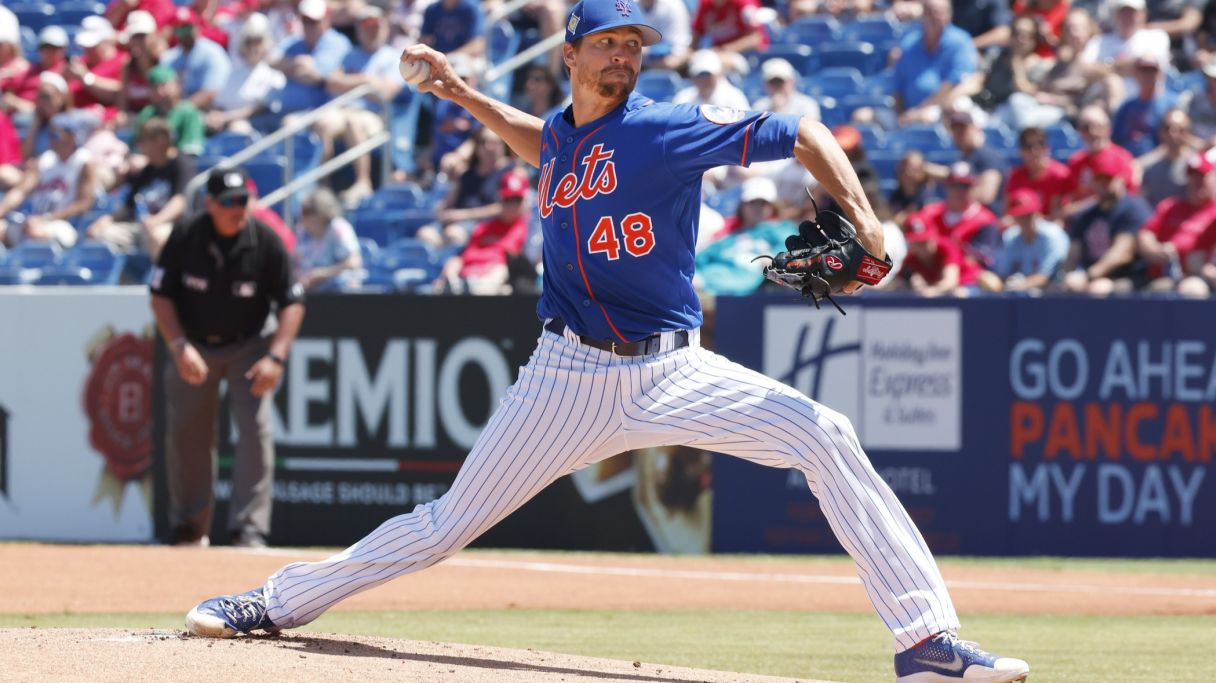 © Reinhold Matay-USA TODAY Sports
The New York Mets have the top two favorites for the 2022 Cy Young Award in the NL with Jacob deGrom (+330) and Max Scherzer (+800).
Between 2016 and 2019, deGrom and Scherzer each won the award twice with deGrom finishing third in 2020 and Scherzer finishing third last season and.
No wonder then that these two at the forefront of the odds, though both have their issuesas DeGrom was hurt in 2021 and Scherzer is 37 years old.
Questions about the two of them are there, but there's a few other guys who have better odds that we should be looking at.
NY Cy Young Favorites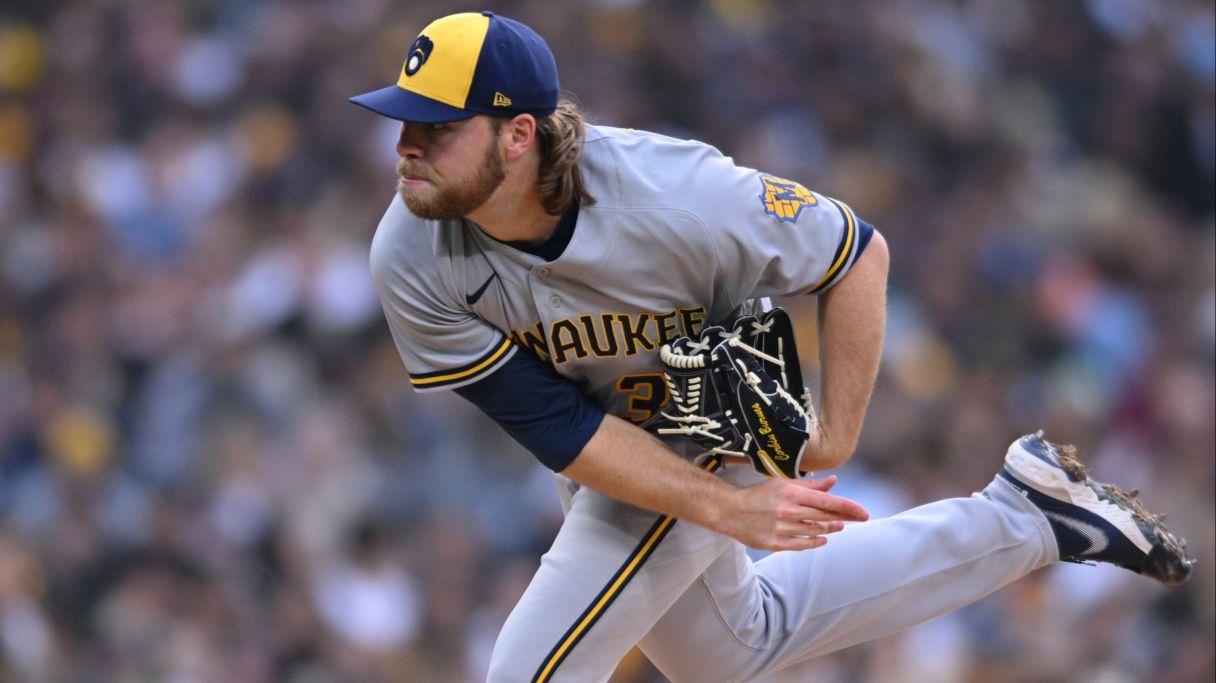 Corbin Burns of Milwaukee dominated last year as he led the league in ERA (2.43) - © Orlando Ramirez-USA TODAY Sports
Corbin Burnes: Milwaukee Brewers
Odds: +950
The defending Cy Young Award winner is always worth throwing some money on. Especially when that pitcher, like Burnes, is only 27 years old. The Milwaukee right-hander dominated last year as he led the league in ERA (2.43) and some of his other numbers are impressive.
He had 200 more strikeouts than walks (234-34) and allowed only seven home runs in 167 innings which was the best ratio in the league. Can he do it again? I'm willing to throw some cash down that he can.
Walker Buehler: Los Angeles Angels
Odds: +1000
Although Buehler's 2021 campaign wasn't as noteworthy as Burnes', the Dodgers ace had an excellent year nonetheless, finishing just behind the Brewers starter in ERA (2.47). He was also only one of four pitchers in the NL to log 200+ innings (207.2).
That volume, along with the fact that Buehler can get wins easily thanks to a potent Los Angeles lineup, makes the 27-year-old a good bet to take home the 2022 Cy Young Award.
NY Cy Young Contenders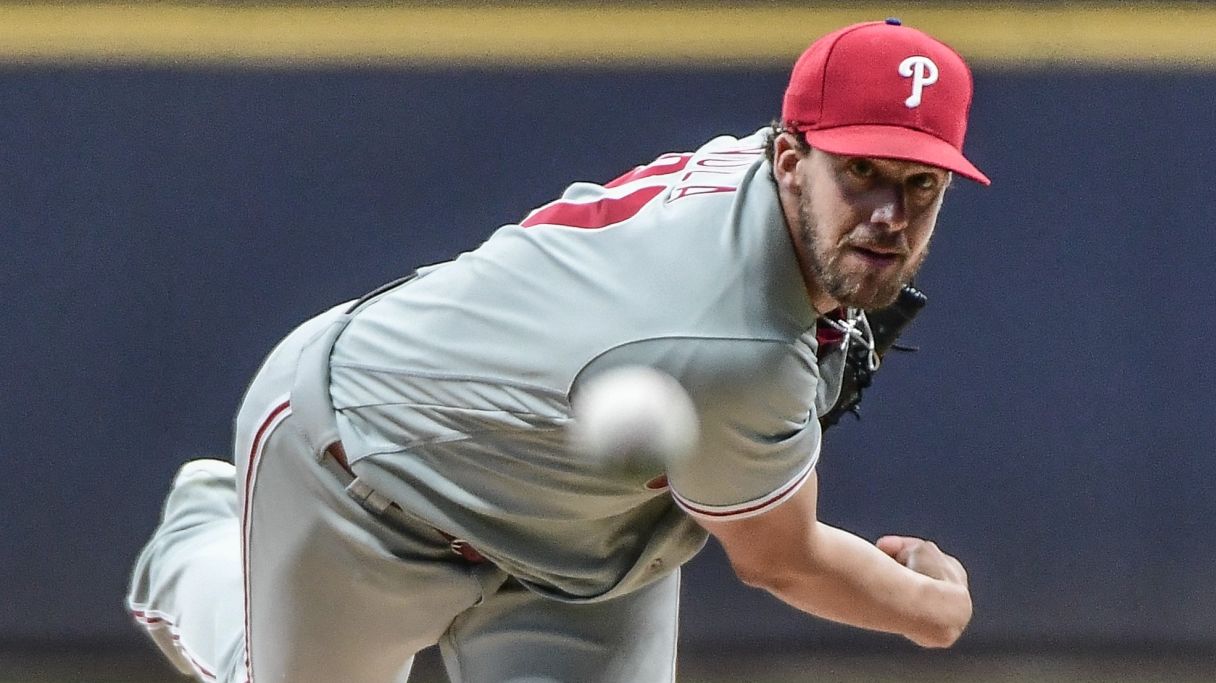 Aaron Nola had his best strikeout to walk rate of his career last season - © Benny Sieu-USA TODAY Sports
Aaron Nola: Philadelphia Eagles
Odds: +1500
Nola didn't get the kind of hype his teammate Zack Wheeler got last year, but he is every bit the pitcher. While the 9-9 record and 4.63 ERA don't look great, we can see that those numbers don't tell the whole story. Nola had his best strikeout to walk rate of his career last season.
The ERA is an anomaly as Nola has posted a 3.23 ERA between 2017 and 2020. While Philadelphia may not have the best defense in the league by any stretch, their offense got a whole lot better heading into 2022. With Wheeler banged up a bit to start the year, expect Nola to take on the ace role and run with it.
Blake Snell: San Diego Padres
Odds: +2200
The former Cy Young winner for the Tampa Bay Rays struggled a bit in his first season with the San Diego Padres. However, a closer look tells us that he needed to get healthy and acclimated to his new league.
In his final eight starts of 2021, the Padres left-hander had a 1.83 ERA and struck out 65 batters in just 44.1 innings while walking 14 and giving up just four homers. These odds are excellent for a pitcher who has already won a Cy Young Award and is still only 29 years old. He seems to have figured out the NL.
NY Cy Young Longshots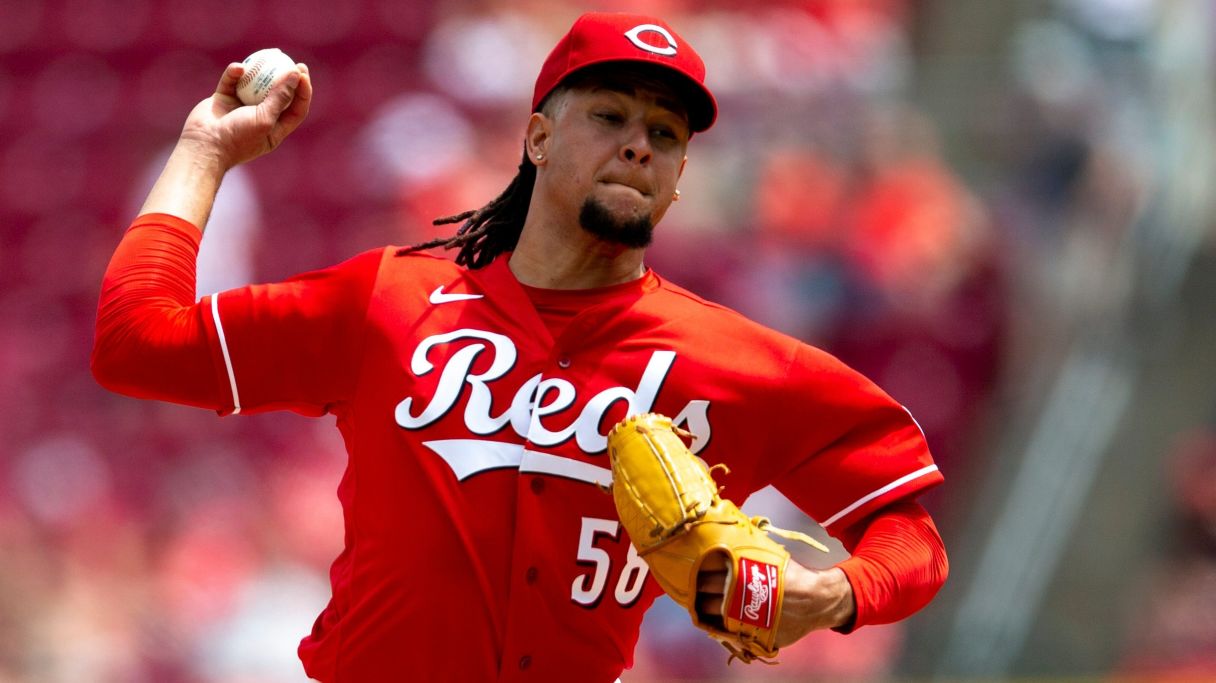 Luis Castillo has struck out nearly 10 batters per nine innings in his career - © Albert Cesare / USA TODAY NETWORK
Luis Castillo: Cincinnati Reds
Odds: +3000
As recently as 2019, people were talking about Castillo as the next big thing in the NL. He took a step back last year but has the stuff to bounce back this time around. He plays in a hitting-deprived division and although his home ballpark is conducive to home runs, he manages to keep them to a minimum.
He has struck out nearly 10 batters per nine innings in his career and if he can limit the walks, Castillo is a solid bet at decent odds for the Cy Young Award this season.
Julio Urias: Los Angeles Dodgers
Odds: +3500
The lone 20-game winner in Major League Baseball last year may be an even better bet than his teammate Buehler. Urias is helped as well by a dangerous lineup. He is just 25 years old and is ready for a true breakout season.
In 2021, the lefty had a 2.96 ERA with a better than 5-to-1 K/BB rate along with allowing a hair under a home run per nine innings. Urias is on the way up and for these odds, you would be betting on the best left-handed starter in the National League.
Buyer Beware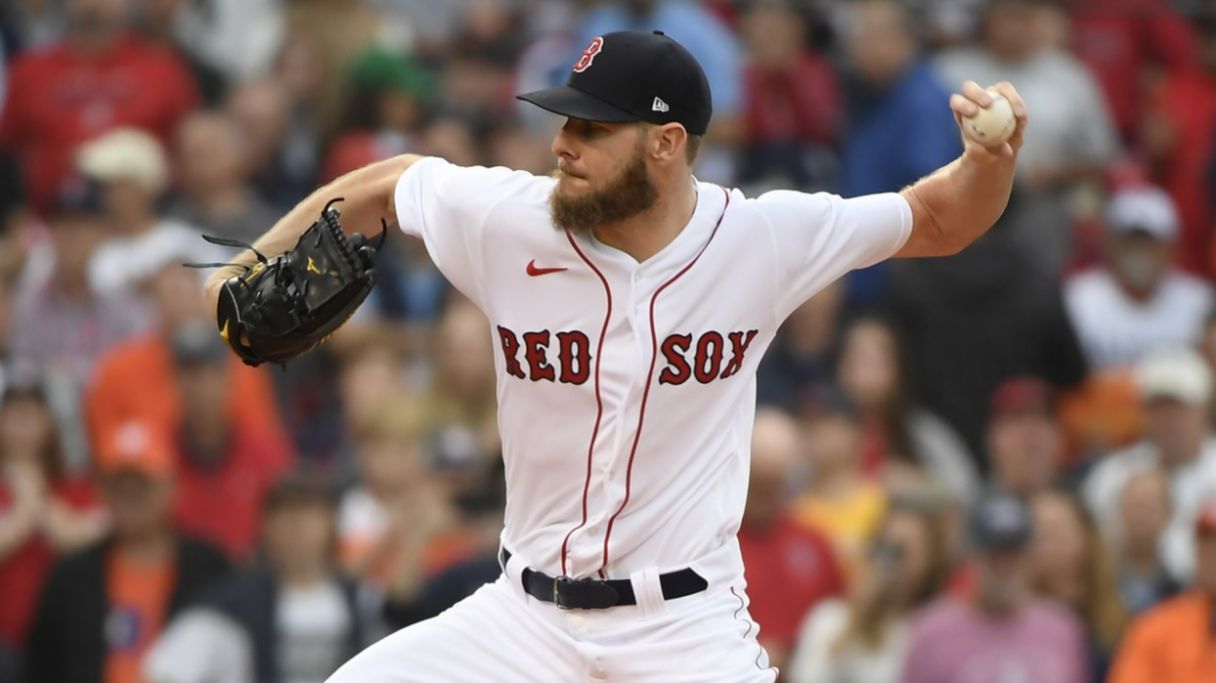 Injury could hamper Chris Sale's cchances in 2022 - © Bob DeChiara-USA TODAY Sports
There are a few guys I would stay away from putting money on due to major obstacles.
Chris Sale: Boston Red Sox
Odds: +1600
Sale is shut down for at least a month due to a rib injury. While he has the ability to rack up strikeouts and be his old dominant self.
He just turned 33 and recovery is something the Red Sox will take slowly to be sure he is ready for the stretch run.
Jack Flaherty: St. Louis Cardinals
Odds: +2200
Flaherty has some issues with his shoulder and could miss up to a month of the season.
He may miss more and a shoulder issue is much worse overall than a forearm issue or something with his elbow.
German Marquez: Colorado Rockies
Odds: +5000
While the odds are decent, Colorado may be looking to move him at the trade deadline. If he goes to an American League team, his chances are nil.
Stephen Strasburg: Washington Nationals
Odds: +7000
He had Thoracic Outlet Syndrome and is recovering, so it's unlikely he even pitches enough innings to qualify for the ERA title, let alone put up any kind of good numbers.
MORE: Read our 2022 MLB picks here
Milwaukee
@
Philadelphia
LA Dodgers
@
Baltimore
Cleveland
@
Pittsburgh
San Diego
@
Toronto
San Francisco
@
Cincinnati
Chi. White Sox
@
NY Mets
Arizona
@
Atlanta
Miami
@
St. Louis
Washington
@
Chi. Cubs
Tampa Bay
@
Texas
Detroit
@
Kansas City
Houston
@
Colorado
NY Yankees
@
LA Angels
Boston
@
Oakland
Minnesota
@
Seattle
Cleveland
@
Pittsburgh
LA Dodgers
@
Baltimore
Tampa Bay
@
Texas
Miami
@
St. Louis
Houston
@
Colorado
Boston
@
Oakland
Milwaukee
@
Philadelphia
San Diego
@
Toronto
NY Yankees
@
LA Angels
Chi. White Sox
@
NY Mets
San Francisco
@
Cincinnati
Arizona
@
Atlanta
Washington
@
Chi. Cubs
Detroit
@
Kansas City
Minnesota
@
Seattle
Arizona
@
Atlanta
San Francisco
@
Cincinnati
Milwaukee
@
Philadelphia
San Diego
@
Toronto
Chi. White Sox
@
NY Mets
Detroit
@
Kansas City
Minnesota
@
Seattle
Baltimore
@
Tampa Bay
St. Louis
@
Chi. Cubs
Houston
@
Oakland
St. Louis
@
Chi. Cubs
Colorado
@
Miami
San Diego
@
Detroit
Baltimore
@
Tampa Bay
San Francisco
@
Washington
Kansas City
@
NY Yankees
Philadelphia
@
Cleveland
NY Mets
@
Boston
Arizona
@
Cincinnati
LA Dodgers
@
Texas
Chi. White Sox
@
Minnesota
Atlanta
@
Milwaukee
Pittsburgh
@
LA Angels
Houston
@
Oakland
Toronto
@
Seattle
Kansas City
@
NY Yankees
Colorado
@
Miami
St. Louis
@
Chi. Cubs
LA Dodgers
@
Texas
NY Mets
@
Boston
Toronto
@
Seattle
Baltimore
@
Tampa Bay
Arizona
@
Cincinnati
San Diego
@
Detroit
San Francisco
@
Washington
Philadelphia
@
Cleveland
Atlanta
@
Milwaukee
Chi. White Sox
@
Minnesota
Houston
@
Oakland
Pittsburgh
@
LA Angels
San Diego
@
Detroit
Kansas City
@
NY Yankees
San Francisco
@
Washington
Philadelphia
@
Cleveland
Baltimore
@
Tampa Bay
Arizona
@
Cincinnati
Colorado
@
Miami
Atlanta
@
Milwaukee
Chi. White Sox
@
Minnesota
St. Louis
@
Chi. Cubs
LA Dodgers
@
Texas
Houston
@
Oakland
Pittsburgh
@
LA Angels
Toronto
@
Seattle
NY Mets
@
Boston
San Francisco
@
Detroit
Kansas City
@
Cleveland
Texas
@
Houston
Pittsburgh
@
San Diego
St. Louis
@
Arizona
Toronto
@
LA Dodgers
Last updated: Jul 18, 2:05 PM UTC