NBA Finals prop bets to watch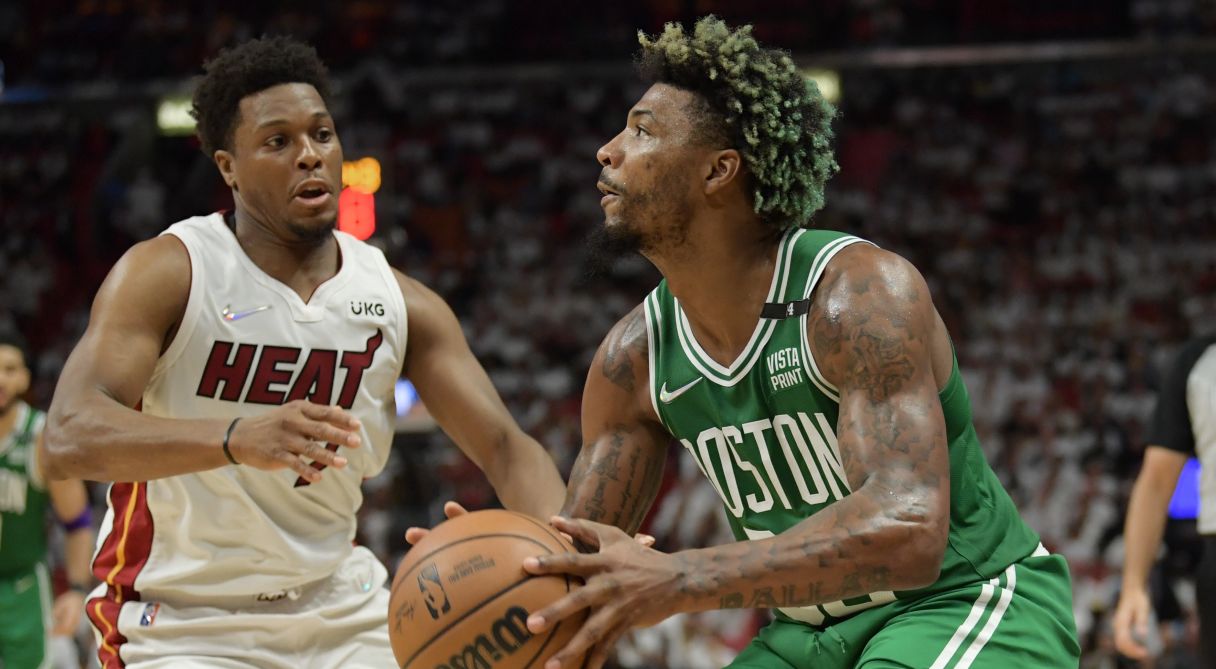 Marcus Smart and the Boston Celtics face off against the Warriors in the NBA Finals. Image source © Jim Rassol-USA TODAY Sports
The NBA Finals offer some incredible opportunities to get involved in the action in some of the biggest sports games in the USA.
NBA Finals odds are available on who will win the series and take the NBA championship of course, but there are so many other NBA prop bets to take jump on. We asked NBA and international basketball expert, Mete Aktaş for his NBA Finals Predictions and find out where he thinks you can find the best value.
NBA Finals series correct score after 3 games: Golden State Warriors to lead 2-1 (+125)
In the NBA Finals, unlike the first three rounds of the playoffs, where the higher seed receives home-court advantage, the team with the better regular season record gets it. The Warriors finished the regular season 53-29, while the Celtics finished 51-31, therefore Golden State gets home court advantage.
At the start of the Finals, home-court advantage is even more critical. Game 1 was won by 57 of the 74 teams that started the series at home for a 77 percent victory rate. So far in the postseason, the Warriors are 9-0 at home, outscoring their opponents by 131 points (average margin of victory: 14.6). The Celtics are coming off back-to-back seven-game series. As a result, their legs aren't as fresh as the Warriors, who haven't played since last Tuesday after winning the Western Conference finals series against the Dallas Mavericks in five games. After Game 7 in Miami on Sunday, the Celtics flew back to Boston and then to San Francisco on Tuesday morning.
The Warriors will benefit from the home-court edge to begin the series, and the rest factor both of which will have positively affected their NBA Finals odds. I expect them to take an early 2-0 lead in the series and defend their home-court advantage. However, when the series shifts to Boston for games 3 and 4, things might take a drastic turn for the Warriors. So far in the playoffs, Golden State is 3-4 on the road and has been outscored by 44 points. A raucous Celtics crowd at TD Garden will help Boston win Game 3, the first NBA Finals game in Boston since 2010.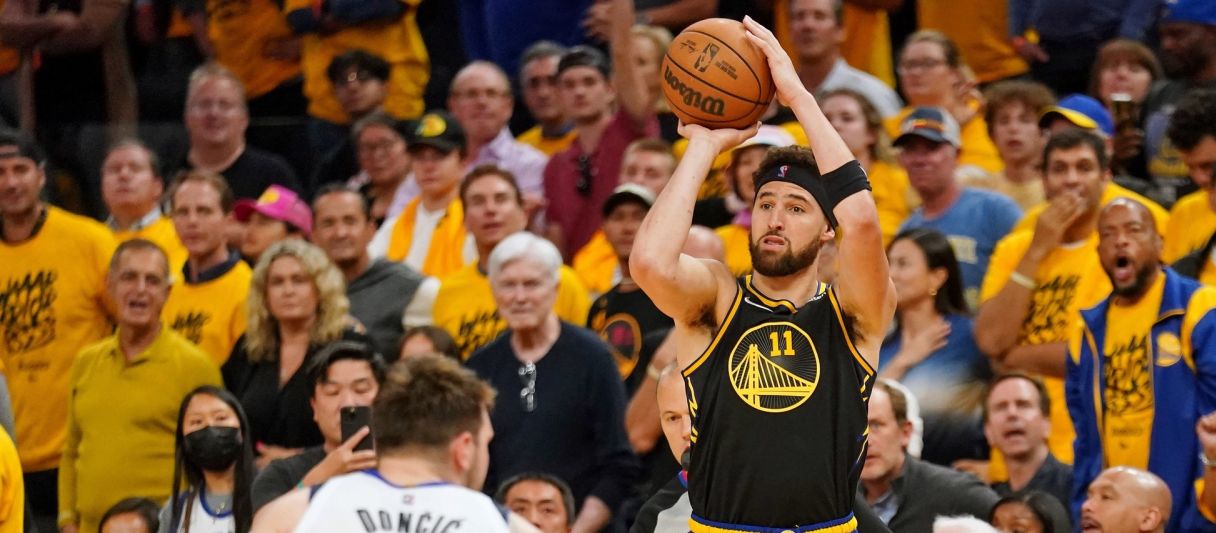 © Cary Edmondson-USA TODAY Sports
NBA Finals series correct score (best of 7): Golden State Warriors 4-3 (+400)
On paper, there isn't much difference between the Golden State Warriors and the Boston Celtics heading into this series. The sides finished two games apart in the standings and have the top two-point differential in the postseason: Boston, +6.1, and Golden State, +5.4. Only the Memphis Grizzlies tested Golden State in the playoffs, extending the conference semifinals to six games despite playing without Ja Morant for half of the series. Against the Grizzlies and Mavericks, who had the sixth- and seventh-ranked defenses in the regular season, the Warriors averaged 113.5 points per 100 possessions, equivalent to a top-10 regular-season offense.
Golden State's calling card has always been the offense. Still, when the Warriors were winning titles, they played excellent defense. They finished second in that category during the regular season (106.6 points allowed per 100 possessions).
Meanwhile, in the first round, the Celtics swept the Brooklyn Nets. Then they came from a 3-2 deficit to defeat the defending champion, Milwaukee Bucks, in the Eastern Conference playoffs, and they beat the injury-plagued Miami Heat in another Game 7 on the road. Boston has allowed 105.1 points per 100 possessions in the playoffs despite facing three of the league's top 12 offenses during the regular season, outperforming their league-leading regular-season defense by more than a point.
This series will most likely be decided by Golden State's offense versus Boston's defense. The Warriors haven't faced a tough defense like the Celtics so far. Meanwhile, the Celtics haven't seen an offense like the Warriors' in a long time. So, who triumphs? Even though I foresee a long series, I have to give Golden State the edge in crunch-time performance based on how both teams have performed thus far in the playoffs. The Warriors' "championship DNA" has manifested itself several times this postseason. Therefore, I have faith in Golden State's ability to lock in when necessary and win the series in 7 games and +400 is one of the best NBA Finals odds available.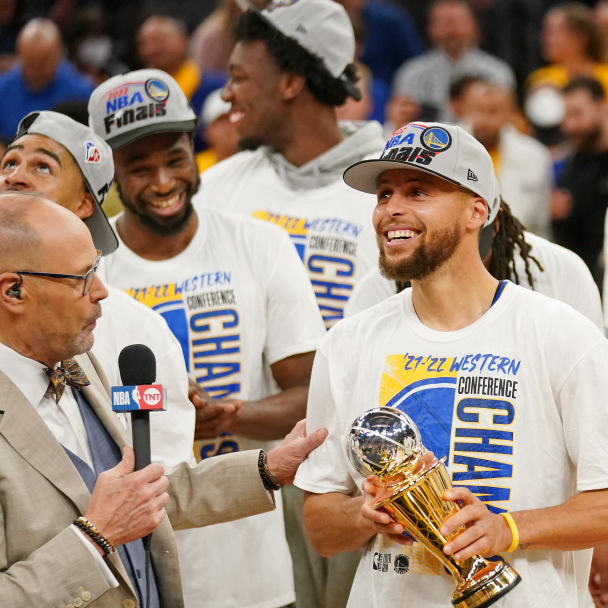 NBA Finals MVP: Stephen Curry, Golden State Warriors (+110)
The Golden State Warriors have returned to the NBA Finals for the first time since 2019. They had reached the Finals six times in the previous eight years, earning three Larry O'Brien Trophies. On the other hand, Stephen Curry surprisingly has received no NBA Finals MVP accolades.
Curry, who has won two regular-season MVP titles (2015, 2016) and one All-Star MVP award (2022) in his 13-year career, has come up short in all three of his previous Finals appearances. His teammates Andre Iguodala and Kevin Durant won in 2015, 2017 and 2018 respectively.
With a Finals MVP award, Curry will join Kareem Abdul-Jabbar, Kevin Durant, Kobe Bryant, LeBron James, Michael Jordan, Shaquille O'Neal, and Wilt Chamberlain as the only players to be voted Finals MVP and regular-season MVP while also winning a scoring title.
This is the finals where Curry will cement his legacy. He's seen his colleagues win the honor despite having a superior series. He's going to make this series personal for the greatest shooter of all time. Curry just won the first-ever Magic Johnson Western Conference Finals MVP award, and he will continue that momentum into the finals. In 16 postseason games, the 34-year-old guard averaged 25.9 points, 6.2 assists, and 4.9 rebounds while shooting .449 from the field and .380 from three-point range.
Historically, the recipient of this honor is determined by which team wins the Finals. A player from the losing team has just once received the Finals MVP award. That was in 1969 when Jerry West led the Lakers to a seven-game clash against the Boston Celtics. Since I anticipate the Warriors to beat the Boston Celtics in seven games, I believe that Curry will find ways to lead his team to the promised land and finally win his first NBA Finals MVP award.
NBA Finals highest scoring performance (single game): Jayson Tatum, Boston Celtics (-125)
Jayson Tatum opens as the favorite to lead the series in scoring at -115, and it's with good reason, as he's averaged an impressive 27.0 points per game so far throughout the playoffs. He's been vital for the Celtics to get through the first three rounds, coming up Boston's leading scorer more often than not. Tatum had a 46-point explosion against the Bucks, scored 39 vs. the Nets, and had a 34-point game against the Bucks.
The only two players in the playoffs to score more than Tatum were Jimmy Butler and Ja Morant, who put up a 47-point game. The game Morant had 47 points was against the Golden State Warriors. So the Dubs have already proven to be capable of giving up at least 40 points r to the opposing player in this playoffs.
Although Curry can pop off at any moment, I think Jayson Tatum will have the highest-scoring single-game performance in the series.
NBA Finals series assist leader: Stephen Curry, Golden State Warriors (+300)
This may surprise you, but I believe that Chef Curry has a good chance of finishing as the finals series assist leader. He has already averaged 7.4 assists in his last five games, including 9.3 in his previous three. Curry will seek to carry that momentum into the Finals, where he'll face players like the 2021-22 Defensive Player of the Year Marcus Smart. The Celtics will almost certainly send every imaginable double team at Curry on practically every possession, meaning that he always has an open jumper at his disposal.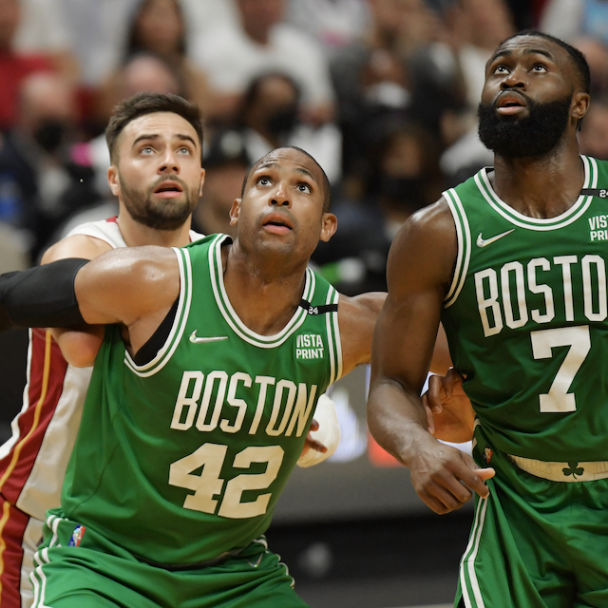 NBA Finals series top rebounder: Al Horford, Boston Celtics (+120)
This is one of my favourite NBA Finals props and will be a two-horse race between two veterans, Al Horford and Kevon Looney. Over the past five games, 'Big Al' has totaled 57 rebounds, averaging 11.4 rpg. His opponent, Looney, isn't far behind him, averaging 10.6 rpg. But what differentiates these two centers are the number of minutes they've played. Horford is averaging 38.2 minutes over his past five games, whereas Looney is just averaging 28 minutes per game. The 36-year-old Celtics big man is hungry for the title, and he'll be more aggressive on the glass during the series. That's why I'm going with Horford as the top rebounder in this year's NBA Finals matchup.
Image sources:
Klay Thompson - © Cary Edmondson-USA TODAY Sports
Stephen Curry - © Kelley L Cox-USA TODAY Sports
Jayson Tatum - © Jim Rassol-USA TODAY Sports
Al Horford - © Jim Rassol-USA TODAY Sports
Mete started his sports journalism career in 2000 and has worked for various national media outlets as a basketball writer and commentator. Full bio here.
Indiana
@
Charlotte
Chicago
@
Philadelphia
Minnesota
@
New York
Dallas
@
Memphis
Golden State
@
Houston
Sacramento
@
Utah
Washington
@
Orlando
Cleveland
@
Brooklyn
Detroit
@
Atlanta
San Antonio
@
New Orleans
Boston
@
Sacramento
Oklahoma City
@
L.A. Clippers
Denver
@
Washington
New York
@
Miami
Golden State
@
Dallas
Indiana
@
Toronto
Houston
@
Memphis
Atlanta
@
Minnesota
San Antonio
@
Milwaukee
Philadelphia
@
Chicago
Portland
@
Utah
Phoenix
@
L.A. Lakers
New York
@
Orlando
Cleveland
@
Brooklyn
Charlotte
@
New Orleans
Oklahoma City
@
L.A. Clippers
Indiana
@
Boston
San Antonio
@
Washington
Detroit
@
Toronto
Houston
@
Memphis
Charlotte
@
Dallas
Milwaukee
@
Utah
Phoenix
@
Sacramento
Chicago
@
Portland
Philadelphia
@
Golden State
Oklahoma City
@
L.A. Lakers
Indiana
@
Atlanta
Brooklyn
@
Miami
Milwaukee
@
Denver
Utah
@
Sacramento
Philadelphia
@
Phoenix
New Orleans
@
L.A. Clippers
Dallas
@
Charlotte
Chicago
@
L.A. Lakers
Washington
@
Toronto
San Antonio
@
Boston
Houston
@
Cleveland
Brooklyn
@
Orlando
Memphis
@
Atlanta
Oklahoma City
@
Portland
Minnesota
@
Golden State
Last updated: Mar 20, 8:13 PM UTC
Looking for today's best expert NBA Picks?
If you are on the lookout for the very best in NBA expert picks, then you are in the right place. Our handicappers see the whole picture. When making their picks, they consider form, history and the elements of the game that go beyond statistics.
OnlineBetting.com NBA predictions for today, and every day, come from individuals who work in and around the league. They are known not only for their authority and knowledge but also for their track record of top-notch NBA picks and predictions.
Whether you are trying to put together a parlay, betting on the over/under, or simply taking a punt on the moneyline, we have the best picks for you.
Free Expert Moneyline Picks
NBA moneyline picks are the easiest NBA bets of them all.
Here, you are simply picking the team you believe will win any given game. For instance, if Luka's Mavs are playing Giannis' Bucks and you think Dallas have the advantage and you are getting good odds, then you would pick them on the moneyline.
In that example, if the Mavericks come out on top and defeat Milwaukee, then your bet is a winner.
If you are making NBA moneyline picks today or NBA moneyline picks tonight, then you should consider the form of both teams, the players who are available and what is at stake in the individual game.
Free Expert NBA Picks Against the Spread For Today's Games
In European betting, the spread is known as the handicap. For NBA point spread predictions, you are betting on a team to win by more than a certain points margin, or wagering that if you add a certain amount of points to a side's total, that they will then have more points than the opposition.
An example of this would be if Boston were heavy favourites against Washington. Instead of betting on the moneyline, you could bet on the Celtics overcoming a spread of -16.5.
So you are wagering on Jaylen Brown and his side winning by at least 17. For NBA predictions against the spread in this example, you are betting on Washington +16.5. Here you are betting on Washington to lose by less than 17.
When an NBA expert picks against the spread, they believe that a game is going to be closer than the bookmakers are giving it credit for.
NBA Over/Under Picks – NBA Totals Picks
An over/under bet allows you to take a punt on whether you think the overall points scored in a game will be below or above a certain amount.
NBA over under predictions are made by looking at the scoring form of the two sides playing.
Our handicappers make their expert over under predictions by looking at that information, but also by considering how good the two defences are, if any of the teams' key scorers are missing and how the overall formbooks are looking.
If you are set to make NBA over under predictions today, then we would suggest that you take a look at what our experts have to say.
Free Expert Parlay Basketball Picks Today
NBA picks and parlays are the hardest bets to win on, but they also offer the largest odds. This is where you make multiple bets, all of which accumulate and can get you a much bigger win.
However, for a parlay to come good: each and every one of your bets needs to be a winner. If you are looking for free picks and parlays, then our expert advice should set you on the right course.
They know what a good parlay is, so take a look at their NBA parlay picks today.
NBA Standings
Division
NBA Atlantic
NBA Central
NBA Southeast
All Divisions
NBA Atlantic
W
L
Pct
Home
Away
Conf
Div
Ats
OU

1

Philadelphia

48
22
.686
26-10
22-12
29-15
7-6
42-28-0
38-31-1

2

Boston

49
23
.681
26-9
23-14
29-16
9-4
37-34-1
37-34-1

3

New York

42
30
.583
20-16
22-14
28-17
8-8
40-29-3
37-34-1

4

Brooklyn

39
32
.549
19-14
20-18
26-18
7-8
36-33-2
31-39-1

5

Toronto

35
37
.486
23-13
12-24
20-22
4-9
37-35-0
41-31-0
Last updated: Mar 20, 7:15 PM UTC
Image s courtesy of: © Cary Edmondson-USA TODAY Sports, © Jim Rassol-USA TODAY Sports