12 interesting NFL bets to watch
NFL futures bets start as soon as the Super Bowl confetti has fallen, and the odds fluctuate throughout the season with each week's games. Our team of betting experts and sports journalists looked at some of the best NFL bets this week.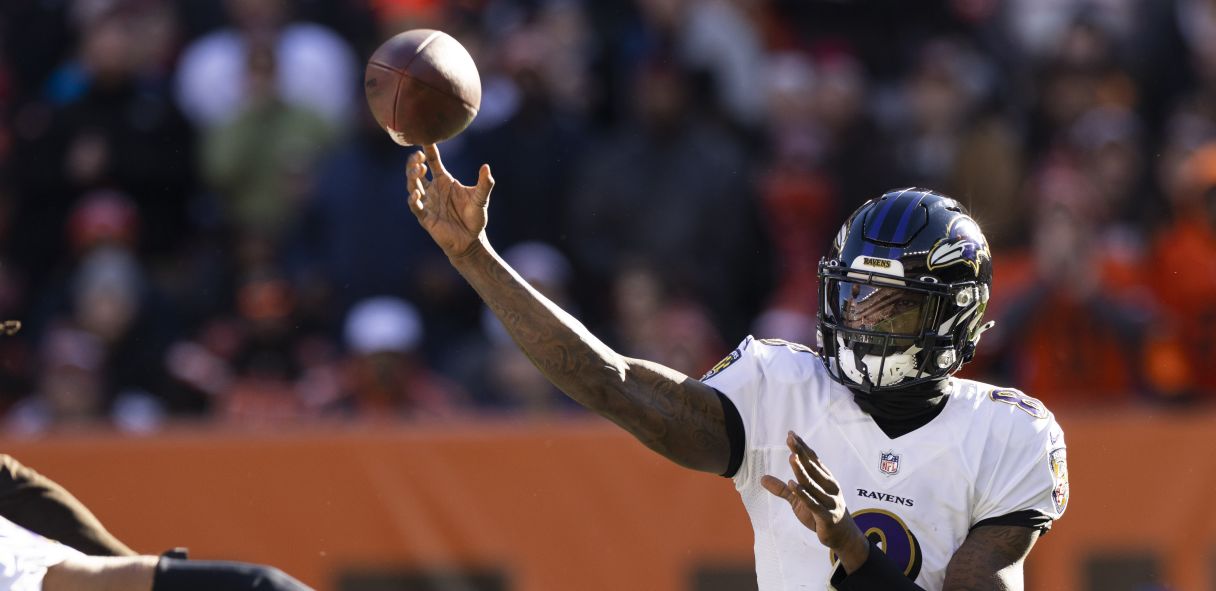 Lamar Jackson hoping for an injury-free 2022 campaign © Scott Galvin-USA TODAY Sports
Betting on game day is the most popular type of NFL bet, but NFL futures odds are also available, allowing you to take a view on a long-term outcome - such as whether a team will win their division, their conference, the AFC or the NFC and most profitably, the Super Bowl.
These bets can also feature season long player performances, such as who will throw for the most yards in the regular season and these are also priced at longer odds than single game spreads, that tend to be priced at just under even money or -110.
Buffalo Bills to Win the Super Bowl at
The post season format has changed to allow for seven, rather than six playoff sides from each of the two conferences. Now three wildcard games are played from each conference in the opening weekend, which leaves just the top seeded side taking a wildcard bye week and potentially playing just three games to lift the trophy.
But for the clutch play of Kansas City quarterback Pat Mahomes, Buffalo would have contested the Championship game in 2021. QB Josh Allen will continue his upward curve, Von Miller adds to an already top ranked defense and they could be favored in all 17 games.
The price is already contracting so this may be one of the best NFL bets this week, but won't be for long.
Baltimore Ravens to Win the Super Bowl at
A solid selection at a bigger price in the AFC. A winless run-in to the 2021 season can be forgiven because of their injury list. QB Lamar Jackson was the biggest casualty, but the defense fared little better. Narrow losses and a large negative turnover differential shouldn't be as extreme in 2022.
It's a stacked division in the AFC North, but doubt surrounds the opposition, either through a likely suspension in Cleveland's case or integrating a new QB in Pittsburgh.
Tampa Bay Buccaneers to Win the NFC Conference at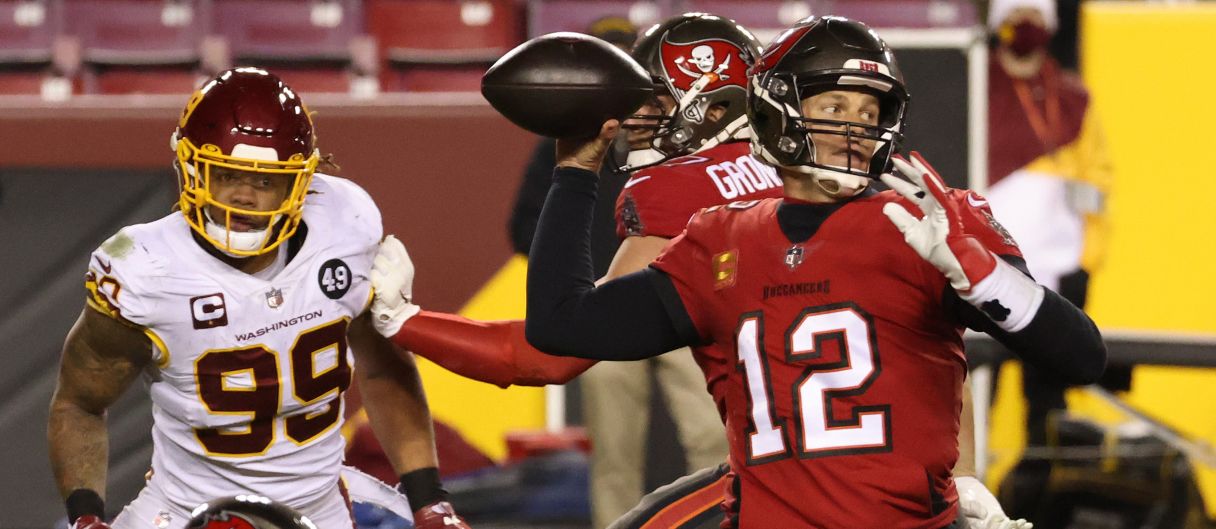 Tom Brady returns after a 39 day retirement and makes Tampa Bay an instant contender © Geoff Burke-USA TODAY Sports
The AFC has more talent and deeper quality than the NFC. The AFC is -130 to lift the Super Bowl, so it makes sense to look for the NFC Conference winner.
As with the Bills, Tampa Bay looks mostly likely to grab the wildcard bye. They face the Packers, Chiefs and Rams, but home advantage will help. While a weak division could easily lead to a 6-0 clean sweep and then only two post season wins may be needed to give 45 year old Tom Brady yet another Super Bowl appearance.
Dallas Cowboys to Win the NFC Conference at
"America's Team" lost some important pieces in the off season, notably Amari Cooper while their main rivals in the NFC East, the Eagles, addressed a number of key needs.
The NFC East is a difficult division to post back to back divisional championships - it's not happened since 2004. The defending Cowboys should post a winning divisional record, they swept it 6-0 in 2021 with numerous wide margin wins and with one of the easiest 2022 schedules. A postseason run looks odds on, even if the divisional title eludes them.
Josh Allen to Win the NFL MVP Award at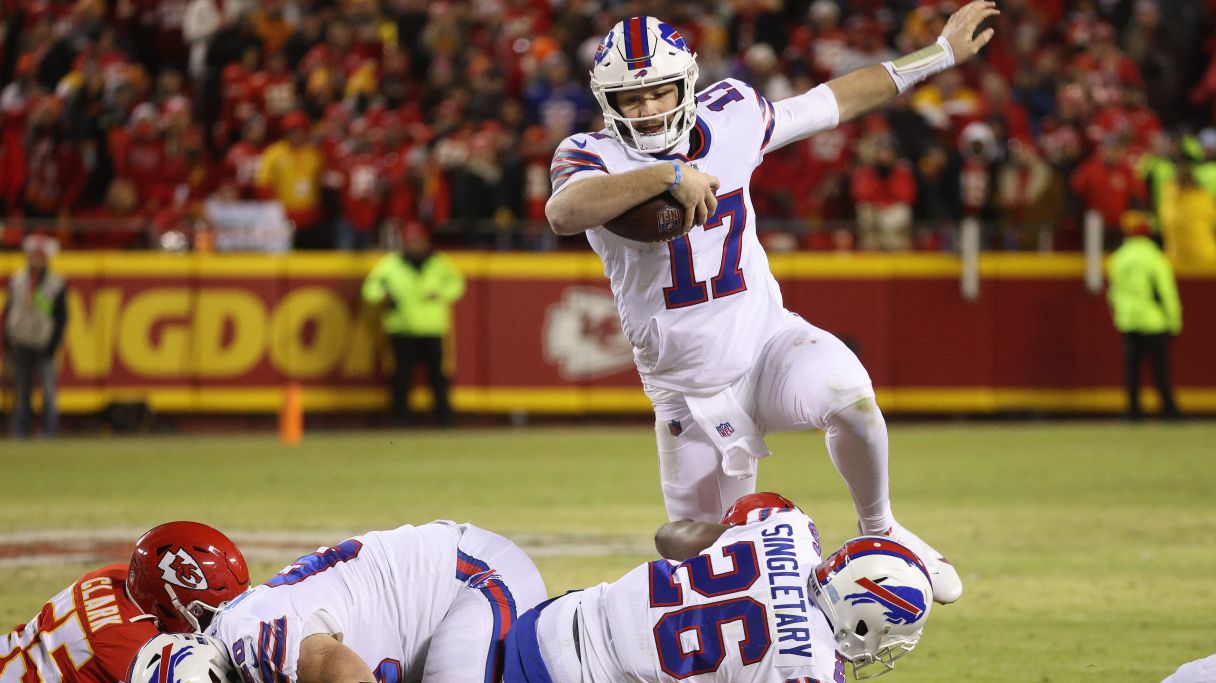 Josh Allen is an early favorite to take this year's NFL MVP award © Jamie Germano / USA TODAY NETWORK
The trends are strong in predicting the season's most valuable player.
It will almost certainly be a quarterback - The last non QB was in 2012, when running back, Adrian Peterson lifted the award and only running backs have managed to dethrone QB's since the current 32 team format. Swerve wide receivers.
Double digit team wins are also a given and offering a dual purpose threat are positives in the MVP race - Josh Allen ticks every box. He ran for over 700 yards and multiple touchdowns in 2021, passed for over 4,400 yards and 36 TD and his Bills team look likely to gain around 12 wins in the expanded 17 game season.
John Harbaugh to be Coach of the Year +2500
The NFL Coach of the Year is awarded to the coach who has done the most with the talent available to him. But again, double digit regular season wins are the baseline to pick up this accolade.
Less fashionable teams, such as Tennessee, Cleveland, Baltimore, Chicago, Arizona and Carolina have recently supplied the winning coach and repeat winners aren't uncommon. It's occurred three times this century. Harbaugh won it in 2019 and now has a fit and firing Ravens team, who get 10 or more wins around 60% of the time in simulations. It is speculative, but the price reflects that.
Jonathan Taylor to have Most Rushing Yards at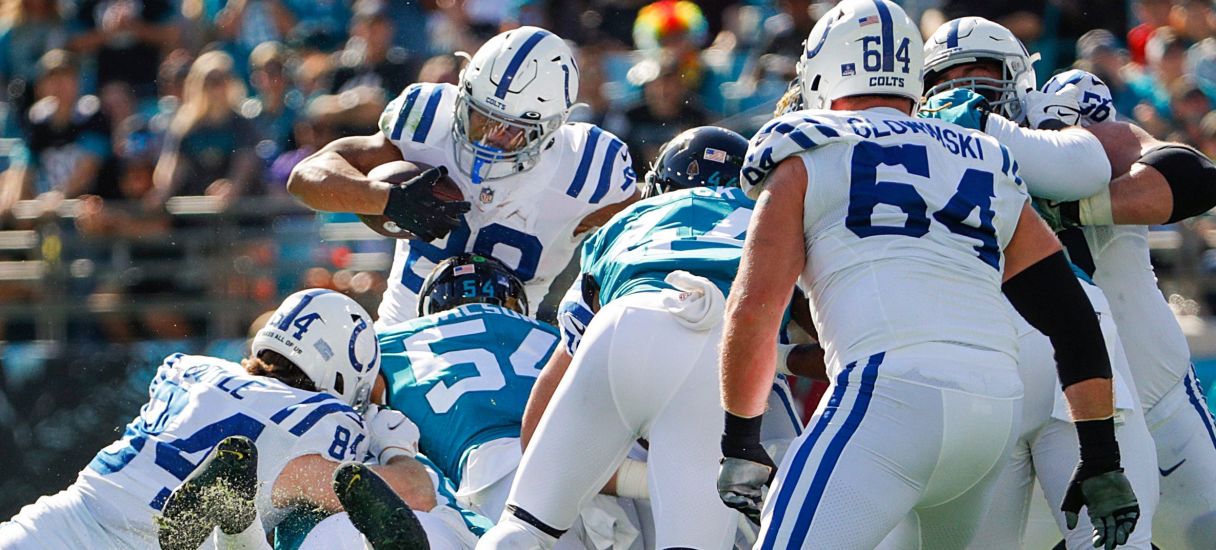 Colts running back, Jonathan Taylor goes over the top versus Jacksonville © Robert Scheer/IndyStar / USA TODAY NETWORK
The NFL has long been a passing league, so it's a rarity for teams to prioritize the running game from the start. But winning leads are often protected by clock eating, low risk carries on the ground, rather than passes.
Ideally, the running yardage champion plays on a side that excels on the ground and should be playing frequently from ahead.
Taylor's Indianapolis Colts have Peyton Manning in their legacy, but they now run almost as frequently as the pass the ball. They gain almost a yard per carry further than opposing defenses habitually allow, making it their go to strategy. The Colts will also be ahead or competitive in each of their 17 games and Taylor will benefit.
Justin Jefferson to have Most Receiving Yards at
Another category where repeats are common and invariably for the same team, although only Calvin Johnson in 2012 has followed up this century.
This is a wide open field where top six yardage receivers from 2021, Davante Adams and Tyreek Hill are with new teams and large margin winner, Cooper Kupp will now be a marked man, facing one of the league's toughest schedules in 2022.
Justin Jefferson can break catches for big gains and plays on a side that passes well and on 57% of their plays. He also may find himself transformed into a Kupp-like role under former Rams assistant coach, Kevin O'Connell.
Justin Herbert to have Most Passing Yards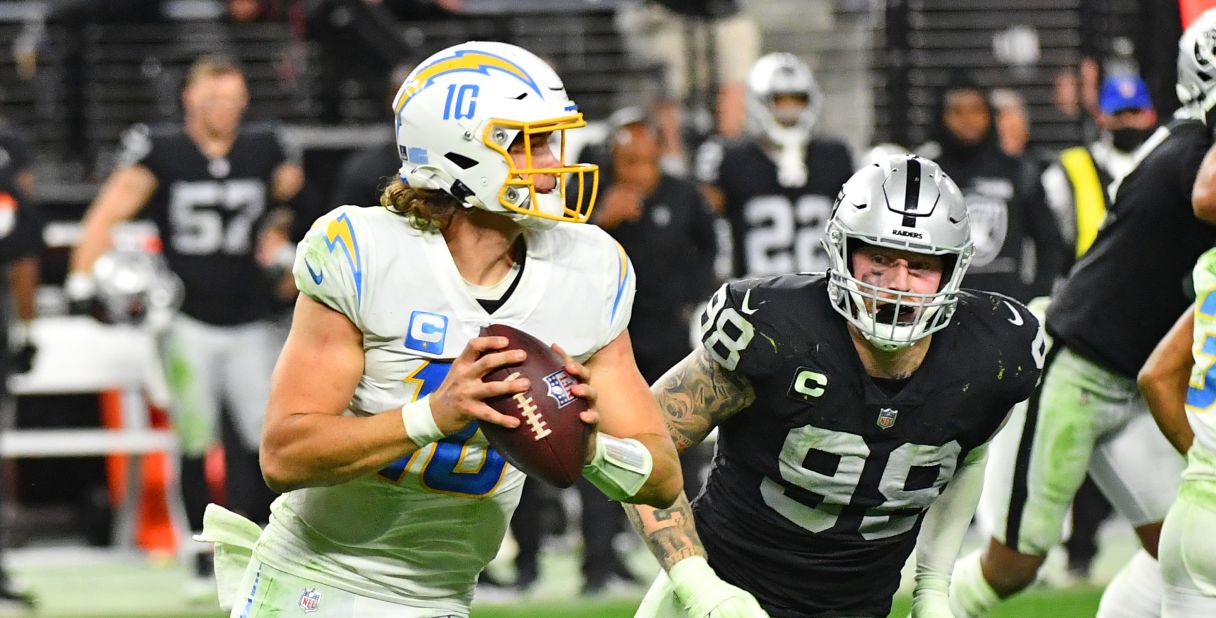 Justin Herbert looks set for a big year in 2022 © Stephen R. Sylvanie-USA TODAY Sports
An NFL prop bets market previously dominated by elite QBs with Manning, Brees and Roethlisberger, each claiming multiple awards before retiring. Tom Brady recorded four titles before deciding he wasn't quite ready to call it a day.
Upstarts Deshaun Watson and Jameis Winston won in 2020 and 2019 respectively, but the former may be suspended and the latter makes most appeal of the past, still active winners.
Justin Herbert looks set to deny Brady a follow up in 2022 - the Chargers pass often and well, are in a division that follows this trend and he was in touching distance of Brady in 2021. This is one of the better NFL prop bets available right now
Tom Brady Under 35.5 Regular Season Passing Touchdowns -110
One final chance to take some Tom Brady season-long NFL prop bets? His participation in 2022 was ruled out for 39 days before he stepped back in to the league, but at 45 come the Super Bowl he must begin to fall away from leading the league's passing yards, touchdowns and completions at some point. Shouldn't he?
The NFC South division should be a cake walk, but Brady's passing efficiency isn't quite in sync with the hugely impressive scoring rate. You need to go back to 2015 to find the last time Brady topped 35.5 touchdowns in New England and although he's not fallen below 40 in Tampa Bay there's enough doubts about his depth of receiving talent to side with the under.
Another option for Brady: he's currently sitting at to win the MVP race.
Who Will Houston Defeat First. Jacksonville +700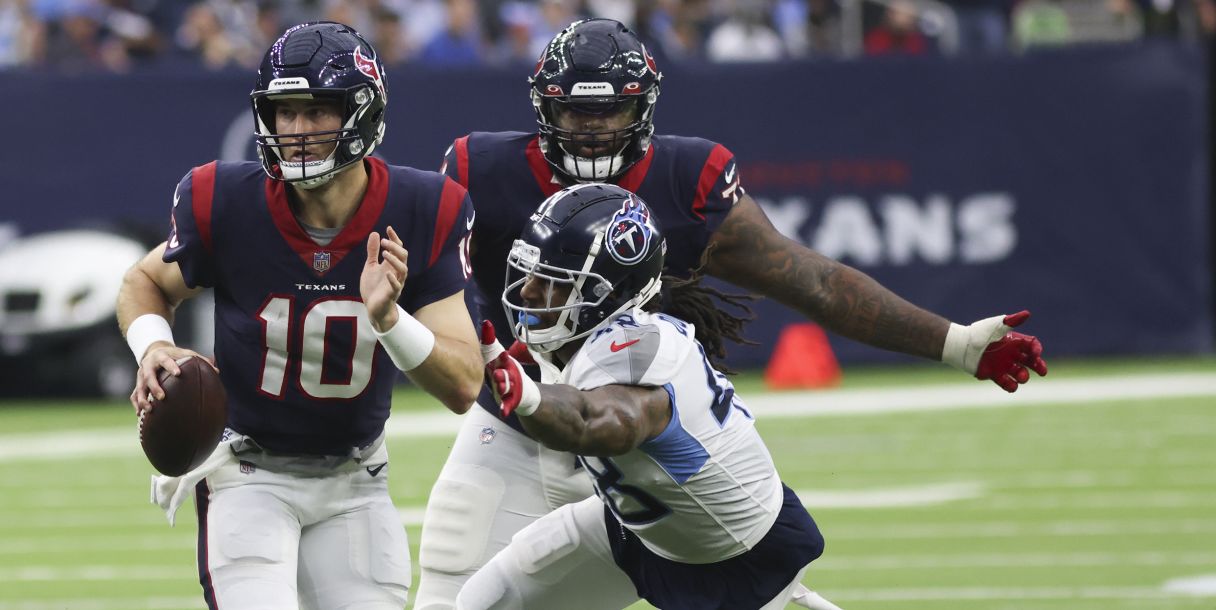 Davis Mills and the Texans face a challenging 2022 season © Thomas Shea-USA TODAY Sports
Houston Texans are to have the worst regular season record in 2022, but that price is way too short. They'll be the underdogs in every game, but that still implies they'll be able to pick up around three wins. Nevertheless, the Texans are the poorest side in the NFL, albeit with glimpses of talent.
Their best matchup is when they entertain Jacksonville in week 17, but they are the Jags' visitors in week five at a likely price of +200. Prior to that they'll face a trip to Chicago and games where they'll be big underdogs against the Colts, Chargers and Broncos.
Take them to go winless into week five with hedging possibilities.
Buffalo to Beat Tampa Bay in the Super Bowl +3500
While the regular season allows the best teams the odd slip up and generally returns the more talented sides to the playoffs, knockout, post season, football is less forgiving to fumbles, interceptions and miscues.
A post season bye week reduces the chances a quality team will get derailed by variance in a single game. This is a bet on the cream rising to the top of the conference seeding in January, allowing for some hedging of football bets, as the knockout football moves towards February's showdown in Glendale, Arizona.
Is Football betting hard?
Can NFL players bet on games?
Which NFL team should I follow?
NFL bets explained
NFL moneyline
Betting the  moneyline  is the simplest of all football betting picks – just pick the winning team. Sometimes referred to as ML, the moneyline will have two sets of odds – one for each team. With ties being very rare in American football, the moneyline is a two-way market which means you only have two choices, a winning outcome and a losing outcome.
NFL spread betting
Football  betting spreads  are the most common and popular way to bet on football. Unlike the moneyline, where one team is usually favored, a spread (or handicap) is created to make a more even bet. The favored team will have to win by a certain number of points while the underdog will have to not lose by the spread amount. A team with a spread of -3.5 would need to win by four points or more to "cover" the spread while the underdog (+3.5) would not have to lose by four points or more to cover. It means you can win your bet, even if the team you backed doesn't actually win the game.
NFL over/under bets
Often referred to as totals, football  over/under bets  are wagers placed on the combined total score of the game. Sportsbooks will set a total number (46.5 for example) and bettors will choose if the total combined score of both teams is below (under) or above (over) that set number.
NFL parlays
Looking for bigger football betting odds? Then you're probably interested in  parlays  . A parlay is when you bet on multiple games/outcomes and the odds of each of those are multiplied together to create a much bigger payout than a single-game wager. Bettors can use a combination of moneylines, spreads, and/or totals to create a parlay bet. Each selection needs to win for the parlay bet to be a winner.
NFL prop bets
NFL prop bets have become one of the most popular ways to bet on football. A prop – short for "proposition" – is a bet on a single player or event in the game. We can bet on how many yards a quarterback will throw for, how long the longest field goal scored will be, or how many touchdowns a certain team will score. NFL prop markets can be extensive and are a fun way to bet on football.
NFL teasers and pleasers
A popular form of wager from seasoned gamblers is the teaser. An NFL teaser bet is a form of parlay (usually two or three games) and is a combination of alternative football betting lines. In an NFL teaser bet, we are "teasing" or adjusting a spread or total to a different number than the original one, but taking longer odds in the process. The most common teaser number is six. If a team is +4.5, we can tease them to +10.5 (six-point teaser). A two-team six-point teaser usually pays -110, while a three-team six-point teaser pays +180. NFL pleaser bets, do the opposite, reducing the number of points and bringing the odds in.
NFL futures bets
The aptly named NFL future bet is any wager on any event that will take place in the future. Future bets are very popular heading into a football season as bettors can make big money predicting anything from division and conference winners, to the league's MVP, or offensive rookie of the year. NFL team win totals are also an increasingly popular future market.
Images courtesy of: © Samantha Madar/USA TODAY NETWORK-Wisconsin / USA TODAY NETWORK, © Kareem Elgazzar/The Enquirer / USA TODAY NETWORK, © Orlando Ramirez-USA TODAY Sports, © Jasen Vinlove-USA TODAY Sports