NFL Bets for all 32 Teams - where can the best NFL futures odds be found?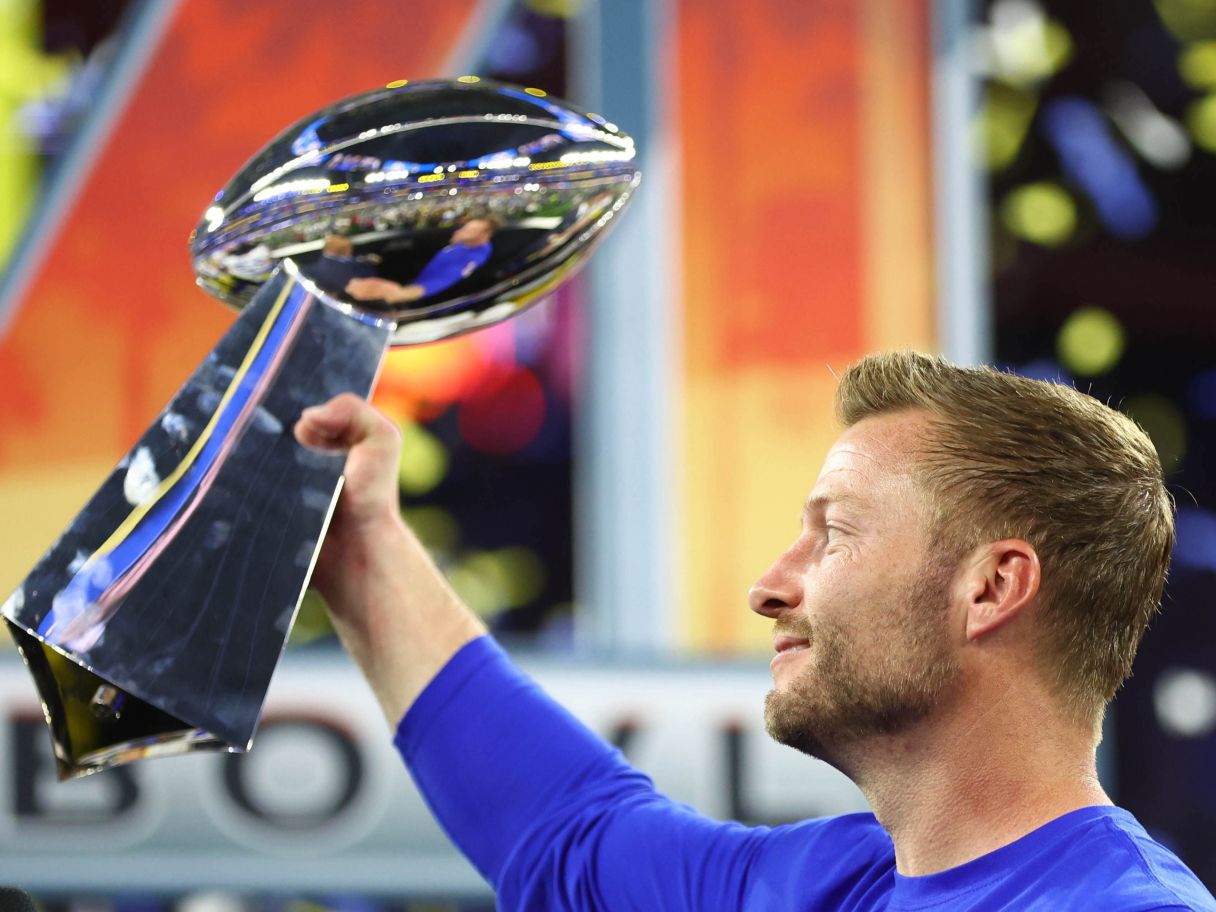 Sean McVay lifts the Superbowl LVI trophy © Mark J. Rebilas-USA TODAY Sports
With the offseason in full swing and minicamps underway, it may feel like the betting markets for the NFL are on hiatus. However now is the time to get involved in NFL futures bets and looking ahead to some of the longer term wagers you can place on the most exciting sport in North America.
NFL betting expert, Mark Taylor has broken down the offseason for all 32 NFL teams and details where the best NFL futures odds and Over/Under bets can be found.
Jump to: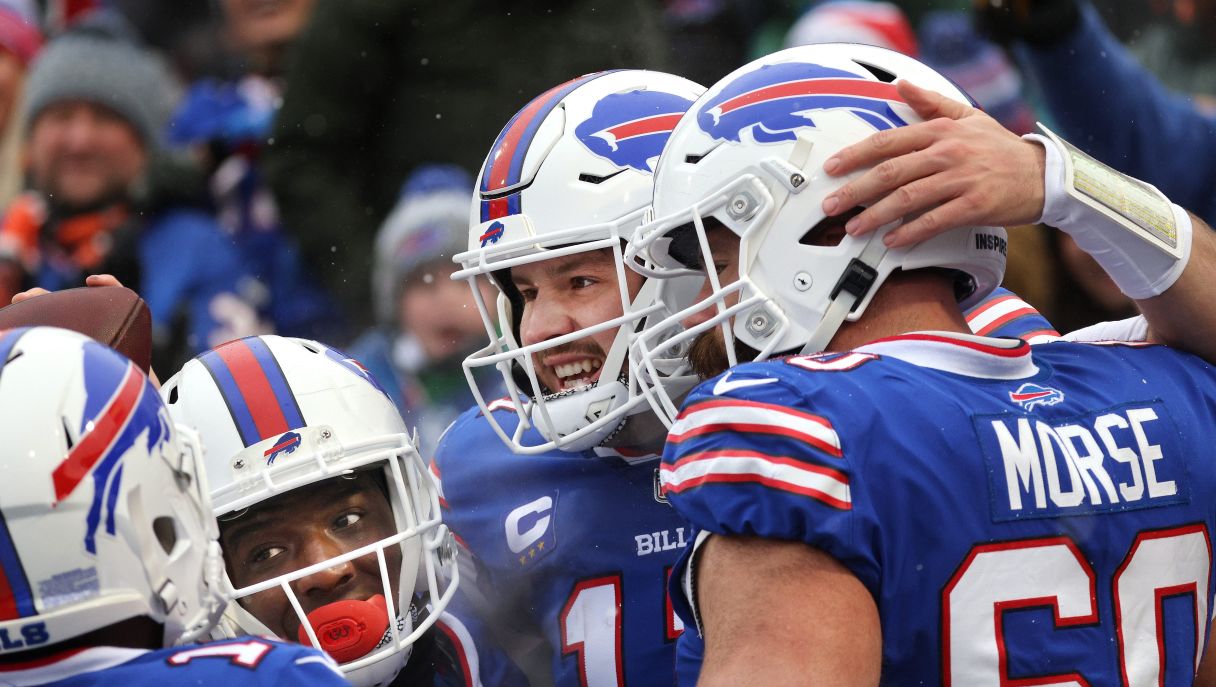 Josh Allen and the Bills are heavily favorited to win Superbowl LVII © Jamie Germano / USA TODAY NETWORK
Buffalo Bills
Win total:

Win the division:

Win the Super Bowl:
The Bills are the current Super Bowl favorites. And rightly so. They fell at the second hurdle in the 2021 postseason, in a points laden finale in Kansas City, but they were statistically impressive throughout the regular season on both sides of the ball.
Five of their six losses were by seven or fewer points, their turnover differential was positive, but not excessively so and their points record was more typical of a team with 13 wins, rather than 11 wins.
A weak AFC East division, which they have an 80% chance of topping in simulations, all but guarantees a playoff berth so lock in the early value for the Bills to lift the Super Bowl as one of the best NFL bets this week .
Miami Dolphins
Win total:

Win the division:

Win the Super Bowl:
Will the Dolphins resemble the side that went 1-7 in the first half of 2021, or the one that turned it around and went 8-1 in the second half of the year?
Miami's chose to dump popular Brian Flores, the head coach who had a winning record since 2020 and finished the year with a rattle, albeit missing the playoffs.
The headline acquisition of field breaking Tyreek Hill aims to fix an offense that was poor through the air and even worse on the ground. The defense was no more than league average and going over 9.5 wins looks a stretch, so take the under .
New England Patriots
Win total:

Win the division:

Win the Super Bowl:
The Patriot's position in the AFC East pecking order is clear: they trail the Bills by a considerable distance. Although they split the regular season series, the Patriot's win was a weather assisted freak where the Pats attempted just three passes all game and rode the luck.
Buffalo won the postseason matchup by 30 points, but New England remain a competitive outfit outside of their divisional rivalry.
Recruitment has been quiet after an active free agency in 2021 but they pass the ball well, backed up by an above average run game and leverage more points than expected because of Belichick's coaching expertise. The impact of losing Offensive Coordinator, Josh McDaniels remains to be seen.
The Patriots similarly keep points off the board, despite a leaky run defense and over 8.5 wins is the call .
New York Jets
Win total:

Win the division:

Win the Super Bowl:
The Jets four wins were all narrow margin victories and QB Zach Wilson struggled passing the ball, propping up the NFL's performance indicators. A slightly above average run game didn't compensate and on nine occasions 18 was the limit of their scoring.
Defense was an even bigger concern, especially against the pass, but their poor 2021 has enabled an exciting draft on both sides of the ball.
Turnover differential should be less extreme and more helpful in 2022, helping push the win total over 5 .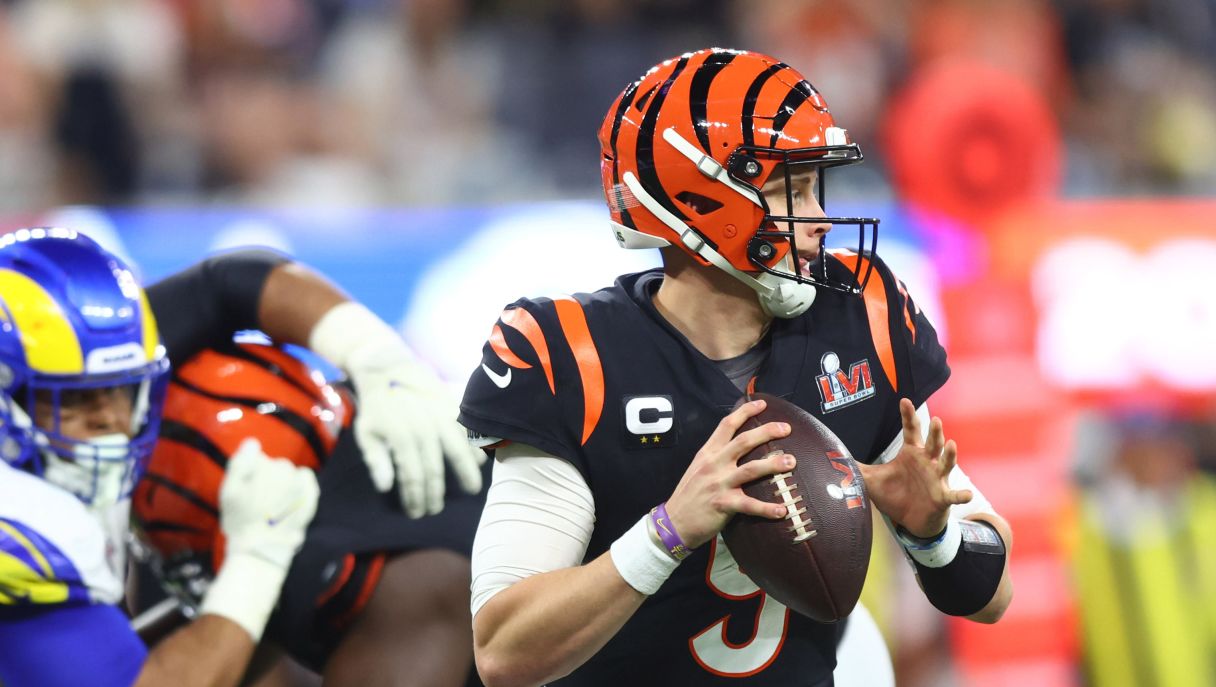 Joe Burrow and the Bengals must look to prove their Superbowl appearance in 2022 was no fluke © Mark J. Rebilas-USA TODAY Sports
Baltimore Ravens
Win total:

Win the division:

Win the Super Bowl:
Through Baltimore's injury plagued 2021 season they had over 20 players placed on injured reserve, including QB Lamar Jackson for five games; leaving them with eight wins and 4th place in the AFC North.
The Ravens went 1-5 in Jackson's absence, so his health is key to their success and in a run of 0-6 games to finish the season, five were lost by 3 points or fewer. The Ravens were unlucky as well.
The health woes should be better in 2022, their turnover differential of -11 should also be less extreme and the Ravens can build on their 8.5 Pythagorean wins from 2021 to go over 9.5 wins at -130 .
Cincinatti Bengals
Win total:

Win the division:

Win the Super Bowl:
The expectation for the Bengals is no longer if they can avoid fourth place in the AFC North, but how deep into the post season they can be taken by their franchise QB, Joe Burrow and his explosive wide receivers.
Burrow threw for a yard per attempt further than opposition defenses typically allowed, despite a poor offensive line that did little to protect their star man and a running game that languished well below par. The offensive line issues have been addressed and the defense was around league average in 2021.
Narrow post season wins, until the offensive line creaked once again in the three-point Super Bowl loss wasn't typical of their regular season play. They lost more tight games than they won and were worthy of 10.5 wins based on points scored and allowed. The Bengals are back in the post season and as winners, not habitual losers. Take the over 10 wins .
Cleveland Browns
Win total:

Win the division:

Win the Super Bowl:
Now the Browns know Deshaun Watson's fate and can plan around his availability for the 2022 season. They strengthened their roster around the quarterback position through the 2022 offseason by bringing in Amari Cooper and shipping out the reliable but less spectacular Jarvis Landry.
The Browns defense led by Myles Garrett will continue to be a strong point for the team after finishing fifth in total defense and passing defense in 2021.
The challenge of navigating the first eleven games without their chosen QB will have affected their win total negatively, but they are playing in the competitive AFC North with the Steelers and their rebuilding roster, and Cincinnati with their continued challenges. They may struggle to topple the Ravens but is still a good price to consider.
Pittsburgh Steelers
Win total:

Win the division:

Win the Super Bowl:
Seven narrow wins and a tie, culminating in a gutsy 4-2 regular season run in, before a blowout loss in the wildcard round ended the 18-year Ben Roethlisberger era in Pittsburgh. They signed Mitch Trubisky as a free agent and then took the first QB off the draft board in Kenny Pickett in an ongoing quest to fill the hole left by Big Ben.
The defense bore the brunt of the responsibility in 2022, keeping eight teams to 20 points or fewer and performing well against the pass but not the run, while their offense threw often and poorly.
They were outscored by the opposition in 2021, had just seven Pythagorean wins and are now firmly in rebuild mode, they look set to go under the 7.5 wins .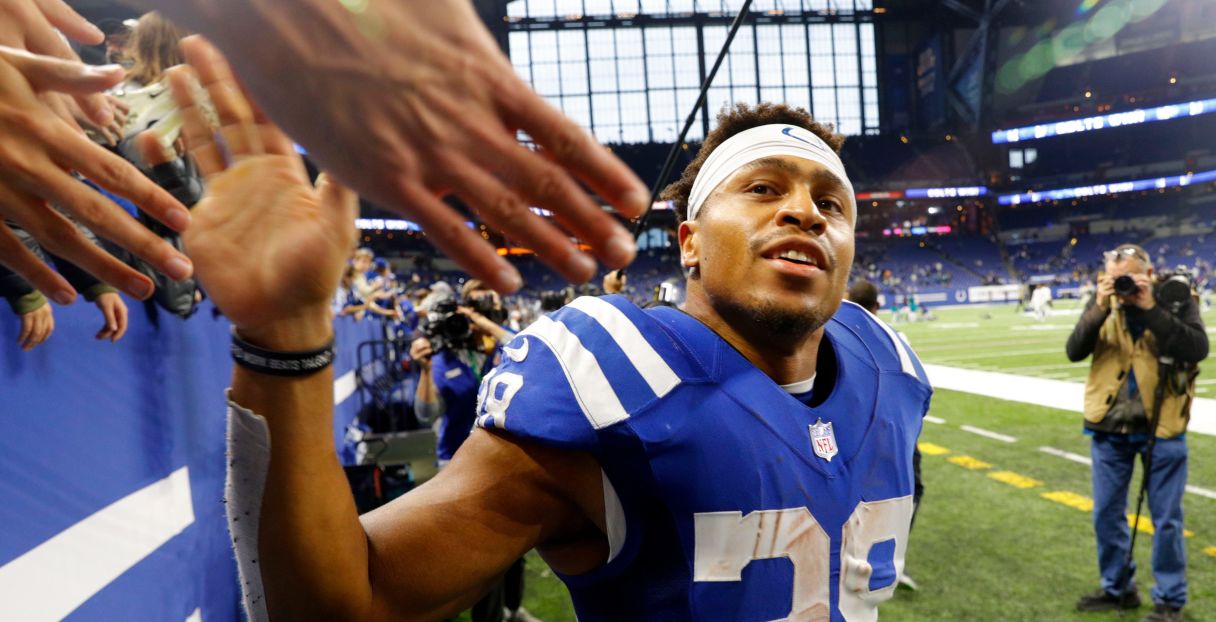 Colts Running Back, Jonathan Taylor was a bright spot in a disappointing 2021 season for Indianapolis © Robert Scheer/IndyStar / USA TODAY NETWORK
Houston Texans
| | Odds |
| --- | --- |
| Win Total Under/Over: 4.5 wins | U: -150 O: +125 |
| Win the Division | +3000 |
| Win the Superbowl | +25000 |
Houston has been in limbo while they seek to part ways from Deshaun Watson and his numerous lawsuits, during which time they've persisted with an ill-fitting mismatch of talent.
The Watson trade with the Browns includes 1st round picks stretching into 2024, so improvement won't be immediate and their 2022 draft was solid without being transformative. Quarterback Davis Mills showed glimpses of talent, languishing in the lower half of the rankings, but close enough to higher profile colleagues to expect some improvement is likely.
Houston's running game and pass defense is of more concern and their schedule is more difficult than average, but over 4.5 wins is value given the shifting odds in favor of the under . One of the best NFL bets this week may be on when the Texans will get their first win with good odds available on the Jaguars in week 5.
Indianapolis Colts
| | Odds |
| --- | --- |
| Win Total Under/Over: 9.5 wins | U: +110 O: -130 |
| Win the Division | -125 |
| Win the Superbowl | +2200 |
The Colts were a top ten offense, excellent on the ground, but well below standard through the air. They had a similar split on the defensive side of the ball, playing hardball on the ground, but failing to impose themselves against the pass.
They've cut ties with troubled QB Carson Wentz and hope that his replacement, Matt Ryan reproduces his 2020 form, rather than his below par 2021 season in Atlanta.
An easy schedule in 2022 helps and five narrow defeats from their nine wins in the 2021 season is balanced by a large positive turnover differential, but there's enough positives to suggest over 9.5 wins is likely in a weak division .
Jacksonville Jaguars
| | Odds |
| --- | --- |
| Win Total Under/Over: 6 wins | U: +100 O: -120 |
| Win the Division | +700 |
| Win the Superbowl | +13000 |
The Jags are coming off a wretched three-win season where they threw often but gained over a yard per attempt below the usual concession rate of their opponent and scored 7.5 fewer points per game compared to par.
Defensively they were poor against the pass and conceded four points per game more than average, whilst wins included one in week 18 and an astonishing 9-6 victory over Buffalo. Unsurprisingly, coaching changes followed, with free agency upgrading talent levels. They underperformed their 2021 Pythagorean win total, but barely (3.4 wins), and they won't be as poor in 2022. Reaching 6 wins will be beyond reach. Take the under .
Tennessee Titans
| | Odds |
| --- | --- |
| Win Total Under/Over: 9.5 wins | U: -135 O: +115 |
| Win the Division | +700 |
| Win the Superbowl | +3500 |
12 wins in 2021 was an overperformance by the injury plagued Titans. Six wins, but only two losses were by seven points or fewer and their Pythagorean win total only reached ten victories.
QB Ryan Tannehill ranked a lowly 27th of the qualifying passers, throwing inefficiently while backed up by just an average running game. They were a better defensive team and ranked just outside the top ten while being particularly to run against.
Their 2021 record earns them a reasonably tough 2022 schedule. Take the under 9.5 wins .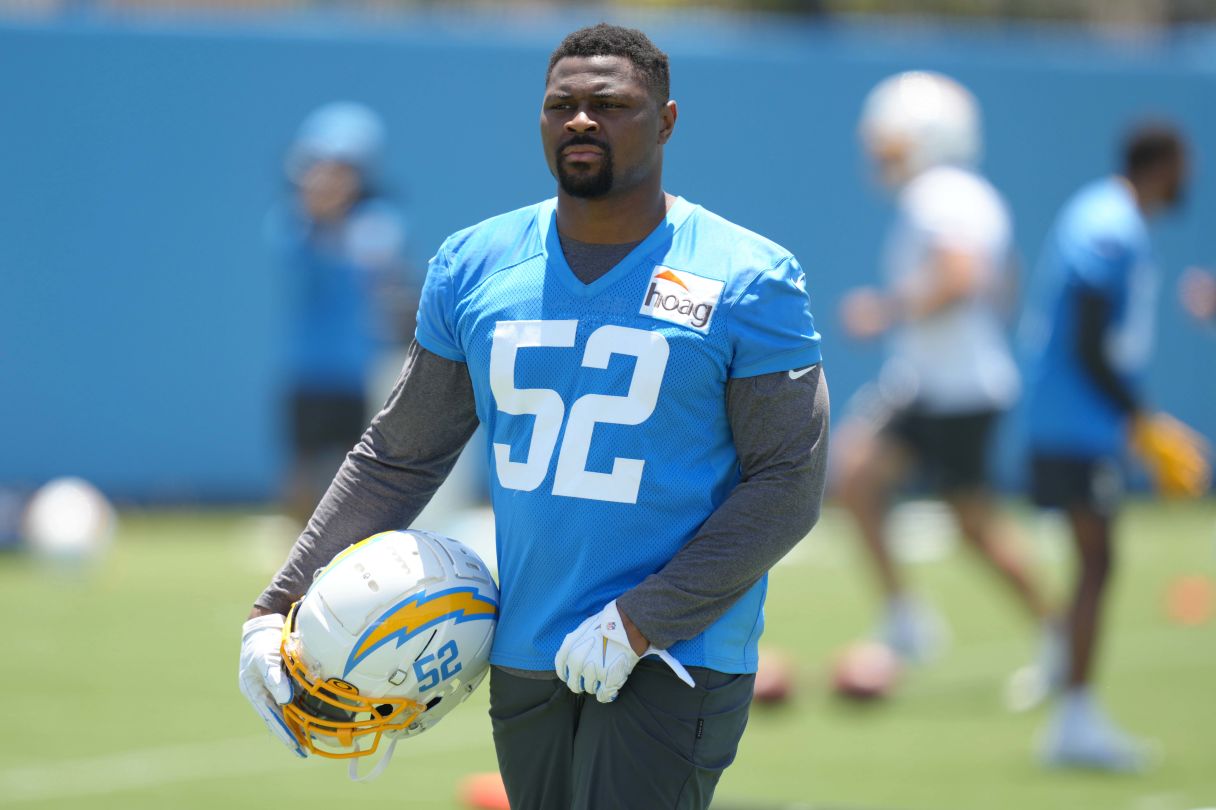 The return of the Mack: Khalil Mack is back in the AFC West after a blockbuster trade from the Bears to the Los Angeles Chargers © Kirby Lee-USA TODAY Sports
Denver Broncos
| | Odds |
| --- | --- |
| Win Total Under/Over: 10 wins | U: -105 O: -115 |
| Win the Division | +250 |
| Win the Superbowl | +1600 |
Denver's trade for nine-time Pro Bowler, Russell Wilson catapults them into Super Bowl contention; fixing their absence of playmakers at a stroke and echoes their successful acquisition of Peyton Manning a decade ago.
They were dismal offensively in 2021, scoring just under 20 points per game against opposition that on average conceded 24.5 points.
The Broncos have leant heavily on their defense in recent years, preventing 10 sides from reaching 20 points despite a disappointing 7-10 2021 record, when they anchored the AFC West.
Take Wilson to continue his 80% strike rate of taking his team to the post season at -150 .
Kansas City Chiefs
| | Odds |
| --- | --- |
| Win Total Under/Over: 10.5 wins | U: -105 O: -1115 |
| Win the Division | +175 |
| Win the Superbowl | +1000 |
Habitual MVP Patrick Mahomes ensures KC are highly rated going into 2022 despite miscues in 2021 that looked like it may cost the Chiefs a post season spot and ultimately eliminated them at the AFC Championship game hurdle.
The departure of game-changer Tyreek Hill heaps responsibility on Mahomes and Travis Kelce to deliver with an otherwise raw set of targets and the AFC West is the most competitive division in football, which also guarantees the toughest NFL strength of schedule.
There are ample negatives for this fancied team: take the under 10.5 wins .
Las Vegas Raiders
| | Odds |
| --- | --- |
| Win Total Under/Over: 8.5 wins | U: -110 O: -110 |
| Win the Division | +650 |
| Win the Superbowl | +4000 |
It says much for the strength of the AFC West that the Raiders added a new head coach, Josh McDaniels from the Belichick proving ground, extended QB Carr, added the presumptive best-in-the-league Davante Adams at WR and they made the post season in 2021, but they still are favorites to finish 4th in the division.
A tepid run game prevented Carr's efficient passing game from consistently putting points on the board and their defense leaked points despite above average efficiencies both on the ground and through the air.
Narrow wins peppered their four-game unbeaten run to close 2021, but when it comes to football bets: take them to go over 8.5 wins , even in the white heat of the AFC West.
Los Angeles Chargers
| | Odds |
| --- | --- |
| Win Total Under/Over: 10 wins | U: -105 O: -115 |
| Win the Division | +225 |
| Win the Superbowl | +1400 |
A 'nearly' team in San Diego, the Chargers are firmly in 'win now' mode showing the same intent as their ground sharing neighbors, the LA Rams by stacking their team with talent in QB Justin Herbert's third season.
With a star QB on a bargain salary, they can prioritize upgrading the defense which leaked four more points per game compared to the quality of the offenses they faced in 2021. Making acquisitions in free agency (JC Jackson) and trades (Khalil Mack) gives the Chargers a live chance of taking the AFC West at +225 .

Carson Wentz returns to the familiarity of the NFC East with the Commanders in 2022 © Geoff Burke-USA TODAY Sports
Dallas Cowboys
Win total:

Win the division:

Win the Super Bowl:
Dallas was an offensive juggernaut in 2021, scoring over 31 points per game against defenses that conceded just 23 points per game on average. Much of their scoring was driven by a very efficient passing game but they also benefitted from a large positive turnover differential, which tends not to persist.
Personnel losses during the off-season, on both sides of the football, notably Amari Cooper for a low value draft pick have weakened the team, although a relatively benign schedule partly compensates.
It's been nearly two decades since a side followed up with back to back wins in the NFC East, but despite some Dallas doubts, take the odds against +130 for the Cowboys to prevail again .
New York Giants
Win total:

Win the division:

Win the Super Bowl:
The Giants declined to become involved in the QB jamboree, instead sticking with Daniel Jones - a lofty 6th overall pick in the 2019 draft class.
Jones has struggled to climb out of the bottom quarter of NFL passers although he's not been helped by a deteriorating offensive line, and the Giants 0-6 end to 2021 was recorded in Jones' absence.
This should be his last chance to show the occasional top ten weekly performances are more in keeping with his inflated draft position. The Giants were 4-7 with three narrow losses before Jones' season ending injury.
Better health all around and an exciting raft of new coaching talent from the top downwards makes the upside from seven wins an attractive selection .
Philadelphia Eagles
Win total:

Win the division:

Win the Super Bowl:
The Eagles potentially have one of the easiest schedules in 2022.
They acquired a star receiver in A J Brown and drafted to address other weaknesses, but there remain doubts at QB. They ran more often than they passed in 2021. That's a rarity in the modern NFL - but they were extremely good on the ground.
Jalen Hurts needs to improve on his solid 2021 performances, where he occupied a middle of the road quarterback ranking. He was required to throw fewer than 30 times per game on nine regular occasions, but was fully exposed in the wildcard game when throwing 43 times in defeat.
8.5 wins is too low, but the odds have fully recognized that, so 'to make the playoffs' at is another route to support an improving team .
Washington Commanders
Win total:

Win the division:

Win the Super Bowl:
The Commanders have looked to a familiar face in Carson Wentz, the former Eagle to solve a misfiring offense that was below average through the air and averaged three fewer points per game than Washington's opponents usually allowed.
That being said: Wentz's single season in Indianapolis hardly validates the narrative that he will turn around his new team, even with talent on the roster.
Defensively Washington was below average against the pass, allowing over half a yard per attempt more than opposing offenses typically gained and despite one of the NFL's easiest schedules: one of the best value football bets lies in taking the under at the odds against price .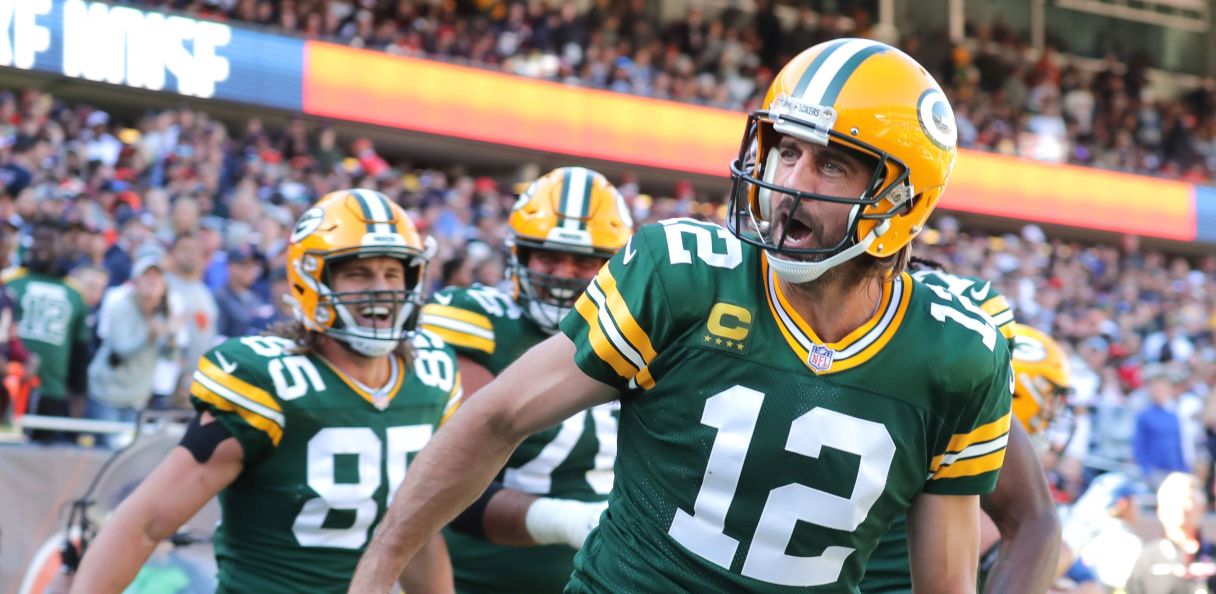 Will Aaron Rodgers be celebrating in 2022 now his favorite target is playing in Las Vegas? © Mike De Sisti / USA TODAY NETWORK
Chicago Bears
| | Odds |
| --- | --- |
| Win Total Under/Over: 6.5 wins | U: -105 O: -115 |
| Win the Division | +1000 |
| Win the Superbowl | +15000 |
Another team in rebuild mode with inexperience on both sides of the football and second season QB, Justin Fields must be looking for more consistency in accuracy and more frequent flashes of his arm strength and athleticism.
Defense was the Bears strength last year, but they were firmly middle of the pack, marginally above average against the pass and below par on the ground.A regressing turnover differential should help but strip away the optimistic noises coming from the camp and the Bears have a lowly rated QB, with few big play capabilities. Take the under 6.5 wins .
Detroit Lions
| | Odds |
| --- | --- |
| Win Total Under/Over: 6.5 wins | U: -120 O: +100 |
| Win the Division | +1000 |
| Win the Superbowl | +15000 |
It was hard not to admire the way the Lions performed after their bye week which they arrived at with an 0-8 record and a -14 per game points differential.
After the bye they tied with Pittsburgh in week 10 and recorded their first win in December. Dan Campbell's side finished the post bye campaign 3-5-1 and allowing just 3 per game more than they scored.
They had a productive and well received draft, addressing their weakness in the passing game on both sides of the ball, but the optimism has flowed too freely and 6.5 wins looks beyond this gutsy, but still overmatched team .
Green Bay Packers
| | Odds |
| --- | --- |
| Win Total Under/Over: 11 wins | U: -110 O: -110 |
| Win the Division | -175 |
| Win the Superbowl | +1000 |
Aaron Rodgers' fraught relationship with Green Bay continues for 2022. Other red flags include a double figure turnover differential that pushed their win total to 13, compared to a point based Pythagorean win total of just 10.5 and the departure of WR Davante Adams to Las Vegas, which weakens a thin receiving corps.
Five narrow wins and just two narrow losses suggest the Packers will regress in 2022. The regular season has been a breeze for three years, but the post season has fallen disappointingly short, making them unattractive for the big prize. Even so the Pack look a steal at -175 for the division. Simulations suggest they are around a 75% chance of topping the NFC North.
Minnesota Vikings
| | Odds |
| --- | --- |
| Win Total Under/Over: 9 wins | U: -120 O: +100 |
| Win the Division | +275 |
| Win the Superbowl | +5000 |
The NFL North has a soft underbelly below Green Bay and the Vikings have had just one narrowly losing season since 2015.
New head coach, the offensive-oriented Kevin O'Connell, walks into a team that is not far off contention with an above average in the passing game led by Kirk Cousins and lost a raft of games narrowly in 2022. All positives.
They'll need to improve a below par defense, especially against the run, to compete with the Packers. The Vikings are nicely placed to break double figure wins and go over the quoted 9 victories .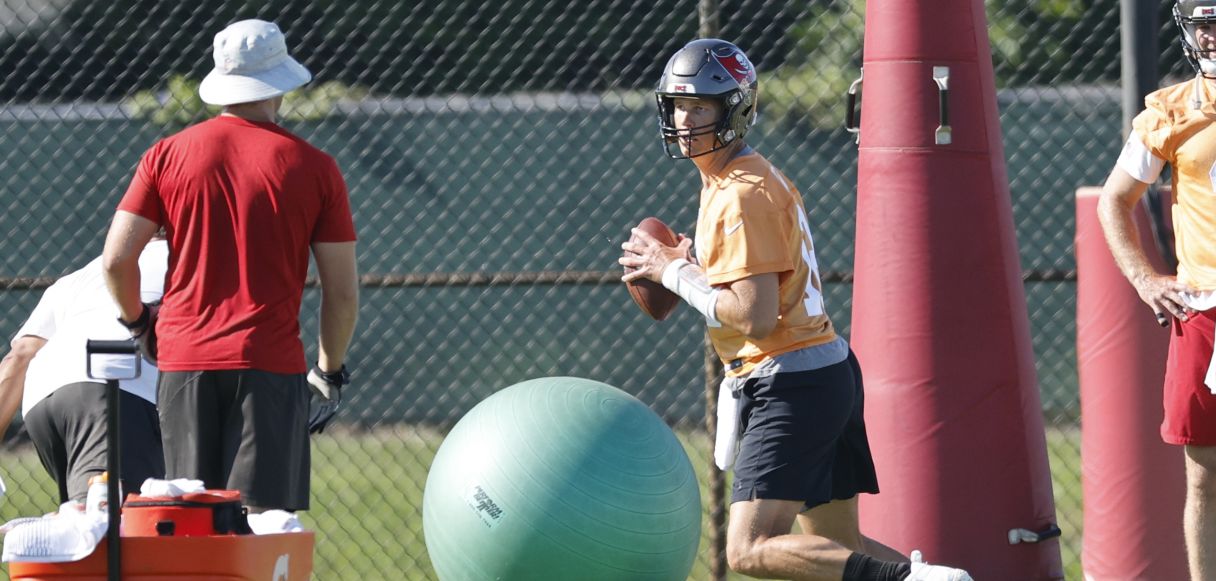 Tom Brady returns for another season in Tampa Bay after a 39-day retirement © Kim Klement-USA TODAY Sports
Atlanta Falcons
| | Odds |
| --- | --- |
| Win Total Under/Over: 5 wins | U: -120 O: +100 |
| Win the Division | +2500 |
| Win the Superbowl | +15000 |
Atlanta's failure to land Deshaun Watson, the trading away of QB Matt Ryan and the financial baggage he still leaves, means the Falcons will need to wait until 2023 to begin a full rebuild.
Ryan bought only league average passing efficiency to the 2021 season and the run game fell well below par - making points difficult to find.
The defense picked up none of the slack: hugely vulnerable against the pass and the run while leaking even more points than their poor defensive efficiency might have merited. Six of their seven wins were by seven points or fewer and they were only a five win Pythagorean team in 2021. They could have the fewest wins in 2022, so take under 5 season victories .
Carolina Panthers
| | Odds |
| --- | --- |
| Win Total Under/Over: 6 wins | U: -115 O: -105 |
| Win the Division | +1200 |
| Win the Superbowl | +10000 |
Head coach Matt Rhule's tenure in Charlotte enters year three with the QB situation still in flux, a weak draft class and a string of expensive potential QB trades has merely added to the uncertainty.
Sam Darnold is the incumbent, but the passing efficiency and points scored were rock bottom in 2021 and even with an improved offensive line he doesn't appear to be the solution.
Natural regression should improve their large negative turnover differential, the defense was mid division and good against the pass, but another misfiring year under center heralds fewer than six wins .
New Orleans Saints
| | Odds |
| --- | --- |
| Win Total Under/Over: 8 wins | U: -110 O: -110 |
| Win the Division | +350 |
| Win the Superbowl | +5000 |
The Brees-Payton winning machine is now just a memory in New Orleans. An elevated defensive coordinator, Dennis Allen, is now at the helm, and an unsuccessful attempt to upgrade to Deshaun Watson at QB has led to Jameis Winston expensively resigning. That will hurt the Saints down the line and losses to free agency mark an uncertain future.
Defensively the Saints were good in 2021 and even with Winston only on the team for the first seven games (5-2) they passed well but ran poorly. They look a solid 9-win team, so take the over 8 wins .
Tampa Bay Buccaneers
| | Odds |
| --- | --- |
| Win Total Under/Over: 11.5 wins | U: -110 O: -110 |
| Win the Division | -300 |
| Win the Superbowl | +700 |
Tom Brady's about turn from retirement gives Tampa continuity but surely stretches the performance related ageing curve to breaking point. Brady will be 45 when the next Super Bowl kicks off.
Tampa was pass heavy in 2021 - throwing on 65% of snaps at above average efficiency and Brady's legendary ability to hit the end zone conjured up over a touchdown more per game than their opponents allowed on average.
They were more mundane on defense, above average against the pass, but merely average against the run. A very weak NFC South (90% wins for Tampa in simulations) again makes the post season a formality and should push Tampa more than halfway to their 11.5 wins, although there are early season challenges against elite QBs. Take the slight value on Tampa over 11.5 wins .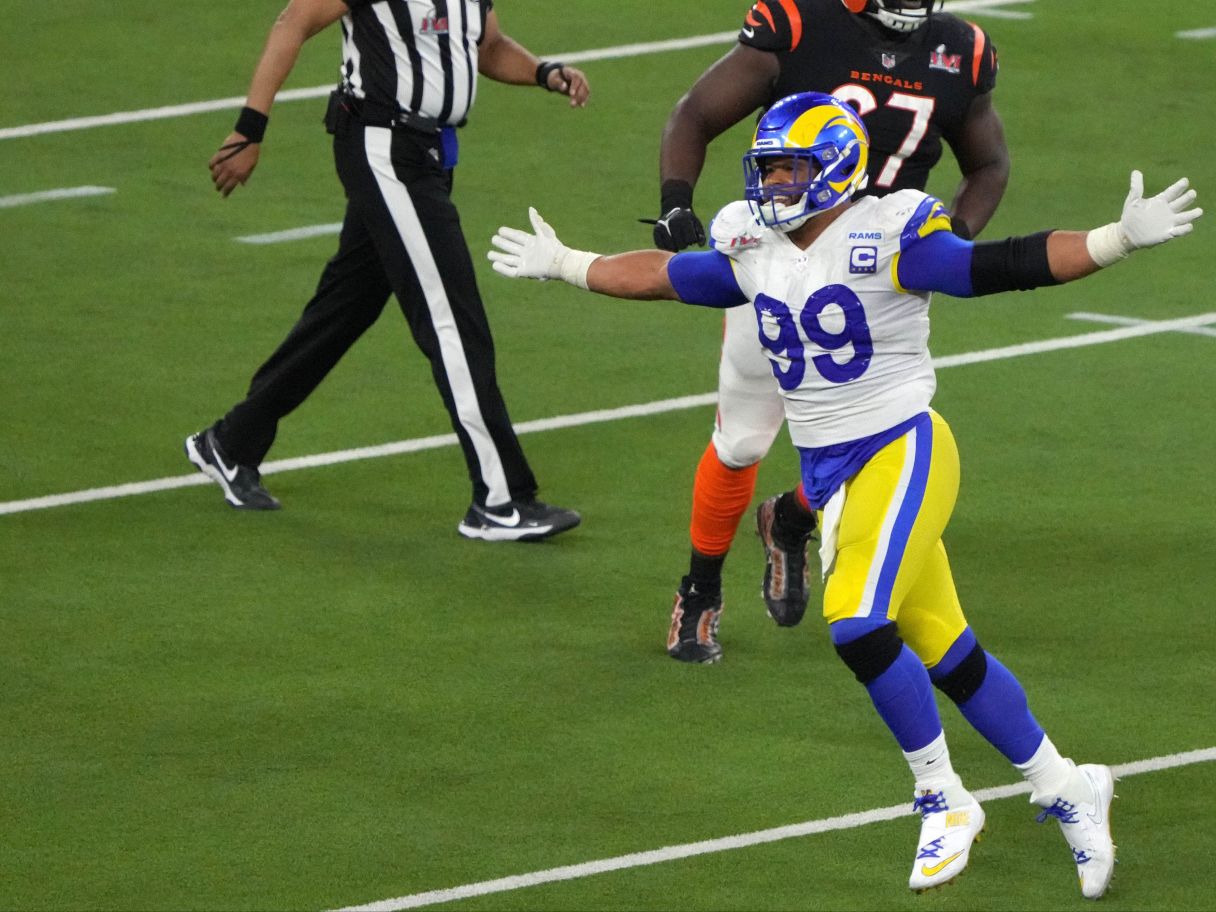 Aaron Donald and the Rams won the Superbowl LVI - can they repeat in 2023? © Kirby Lee-USA TODAY Sports
Arizona Cardinals
| | Odds |
| --- | --- |
| Win Total Under/Over: 9 wins | U: -135 O: +115 |
| Win the Division | +400 |
| Win the Superbowl | +3500 |
The Cardinals get a tougher than average schedule in 2022. It kicks off with three playoff teams from 2021 and a suspended star receiver until week seven before schedule difficulty relents, only to return for the final seven games.
Arizona squandered an opportunity in 2021. Having run off a 7-0 start to the regular season, they then went 4-6 over the second half of the year.
Their losing run in was partly mitigated by the absence of quarterback Kyler Murray, although they did have a 2-1 record during his hiatus.
At his best, Murray is an electric passer and dual purpose threat, but he's in a contract dispute and was a shadow of his early season self after his injury. Take the under 9 wins .
Los Angeles Rams
| | Odds |
| --- | --- |
| Win Total Under/Over: 10.5 wins | U: -110 O: -110 |
| Win the Division | +125 |
| Win the Superbowl | +1000 |
The defending Super Bowl champions will face the spotlight in numerous high profile games, beginning with the NFL's opening fixture against the Bills.
They came out of a competitive division which recorded 40 wins between the four teams in 2021, but were flattered by their 12 wins. Their Pythagorean win total suggests they were nearer a 10.5 wins team.
Statistically they threw often and well but were no better than average defending against the pass. They also get one of the league's toughest schedules, so taking the under on 10.5 wins is one of our best football bets this week .
San Francisco 49ers
| | Odds |
| --- | --- |
| Win Total Under/Over: 10 wins | U: -110 O: -110 |
| Win the Division | +165 |
| Win the Superbowl | +1600 |
The 49ers only pass the ball 51% of the time, so they won't be too dependent upon QB Trey Lance to hit the ground running while they transition away from Jimmy Garoppolo. Of more concern is their schedule pairing with the strong AFC West and their poor 2-4 showing from 2021 within their own division.
They will have a top ten defense, better against the run than the pass and enough doubts persist to take the under 10 wins .
Seattle Seahawks
| | Odds |
| --- | --- |
| Win Total Under/Over: 5.5 wins | U: +100 O: -120 |
| Win the Division | +1600 |
| Win the Superbowl | +13000 |
Trading away Russell Wilson at QB shows the Seahawks are in full rebuild mode, although they are reunited with their former star in opposition as early as week one.
They join a host of sides penciled in for a losing season who are scrabbling about for a new passer. On the plus side, Seattle ran the ball well, were very difficult to run against and allowed 1.5 fewer points per game than their rivals scored, on average.
They had a positive points differential, worth nine wins, rather than their actual seven and 5.5 wins is an overreaction to Wilson's departure. Take them to win more than 5.5 wins .
NFL bets explained
NFL moneyline
Betting the  moneyline  is the simplest of all football betting picks – just pick the winning team. Sometimes referred to as ML, the moneyline will have two sets of odds – one for each team. With ties being very rare in American football, the moneyline is a two-way market which means you only have two choices, a winning outcome and a losing outcome.
NFL spread betting
Football  betting spreads  are the most common and popular way to bet on football. Unlike the moneyline, where one team is usually favored, a spread (or handicap) is created to make a more even bet. The favored team will have to win by a certain number of points while the underdog will have to not lose by the spread amount. A team with a spread of -3.5 would need to win by four points or more to "cover" the spread while the underdog (+3.5) would not have to lose by four points or more to cover. It means you can win your bet, even if the team you backed doesn't actually win the game.
NFL over/under bets
Often referred to as totals, football  over/under bets  are wagers placed on the combined total score of the game. Sportsbooks will set a total number (46.5 for example) and bettors will choose if the total combined score of both teams is below (under) or above (over) that set number.
NFL parlays
Looking for bigger football betting odds? Then you're probably interested in  parlays  . A parlay is when you bet on multiple games/outcomes and the odds of each of those are multiplied together to create a much bigger payout than a single-game wager. Bettors can use a combination of moneylines, spreads, and/or totals to create a parlay bet. Each selection needs to win for the parlay bet to be a winner.
NFL prop bets
NFL prop bets have become one of the most popular ways to bet on football. A prop – short for "proposition" – is a bet on a single player or event in the game. We can bet on how many yards a quarterback will throw for, how long the longest field goal scored will be, or how many touchdowns a certain team will score. NFL prop markets can be extensive and are a fun way to bet on football.
NFL teasers and pleasers
A popular form of wager from seasoned gamblers is the teaser. An NFL teaser bet is a form of parlay (usually two or three games) and is a combination of alternative football betting lines. In an NFL teaser bet, we are "teasing" or adjusting a spread or total to a different number than the original one, but taking longer odds in the process. The most common teaser number is six. If a team is +4.5, we can tease them to +10.5 (six-point teaser). A two-team six-point teaser usually pays -110, while a three-team six-point teaser pays +180. NFL pleaser bets, do the opposite, reducing the number of points and bringing the odds in.
NFL futures bets
The aptly named NFL future bet is any wager on any event that will take place in the future. Future bets are very popular heading into a football season as bettors can make big money predicting anything from division and conference winners, to the league's MVP, or offensive rookie of the year. NFL team win totals are also an increasingly popular future market.
Images courtesy of: © Samantha Madar/USA TODAY NETWORK-Wisconsin / USA TODAY NETWORK, © Kareem Elgazzar/The Enquirer / USA TODAY NETWORK, © Orlando Ramirez-USA TODAY Sports, © Jasen Vinlove-USA TODAY Sports