Cincinnati Bengals @ Kansas City Chiefs: Player prop bet picks, tips and predictions for AFC matchup
| Bengals @ Chiefs odds | (via Fanduel) |
| --- | --- |
| Where | Arrowhead Stadium |
| Spread | Kansas City -7 |
| Total | 54.5 |
| When | Sunday Jan 30 |
| Time | 3pm ET |
The Kansas City Chiefs host the Cincinnati Bengals this Sunday, for this year's AFC Championship Game. This will be the first time the Bengals will be in this Championship game in 33 years, while the Chiefs are in this stage of the postseason for a fourth consecutive year. We have good football weather announced for this one, something that is also suggested by the offensive game the bookies expect for this match-up.
Don't forget about Joe!
The Cincinnati Bengals managed to get past the Tennessee Titans last week, despite the fact that Joe Burrow got sacked nine times. He still managed to complete 28 passes and throw for 348 passing yards, in what was another impressive performance from the young QB. Ja'Marr Chase caught five passes for 109 receiving yards, Tee Higgins seven for 96 yards and CJ Uzomah seven for 71 yards. I will be looking towards a passing prop for Joe Burrow in this game. We have all the required ingredients for him to have another 300+ passing yards day. Nice football weather, an average defense to face, and all the offensive weapons he needs to convert some big plays down the field. We also have to consider the fact that the Bengals will be probably playing from behind here, something that will force Burrow to go deep with his passes in order to catch up. At 287.5 it might be a high number, but I expect Burrow to cover it. In the only meeting they had this year in the regular season, Burrow managed to put 446 passing yards against the Chiefs.
Tyreek Hill excellent after the catch
Patrick Mahomes and the Kansas City Chiefs won one of the most exciting games in NFL's history last week, as they defeated the Buffalo Bills 42-36 in an absolute thriller. Mahomes completed 33 passes for 378 passing yards and three touchdowns. He also ran seven times for 69 yards. Tyreek Hill caught 11 passes for 150 receiving yards and Travis Kelce caught eight passes for 98 yards. We saw the Bengals defense limiting the Chiefs offense quite well earlier in the regular season, but I think we will see a different scenario here. This Kansas City team is playing at a whole other level compared to the regular season one. Tyreek Hill might have had a subpar performance on January 2nd against the Bengals, but he should be locked in for this one. We saw AJ Brown from the Titans wrecking the Bengals secondary last week, so I expect Tyreek Hill to have a big match.
Prop Bets & Picks
I don't think anyone expects to see few points in this one. We should have a shoot-out at Arrowhead on Sunday, so banking on good offensive performances is the way to go. Joe Burrow might not be better than Josh Allen (yet), but he has better offensive weapons to work with. So taking him to go over the passing yards prop is my best player prop for this match. A secondary player prop would be Tyreek Hill to go over his receiving yards prop, as he is Mahomes' favourite target in the postseason so far, and should have a field day against Cincinnati's defense.
Main pick : Joe Burrow O287.5 Passing Yards -114 Secondary Pick : Tyreek Hill O76.5 Receiving Yards -114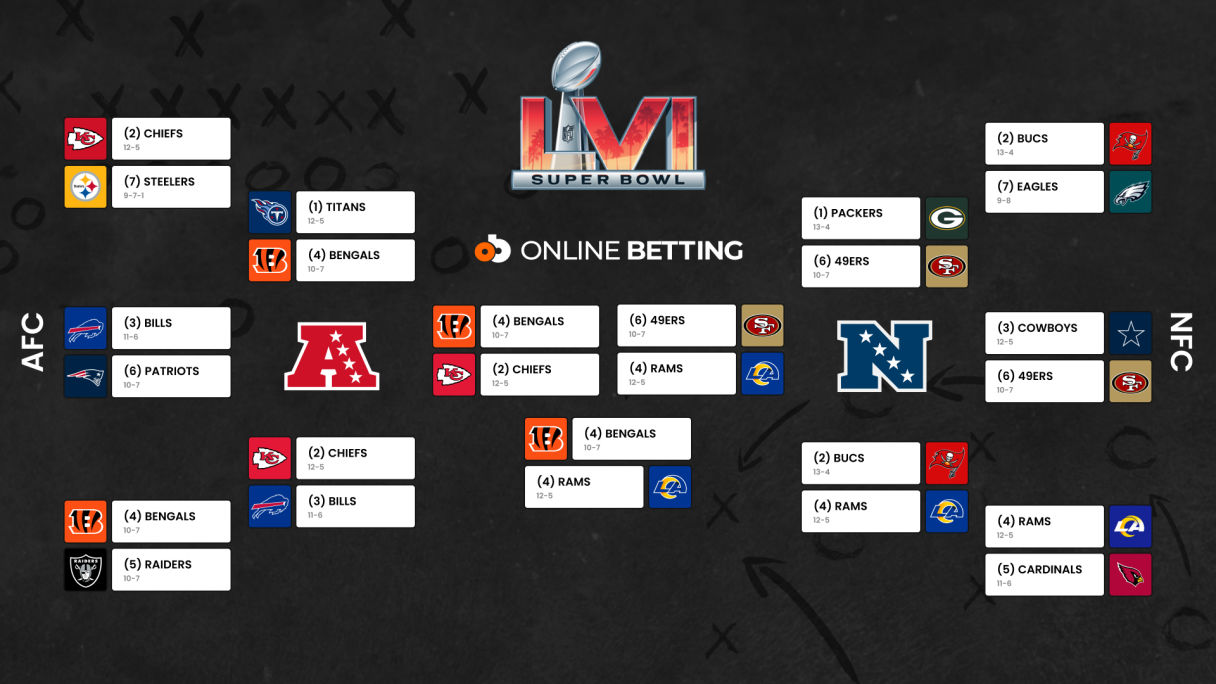 The NFL is blessed with plenty of data, but it's important to know what is vital to future wins and what is just noise...
Raw passing yardage is less important than passing the ball efficiently. The former may be a by-product of a losing side being allowed garbage time success, while the latter is more indicative of a side moving the chains.
Wins are obviously key, but large numbers of narrow victories are often driven by good fortune, rather than good play. Similarly: match-ups are often neglected. A team that cannot stop the run may have difficulty against a ground based attack and strength of schedule can vary greatly, especially early in a season. Teams can often rack up wins against bad teams and struggle against playoff contenders: an indicator of short term success and weak playoff prospects.
Weather conditions should be intelligently factored in. High winds make passing difficult and scoring may be low, but wet weather can encourage turnovers, often in threatening areas of the field.
Shop around for best prices and don't leave potential winnings behind by taking poorer odds - our NFL expert picks will help to sift the essential from the trivial.
What is the NFL moneyline?
In an NFL moneyline pick you need to find the winning team. Overtime counts, but if a regular season game ultimately remains tied, the wager is a push and stakes are returned.
In the AFC Championship game, strongly favored Kansas City were -322 and the underdog Bengals were +263. A $100 wager on KC returns $31.06 of profit, compared to $263 profit if, as happened, Cincinnati caused the upset.
Deciding on the favorite is often easy, but our handicappers at OnlineBetting.com will help to quantify that superiority, using repeatable team performance metrics and scheduling situations to avoid poor value bets and develop a long-term return.
NFL picks against the spread
A spread bet gives the underdog an advantage to manufacture a near 50/50 bet.
Kansas City were given a -7 start and were priced at -106, resulting in a $94.36 profit to a $100 stake if successful, compared to the Bengals slightly shorter price of -112, which returned $89.29.
Again, overtime and a possible push comes into play.
Small rule changes and aggressive 4th down play have altered the spread betting landscape but grow your knowledge with expert advice on key winning margin numbers, how coaches react in-game when winning or losing and home field advantage with us.
What are over/under bets?
Another near 50/50 bet which is decided after overtime if needed, where you choose if the total points scored by both sides will fall over or under a number.
KC and Cincinnati had a total that was set at 54.5 points and odds of -109 for both the under and the over. A push wasn't possible because on this occasion there was a half point in the spread and a winning wager returned $91.74 of profit to a $100 stake.
Often a volatile, weather and team selection dependent market that's built around the scoring rates of the offense and the concession rates of the defense, find out more about the Over/Under with OnlineBetting.com.
...and what is a parlay bet?
A parlay bet takes two or more wagers and combines them in an accumulator. Each leg of the bet must be successful (or at least be a push) and the winnings from one leg is rolled onto the next leg.
It is very likely that parlay bets will have a long-term negative expected value, but they can result in large payouts on relatively small stakes.
A two-fold accumulator with each separate bet priced as a coin toss at 100 would return $30 of profit to a $10 stake or $150 if four legs were included.
Same game parlays , which combine events from a single event are now common place, but the cumulative odds are often reduced to reflect the correlated nature of such wagers. Essentially a fun bet, but to get the sharpest wagers for each leg follow our expert advice.