What is NHL over/under betting?
When it comes to NHL games, over/under betting is a great way of winning wagers without backing a specific team to win the game. Here's what you need to know about NHL over/under betting.

Ⓒ Geoff Burke-USA TODAY Sports
NHL over/under key takeaways
NHL over/under betting, or total betting, is a great way to get into NHL wagering without having to pick a winner.

Sportsbooks normally set the over/under line between five and eight goals.

This ensures there is always a winner and a loser.
What is over/under NHL betting?
Betting the over/under in the NHL is simply betting on the number of total goals scored combined between the two teams in a game. NHL totals are typically lined as low as 5.5 and can be as high as 7 depending on the matchup with most NHL totals being set at 6 or 6.5 over the last couple of seasons as scoring has increased in the league.
| | Puck Line (including OT and shootout) | Total (including OT and shootout) | Moneyline (including OT and shootout) |
| --- | --- | --- | --- |
| Senators | +1.5 (-205) | O 6.5 (-103) | +132 |
| Canucks | -1.5 (+170) | U 6.5 (-118) | -152 |
Let's say we are looking to place $10 bets on this game and we think the Senators and Canucks will combine to score over 6.5 goals in the game. As you can see, the odds are -103, meaning if we bet $10 on the over, we would risk $10 to win $19.70. If we think the game will have six or less goals, we simply bet the under.
NHL over/under betting explained
Totals and over/unders are a great alternative to betting on a team to win the game. We often find ourselves not sure which team is going to win in many instances but betting the over/under allows us to find another way to try and profit from betting that particular game.
Bettors who are skilled in determining offensive and defensive success rate along with pace, even strength production, power play production and penalty kill production in NHL games may find it worthwhile to place wagers on the over/underin HNL games.
There are several examples of bettors and handicappers that have more success betting an over/under than a moneyline, spread or any other type of bet on the game and it should always be determined based on each bettor's individual skillset and strength.
How to bet the NHL over/under
The process of placing a bet on the NHL over/under is very simple. We login to our sportsbook account, navigate our way on the sportsbook website or app to the NHL and the game of our choice.
| Over 6.5 | -140 |
| --- | --- |
| Under 6.5 | -120 |
Let's use an example where the total for the game is set at 6.5. We select the over/under betting options listed for that game and if we like the game to be higher scoring and go over the total, we would click either "Over 6.5" or "O 6.5" to indicate we are betting the over.
If we like the game to be lower scoring and go under the total, we would click either "Under 6.5" or "U 6.5" to indicate we are betting the under.
Choose the NHL game you want to place a bet on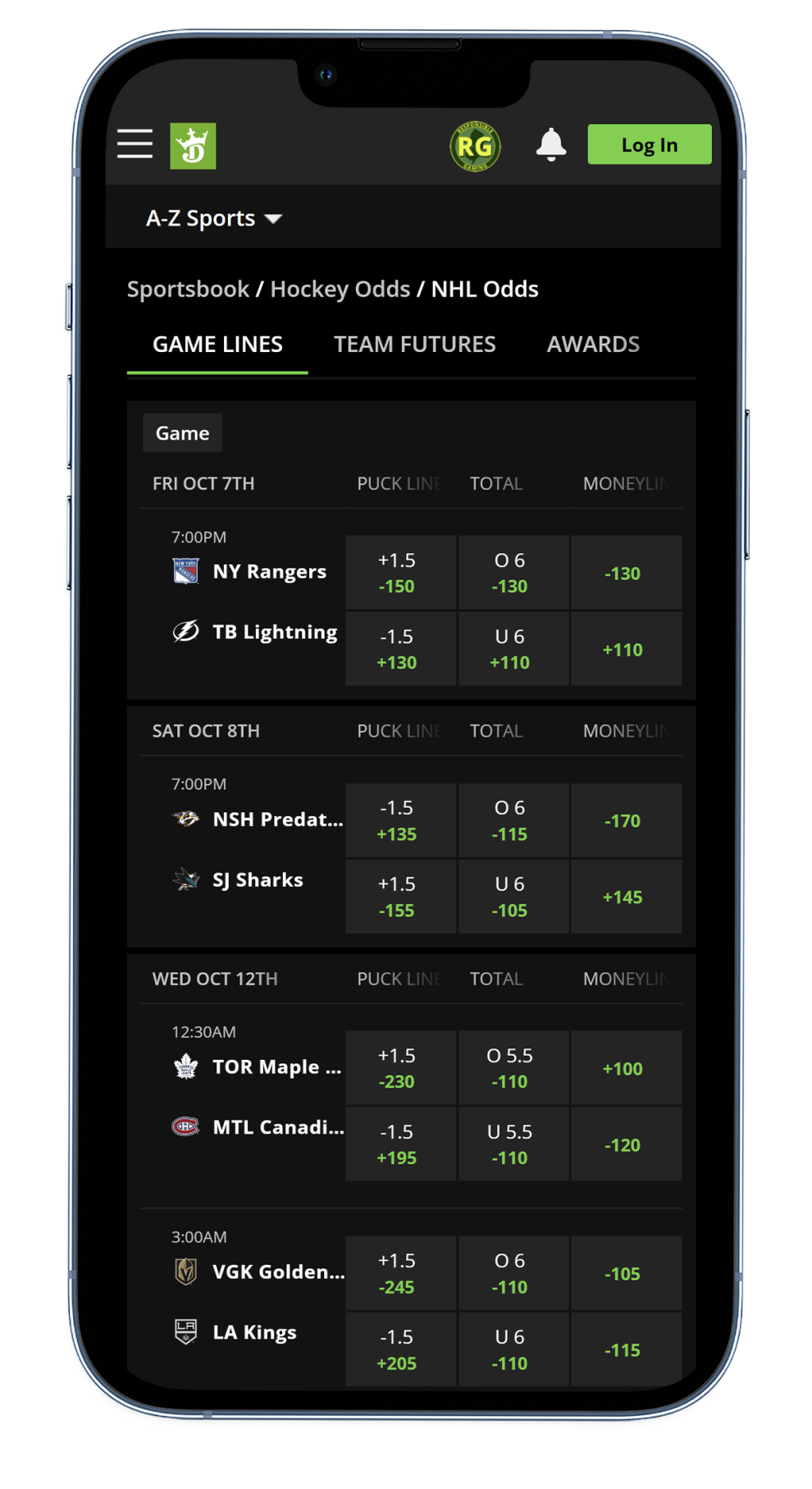 Click the moneyline odds for that hockey team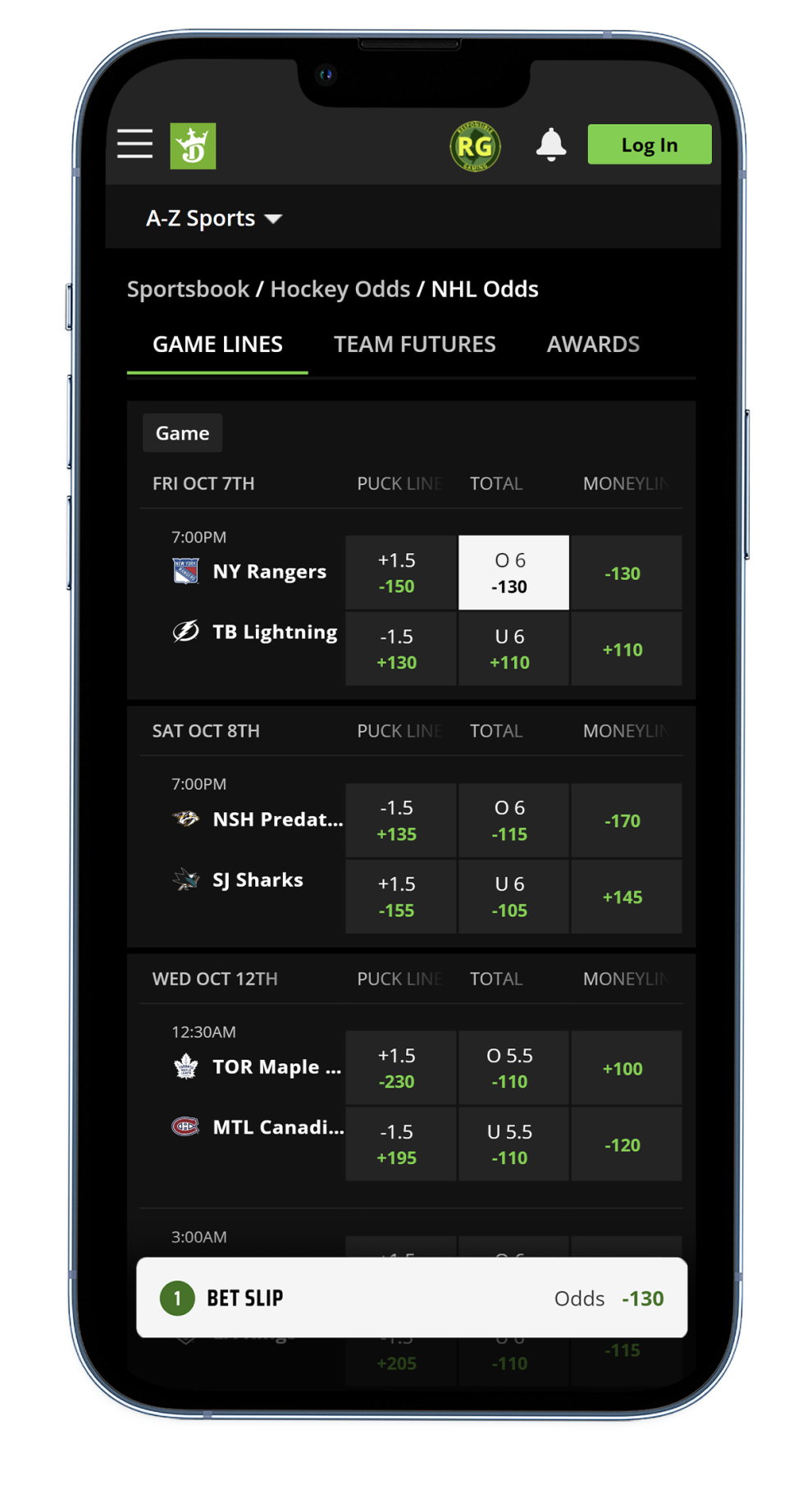 Click on the bet slip at the bottom and place your bet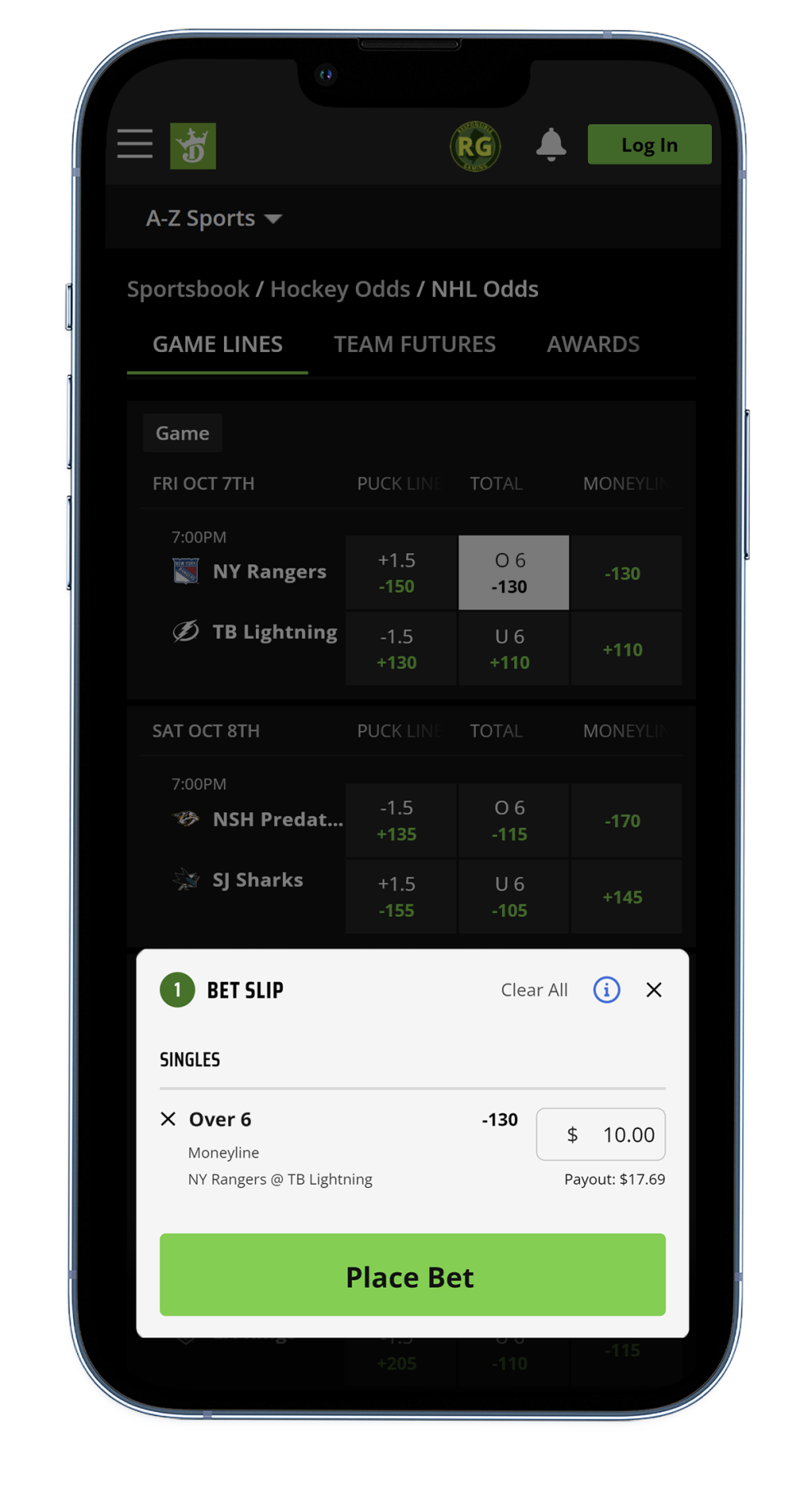 What do NHL over/under plus and minus odds mean?
Minus odds in an NHL bet means the team is favored to win, while plus odds represents the underdogs. Minus odds with an NHL over/under total indicate we risk more to win less either over or under on the total. Plus odds with an over/under total indicate we risk less to win more either over or under on the total.
For example, Over 6.5 at -140 means the over in the game at that number has the better chance of occurring and is 'juiced' toward the over by the sportsbook.
Under 6.5 at +120 means the under in the game at that number has a lesser chance of happening according to the sportsbook.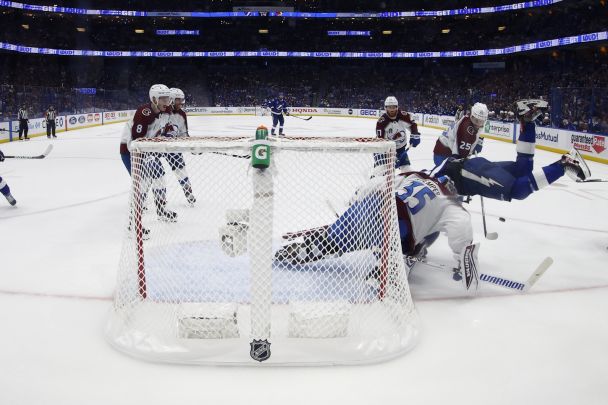 Why bet the over/under vs the spread in the NHL?
The over/under is betting either over or under a certain number of goals being scored in an NHL game. The spread, or in the case of the NHL, the 'puck line', is betting on either the favorite to win by 2+ goals or betting on the underdog to keep the game to within a single goal margin. Choosing your bet revolves around personal preference, but if we are bettors that have greater long-term success betting on over/under totals than spread wagers than it is best to bet more totals than spreads. If we have a better read and gauge on pace of play, offensive and defensive production and matchups as it pertains to scoring than the over/under is likely a more positive expectation wager than the spread.
Another reason to bet over/under is the fact you rarely ever see big prices on an over/under total and often deal with 20 cent lines on those type of wagers. Spread bets contain the possibility of having to lay bigger prices like -150 and in a lot of instances much higher than that especially if you are taking the underdog on the spread at +1.5 goals.
Is it better to bet the over or under in NHL?
What happens in NHL if the over/under is exact?
How do you understand over/under NHL odds?
Brand disclaimer
The brands featured in this article are for illustrative and commentary purposes only. There are no commercial associations between the website and any brand featured in this article. Trademark rights and copyrights relating to the teams featured on this page belong to their respective owner(s), which are not associated or affiliated with OnlineBetting.com in any way and did not license rights or authorise or sponsor this article.