UEFA Champions League 2022 /23 picks and predictions: Is Erling Haaland Manchester City's missing link in the hunt for European glory?
The 2022/23 Champions League is still some way away, but excitement is already generating as Europe's elite add to their squads during the summer transfer window, and it's never too early to look ahead at the season to come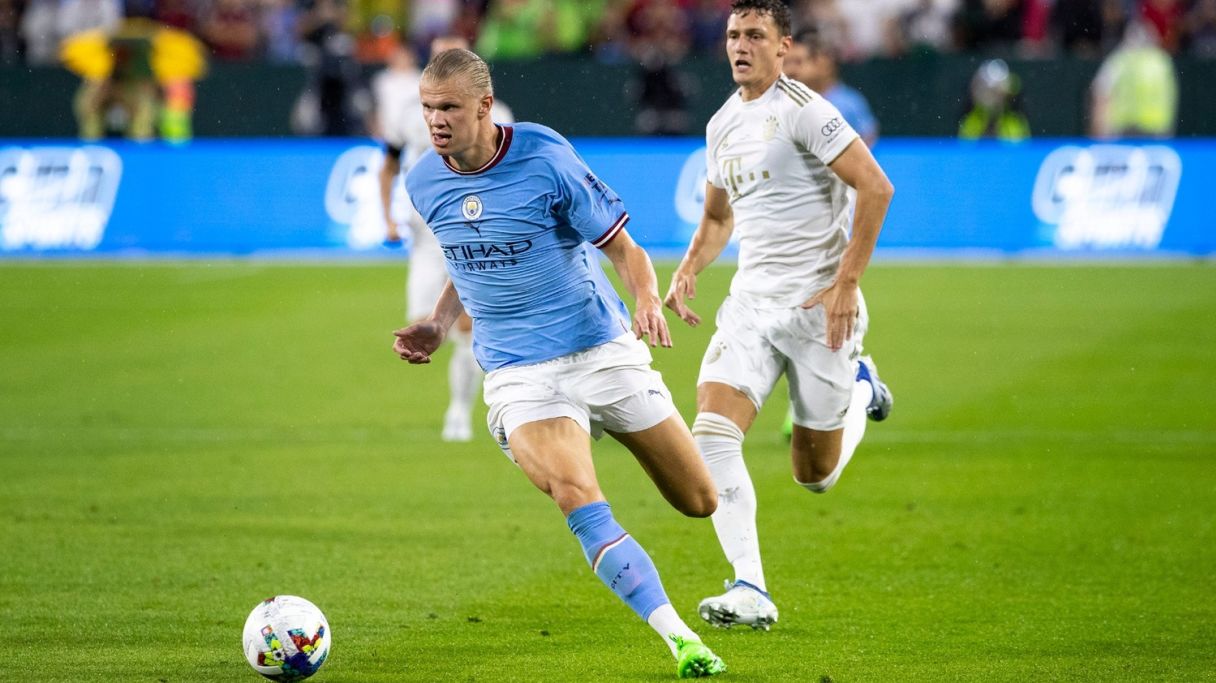 Manchester City forward Erling Haaland (9) runs the ball during the exhibition match against FC Bayern Munich. Pic: USA TODAY NETWORK
Ghost Tipster has been handicapping for over five years now. He loves to research and provide data on your favourite soccer leagues to help you bet more successfully. Full bio here.
What's certain already is that European football fans can begin rubbing their hands together with the prospect of what's to come in the latter stages of the continent's elite club competition. As is often the case with the Champions League ahead of the groups being drawn, there are a number of candidates that are widely considered to be the favourites and, as ever, England's Premier League is well represented in that bunch. The six frontrunners are thought to be Premier League champions Manchester City; last season's runners up in both England and Europe, Liverpool; Paris Saint-Germain; Bayern Munich; Chelsea; and reigning European champions Real Madrid. Although they disappointed last season, Barcelona and Juventus have also both strengthened this summer and may fancy themselves to go far.
Pep Guardiola's Manchester City have started almost every season under his guidance as one of the favourites to reign over Europe, but they've never quite managed to do it. They made it as far as the final in 2020/21, only to lose out to fellow Premier League side Chelsea in the final. Domestically, though, they've been pretty much unstoppable and only Liverpool have managed to stand between City and the Premier League title in recent seasons. Having brought in Erling Haaland (below), Kalvin Phillips and Julian Alvarez, too, it's hard not to look at City as a favourite this year.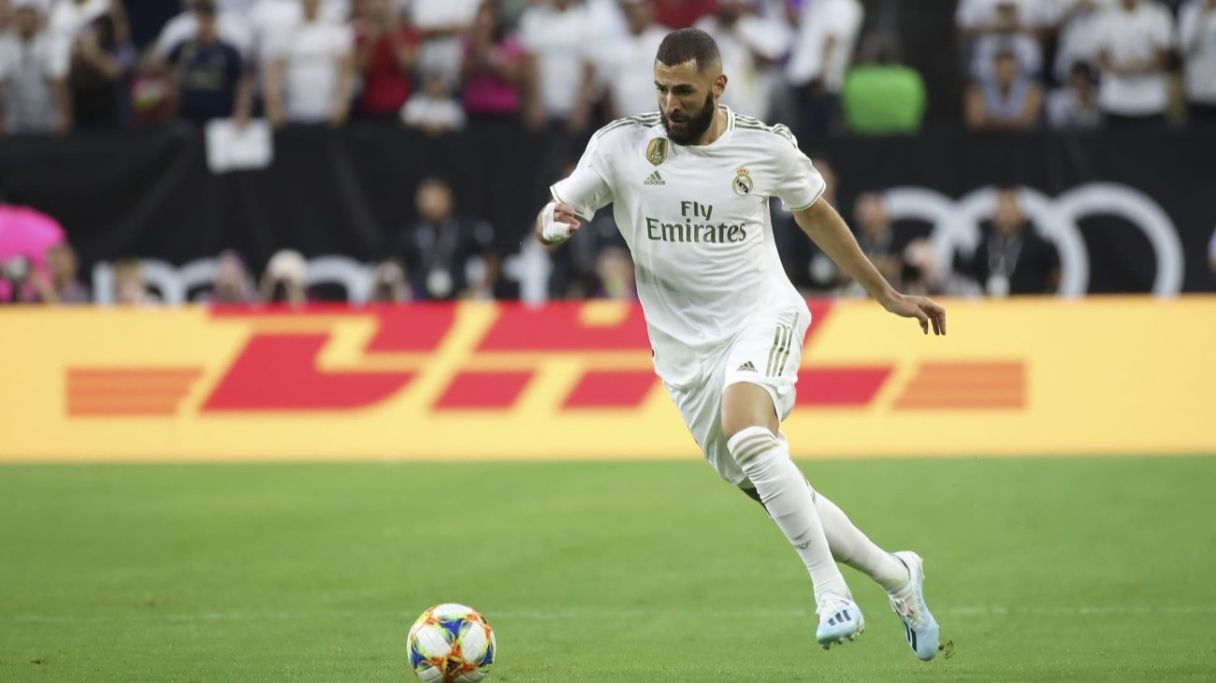 France forward Karim Benzema in action for Real Madrid. © Kevin Jairaj-USA TODAY Sports
Right up alongside City in the race to be crowned European and English champions will again be Liverpool. Jurgen Klopp's side made it to the final for the third time under him last season, only to fall in Paris to a single Vinicius Junior goal as Real Madrid claimed yet another European trophy. The last time Klopp's Reds lost in the final, though, they went on to win the title the following year - losing to Real Madrid again in Kyiv in 2018, only to beat Tottenham a year later in Madrid. Losing Sadio Mane to Bayern Munich is likely to be a big blow, and they've also lost squad players in Neco Williams (Nottingham Forest), Takumi Minamino (Monaco), and Divock Origi (AC Milan). Darwin Nunez has come in as their big-money signing, and has been joined by Fulham's Fabio Carvalho and Porto's Marko Grujic.
Much like Manchester City but on an even bigger scale, Paris Saint-Germain have become known for falling way short of expectations in the Champions League, though the Ligue 1 side have developed an unwanted habit of humiliating themselves in the process. While their worst European collapse came against Barcelona - losing 6-1 in a second leg at the Camp Nou - last season's capitulation at the Bernabeu against Real Madrid might have even topped that. With Neymar, Kylian Mbappe, and Lionel Messi in the same team, though, the Parisians cannot be overlooked and they are likely to get into the knockout rounds at the very least. From there, anything is possible, it's just a matter of how they managed their own psychological problems.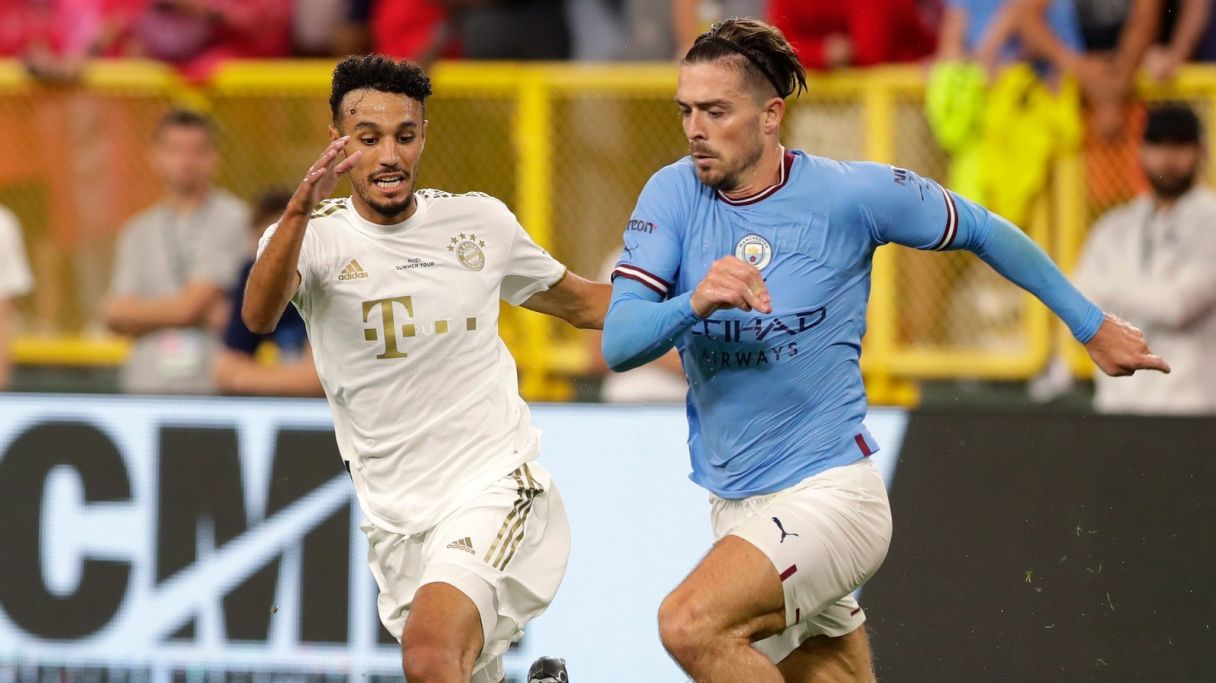 Jack Grealish will be looking to help his Manchester City team to glory Pic: © Sarah Kloepping/USA TODAY NETWORK-Wisconsin / USA TODAY NETWORK
Bayern Munich always find themselves among the favourites before any Champions League season, and adding Sadio Mane and Matthijd de Ligt in the same summer should have them placed among the very elite and targeting the final four at the very least. They have, though, lost their no.9 in Robert Lewandowski this summer, and given how hard they tried to make him stay it's clear that his exit was not part of their plans. Lewandowski has been a guarantee for the Bavarians for so many seasons and they'll struggle to replace him, even with Mane's arrival. They'll likely be hard to overcome, but they might not have as much as some of the other frontrunners.
You cannot make any UEFA Champions League picks without talking about the competition's kings: Real Madrid. Carlo Ancelotti is the master of European football, and Real Madrid are the eternal owners of this tournament, so the two together make them automatic contenders. Last season few people gave them a chance in Europe, and they ended up beating PSG, Chelsea, Manchester City, and Liverpool en route to lifting the famous trophy in Paris in May. Now they've added strength with Antonio Rudiger and Aurelien Tchouameni, so how could they not be considered among the favourites to defend their crown? It's worth pointing out that teams don't often win this competition back to back, but Real Madrid won four from five between 2014 and 2018, including three in a row, so they know more than anybody else how to get the job done.
Chelsea, Barcelona, and Juventus are also worthy of a mention, but not likely to go as close as the other teams mentioned. The Blues won the Champions League in 2020/21, albeit in strange circumstances, and Thomas Tuchel knows how to navigate his way to the final having done so with PSG the year previous. Juventus are strengthening after two bad years, and Massimiliano Allegri is desperate to final deliver continental silverware, while Barcelona have been spending money they may not even have in order to dine at the top table again.
https://twitter.com/stopthatfooty/status/1517094193323290630
Only a fool would dare to write off Real Madrid when making Champions League predictions, so any Champions League 2023 picks I make here has to be prefaced with that clear fact. Los Blancos are of course a threat, and Karim Benzema is likely to be the Ballon d'Or in December as well, so he'll be keen to show the world - again - why he has grown to be considered the best around.
They have a perfect mix of know-how and energy, and their core of David Alaba, Toni Kroos, Luka Modric, Casemiro, Thibaut Courtois, and Benzema himself have won everything there is to win in club football, and more than once in most cases. To add to that, they've got Vinicius, Rodrygo Goes, Eduardo Camavinga, Tchouameni, and Rudiger to support the more ageing players.
Real Madrid have to be taken seriously in any Champions League 2023 picks. But there's always the Manchester City clause, too. Pep Guardiola has gone close since leaving Barcelona but has never quite managed to repeat the success he enjoyed in Catalonia on the European stage, not with Bayern nor City. Now, he'll feel as though it's time to prove that he still knows how to conquer Europe.
With that in mind, don't be surprised to see both Real Madrid and Manchester City go far this season, and they could even meet in the final come season's end.
UEFA Champions League picks and predictions
Manchester City to win the tournament

Erling Haaland top UCL goalscorer
CHAMPIONS-LEAGUE
7/18/2023, 3:00 PM
FK Struga
Zalgiris Vilnius
CHAMPIONS-LEAGUE
7/18/2023, 5:00 PM
Maccabi Haifa
Hamrun Spartans
CHAMPIONS-LEAGUE
7/18/2023, 5:00 PM
FC Sheriff
Farul Constanta
CHAMPIONS-LEAGUE
7/18/2023, 5:00 PM
FC Flora Tallinn
Raków Czestochowa
CHAMPIONS-LEAGUE
7/18/2023, 6:00 PM
BATE Borisov
Partizani
CHAMPIONS-LEAGUE
7/18/2023, 6:00 PM
TNS
BK Häcken
CHAMPIONS-LEAGUE
7/18/2023, 6:00 PM
HSK Zrinjski
FC Banants
CHAMPIONS-LEAGUE
7/18/2023, 7:15 PM
Breiðablik
Shamrock
CHAMPIONS-LEAGUE
7/19/2023, 3:00 PM
Valmiera Glass ViA
Olimpija Ljubljana
CHAMPIONS-LEAGUE
7/19/2023, 4:00 PM
Dinamo Tbilisi
FC Astana
CHAMPIONS-LEAGUE
7/19/2023, 4:00 PM
Ferencváros
KÍ
CHAMPIONS-LEAGUE
7/19/2023, 4:00 PM
Qarabag
Lincoln Red Imps FC
CHAMPIONS-LEAGUE
7/19/2023, 6:00 PM
PFC Ludogorets 1945
Ballkani
CHAMPIONS-LEAGUE
7/19/2023, 6:00 PM
Swift Hesperange
Slovan Bratislava
CHAMPIONS-LEAGUE
7/19/2023, 6:30 PM
Larne
Helsinki
Last updated: Jul 18, 2:05 PM UTC
UEFA Champions League Odds
Game
Jul 18, 23 @ 3:00 PM UTC

FK Struga

Zalgiris Vilnius

Draw

Jul 18, 23 @ 5:00 PM UTC

Maccabi Haifa

Hamrun Spartans

Draw

Jul 18, 23 @ 5:00 PM UTC

FC Sheriff

Farul Constanta

Draw

Jul 18, 23 @ 5:00 PM UTC

FC Flora Tallinn

Raków Czestochowa

Draw
Odds updated: Jul 18, 2:10 PM UTC