Premier League 2022 /23 betting picks and predictions: Liverpool looking to bounce back as Man United start rebuilding job
This EPL season looks like it could be one of the best yet. With Liverpool and Manchester City both strengthening their rosters, and Manchester United undergoing a shake up under Erik ten Hag, we could be in for a frantic fight for the title. Here are our picks for the season.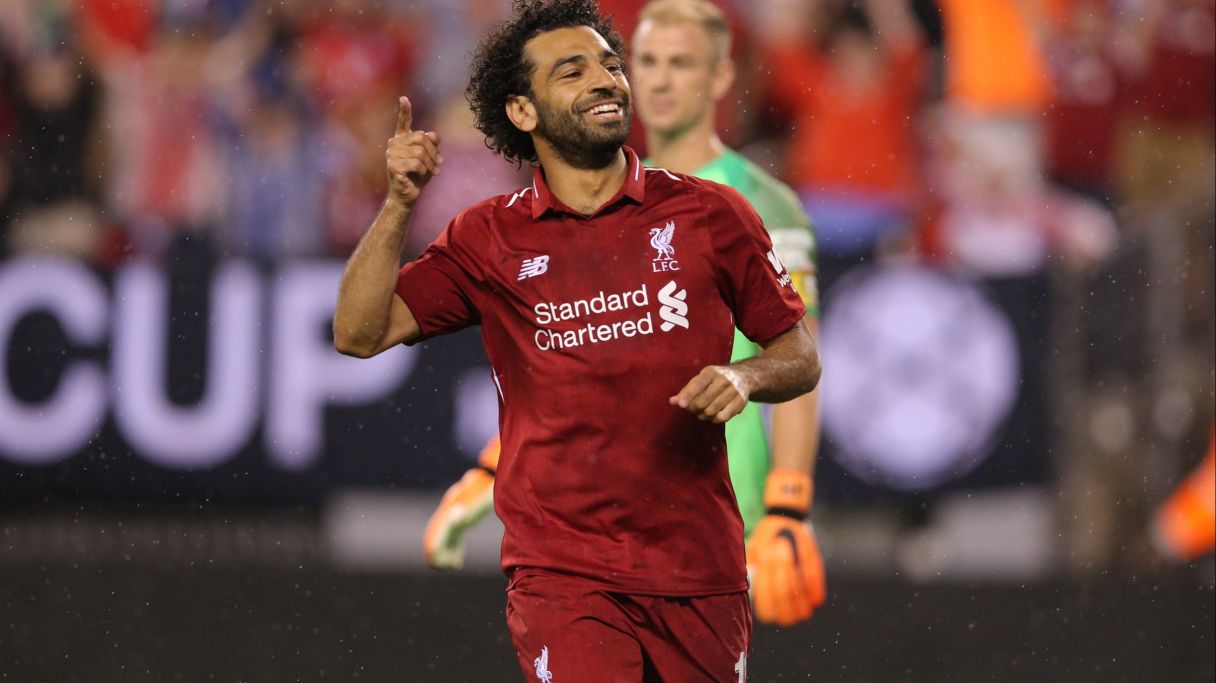 Liverpool forward Mohamed Salah has committed his future to the club and will be looking for major trophies. Pic: Brad Penner-USA TODAY Sports
Freelance soccer writer with years of experience providing tips and gambling strategy for Paddy Power, Pinnacle and Cloudbet among others. A self-confessed stat nerd, Andrew can sift through the numbers to highlight value in the market. Full bio here.
The English Premier League is considered by many to be Europe's, if not the world's, most exciting league. In recent seasons Premier League predictions have become a little easier to make given the strength of Manchester City and Liverpool, but the battles between Pep Guardiola and Jurgen Klopp's respective sides have been so hard to call that the league has consistently been one of the most fascinating around.
The 2022/23 Premier League season promises so much, and again Manchester City and Liverpool will expect to lead the way. Behind them, though, Chelsea and Tottenham will believe that they have both strengthened this summer, Arsenal have another year of working with Mikel Arteta behind them, and Manchester United will be hoping for a serious improvement under new coach Erik ten Hag.
Champions Manchester City have to be taken very seriously in any Premier League predictions, and coach Pep Guardiola doesn't settle for anything other than improvement year on year. Having brought in Erling Haaland, Kalvin Phillips and Julian Alvarez, too, it's hard not to look at City as one of, if not the standalone runaway, favourite this year. Four of the last five Premier League titles have been claimed by Guardiola's City, and it wouldn't be a surprise to see them add a third in a row and a fifth from six at the end of the coming campaign.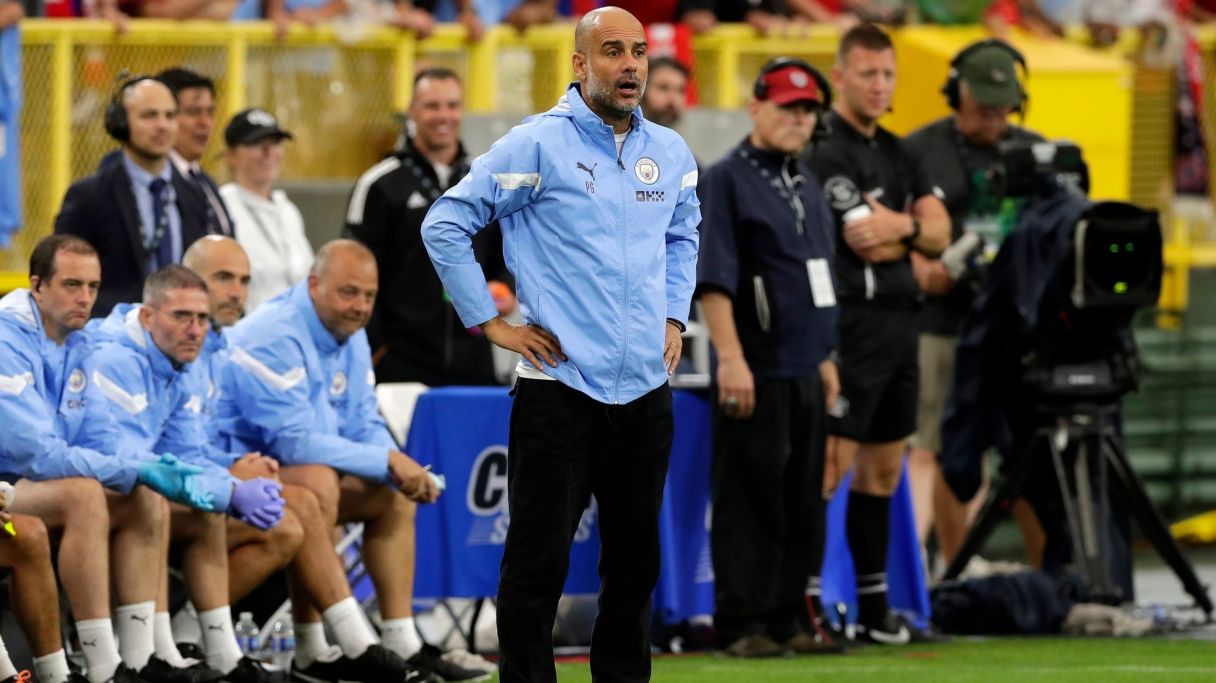 Manchester City manager Pep Guardiola will be hoping Erling Haaland will be his key to domestic and European success. Pic: © Sarah Kloepping/USA TODAY NETWORK-Wisconsin / USA TODAY NETWORK
Liverpool, though, will be doing their utmost to stop City from celebrating again this season, and many Premier League picks for 2022/23 will include the Reds. The last team to stop Guardiola's winning machine in 2019/20, Jurgen Klopp will be hoping to do the same thing this coming season to get over the heartache they suffered last term, ending the campaign by falling just short in the Champions League, losing 1-0 to Real Madrid in Paris; and in the Premier League, being edged by just a point by Manchester City in the end. Losing Sadio Mane to Bayern Munich is likely to be a big blow, and they've also lost squad players in Neco Williams (Nottingham Forest), Takumi Minamino (Monaco), and Divock Origi (AC Milan). Darwin Nunez has come in as their big-money signing, and has been joined by Fulham's Fabio Carvalho and Porto's Marko Grujic.
Chelsea are likely to be outsiders in most people's Premier League predictions, but cannot be completely written off under Thomas Tuchel. In signing Kalidou Koulibaly from Napoli and Raheem Sterling from Manchester City as well, the Blues' new owners are serious about backing their boss and giving him a squad with which he can compete on all fronts.
Antonio Conte has enjoyed similar backing at Tottenham, and they're another side to have signed well so far this summer. Richarlison, Yves Bissouma, Ivan Perisic, and Clement Lenglet are the big arrivals, but others have been brought in as squad players as well. While a title push is likely too much to ask for, anybody making Premier League predictions should consider Spurs for a top-four finish.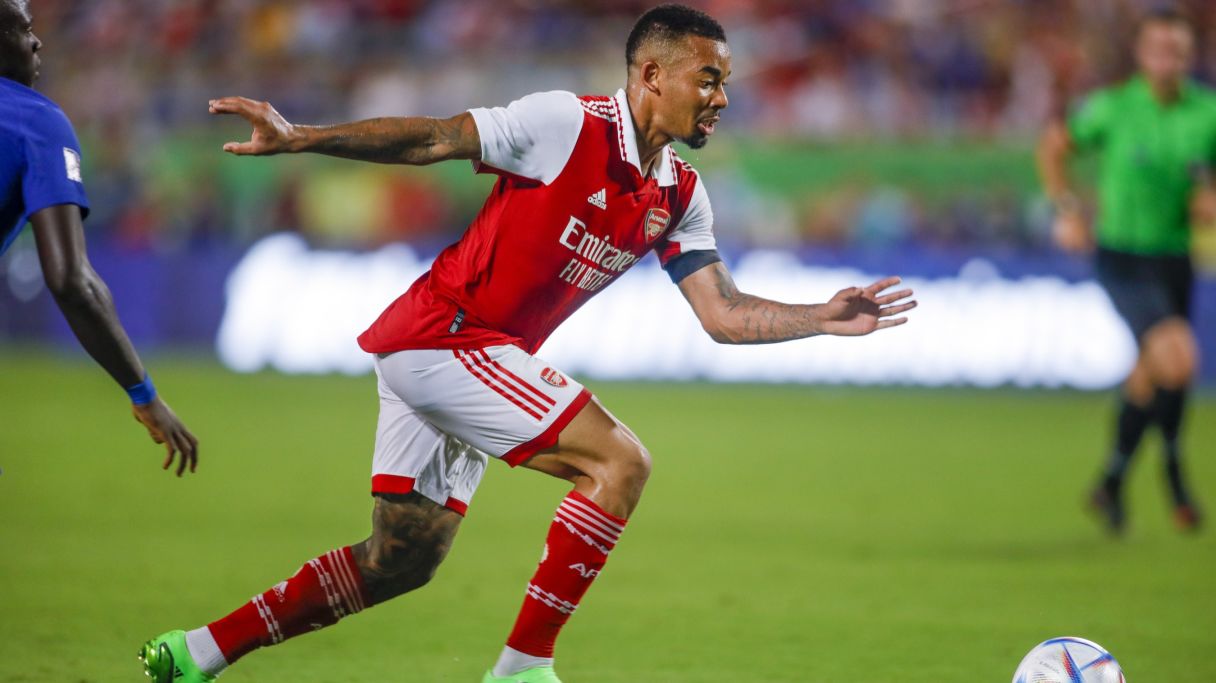 New Arsenal forward Gabriel Jesus will add guaranteed goals to their team. Pic: Sam Navarro-USA TODAY Sports
Behind what's likely to be the top four, Arsenal and Manchester United will both back themselves to challenge for Champions League qualification, though both will likely at the same time accept that they're a little further behind Liverpool, City, and perhaps Chelsea as well.
As winners of four of the last five Premier League titles, I'm finding it hard to look beyond Pep Guardiola's Manchester City for the 2022/23 crown. That said, though, the Citizens might have more of an eye on Champions League success than ever before under Pep, and that might just see them fall off ever so slightly domestically.
Given that Liverpool only fell a point short last season and in 2018/19, Klopps Reds might be well placed to swoop again on any complacency that City show and cannot be written off for the title.
Beyond the title race, though, I'm backing City, Liverpool, Tottenham and Chelsea to be the top four, with Arsenal the side most likely to break into that bunch. Manchester United fans won't be pleased to read that, but Erik ten Hag just has too much work to do to get them into that top four in his first season, and he isn't being helped by the mess around Cristiano Ronaldo's future this summer.
As far as individual Premier League 2022/2023 picks go, Erling Haaland has got to be considered as a frontrunner to be the top goalscorer. With Cristiano Ronaldo's future and role at United in doubt, Sadio Mane and Romelu Lukaku gone, the City star should expect to battle with Mohamed Salah for the crown.
Premier League 2022 /23 free betting picks and predictions
Manchester City to win the league

Erling Haaland top scorer
EPL odds
Game
Aug 11, 23 @ 7:00 PM UTC

Burnley

Manchester City

Draw

Aug 12, 23 @ 2:00 PM UTC

Everton

Fulham

Draw

Aug 12, 23 @ 2:00 PM UTC

Brighton and Hove Albion

Luton Town

Draw

Aug 12, 23 @ 2:00 PM UTC

AFC Bournemouth

West Ham United

Draw
Odds updated: Jul 18, 2:08 PM UTC