World Cup Group H betting odds and predictions: Maybe Cristiano Ronaldo's last international tournament?
Group H will be one to watch, with Portugal, Uruguay, Ghana and South Korea all battling it out for group qualification. There is interesting history between certain nations in this group with old scores to settle, including Uruguay knocking Portugal out in the Round of 16 at the 2018 World Cup .
However Ghana v Uruguay in the final group game will be a match fuelled with tension after their 2010 World Cup quarterfinal. Luis Suárez deliberately handled the ball on the line in the 120th minute, Asamoah Gyan missed the resulting spot kick and the game went to a penalty shootout. Uruguay ended up qualifying, denying Ghana the opportunity to become the first African side to reach the final four, it's safe to say Suárez's cheating will not be forgotten by Ghana.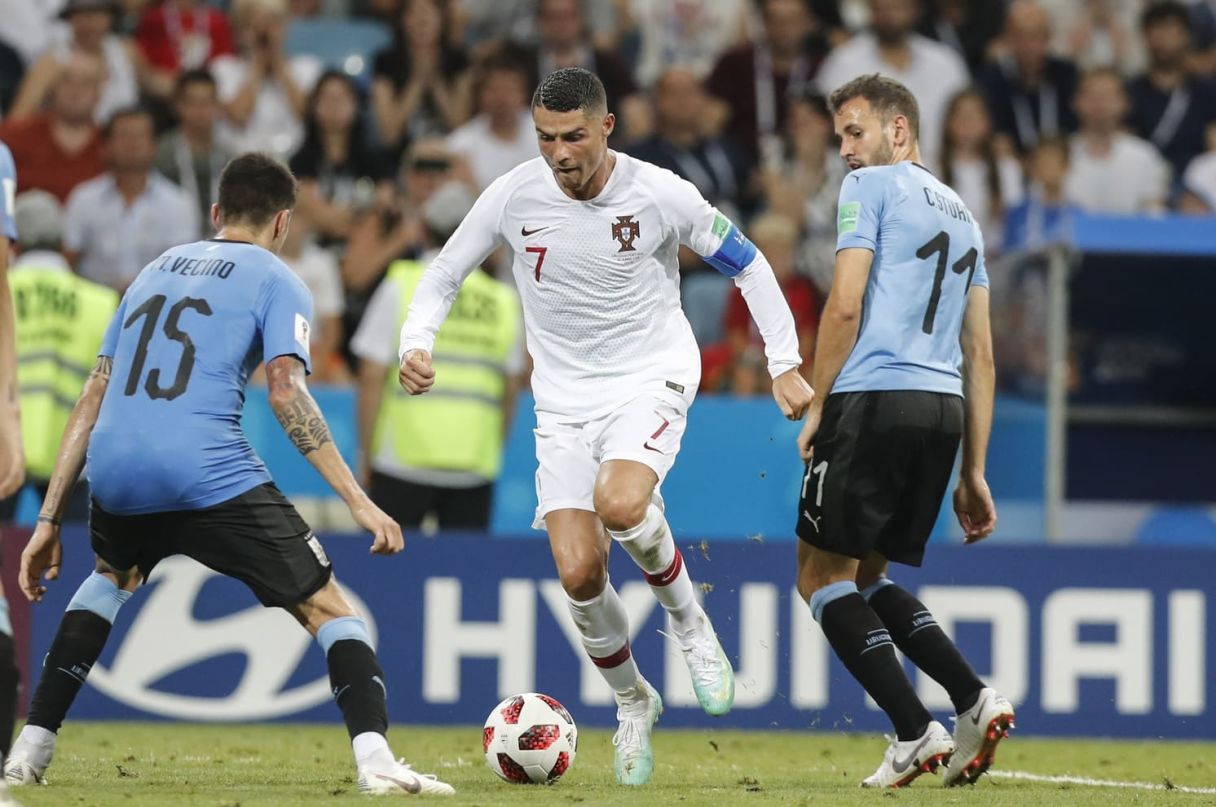 Portugal's Cristiano Ronaldo against Uruguay's Cristhian Stuani and Matias Vecino at the 2018 World Cup. © Sipa USA-USA TODAY Sports
Ghost Tipster has been handicapping for over five years now. He loves to research and provide data on your favourite soccer leagues to help you bet more successfully. Full bio here.
World Cup 2022 Group H fixtures
| World Cup Group H Fixtures | When (ET) | Where |
| --- | --- | --- |
| Uruguay vs South Korea | Nov 24, 8am | Education City Stadium |
| Portugal vs Ghana | Nov 24, 11am | Stadium 974 |
| South Korea vs Ghana | Nov 28, 8am | Education City Stadium |
| Portugal vs Uruguay | Nov 28, 2pm | Lusail Stadium |
| South Korea vs Portugal | Dec 2, 10am | Education City Stadium |
| Ghana vs Uruguay | Dec 2, 10am | Al Janoub Stadium |
Jump to:
World Cup 2022 Group H predictions
Portugal has an outstanding team full of top level players with plenty of experience in major competitions. Many regularly go deep in the Champions League and a lot remain from the 2016 European Championships , which they won. In fact, you could argue that Portugal's current roster is even stronger, especially in defense which sees Manchester City's Ruben Diaz and João Cancelo combine once again to sure up the back. Then there's the exciting midfield of Bruno Fernandes and Bernardo Silva creating numerous chances for talisman Cristiano Ronaldo. With a roster better on paper than the other teams in group H, if this Portugal side manage to gel they will be the team to avoid.
Uruguay has an impressive World Cup record, making them a dangerous team in World Cup Group H. They have lifted the trophy twice, the first time was in the first ever edition of the tournament in which they hosted in 1930 and the second was 20 years later. Recently, they have made it out of the group stage in the last three World Cups, reaching the semifinals in 2010 and the quarterfinals in 2018. Uruguay's roster has bags of experience which we believe will help the side qualify to the knockout stages ahead of Ghana and South Korea.
World Cup 2022 Group H free picks and prediction
Portugal to top the group (-152)

Uruguay to qualify to the knockout stage (-200)
Portugal World Cup 2022 overview
Portugal had to qualify the hard way and, in truth, got quite lucky - having come second in their qualifying group, they had to go through European play-offs to make it to Qatar. The first match saw them beat Turkey 3-1 to place themselves one step away from the 2022 Qatar World Cup. Most soccer fans assumed they would play Italy, who had to beat minnows North Macedonia, however the Italians conceded a 90th minute goal to leave everyone stunned.
Portugal midfield Bruno Fernandes. © Christopher Hanewinckel-USA TODAY Sports
Portugal rained on North Macedonia's parade with a textbook 2-0 win to seal their spot at the World Cup, but this was a stark warning to the Portuguese that they can't take any game for granted.
Any side that Cristiano Ronaldo plays in is guaranteed to see goals and we think the legendary player will have no problems finding the net in Qatar, especially with the creative players behind him. Premier League stars Fernandes and Silva have shown their talent and soccer brains for their respective clubs and should have a field day teeing up Ronaldo. We expect to see goals whenever this exciting Portugal side play, that's if they can finish their chances – something that was not always the case in qualifying.
Portugal picks and predictions
Cristiano Ronaldo to be top team goalscorer

Portugal to score over 6.5 goals
Ghana World Cup 2022 overview
Ghana got to the FIFA World Cup by the skin of their teeth, progressing to the play-offs by scoring more goals than South Africa after the two shared the same number of points and goal difference. They had to overcome Nigeria in the two legged play-off, drawing both games but going through on the away goals rule with a 1-1 tie away from home.
They scored the least amount of goals out of the African sides who came first in their qualifying groups. They struggle to score more than a goal a game and they will need to rely on their defense if they are to pick up points in World Cup Group H.
Ghana head into just their fourth World Cup, with their first appearance at the tournament being in 2006 when they reached the Round of 16 before being eliminated. Their best performance came in 2010 in South Africa but came to a bitter end due to Suarez and Uruguay, a match that will likely be a fiery clash.
If Ghana continue to struggle to find the back of the net, they will be out of the tournament before they know it with other sides in their group possessing creative and talented attackers.
Ghana picks and predictions
Ghana to not qualify for the knockout stage (-303)

Ghana to score under 1.5 team goals
Uruguay World Cup 2022 overview
Uruguay are an entertaining side that can often be at the center of drama, especially when Luis Suárez is involved. Whether it's his handball against Ghana in the 2010 World Cup quarterfinals, or when he received a nine-game ban and was sent home from the tournament for biting Italy's Giorgio Chiellini at the 2014 World Cup. The forward is certainly a brilliant player, however he is also one of the sport's biggest villains to many fans.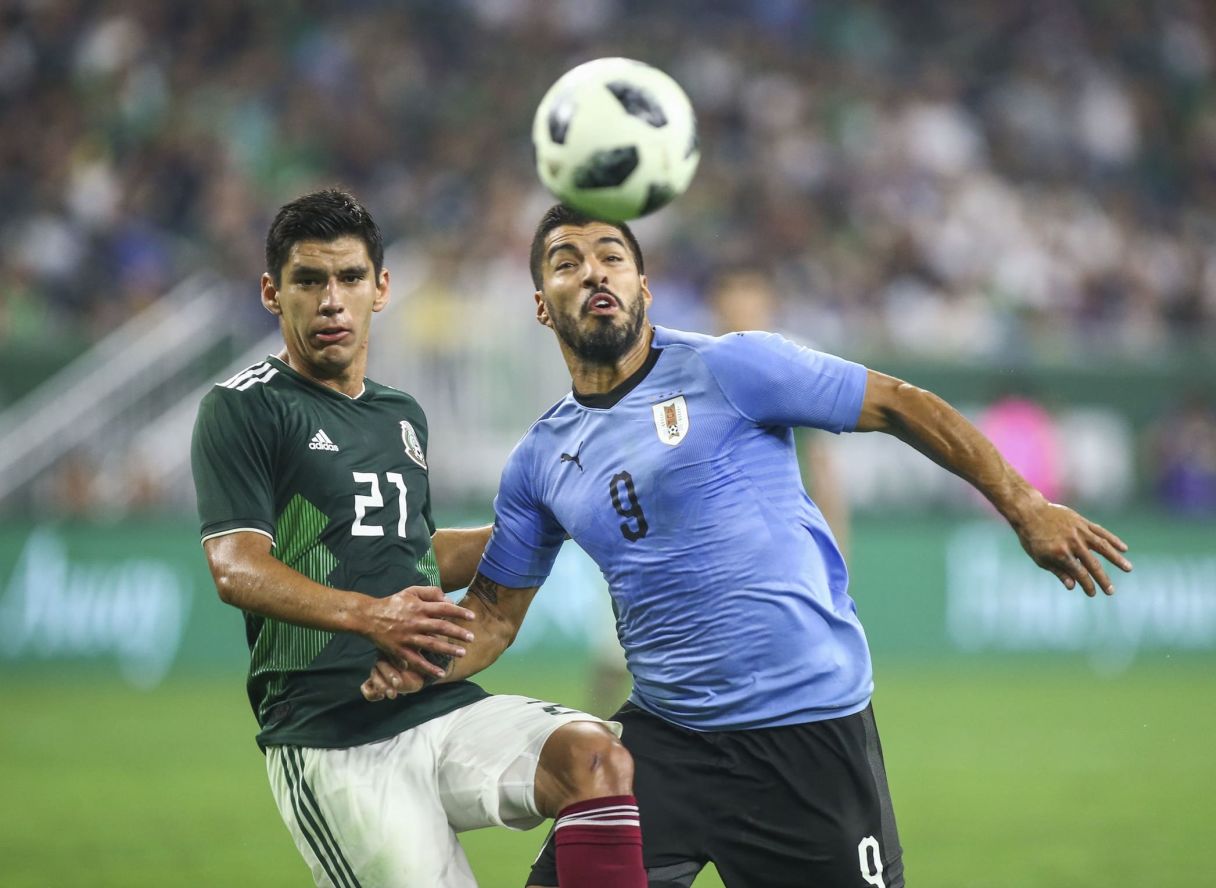 Uruguay forward Luis Suarez battles with Mexico's Jesus Angulo. © Troy Taormina-USA TODAY Sports
At 35 years old, he isn't quite the player he used to be, but he is still a massive threat as seen in his 2021/22 season numbers. The former Barcelona star scored 13 goals for Atletico Madrid, and eight goals for Uruguay in their qualifying campaign making him the team's top goalscorer. In what will most likely be his last World Cup, we can see him ending on a high with goals and quality entertainment.
If Uruguay finish runners up in Group H, they will likely face Brazil in the Round of 16 knockout match. With the Brazilians being tournament favorites and beating Uruguay in qualifying twice with a combined score of 6-1, it is hard to see Uruguay reaching the quarterfinals.
Uruguay picks and predictions
Luis Suarez to be top team goalscorer

Uruguay to be knocked out in the Round of 16
South Korea World Cup 2022 overview
South Korea will be dreaming of a repeat of their 2002 success story as the side reached the semifinal when they co-hosted the World Cup alongside Japan. Against all odds, South Korea topped their group and managed to beat Italy and Spain in the knockout phases before being eliminated by Germany in the semis. However, since then, they have only gotten out of the group stage once and the 2022 Qatar World Cup may not be the year they achieve that goal.
South Korea came second in their World Cup qualification group which included Iran and the United Arab Emirates meaning they gained automatic qualification to Qatar. They set up defensively and are a difficult side to break down as seen in the three goals put past them during qualifying, this allows South Korea to use their attackers such as Tottenham star Son Hueng-Min to counter attack. However, in World Cup Group H, it looks likely that teams such as Portugal and Uruguay will have too much attacking quality and experience for South Korea to keep a clean sheet.
South Korea picks and predictions
Son Hueng-Min to be top team goalscorer

South Korea to not qualify for the knockout stages (-303)
Group H scenarios
World Cup Group H is paired with Group G – made up of Brazil, Serbia, Switzerland and Cameroon. If Portugal are the Group H winners, which sportsbooks have them most likely to be, they will play second place in Group G which in our predictions would be Switzerland. In this Round of 16 clash, we predict Portugal to progress where they could potentially play Belgium in the quarterfinals.
If Uruguay finish second in Group H, it will most likely set up an all South American Round of 16 match with Brazil which will be a feisty clash as seen in previous fixtures between the two. We would expect Brazil to progress from this tie which would give them the chance to play Spain in the next round and maybe even a mouth watering tie against Argentina in the semifinals if both sides make it that far.
World Cup 2022 Group H players to watch
Cristiano Ronaldo
Cristiano Ronaldo is already one of the best payers in the history of the game. The 37-year-old has enjoyed one of the most successful careers, winning five Champions Leagues, seven league titles, one European Championship, whilse scoring over 750 goals in the process. Despite his age, Ronaldo is still performing incredibly well, the Portuguese star scored 18 league goals and six in the Champions League this season, proving he can absolutely still produce at the top level. He'll almost certainly be on penalty duty, and take most, if not all, direct free-kicks. We expect to see Ronaldo score multiple goals once again, as he has done in every international tournament he has played for in Portugal.
Son Hueng-Min
Son Hueng-Min is undoubtedly South Korea's biggest name, the forward is a hero in his country after raising the profile of the nation and making South Koreans proud with his impressive performances for Tottenham Hotspur. The 2021/22 season was one of son's best on an individual level as he came joint top goalscorer in the Premier League with 23 goals. South Korea are not be written off in World Cup Group H, as seen when they beat Germany 2-0 in the 2018 World Cup with Son finding the back of the net.
https://twitter.com/ElijahKyama/status/1448188335265042435
Group H players to watch picks
Cristiano Ronaldo to be top goal scorer in the group

Son Hueng-Min to score over 1.5 goals
Has Portugal ever won the World Cup?
How many goals has Cristiano Ronaldo scored at the World Cup?
Who is in Group H at the World Cup?
Who will win Group H at World Cup 2022?