How to bet on the Australian Open
All eyes head to Melbourne for the first Grand Slam tournament in the tennis calendar. This is the first chance each year for fans to see the finest players in the world compete for one of the game's biggest prizes – and for tennis betting fans to get involved.
Looking for tennis picks and predictions for the Australian Open 2022? Then you've come to the right place. Check out our free Australian Open expert picks and best bets, from our tennis betting experts.
Australian Open: Most popular markets
Over the past 15 years, there have been only four winners of the men's singles tournament at the Australian Open.
Rafael Nadal's 2009 victory and Stan Wawrinka's win in 2014 were outliers, with the tournament mostly swaying between the Serb Novak Djokovic and Swiss powerhouse Roger Federer.
Therefore, those who follow Australian Open betting know that punting on the overall winner of the tournament rarely offers value. However, this year is a little different.
Djokovic, who has lifted the trophy for the last three years, will not be happy with his preparation for the 2022 event – and he may miss the tournament altogether. Visa issues surrounding his unvaccinated status and Australia's strict COVID-19 regulations mean that the nine-time champion may miss out on the chance to defend his crown, and even if he is allowed to compete he will go into this tournament with question marks surrounding his push for another Grand Slam win.
If he does miss out, the market will open up big time. German Alexander Zverev recently got the better of the world No.1 in the ATP Finals and he could be a key player in this year's event. Australian Open betting sites clearly view Daniil Medvedev as a potential winner too, with many listing the world No.2 as the second favorite behind Djokovic.
Russian Medvedev suffered heartbreak in last year's final, and he will be hoping to avenge that loss and add to his debut Grand Slam tournament win, which came at the 2021 US Open.
Bettors should look towards the top of the world rankings here, as nine of the last 10 winners of the Australian Open women's singles tournament were ranked inside the top six.
World No.1 Ashleigh Barty will be hoping to give home fans a performance to remember. The 2021 Wimbledon champion won 74% of her hardcourt matches in 2021 (169/229) and the 25-year-old is gradually developing an all-round game that looks difficult to defeat.
Australian Open betting online has seen money follow Aryna Sabalenka. The 23-year-old is clearly comfortable at the venue, taking home the doubles championship in 2021. However, she is yet to match that form in the singles tournament.
It should be noted that six of the last seven winners failed to make it past the fourth round the previous year. Thus, form can only tell you so much.
One look at Australian Open betting sites will show you that Naomi Osaka is making her long-awaited return. The superstar is a four-time Grand Slam winner and the reigning Australian Open champion, so it would be foolish to write her off.
Outside of those three, both Garbine Muguruza and Anett Kontaveit will be fancied to perform well Down Under. The former made it all the way to the final in 2020, while the latter has never made it past the quarterfinals in the singles tournament at Melbourne.
Australian Open betting tips
Being the first big sporting event of the year has its advantages, with many Australian Open betting sites offering punters excellent deals and value.
If Novak Djokovic is ultimately allowed into the country, following his COVID vaccination-based dispute and visa issues, it will be difficult to look past him in the betting. The Serb is incredibly comfortable in this tournament and will be looking to stamp his authority on the Open yet again, particularly after the week he has had.
If this is the case, there will be little value available in the 'outright winner' in the men's singles, and we will be looking towards match betting, set betting and total games over/under betting.
There seems to be a glut of excellent players who are all at a similar level, so it would be no surprise if backing 'the over' on total games is a popular choice for this year's event.
After all, it is the tournament that produced the longest Grand Slam final of all time in 2012, when Djokovic and Nadal produced an epic 5 hours and 53 minutes of gametime.
In the women's singles, Aryna Sabalenka, looks a star on the rise. However, she will have to battle against a returning Naomi Osaka, who will want to remind the world just how good she is.
Advertising disclosure
To help us keep OnlineBetting.com running as a free service some online bookmakers pay us a commission for referring customers. We want you to know that this doesn't affect the way we select our partners, and we always aim to offer you the very best sportsbooks and offers available. Onlinebetting.com is not responsible for the content of external sites.
What is the Australian Open?
Melbourne Park, formerly known as Flinders Park, attracts more than 800,000 people over a fortnight early in the year to see the first Grand Slam tournament on the calendar.
With a total prize purse of more than $58million, the Australian Open is the first highlight of the year in elite sport.
It has been won by many of the greatest players in the sport's history and always provides top-class entertainment for sports fans.
Played on hard courts, the Australian Open is one of the biggest sporting events in the southern hemisphere.
Where will the 2022 Australian Open be held?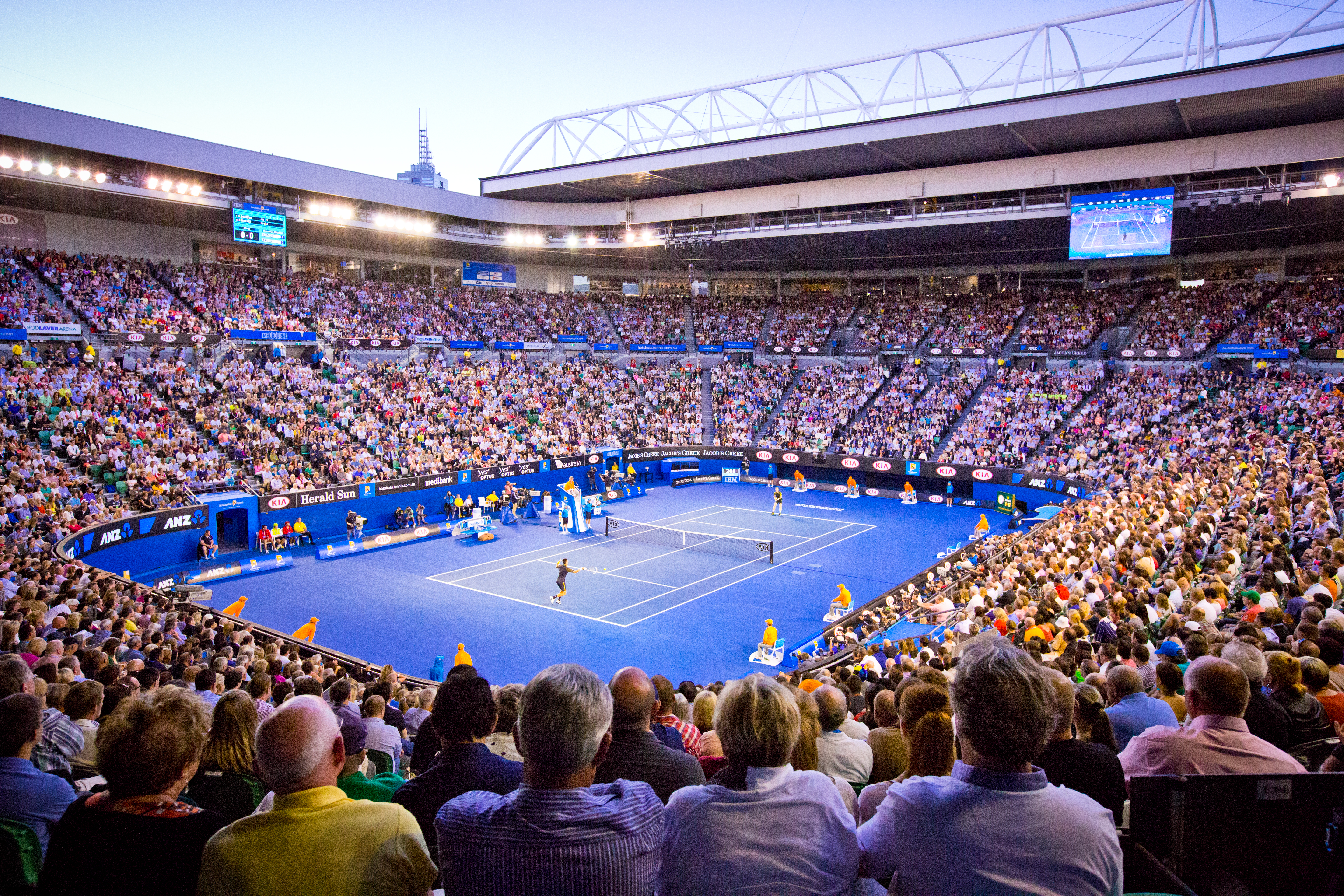 Melbourne Park
Melbourne, Victoria, Australia
1/17/2022 - 1/30/2022
Melbourne Park is part of a fabulous sports complex in the heart of a sports-mad city. It caters for more than 800,000 tennis fans who flock to see the best players in the world in action.
The venue was formerly known as Flinders Park and has been substantially upgraded in recent years.
It's the only Grand Slam venue that has three courts fitted with a retractable roof. These allow play to continue during rain or if the heat of an Australian summer becomes unbearable.
Melbourne Park also hosts a variety of other sporting events and musical performances throughout the year.
Australian Open: Previous winners
2021 champion
men's singles
Novak Djokovic
In an era of brilliant male tennis players, Novak Djokovic is one of the greatest. He added to his legend with an amazing ninth victory in Melbourne in 2021 and a victory in straight sets in the final against Daniil Medvedev. That took the superb Serb's total of Grand Slams to 18, half of them won in Australia.
2021 champion
women's singles
Naomi Osaka
Naomi Osaka secured her fourth Grand Slam singles title (two at the US Open and two here in Melbourne) with a relatively routine win over Jennifer Brady. The Japanese star won in straight sets (6-4, 6-3) over the no.22 seed and won the first major of the year, dropping just a single set during the entire tournament.
Tennis bets explained
Use our playbook to hone your betting skills.
Moneyline
The moneyline, also known as a match result bet, is the simplest bet of all when it comes to tennis betting online. All we have to do is decide which player we think is going to win, then place our wager on them. If they triumph in the match, we collect our winnings.
In-play betting on the Australian Open
Tennis is a sport that suits in-play betting perfectly. With breaks between points, games and sets, there is plenty of time to react.
Just because a match has begun, that doesn't mean you can't still place a bet. Most Australian Open betting sites allow you to bet while the action is unfolding on court.
For instance, Novak Djokovic might lose his first set. But if you still think he will win that contest –and even the tournament as a whole – you can bet on that outcome.
Australian Open betting odds will update according to the state of play, allowing you to wager at any time.
Australian Open betting promotions
Bet 10, get 30
If we make your first bet on the Australian Open as a new customer, some sportsbooks will put three times our stake into our account in free bets. Please check the conditions of the offer to make sure you get the maximum benefit from it.
Double your winnings
If our selection loses the first set, but rallies and wins that match, some sportsbooks will double our winnings. The bonus will usually be paid in the form of a free bet. Check the conditions carefully because there may be a restriction on how much we can wager.
Australian Open betting FAQs
Is tennis betting profitable?
No betting can be guaranteed to make us a profit. The best advice for any bettor is to do plenty of research into the players – including their records at the venue in question – and study the odds to work out where there is value.
How do you bet on tennis and win big?
The best way to target large returns for small stakes is through parlay betting. We can combine bets on various matches or outcomes in a single multiple bet, also called an accumulator. But the risk is high too – all our selections must win for us to get a return.
What are the best Australian Open betting sites?
There are numerous sportsbooks offering Australian Open betting online. Look for reputable licensed operators who offer a broad range of markets, with narrow margins which mean that bettors enjoy more generous returns. And check out the special offers open to new and existing customers.
What are the best types of bet to make?
For new bettors, it's advisable to keep it simple at first and focus on straightforward wagers such as the moneyline or outright tournament winner bets. As we become more experienced, we'll be more comfortable with more sophisticated and complicated bets such as over/unders, handicaps and parlays.