Wimbledon 2022 daily picks: Djoković and Kyrgios set for fireworks in final
It's the oldest and most prestigious tournament on the tennis calendar and Vinny Maukner will be here for every day of the 2022 Championships at Wimbledon with his expert analysis, previews, predictions and daily picks from the All England Club.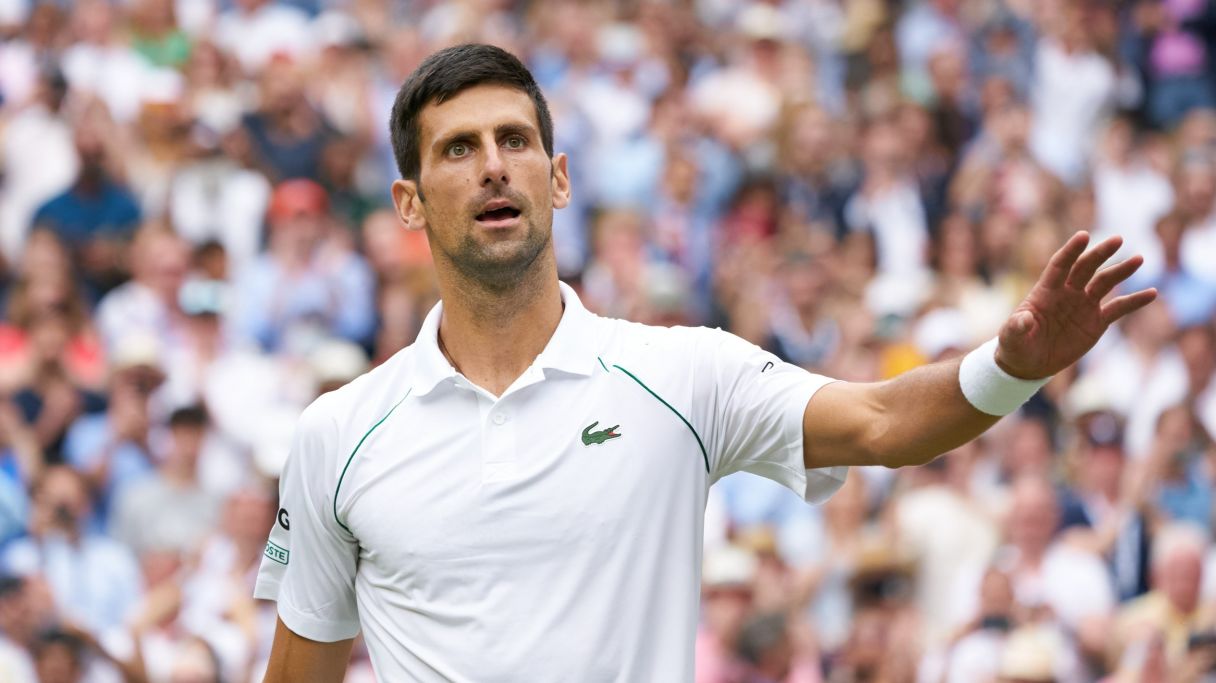 © Peter van den Berg-USA TODAY Sports
Vinny is a freelance writer and tennis expert who started putting his picks out there in 2017. Full bio here.
Novak Djoković (1) vs Nick Kyrgios
"I thought my ship had sailed". Just like the majority of tennis fans, Nick Kyrgios had lowered his expectations when it came to making a deep run at Grand Slam level. However, here we are, in the most prestigious match of the year, the 27-year-old Australian takes on top seed Novak Djoković in the final of the Wimbledon Championships. The Serb is on a quest for his twenty-first major title which would get him into striking distance to Rafael Nadal again.
https://twitter.com/BBCSport/status/1545451178242228226?s=20&t=pr4yQV5g9f5IVEzlu9E0Pg
While Djoković has always been one of the most reliable players in the tennis betting markets – quite the contrary to Kyrgios – it seemed like he was vulnerable this fortnight. The former world No.1 only won two of his six matches in straight sets and had to come from behind in both his quarterfinal and semifinal matches. Jannik Sinner even led Djoković by two sets to none and while the Italian played some lights-out tennis, Cameron Norrie took advantage of a very slow-starting Serb in the semis.
Now this can't be labeled as a trend just yet and a major final always plays by its own rules. However, Kyrgios has all the tools to trouble Djoković again early on. His serve has been clicking here at Wimbledon as he won an incredible 95% of his service games – Djoković holds serve at an 89% rate. Being one of the greatest returners of all time, Djoković will certainly prove a different challenge, but if Kyrgios' serve falls into place, there's not much anyone can do about it. These matches have next to no relevance on today's final, but it is worth to mention that not only does Kyrgios lead the head-to-head against Djoković 2-0, he neither lost a set nor got broken against the all-time great.
https://twitter.com/Wimbledon/status/1544724013406208000?s=20&t=pr4yQV5g9f5IVEzlu9E0Pg
Djoković's ability on return should see him seal the deal eventually – he breaks at a 26% rate on grass over the course of his career, compared to Kyrgios' 13% – but I'm counting on the Australian's serve to keep the match close early on. Djoković also lost the first set against another first-time major finalist (and equally powerful player) in Matteo Berrettini last year and given his slow starts recently, I'm betting Kyrgios on the first-set games handicap. A tiebreak loss would still win that bet and as there could be at least one or two of these, I'm also betting the match to go over the total of 39.5 games.
Wimbledon Day 14 Picks:
Nick Kyrgios +1.5 games 1st set at +100
Over 39.5 games at -103
Mertens/ Zhang (1) vs. Krejčíková/ Siniaková (2)
https://twitter.com/TennisPodcast/status/1545407064805195777?s=20&t=pr4yQV5g9f5IVEzlu9E0Pg
The two top seeds actually made it to the final in the Wimbledon women's doubles draw. Elise Mertens and Zhang Shuai needed three sets to beat Danielle Collins and Desirae Krawczyk in the semifinal while Lyudmyla Kichenok and Jeļena Ostapenko didn't stand a chance against 2018 champions Barbora Krejčíková and Kateřina Siniaková.
Both pairings only lost a single set this fortnight and while Krejčíková/Siniaková looked vulnerable in their quarterfinal match, they put up a masterclass in the semifinal. If it wasn't for Krejčíková's injury, the Czechs would probably still top the rankings and with the 2021 Roland-Garros singles winner being healthy again, this does not bode well for Mertens/Zhang. The Belgian-Chinese duo is still unbeaten this grass season, however, their opposition hasn't been the greatest. In fact, they started all of their matches with a win probability of well over 70%. In today's final, the No.1 seeds will be the underdogs, so let's find out if they can beat the odds for once.
Just like Mertens/Zhang, Krejčíková/Siniaková started all of their 2022 matches as the favorites and we have to go way back in time to find a match they started as the underdogs. This year, the Czechs haven't lost a completed match either as Krejčíková got injured in their match against Lucie Hradecká and Sania Mirza in Doha. Having won the Australian Open this year – beating Mertens along the way – the two are looking for their second Grand Slam doubles title in a row and fifth overall. Krejčíková/Siniaková have won an astounding 76% of their matches and while Mertens/Zhang are 9-1 so far, the Czechs have played over 200 matches together.
Zhang might be the player to attack here as the singles world No.41 has only won 55% of her doubles matches over the course of her career. On this level, the discrepancy to the other three – who have all won around 70% of their doubles matches – is quite substantial. I'm taking the more experienced team of Krejčíková/Siniaková, who complement each other perfectly, to conclude a rewarding Wimbledon daily picks column.
Wimbledon Day 14 Pick:
Krejčíková/ Siniaková ML at -160
The Very Best Tennis Offers 2021
Wimbledon 2022 Expert picks and predictions: Djokovic looking for four in a row, can anyone stop Iga?
The oldest and most prestigious tennis tournament is right around the corner as the Wimbledon Championships get underway on June 27 and our top tennis handicapper Vinny Maukner is here to look at some of those in contention at SW19.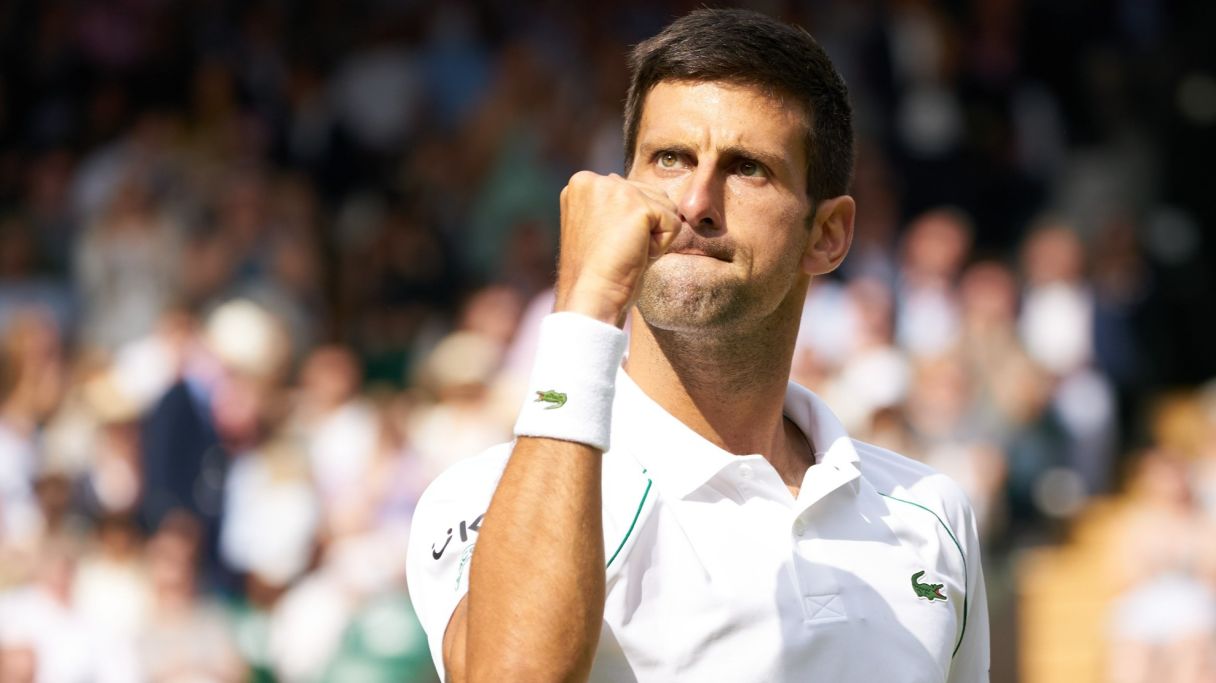 Novak Djokovic will be looking to retain the Wimbledon title he won in 2021 - © Peter van den Berg-USA TODAY Sports
Staged at the All England Lawn Tennis and Croquet Club, players face the ultimate challenge of adapting to the unique grass courts. The transition from clay to grass is the toughest test for players during the tennis season. Balls don't bounce nearly as high and the grass courts play a lot faster. Therefore, aggressive play gets rewarded much more. Players that can execute certain shots like serve and volley or the slice perfectly will have a huge advantage on the surface that only delights us for about five weeks every year.
There are only three weeks between the French Open final and the start of Wimbledon, so players need to gauge whether they want to take the risk of getting overplayed or not competing in warmup tournaments at all. The two top favorites Novak Djoković and Iga Świątek chose the latter, so they will start the third Grand Slam of the year without any match practice on grass.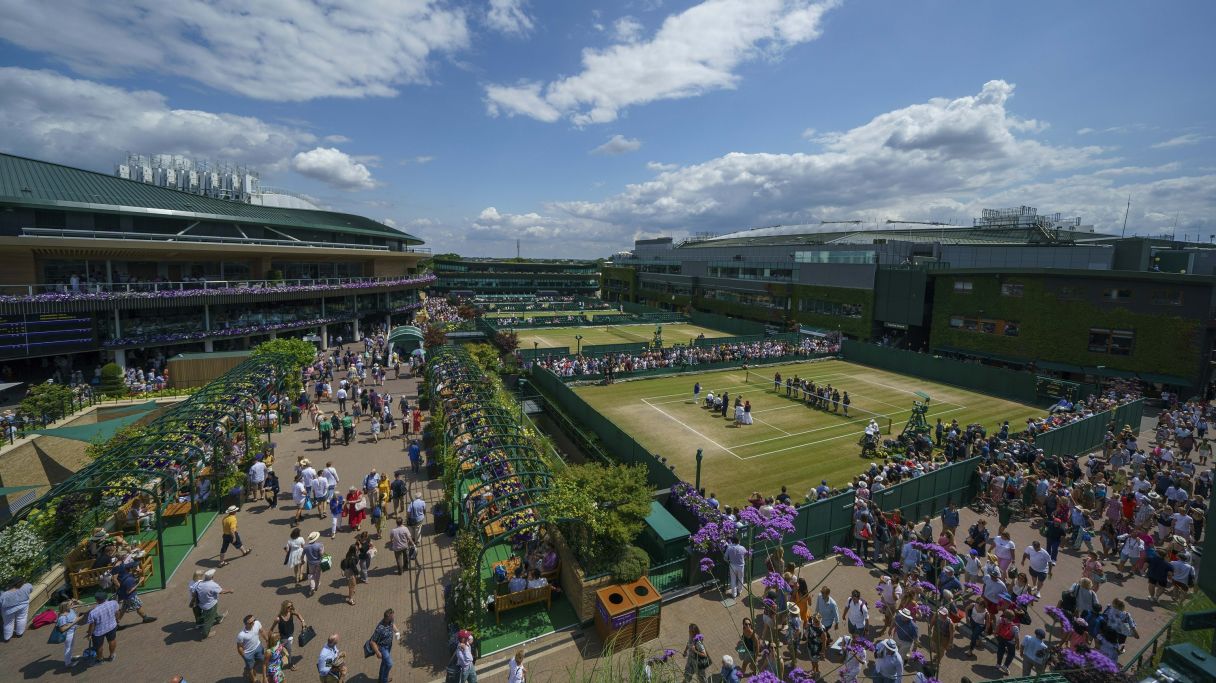 Two weeks of tennis action gets underway at Wimbledon on June 27 - © Susan Mullane-USA TODAY Sports
Due to the ongoing war in Ukraine, Wimbledon has banned all players from Russia and Belarus, so world No.1 Daniil Medvedev or Andrey Rublev, as well as Aryna Sabalenka, Daria Kasatkina, Victoria Azarenka or Ekaterina Alexandrova, will all miss the event this year. Additionally, the ATP and WTA decided to scratch all Wimbledon ranking points from last year while not awarding any points this year, which ultimately led to a player that's not eligible to compete getting the No.1 ranking spot in Medvedev - a bizarre situation to say the least.
Besides Russians and Belarusians, there will be no Roger Federer or Alexander Zverev either at this year's edition of Wimbledon with the participation of 22-time major champion Rafael Nadal still in question, which should make for some surprise runs on both the men's and the women's side, so let's take an early look at the contenders.
Wimbledon 2022 Men – Who can stop Djoković from winning his fourth title in a row?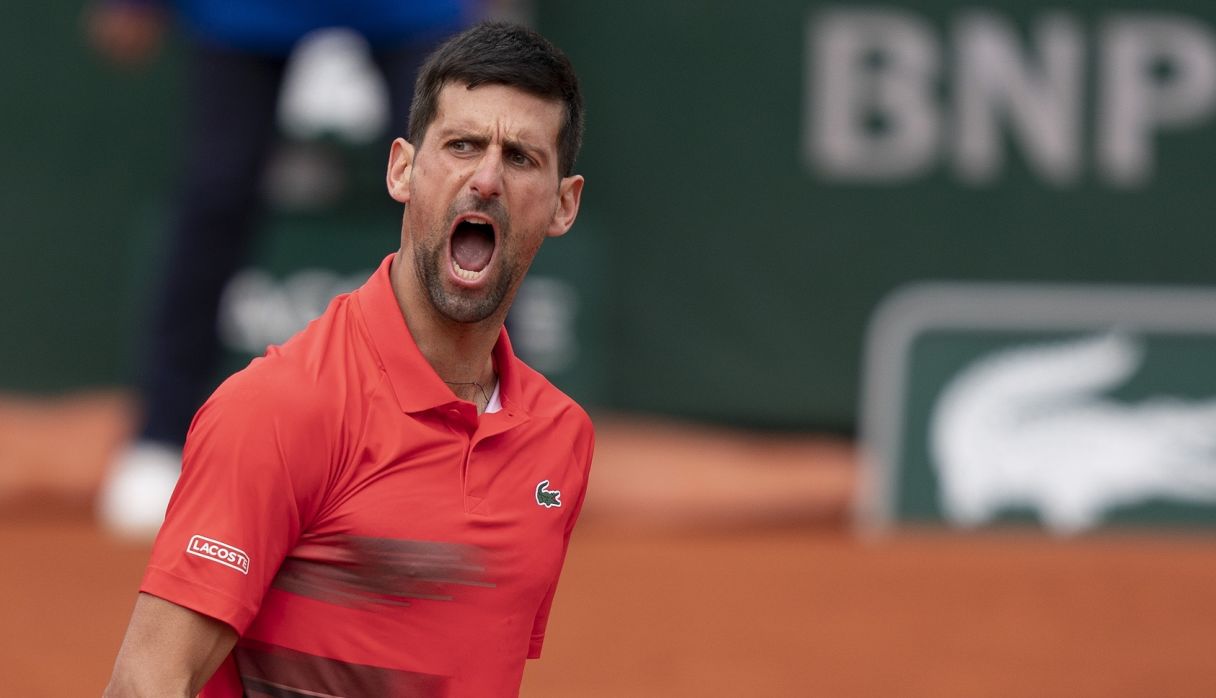 Novak Djoković is looking to win his fourth Wimbledon title in a row
The undisputed favorite
It is very lonely at the top for Novak Djoković (-125). The Serb is the undisputed favorite to win his fourth Wimbledon title in a row and is undefeated on grass since the 2018 event at Queen's Club. Being a six-time champion at Wimbledon and sitting on a record of 106 wins and 19 losses, his abilities on the surface are beyond debate. If everything goes according to plan, Djoković will catch up with Rafael Nadal, who is two Grand Slam titles ahead of him after winning both the Australian Open and the French Open, again.
The clay-courters
At the time of writing, it's still uncertain whether Rafael Nadal (+650) competes at Wimbledon or not, however, his uncle Toni is confident he will show up with the Spaniard is halfway to the "Calendar Slam", which was last achieved by Rod Laver in 1969. Struggling with his chronic foot injury, this would be the ultimate achievement, however, as Nadal has been vulnerable at Wimbledon ever since winning the Championships in 2008 and 2010 as losses against Lukáš Rosol, Steve Darcis, Dustin Brown or Gilles Muller show. His new game suits quicker courts better than before as he tries to end points quicker. Nonetheless, with no match practice on the surface since his semifinal loss here in 2019, it will be tough to get past all the hard hitters in the draw.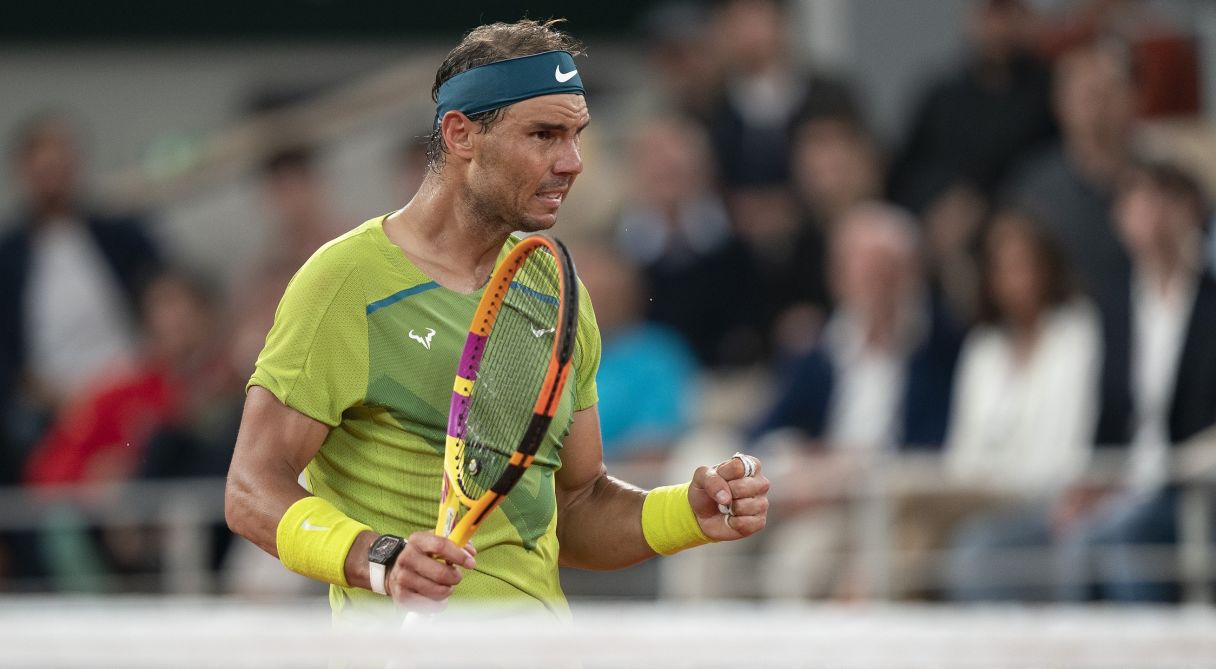 Rafa Nadal has been practicing on grass ahead of Wimbledon - © Susan Mullane-USA TODAY Sports
The next Spanish superstar Carlos Alcaraz (+650) has only played two pro matches on grass in his young career. Last year at Wimbledon, he beat Yasutaka Uchiyama in five sets before losing to Daniil Medvedev in straight sets. A lot has changed for the teen sensation in the past twelve months, but his serving and slicing is still a little too raw to warrant making him the second favorite to win Wimbledon.
Stefanos Tsitsipas (+1400) went out in round one at Wimbledon in 2019 and 2021. In both matches against Thomas Fabbiano and Frances Tiafoe, the Greek started as the heavy favorite and bookmakers still price him like a capable grass-courter when he has proven that he's not. Tsitsipas' one-handed backhand can easily get exposed on these quick, low-bouncing courts since his slice and block return – shots that are vital on grass, executed to perfection by Roger Federer over the years – just aren't good enough to trouble opponents. Among the top guns, Tsitsipas' game suits grass the least and opposing him in the early rounds might be worthwhile once more.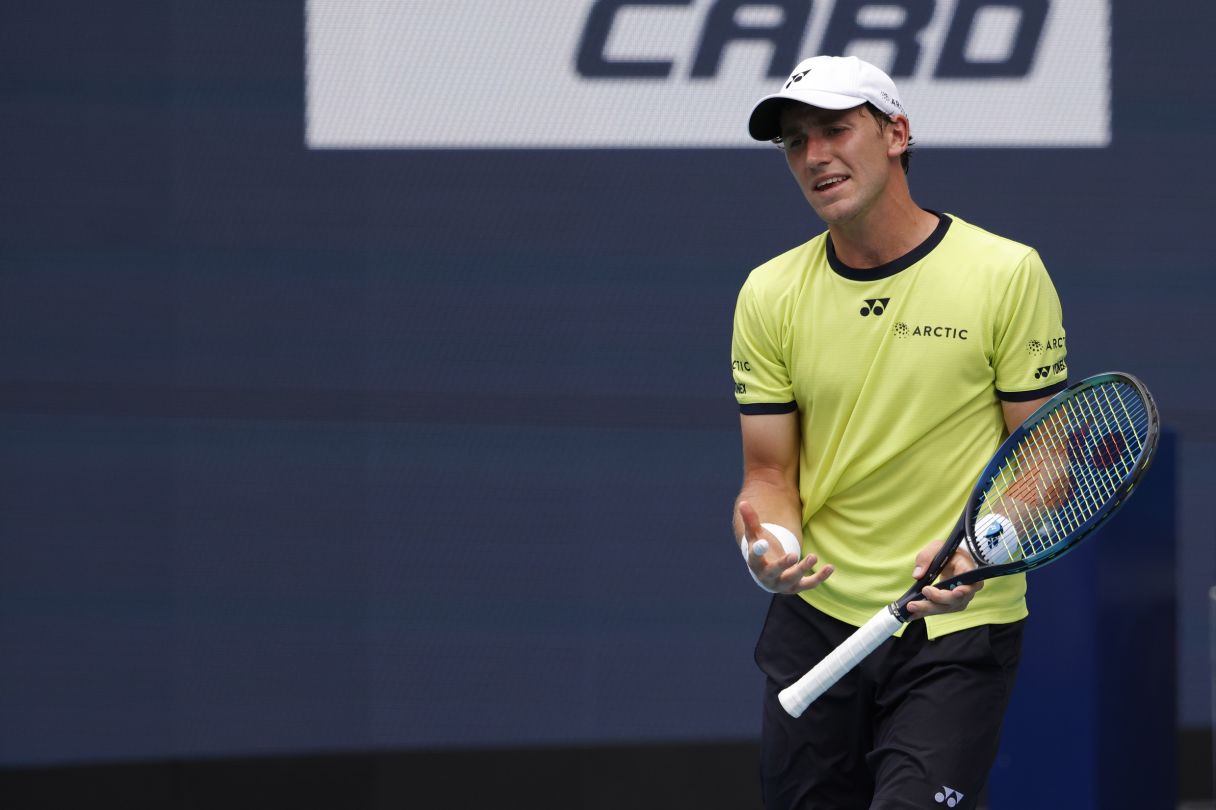 Casper Rudd looks unlikely to repeat his French Open success - © Geoff Burke-USA TODAY Sports
The same strategy could be applied to Casper Ruud (+8000), who never won a match at Wimbledon as a pro. Despite all his improvements, grass will always remain his worst surface. The Norwegian has a career record of 3 wins and 7 losses after Ryan Peniston defeated him in straight sets in his first grass-court match of 2022. Ruud will get overhit by the many power players in the field and even though his Wimbledon odds look big, he shouldn't stand a chance of repeating his French Open success.
The hard-hitters
Matteo Berrettini (+900) finished runner-up at Wimbledon last year and the finals loss against Djoković still remains his only loss in his last seventeen matches on grass. The Italian just came back from a hand injury and immediately won the title in Stuttgart. He is now 33-8 on the surface and his huge serve and forehand combo allows him to dictate almost every point. Berrettini is holding more than 90% of his service games over the course of his career, putting even more pressure on opponents to win their service games. His massive game and the ability to keep points short suit these quick courts perfectly and to me, he's the biggest threat to Djoković once more.
Félix Auger-Aliassime (+1100) was one of the players getting beaten by Berrettini last year. The Canadian can also hit a massive ball and his only ATP-level title came on the indoor hard courts of Rotterdam this year. Being a steady member of the top 10 in 2022, Auger-Aliassime's game got a little more consistent, however, unlike Berrettini, he still checks out for a few minutes here and there. Winning key games is vital in Grand Slams and even more so at Wimbledon. A lot will depend on the draw this year, so if Auger-Aliassime can avoid the likes of Djoković and Berrettini, he could even one-up his quarterfinal appearance from 2021.
https://twitter.com/TennisTV/status/1536674257798840320?s=20&t=ftNcPluRHJbVTb20DnAxAw
A player that always gets his demanded spotlight at Wimbledon is Nick Kyrgios (+2000). Grass obviously is the Australian's favorite surface and I agree with his statement that he'd be a top five, top ten player on it. That is if he can stay composed for a full match. In his straight-set loss to Andy Murray in Stuttgart, Kyrgios got distracted yet again and it's tough to see him keeping calm for the entirety of a major tournament. He made the quarterfinals at Wimbledon in 2014, but despite all his talent wasn't able to replicate that result ever since. Even if he goes on a run, his stamina can be doubted, which is why I'd only bet him round to round.
https://twitter.com/atptour/status/1535573074682302464?s=20&t=ftNcPluRHJbVTb20DnAxAw
Hubert Hurkacz (+2500) entered last year's Wimbledon Championships with a negative record on grass. However, that didn't stop him from reaching the semifinals and beating Medvedev and Federer along the way. The Pole didn't look great in his first match back on the surface this year as he lost to Márton Fucsovics in Stuttgart. He could be up for a surprise once more, but given the adjusted odds, I'd be looking for other options on the outright market.
Marin Čilić (+2500) has arguably been the biggest surprise of this year's French Open. Having made all other major finals, the Croat hasn't been known as a clay-courter before. That being said, he will still be delighted to be back on the grass where he features a record of 85 wins and 35 losses. In 2017, Čilić made the Wimbledon final and given that he's playing some of his best tennis right now, everyone should still consider him a threat in 2022.
One of the most gifted players around, it's his body holding Jannik Sinner (+6500) back quite a bit. Suffering from all kinds of injuries, the Italian recently pulled out from the tournament in Halle. He also still lacks certain aspects of a well-rounded grass-court game, which shows with his 2-5 record on the surface. Taylor Fritz (+6500) is another one that's been rattled by injuries after his first ATP Masters 1000 win at Indian Wells earlier this year. Over the last few weeks, he lost three straight matches against Bernabé Zapata Miralles, Tim van Rijthoven and Jack Draper. I highly doubt Sinner and Fritz are in peak shape by the time Wimbledon starts, which is why I'm staying away from their rather tempting outright odds.
Marin Čilić (+2500) was arguably the biggest surprise of this year's French Open - © Susan Mullane-USA TODAY Sports
What would a Wimbledon preview be without an honorable mention of John Isner (+8000) and his marathon match against Nicolas Mahut in 2010? The serve giant won that match 70-68 in the fifth after more than eleven hours of playing time. After the equation of fifth-set rules – a decisive match tiebreak will be played at 6-6 in the fifth at all four Grand Slams – these results aren't possible anymore. Isner still is a player no one wants to face at Wimbledon, however, his form isn't there and he also lost his first-round match against Yoshihito Nishioka here last year.
The uncertain underdogs
I'm starting this final section with two players that faced each other at Wimbledon last year in Denis Shapovalov (+3500) and Andy Murray (+3500). Shapovalov beat Murray on his run to the semifinals where he has only been stopped by a certain player named Djoković. Currently, the Canadian is in some sort of slump though, having lost his last five matches. As for Murray, he was showing glimpses of his elite grass-court prowess that won him the Wimbledon title in 2013 and 2016.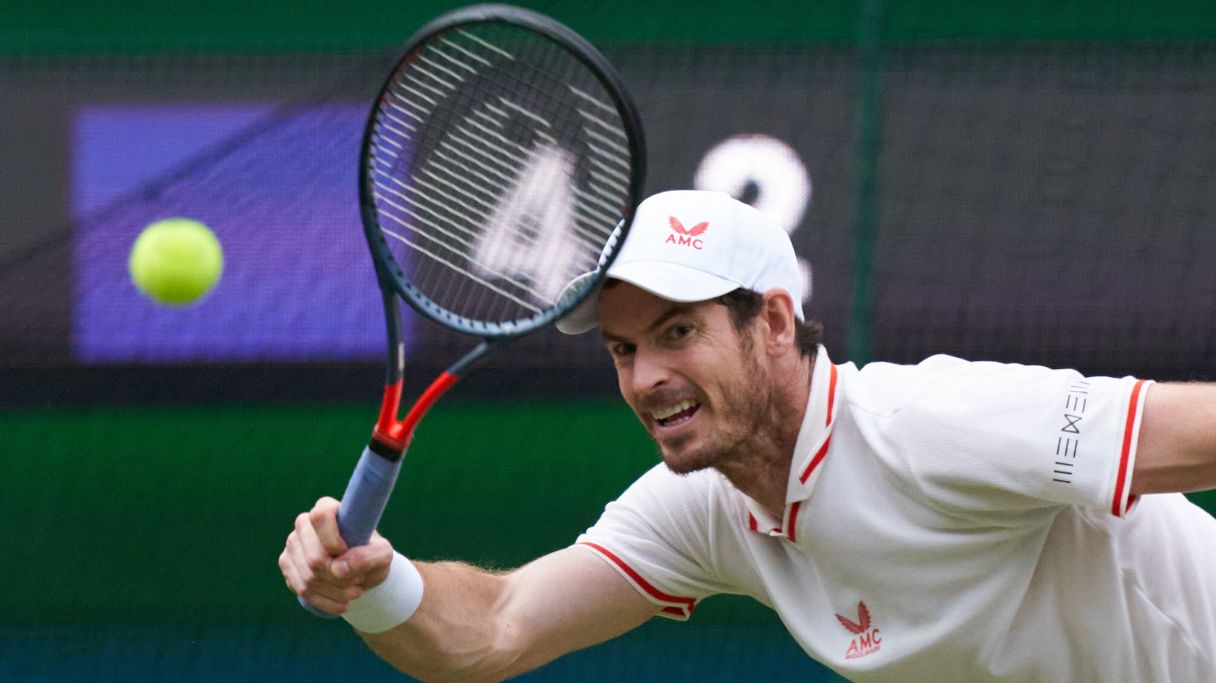 Murray has been showing glimpses of his elite grass-court prowess - © Peter van den Berg-USA TODAY Sports
After reaching the final in Stuttgart, the Scot had to withdraw from the event at Queen's Club due to an abdominal injury and there remain some doubts whether his hip allows him to ever go deep in a Grand Slam again. Furthermore, Murray's outright odds dropped quite a bit during his win over Nick Kyrgios last week, which is why I wouldn't bet him or Shapovalov, who still lacks some mental fortitude in tight situations, at the current prices.
https://twitter.com/TennisTV/status/1535985606349803521?s=20&t=ftNcPluRHJbVTb20DnAxAw
Cameron Norrie (+8000) and Daniel Evans (+8000) both made it to the third round last year and could entertain the British fans again early on. Just like young Americans Sebastian Korda (+6500) and Jenson Brooksby (+8000), they can trouble a lot of players, but it's hard to see them taking it to the very best.
A player that already did so in the past is Roberto Bautista Agut (+8000). The Spaniard has played Djoković close in all of their past seven meetings, winning three of them. He also is a former semifinalist at Wimbledon (2019) and has won more than 67% of his grass-court matches. After having to skip Roland Garros, there remain some doubts about his wrist, however, he has looked just fine in his first two matches back in Stuttgart. Should he win a few more matches, Bautista Agut's Wimbledon betting odds should drop quite a bit, whereas you can still find odds of +10000 or +15000 now when shopping around.
Wimbledon 2022 Outright Picks Men:
Matteo Berrettini at +900 or better
Roberto Bautista Agut at +8000 or better
Wimbledon 2022 Women – When will Świątek stop winning?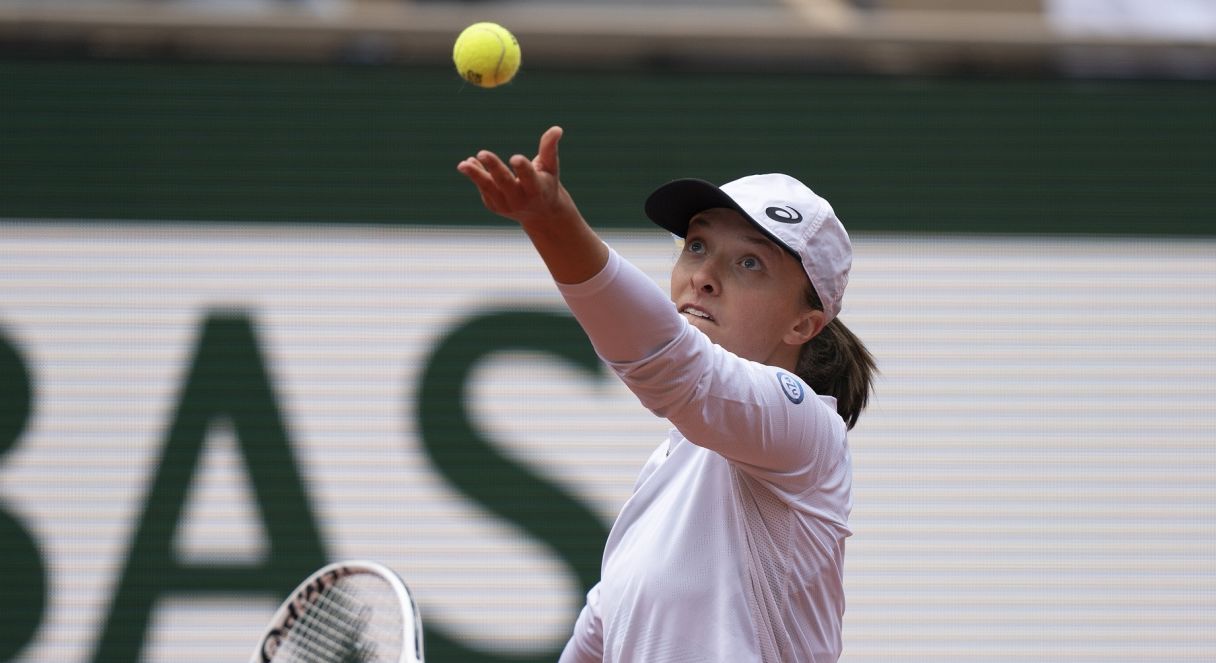 Iga Świątek went out in round 4 last year but is a hot favorite at +150 - © Susan Mullane-USA TODAY Sports
The dominant force
The winning streak of world No.1 Iga Świątek (+150) is still alive as her run to the title at Roland Garros was accompanied by equalizing Venus Williams' streak of 35 wins in a row from twenty-two years ago. While Williams' streak began at Wimbledon, Świątek's might end at this very place. If her opponents want to stand a chance, they should fancy the grass. The Pole's spinny forehand doesn't bounce as high, taking away a bit from her major weapon. Last year, Świątek lost to Ons Jabeur in round four, however, a lot has changed since then. It's not just the impressive string of match wins Świątek has put together, it's her conviction which is scary for every other woman in the field. Especially in finals, Świątek outplays her opponents at will.
Since winning her maiden major title at the 2020 French Open, the world No.1 has won all of her nine finals in straight sets. No-one was able to get five games off the Pole in a set and her opponents have only won 3.5 games on average in these matches. Despite grass being the only surface Świątek can get overpowered on, she's still a juniors champion at Wimbledon. Considering that she's as low to win Wimbledon as she was to win Roland Garros, I still won't bet her at odds of +150, hoping for someone to step up at some point before the final.
The best of the bunch
It was 2019 when Coco Gauff (+1200) burst onto the scene at Wimbledon, beating Venus Williams and reaching the fourth round, only losing to eventual winner Simona Halep as a fifteen-year-old. Ever since, both the market and tennis fans have expected miracles from the young American, who finally reached her first Grand Slam final in Paris this month. Many people, me included, often forget that Gauff is still only eighteen years old, so we might as well scratch the word "finally". She's 15-4 on grass and reached the fourth round at Wimbledon again last year. Gauff's all-court game could eventually see her go far in all majors, however, a lot will depend on her draw this year. If she gets drawn into a section with hard hitters, Gauff's weaker second serve and backhand are subject to getting exposed on the grass.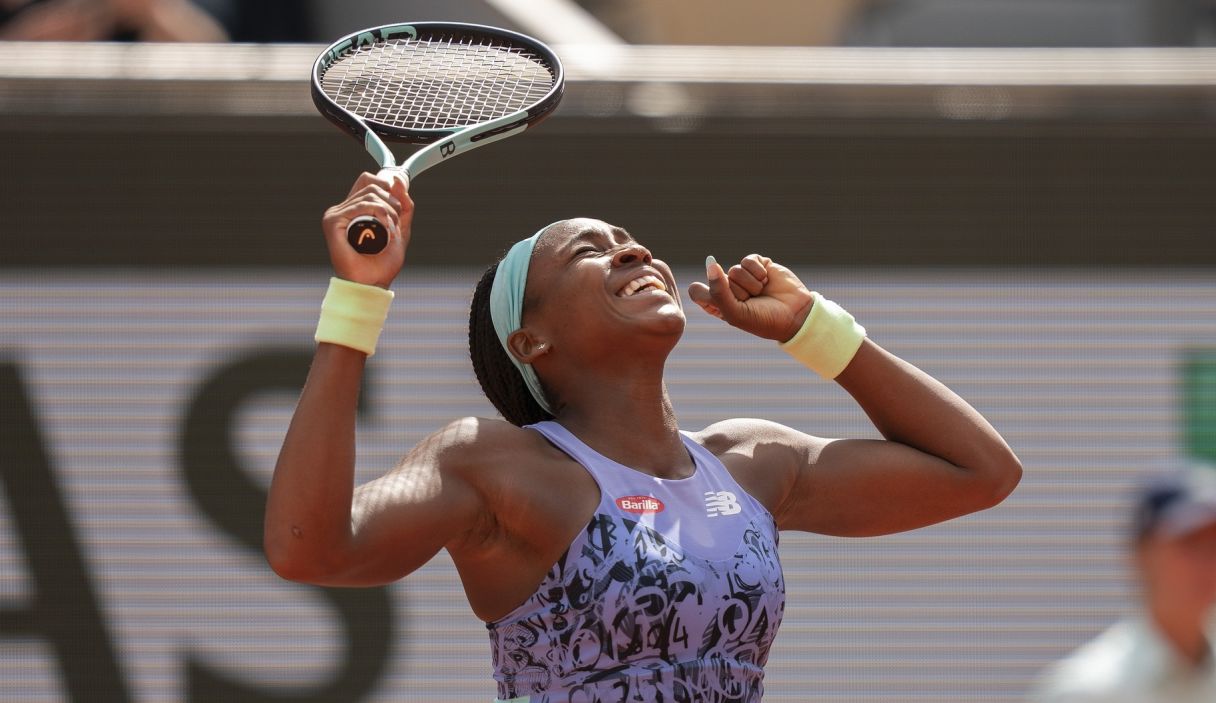 Coco Gauff burst onto the scene at Wimbledon in 2019 and is +1200 to be 2022 champion - © Susan Mullane-USA TODAY Sports
After winning the Wimbledon Championships in 2019, Simona Halep (+1400) hasn't competed on grass until this week's leadup tournament in Birmingham. Her form is looking alright and just like in every other tournament she participates, the Romanian will be one of the top favorites.
Naomi Osaka (+1500) has opened up about the ranking points situation after her first-round loss at Roland Garros. "I'm not sure why, but if I play Wimbledon without points, it's more like an exhibition" is what she said and by the time of writing, she still hasn't decided whether to play or not. The former world No.1 already skipped the third major of the year in 2021 and has never made it past the third round at the All England Lawn Tennis Club.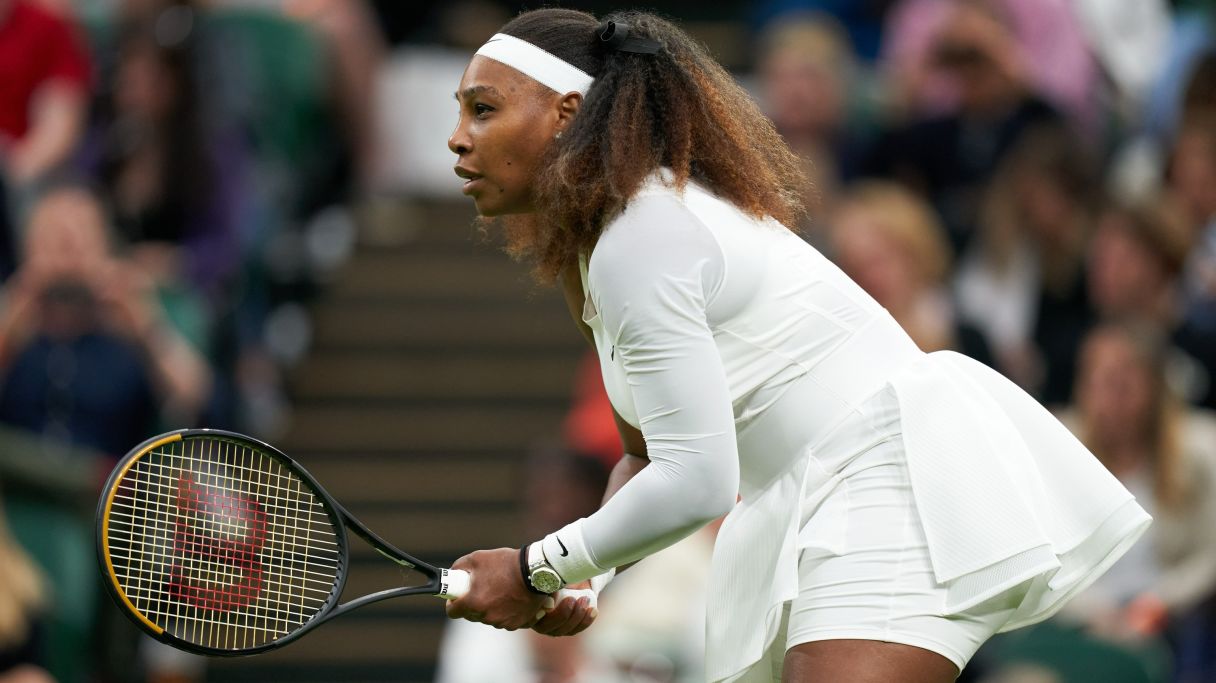 Serena Williams is +1800 to win Wimbledon once more -© Peter Van den Berg-USA TODAY Sports
"It's a date". A few little words and a picture of sneakers on grass shook up the tennis world two weeks before Wimbledon as Osaka's idol Serena Williams (+1800) announced that she will come back to play Wimbledon once more. Having won the Championships seven times before, no player in the field wants to face the American, even though she hasn't competed in almost a year.
In 2021, Williams was forced to retire during her first-round match at Wimbledon and we can only guess about her fitness. Nevertheless, her serve and powerful groundstrokes can still hurt anybody on tour. The fact that Williams enters the Wimbledon draw as a wild card could make for some potential blockbuster matches early on. In any case, the tennis world can look forward to the return of an all-time great as the 40-year-old is still looking to catch up with Margaret Court who has won twenty-four major titles.
https://twitter.com/Wimbledon/status/1536716633309421579?s=20&t=RqgM0_nQxI0I4_ATvzHYgQ
The week before Wimbledon, Williams will play doubles in Eastbourne together with Ons Jabeur (+1800), who has made a name for herself this year. The Tunisian has won her first WTA 1000 event in Madrid and should be motivated to make up for her first-round loss at Roland Garros. When it comes to Elo ratings, Jabeur is the second-best grass-court player in the field. She's 54-19 over the course of her career and made the quarterfinals at Wimbledon last year. Jabeur's shotmaking ability gets opponents on the backfoot in rallies, which is a vital skill on grass. The current world No.4 has strung together eleven consecutive wins in two and a half weeks during clay-court season, so her stamina, which has always been an issue, also improved. In my opinion, Jabeur tops the list of challengers for Świątek and as mentioned before, she already beat the Pole on these very courts last year.
https://twitter.com/WTA/status/1537378498519748618?s=20&t=RqgM0_nQxI0I4_ATvzHYgQ
Anyone's guess
Bookmakers actually have a hard time pricing these Wimbledon women's outrights, which is why we have a plethora of players in the +2000 to +3000 range. Starting with some out-of-form players, it is tough to see a path to victory for Garbiñe Muguruza (+2000) and Barbora Krejčíková (+2200) given their current form. While Krejčíková has just come back from injury at the French Open, Muguruza is in the midst of arguably the worst slump of her career.
There's no doubt that Emma Raducanu (+2000) will be cheered on heavily by the British fans. The defending US Open champion has made the fourth round at Wimbledon last year when she made significant strides, winning matches at Grand Slam level while not having won a single WTA-tour match before. Her aggressive game can get rewarded on quick courts, however, Raducanu is far from her best right now. The teenager had to retire from two of her last four matches and even though she has proven the capability of going on a run out of nowhere, injuries might hold her back this time.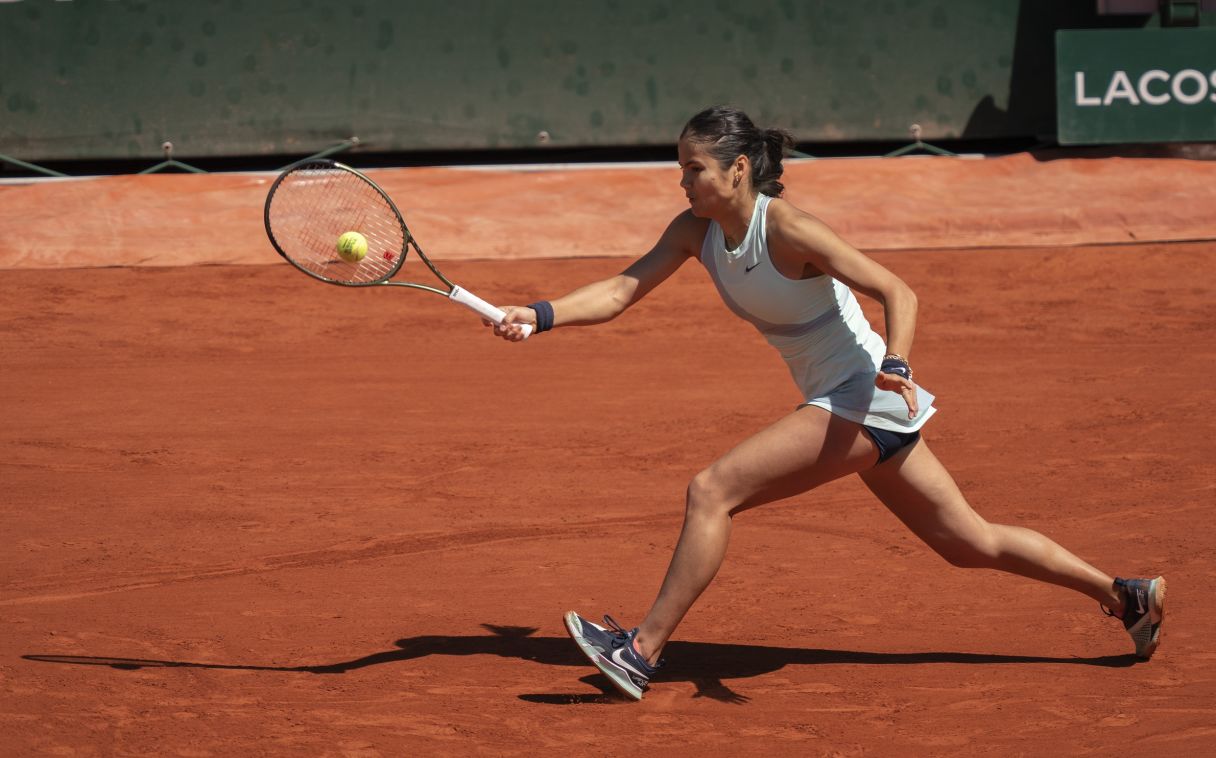 Emma Raducanu (+2000) will be cheered on heavily by the British fans - © Susan Mullane-USA TODAY Sports
Speaking of injuries, both Bianca Andreescu (+2000) and Karolína Plíšková (+2000) only came back on tour this spring. The two also showed that they are on a par when Plíšková beat Andreescu in a third-set tiebreak this week in Berlin. While Andreescu has never won a main-draw match at Wimbledon, Plíšková is last year's runner up. The Czech will be pleased to be back on her favorite surface again as she has almost won 70% of her grass-court matches throughout her career. Her second-round loss to Léolia Jeanjean at Roland Garros is still in the back of my mind, which is why I'd want to see her win a few more matches before actually placing an outright on her. Nonetheless, an in-form Plíšková is always tough to beat on grass.
We haven't seen Paula Badosa (+2000) since her retirement at the French Open, so I'm having a hard time choosing her from all the challengers. Going by the numbers, grass is the Spaniard's weakest surface, so let's move on in the table which still has a few more players left in the same price range. Maria Sakkari (+2000), Elena Rybakina (+2000) and Belinda Bencic (+2200) all possess an aggressive all-court game which could see them do well at Wimbledon.
While Rybakina started her grass-court season with a second-round exit in 's-Hertogenbosch, Sakkari and Bencic both made consecutive quarterfinals and are still in the hunt for the title in Berlin. At the risk of soundin repetitive, Sakkari's struggles late in tournaments [ut me off betting her on outright markets. Bencic on the other hand might be one to watch this upcoming fortnight. The Olympic gold medalist lost in round one at Wimbledon last year, however, she has won over 70% of her matches on grass, making this her strongest surface. Bencic is 24-10 this year and didn't have any major losses. At +2200 or better, I like her more than most other players in that range.
https://twitter.com/WTA/status/1536630773259829249?s=20&t=RqgM0_nQxI0I4_ATvzHYgQ
At the beginning of the year, Anett Kontaveit (+2500) would have absolutely been one of my picks to win Wimbledon at these odds. Then again, the Estonian just recently split up with her coach Dmitry Tursunov after not being able to carry her early-season form over to the slower courts. Not having seen her play on grass makes it hard to gauge whether that was a matter of surface or general regression. Kontaveit is on the entry list for Eastbourne the week before Wimbledon and if she's looking better there, it might be worth adding the world No.2, who's 54-22 on grass, to the outright portfolio.
Former champions Angelique Kerber (+2500) and Petra Kvitová (+3500) will also be in the mix, even though their best times might just be gone. Kerber is 9-9 this year while Kvitová has a negative record of 10-13, having lost to Beatriz Haddad Maia (+8000), a longshot option, this week in Birmingham. Despite their outstanding numbers on grass, I'm not looking to back Kerber or Kvitová at this year's edition of Wimbledon given their recent volatility.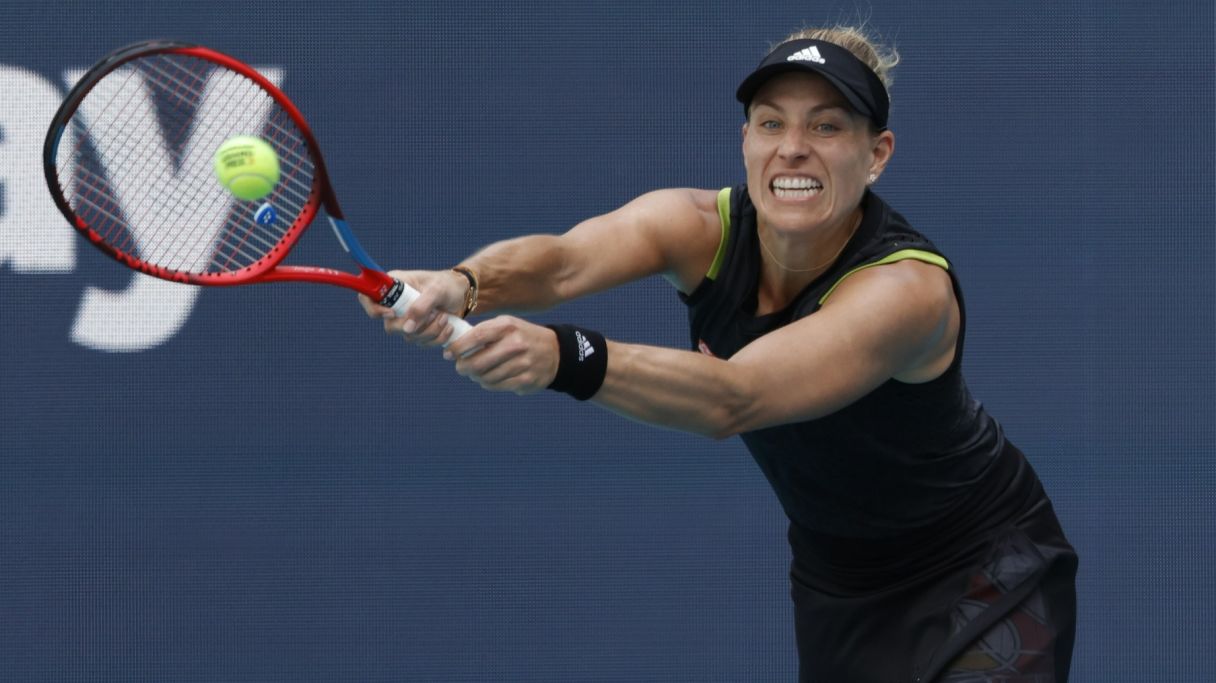 Former champions Angelique Kerber is bound to feature at +2500 - © Geoff Burke-USA TODAY Sports
Onto the Americans in the field and while Wimbledon is the worst major for Madison Keys (+3300) when it comes to results, none of Amanda Anisimova (+2800), Danielle Collins (+3500) and Jessica Pegula (+5000) can be labeled as grass-court specialists either. Anisimova will be hoping to avoid Magda Linette as the Pole beat her at Wimbledon in 2019 and 2021. Both Collins and Pegula possess a negative record on grass, so I'm avoiding the Americans altogether.
Concluding this early Wimbledon preview with two grab bags as – make no mistake about it, they can absolutely bash their way to a(nother) Grand Slam title – Jeļena Ostapenko (+4000) and Camila Giorgi (+5000) can beat any player and lose to any player on any given day. Both Ostapenko and Giorgi are absolutely destroying the ball, so there won't be too many long rallies in matches involving these two. When they catch some form, top players will want to steer clear of them, however, if anything, their first matches back on grass only indicated more unpredictability.
Wimbledon 2022 Outright Picks Women:
Ons Jabeur at +1800 or better
Belinda Bencic at +2200 or better
Images: © Robert Deutsch-USA TODAY Sports, © Susan Mullane-USA TODAY Sports, © Peter van den Berg-USA TODAY Sports, © Robert Deutsch-USA TODAY Sports, © Geoff Burke-USA TODAY Sports, © Danielle Parhizkaran-USA TODAY Sports, © Aaron Doster-USA TODAY Sports