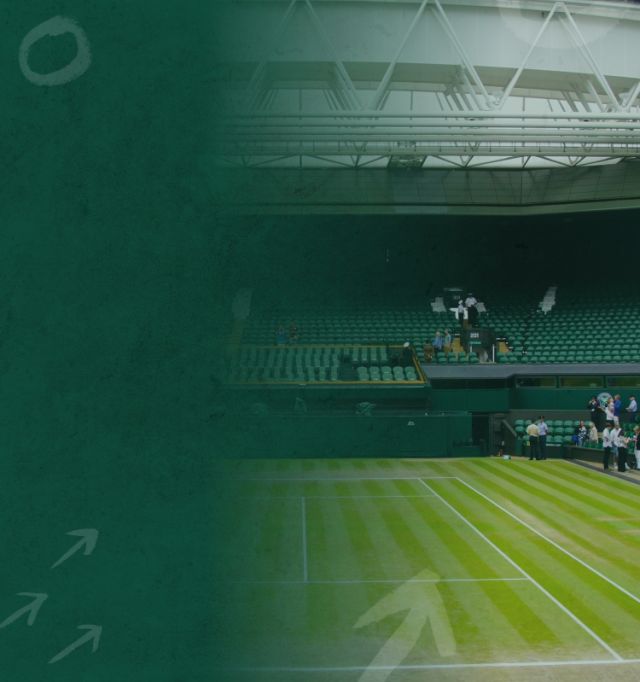 How to bet on Wimbledon
Wimbledon is the oldest and most prestigious Grand Slam tennis tournament in the world. The history. The grass courts. The strawberries and cream. The very best players in the world. They all make this an annual highlight for fans of tennis – and those who love to bet on the sport.
Wimbledon: Most popular markets
After three straight Wimbledon triumphs, and five in the last seven editions of the tournament, Novak Djokovic is a huge favorite going into 2022. The imperious Serb will be 35 when he next takes to Centre Court – who is leading the charge to dethrone him?
Matteo Berrettini emerged as a real contender on grass in 2021, winning his first ATP 500 level event at the Queen's Club Championships before reaching the Wimbledon final – where he took the first set off Djokovic before falling away. At nine years Djokovic's junior, he'll be hoping for another crack at beating him in 2022.
Of the old guard, Rafael Nadal seems more likely to challenge than Roger Federer – with the latter now 40 and without a Grand Slam title since the 2018 Australian Open. The Spaniard has reached the semifinals in his two most recent Wimbledon appearances, but was absent in 2021 and last triumphed in south-west London as long ago as 2010.
Younger challengers to look out for in the Wimbledon betting odds include Stefanos Tsitsipas and Daniil Medvedev. Tsitsipas says his favourite surface is grass, although his best results to date have been on hard-court and clay – reaching two Australian Open semifinals and the 2021 French Open final. At 23, it might be time for him to prove himself at Wimbledon, especially after three first-round exits in his four appearances there.
In 2021, Medvedev reached the fourth round, and followed that up with a debut Grand Slam success at the US Open. The Russian also won a first career grass-court title at the Mallorca Championships and is sure to have Wimbledon in his sights.
Since the legendary Serena Williams last triumphed at Wimbledon in 2016, there have been four different winners from four different nations. The Wimbledon odds ahead of 2022 are sure to reflect just how open the women's game is – with defending champion Ashleigh Barty one of many serious contenders.
Barty's success in 2021 was her second Grand Slam title. She had never reached the quarterfinals at SW19 before, even crashing out in the qualifiers in three of her previous seven attempts.
The biggest threat to Barty could come from the new home favorite – Emma Raducanu. The British teenager emerged at Wimbledon 2021 before stunning the world with victory at the US Open. Back on home turf, Raducanu is bound to have strong backing from the London crowds and she has the ability to match it.
Naomi Osaka – with four Grand Slams to her name – will look to mount a challenge too, although her record at Wimbledon is poor with two third-round exits her best performances to date. Beyond those three, Aryna Sabalenka, Simona Halep, Iga Świątek and Karolina Plíšková may have odds worth investigating – and even at 40, it might be too soon to completely discount another Wimbledon triumph for Williams.
There may be no dominant figure in women's tennis anymore, but that makes the betting much more open and intriguing for your Wimbledon bets.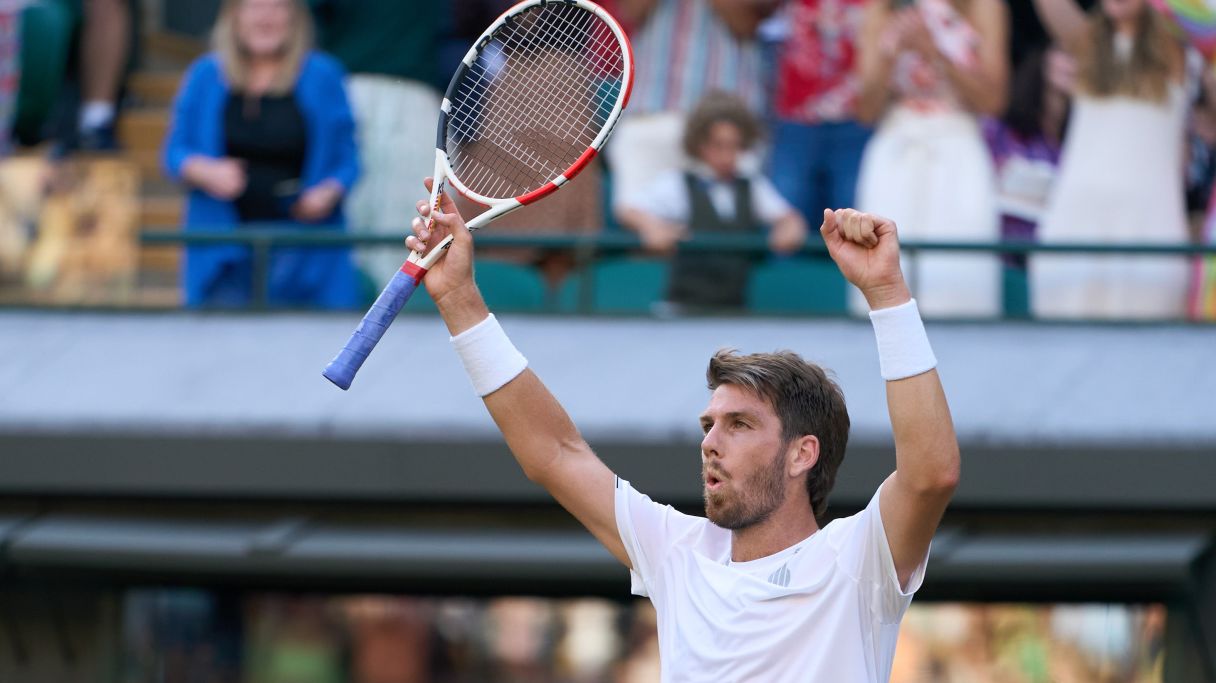 Cameron Norrie made it to the semifinals of Wimbledon in 2022 - © Peter van den Berg-USA TODAY Sports
Wimbledon, like any Grand Slam tournament, provides a generous range of markets for you to enjoy.
We may be strongly convinced that a particular player will win the championship this year and back them for the tournament and in every match they play. However, it's always worthwhile looking for Wimbledon betting opportunities that are part of a special offer from a sportsbook.
It's always advisable to find a betting operator that offers a wide selection of markets, and whose platform is highly efficient and user-friendly.
Prestigious events like Wimbledon always see sportsbooks offering bonuses for new customers, such as free bets when you place your first wager.
Keep an eye out too for Wimbledon betting sites that have special offers such as a doubling of our winnings if our selection wins a match despite losing the first set.
Held at the All England Club in south-west London since 1877, Wimbledon is all about history and great tennis.
The championships, the third of the year's Grand Slam tournaments, are a main feature of the British sporting summer and one of the most eagerly awaited events on the calendar for sports fans everywhere.
Over a fortnight in late June and early July, the world's top players battle it out on the lightning-fast lawns – Wimbledon is the only Grand Slam event still played on a traditional grass surface.
The volume of wagers taken on Wimbledon betting sites each year is huge as regular tennis bettors and once-a-year enthusiasts add to the excitement by wagering on the action.
Where will Wimbledon 2023 be Held?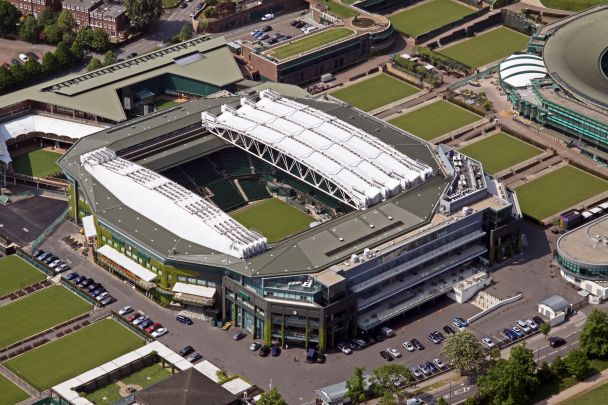 All England Lawn Tennis Club
Church Road, London, England
7/4/2022 - 7/17/2022
The All England Lawn Tennis and Croquet Club, to give it its full title, has been the venue for the Wimbledon championships since 1877.
Tradition is important at Wimbledon. It is the only Grand Slam where all the players must wear white, and the only one still played on a grass surface. It's organizers even use "The List" – a 1,500 item checklist – to meticulously prepare for a tournament that will see about 450,000 fans flock to south-west London each year to watch the action.
However, the club has moved with the times in recent years. Centre Court and No.1 Court now have retractable roofs. These allow play to continue when the traditional British summer rain puts in an appearance.
In-play betting on Wimbledon
Wimbledon betting online doesn't stop just because the match – or the tournament – has started. In-play betting means that we can place a bet while the action unfolds.
Tennis has become an extremely popular sport with fans of in-play betting. The fluctuations in matches, and the frequent breaks in play, mean there are numerous opportunities to wager while a match is being contested.
For instance, Roger Federer may find himself a set down early in a match. But we can still place a bet on him to win that contest – and even the tournament overall.
Wimbledon betting promotions
Parlay free bet
Parlay bets (also known as accumulators), where you can combine several bets for a single stake, are very popular with people who enjoy Wimbledon betting online. Some sportsbooks offer a free bet if we create a parlay bet that includes at least three selections.
Recoup some of your in-play losses
In-play Wimbledon betting is fast and exciting, and a great way of staying close to the elite tennis action. Some sportsbooks will pay back a small percentage of any losses you incur on in-play bets during the tournament. It's always a good idea to check the terms and conditions.
Which is the best site for Wimbledon betting?
What Wimbledon matches can I bet on?
Can I make a bet during a Wimbledon match?
Can I get a welcome bonus at a betting site?
Can I do Wimbledon betting on my mobile?
Images courtesy of: © Susan Mullane-USA TODAY Sports, © Robert Deutsch-USA TODAY Sports, © Peter van den Berg-USA TODAY Sports, © Robert Deutsch-USA TODAY Sports, © Andy Abeyta/The Desert Sun / USA TODAY NETWORK