NBA prop bets explained
NBA prop bets are a great way to get involved in games where the odds on the NBA moneyline or NBA point spread are too close or don't present good value. They also offer interesting ways to further your investment in your favourite team or player's next game.
NBA prop bets, like backing Klay Thompson to score over or under a set points total is a great way to get involved in basketball action © Darren Yamashita-USA TODAY Sports
NBA prop bets in 30 seconds
A NBA prop bet is a wager within a game that doesn't relate to the overall outcome of that game. Typically, a prop bet relates to the outcome of individual players' performances, or occurrence of a single action within a game.
Click the links to jump to each section.
Placing a prop bet means you are wagering on something other than the result within a single game. The most common prop bets relate to individual player performances.
Take Game 5 of the 2022 NBA Western Conference Finals between the Golden State Warriors and Dallas Mavericks. If you wagered $10 on Klay Thompson scoring over 18.5 points in that game, you would have got odds of -125. This would have returned $18 after he netted 32 points against the Mavs.
That is winnings of $8, along with your original $10 stake.
Another example from that game would be if you put $10 on Steph Curry to have over 5.5 assists. This was available at odds of +100. He played tirelessly and had nine assists, so if you placed that bet, you would have doubled your money.
You can also bet on players not achieving certain milestones during a game. For instance, you can place a bet on Luka Doncic scoring under 32.5 points at odds of +100. Because the Dallas star only dropped 28 points, you would have also doubled your money here.
The important thing to remember about prop bets, or proposition bets as they are also known, is that the outcome of the game doesn't affect them. Thus, with the above examples, the result of the game doesn't affect your bet.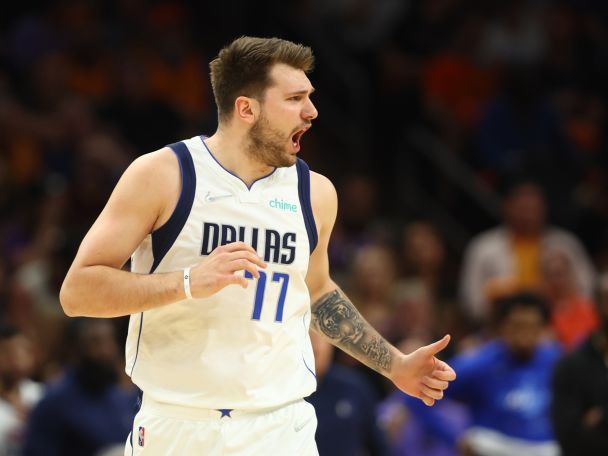 When wagering on NBA prop bets, you should look at a player's statistics and form and consider their strengths and weaknesses. It may also be worth noting their direct opposition matchups. All the above can lead to more informed betting.
You can break NBA prop bets down into three categories: game related prop bets, player prop bets and long-term prop bets. It would be almost impossible to go through each available prop bet available within these categories, but below are some examples.
Game related prop bets include wagering on which team could be on the first to score, last to score, or post the most rebounds.
Player related NBA prop bets are the most common type of prop wager and they can relate to points scored, assists, rebounds, steals, and much more. These are often over/under bets on the number of times an event will occur: using the example given above – the over/under on the number of times Stephen Curry will make an assist.
Long-term prop bets can be in relation to a player's averages over a season. For instance, you could bet that Jayson Tatum will average over 28.5 points per game during the regular season.
You don't need to be a seasoned bettor to wager on NBA props. When it comes to these types of bets, virtually any amount of money can be wagered, big or small.
Therefore, if you are new to the idea of prop bets and want to try them out, you can wager as little as $1 to see if this is something you enjoy. The OnlineBetting.com free bet calculator is ideal for those of you who want to check what you could win with NBA prop bets.
It can save you time and give you a greater insight into what is a worthwhile wager and what isn't.
What do minus and plus odds mean in NBA prop bets?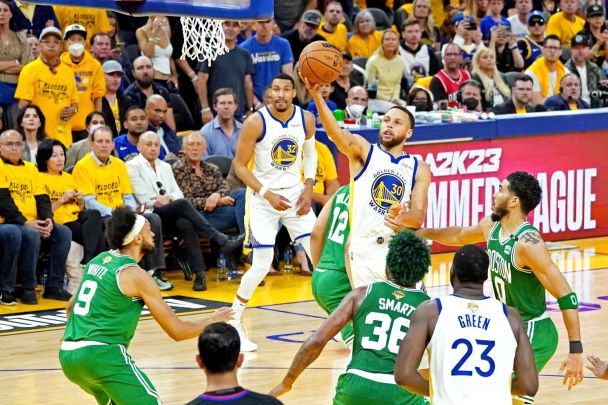 Odds are calculated based on the chance of a given event happening. The oddsmakers look at several factors to determine this likelihood. These factors may include a player's form, the actions of bettors around this game and whether the team is on a hot streak.
American odds are based around the idea of what you would need to bet to win $100 and the results of placing a wager of $100. It should be noted that you do not need to place a bet of $100 – any amount can be wagered, depending on a sportsbooks minimum or maximum bet values.
The minus sign or – on bets relate to what you need to stake to win $100. For instance, with Klay Thomson being -125 to score over +18.5 points in a game, you would need to stake $125 to win $100.
The + bets relate to what you can win if you place a bet of $100. For example, if Stephen Curry is at odds of +100 to have over 4.5 assists.
Here, if you put on a bet of $100, you could win another $100.
Why bet NBA props vs the NBA moneyline?
Betting on the NBA moneyline relates to betting on the overall winner of a given game. Whereas betting on props relates to betting on certain instances, or statistics, within that game.
NBA prop bets have many advantages, including if a game is likely to be close, you don't need to choose a winner to back a winner. They also offer greater variety to the bettor and provide constant entertainment, whereas NBA moneyline bets may not get exciting until the fourth quarter.
Another issue with moneyline bets is that if the game isn't likely to be a tight affair, you may not get good odds one of those teams winning. Whereas such variety exists within props that it is likely you will always be able to find a wager that fits your wants.
NBA fans also love a prop bet as they don't have to support a rival team when watching a game. Think about it: what Celtics fan wants to be shouting for the Lakers. However, hoping Lebron hits 30 on a given night is a little easier to digest.
Most Popular NBA Prop Bets
There are an abundance of prop bets you can choose when putting on a wager. Below is a list of some of the most popular ones.
Points: This is where you predict whether or not a player will score over a certain number of points within a game. For example, Seth Curry may be +100 to score over 14.5 points for the Brooklyn Nets against the Knicks.
Assists: Just like the above, this is a bet relating to the performance of an individual within a game. This time you are betting on the amount of assists a player will get. For instance, you if you backed Jalen Brunson to get under 4.5 assists in game 5 against the Warriors in the 2022 playoffs, you would have won - Brunson ended that game with just four assists.
Rebounds: Just like above, you can bet on whether a player is going to get a certain amount of rebounds.
There are also prop bets where you combine all the above. For instance, you can bet on players to get triple doubles or double doubles.
Other common prop wagers include how many steals a player has in a given game, as well as how many three-pointers they sink.
Are NBA prop bets worth it?
How to calculate NBA prop odds?
Is there anything in the NBA that you can't place a prop bet on?
Brand disclaimer
The brands featured in this article are for illustrative and commentary purposes only. There are no commercial associations between the website and any brand featured in this article. Trademark rights and copyrights relating to the teams featured on this page belong to their respective owner(s), which are not associated or affiliated with OnlineBetting.com in any way and did not license rights or authorise or sponsor this article.