NFL prop bets explained
NFL prop bets open up the options for betting on individual players when they're on a hot streak or they face a favorable matchup.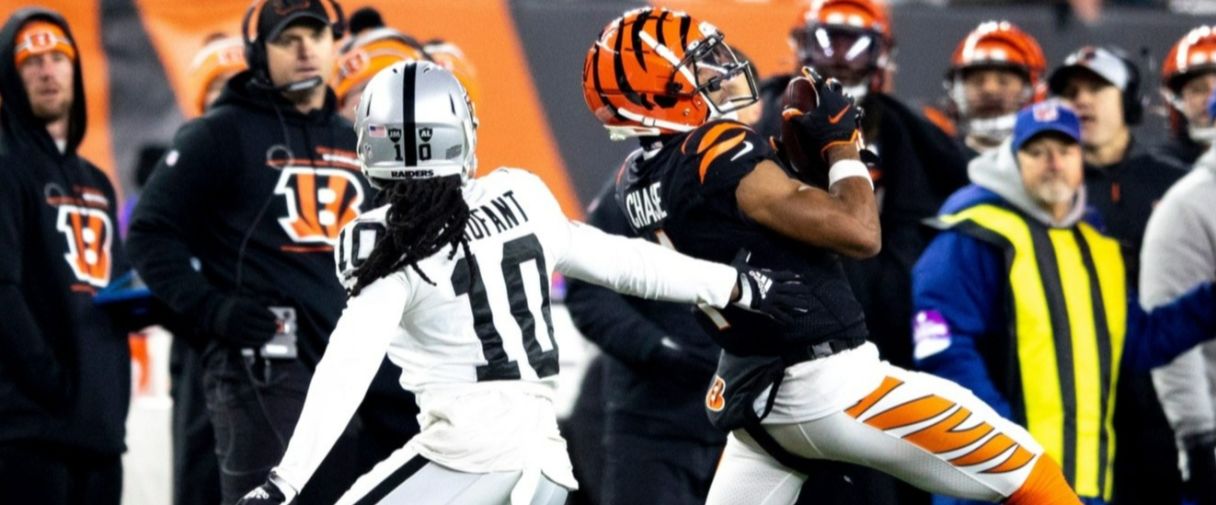 Ja'Marr Chase had a big game against the Las Vegas Raiders and was a good value pick on a total yardage prop bet © Albert Cesare / The Enquirer / USA TODAY NETWORK
NFL prop bets in 30 seconds
Many American sports have a big-name individual who dominates both the pre-game hype and the result. Stephen Curry in basketball, Patrick Mahomes in the NFL, Mike Trout in the MLB…
Prop bets are largely player or team based over or under bets, on-field events that are peripheral to the outcome of the game that allow you to side with the star players.
NFL prop bets have the ingredients of against the spread or over/unders bets and are priced at very similar, near even money odds or, as we'll see later, a small outlay can lead to a big return.
For example: the Cincinnati Bengals hosted the Las Vegas Raiders and wide receiver, Ja'Marr Chase was fancied to be a constant target for the Bengals' quarterback, Joe Burrow.
Chase's total yardage over/under was set at 71.5. The half yard ensuring that there would be no tie and it was a receiving yardage Chase had exceeded in eight out of 17 regular season games.
You are betting on Chase having a big receiving day or the Raiders keeping him relatively in check, as they had done previously that season.
In the second matchup Chase gained 116 yards, with a longest reception of 28 yards.
| Player prop bet | O/U: | Odds |
| --- | --- | --- |
| Ja'Marr Chase: total yards in game | 71.5 | O: -110 U: -110 |
Those wishing to take the over were offered a price of -110. The – sign prior to the number indicates that you are being asked to bet at a price that is shorter than even money. Your return will be smaller than your stake, which is also returned to you if you back a winner.
The 110 is the amount in dollars that you need to stake to win a return profit of $100. For those who prefer a more modest outlay $11 staked at -110 will potential profit you by $10.
Near even money betting is the staple of many markets, where winners are rarely far away, although returns are often eaten away by the juice that is baked into the sportsbook prices and returning a consistent profit often requires intensive knowledge and constantly re-evaluation the changing nature of the NFL.
Many familiar game stats provide the basis for individual player prop bets.
Over or under on passing, rushing and receiving yards are readily available for regular and postseason games, along with the longest reception or field goal kicked and the number of catches made, touchdowns scored or interceptions claimed by teams or individuals.
MVP prop bets are most prominent in the Super Bowl. Travis Kelce and Tyreek Hill were available at +1100 in Super Bowl 55, with both quarterbacks, Tampa Bay's Tom Brady and Kansas City's Patrick Mahomes more heavily favored.
Such large prices may be an unfamiliar sight, where -110 or thereabouts are the odds much more frequently on offer for totals and spreads. We'll run through the risk and rewards, along with the implied odds of betting Tyreek Hill to be the Super Bowl MVP back in 2021.
Firstly, the + sign indicates that Tyreek Hill was available at a price that is greater than even money. The 1100 is how much profit you will make for every $100 you stake and because sportsbooks operate both minimum and maximum stakes, you can easily divide the stake by 10 to see that you would profit by $110 should you make just a $10 wager and be successful.
The implied probability of Hill being the MVP in the Super Bowl at +1100 was just 8.3% and it is likely the true chance is slightly lower than that to give the sportsbooks a margin for error. However, the more markets quoted for big games and the more diverse they become: the more chance a knowledgeable bettor can capitalize on historical moving trends and data to spot the occasional price that could provide value.
Not all prices are as straightforward as Hill's +1100, but our bet calculator can easily do all the hard work for you.
What do the minus and plus odds mean in NFL prop bets?
The wording of bets can be intimidating and we've used examples of bets that are both close to even money and in the case of Tyreek Hill +1100, with an implied probability of just 8.3%, at the lower end of the likelihood of occurring.
It is worth emphasizing the importance of instantly recognizing the positive or negative sign that precedes the number in the odds.
A positive sign means you are betting on an event that is, in the view of the sportsbooks, less likely to happen.
A negative sign indicates the event is more likely to occur than not. The size of the number indicates how far from a 50:50 proposition the odds are. The -110 to bet over Chase's 71.5 yardage for his longest catch has an implied probability of 52.4% compared to the similarly appearing +110, whose implied probability is 47.6%.
Add a zero to the number and -1100 requires you to stake $1100 to make just a $100 profit, although the implied probability now reaches 91.67%.
Always be aware of your risk and reward by familiarizing yourself with the US system of expressing betting odds.
Why bet NFL props vs the NFL moneyline?
NFL Props betting offers an almost limitless range of betting opportunities compared to the money line, where you are restricted to just two choices per match and a maximum limit of 32 runners in one NFL week.
An NFL game's moneyline will have undergone intense scrutiny as game day approaches, the direction of so-called smart money will have been monitored and every piece of team and weather news will have been factored into the price.
The sheer volume of opinionated money wagered, along with the sportsbook's safety net of the juice added to the price will make it very difficult to find odds that don't correctly tie in with the true win expectation of each side.
Prop bets will attract lower betting limits and won't have undergone the forensic examination of smart money - sportsbooks may have been less rigorous when setting the multitude of prices.
Therefore, if there is little value to be found in the moneyline game outcome, it may be possible to find a correlated market in the NFL prop arena by betting on a player to find the end zone or a defensive player to amass sacks or tackles for your under-priced team choice.
Most popular NFL prop bets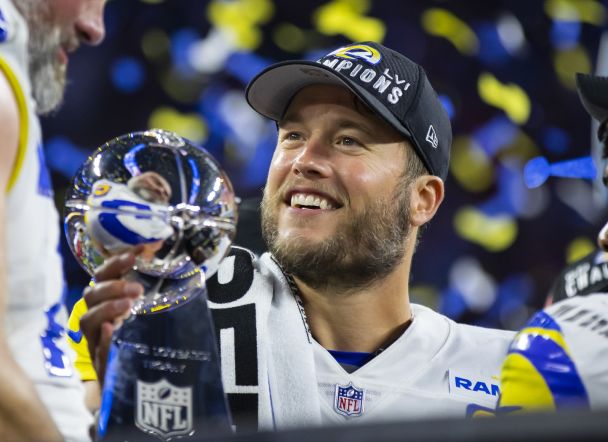 Prop bets come into their own in February each year when the Super Bowl hype starts to build.
The duration of the national anthem is a perennial favorite, often with YouTube footage of the actual singer performing the anthem at other prestigious sporting events coming under scrutiny by potential bettors.
Quarterbacks are always at the forefront of NFL prop betting with so many performance related achievements possible, such as pass attempts, completions and yardage all hugely popular with copious data available.
It's always important to recognize that the quarterback's seasonal statistics are a driver of his game performance, but it is also vital to look at the prowess of the defense he is facing. It's often overlooked that there are two sides to every duel.
It is also counter-intuitive that increased passing yardage isn't always synonymous with winning the game. Often the losing quarterback picks up garbage time yardage by throwing more frequently, while the leading side becomes more conservative and risk averse, running the ball more to eat up the clock.
Defense can be the forgotten unit in the NFL as it has evolved into a pass first league, but don't overlook tackle numbers for individuals and total team sacks as a potential source of statistically based predictions.
A ferocious pass rush pitted against a weak offensive line can get very ugly for the offense.
How do you calculate prop odds?
Is there anything in the NFL you can't place a prop bet on?
Brand disclaimer
The brands featured in this article are for illustrative and commentary purposes only. There are no commercial associations between the website and any brand featured in this article. Trademark rights and copyrights relating to the teams featured on this page belong to their respective owner(s), which are not associated or affiliated with OnlineBetting.com in any way and did not license rights or authorise or sponsor this article.